Dr. Champ: Episode 11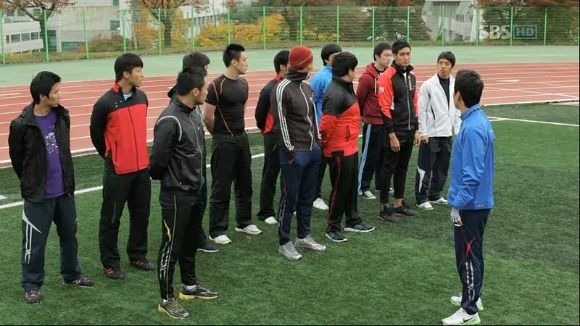 OH the emotional angst! Well, all I can assure is that Ji Heon does not jump off the ledge. (Was I the only one who was afraid of that happening to some degree?) However, he does jump off a cliff and tumbles down into an emotional black hole. Poor guy. Sorry aberdeen_angus, I can't fix the problem with this episode.
Ji Heon can't answer Yeon Woo, and not knowing where he is worries the heck out of her. She runs to her car and opens the door – but stops. She doesn't even know where to go! (But if she were the male lead, she'd be driving around Seoul in circles searching for Ji Heon.)
Do Wook doesn't want Hee Young to leave, and she understands that it's because he empathizes deeply with Sang Bong. Holding her wrist, he stands up and tearfully looks into her eyes. He awkwardly reaches up to her face – making it one of the stiffest romantic moments I've seen – but gives us a worthy, passionate kiss.
Not knowing where to go, Yeon Woo goes home to her mother, who's happy to see her stop by. In need of an outlet, Yeon Woo picks on her mother's dinner, asking why she's eating just side dishes and not an actual meal. Her mother doesn't get what's wrong with her food, and Yeon Woo breaks down in frustrated tears.
Do Wook and Hee Young are in bed – lovemaking having ended. Hee Young tells him to go to sleep, brushing her fingers on his eyelids, instead of staring at her sleep. He guides her hand to the side of his face and falls asleep, comforted. But Hee Young wakes to stare at him. (Am I the only one wondering how uncomfortable sleeping against sequined pillows would be?)
Yeon Woo and her mother drink at a pojangmacha, and, filled with soju, Yeon Woo despairingly cries that her heart aches because of Do Wook. But her heart aches also because of Ji Heon. Mother gives her advice: do not have complicated relationships with men. Just pick the better option *ahem-DoWook-ahem*.
We get a cute mother-daughter bonding moment where they share the same bed, and Mi Ja gushes about how wonderful it is to have her daughter come running to her for once, instead of putting on a tough face. Yeon Woo mutters, "How could you be happy when your daughter is going through a tough time?" but too late – mother's snooooring away.
Good news! Sang Bong regained consciousness! Relieved, Yeon Woo goes up to his room to find that Do Wook is already there, telling Sang Bong about his own injury. Sang Bong's eyes are open, but he's completely unresponsive. Do Wook's advice is: "You don't have to believe everything that doctors tell you. Whatever they may say, you create your own future. Miracles can happen everywhere…don't say you don't believe it, because I'm your walking miracle." And then he cracks, "If you feel like going to Johns Hopkins though, I can write you a reference letter." HA.
Yeon Woo waits outside until Do Wook leaves the room. They discuss Sang Bong's condition: Perhaps he has conversion disorder, where he can't speak because of the psychological trauma? But Do Wook replies that he's actually alert and stable – he just doesn't wanna talk.
She admires Do Wook's courage to reveal his story to the board, but Do Wook notes that the person who was most affected by the accident was the other athlete who bumped against him accidentally. Even though it wasn't his fault, the other athlete became a complete wreck. He tells Yeon Woo to watch out for Ji Heon and make sure he doesn't go down the same path.
Unfortunately, Ji Heon is halfway there.
The coaches are giving the unreachable Ji Heon until 2 p.m. the next day; if he doesn't show up by then, they will bring in another athlete to train for the Asia Games. They can't lose a chance for a medal. The assistant coach tells Yeon Woo about the deadline in hopes that she can do something about it.
Meanwhile, Hee Young is agonizing over whether to call Do Wook or not (oh the dilemma of the morning after…). Yoo Ri stomps into her room to ask for permission to leave the grounds – she wants to find Ji Heon. Knowing that she can't fight a frantic Yoo Ri, Hee Young suggests a walk together outside.
Hee Young slyly hints at the Asia Games and tells Yoo Ri that she has a good chance of winning a medal. Yoo Ri gets it: she's supposed to focus on training, not on Ji Heon, because otherwise she will regret it later. Yoo Ri wonders what's so great about winning a medal, and if it'll truly make her happy.
They bump into Do Wook and Yeon Woo leaving the medical center. It's awkward as they all greet each other, since Hee Young tries to be a wallflower. Yoo Ri is disappointed to hear that Yeon Woo hasn't reached Ji Heon. Hee Young tries to get Yoo Ri to leave, but wait! In front of everyone, Do Wook asks Hee Young out on a date.
Sister-in-Law is tucking Yi Reum into bed when the doorbell rings. They open expecting to see Ji Heon, but find Yeon Woo standing there instead, hoping to find Ji Heon. They haven't seen nor heard from him. Sis-in-law sends Yi Reum back inside first, and then says that she doesn't worry about Ji Heon. Since he cares so much about judo, he'll return to Taereung soon.
Yeon Woo thinks she's being too harsh; at the end of the day, she is Ji Heon's only family. The sister coldly says it's none of Yeon Woo's business to judge how she regards Ji Heon, but under that hard exterior, she does care – even if it's a tiny bit.
Yeon Woo returns home and thinks of the condom moment, and the guitar gift-giving. With flashbacks like these, girl better realize that she's falling for him!!!
After finishing up with a patient, Yeon Woo takes a mini break to go check the judo athletes around the track field. Those athletes are wondering aloud if Ji Heon will come back, but they see Go Bum coming instead, much to their displeasure. Not seeing Ji Heon, Yeon Woo turns back…but she bumps into him walking slowly towards the track field. Annoyed and frustrated, she yells at Ji Heon for not contacting anyone and worrying everyone. She then mentions that Sang Bong regained consciousness.
Ji Heon doesn't care – he has somewhere to get to. He arrives just in time before the coach enlists another athlete to take his place. Yeon Woo goes back to the field to observe Ji Heon join the practice in a lackluster manner. Despite his demeanor, she reports back to Do Wook that Ji Heon seemed fine, much to Do Wook's relief as well.
Practice in the evening is canceled, and all the judo athletes are given permission to go visit Sang Bong. Taek Woo takes charge and tells everyone to meet in front of the dorms in an hour. Go Bum announces that he's not going to go – he didn't know Sang Bong personally anyways. Not many are bothered by that, but then Ji Heon says he won't go either.
"UHHHHHHH" – is what everyone on the team is thinking.
Taek Woo says that Ji Heon most definitely can't miss out. It's Ji Heon's fault that Sang Bong is in the state he is in. However, Ji Heon claims it wasn't his fault – it was a complete accident. Taek Woo appeals to the fact that they were friends, but Ji Heon disregards it. He demands that Taek Woo address him formally next time, instead of just calling him 'Park Ji Heon', and then leaves the field.
Incensed, Taek Woo tackles him from behind and punches him in the face. He cuts Ji Heon's lip, but Ji Heon doesn't fight back. They pull Taek Woo off, and the athletes all leave Ji Heon lying on the grass. Dae Seob sends him to the doctor's office – if he's seen with a bruise he might get kicked off the team.
Ji Heon goes to see Yeon Woo, who asks if he got into a fight so soon already. Ji Heon won't answer her. She fishes for more details, but Ji Heon just ignores her and leaves as soon as she is done applying medicine.
In a twist of cruel irony, Ji Heon is now Go Bum's roomie, and takes over Sang Bong's bed. Lost in his thoughts, he lies down and ignores Go Bum. He closes his eyes and hears Sang Bong call out his name.
Ji Heon bolts upright – but it's just Go Bum in the room, and he didn't even make a peep. Ji Heon is clearly disturbed.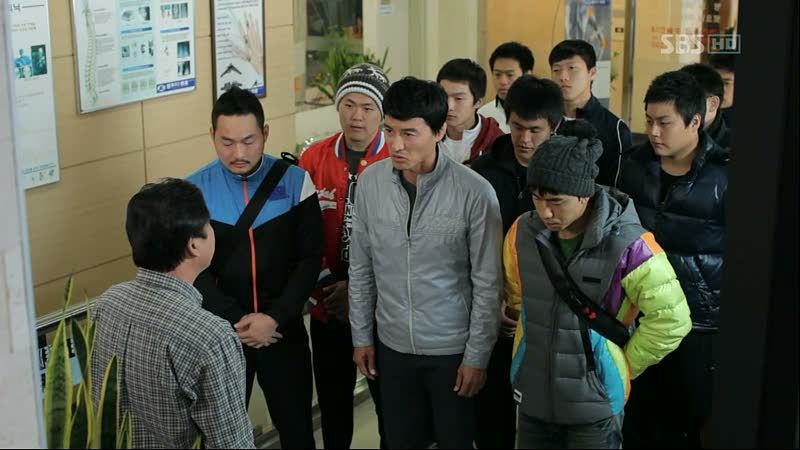 The athletes reach the hospital, but Sang Bong's dad tells them it might be best if they don't go into his room. He still won't speak, even though he opened his eyes. The judo team feels bad, but they leave and promise to come next time.
Yeon Woo and Do Wook are both informed that Sang Bong might be psychologically worse than they initially thought. Do Wook says he'll stop by to see the doctor, but Yeon Woo insists on going alone instead – after all, he has a date to get to.
Do Wook thinks that she's looking down on him for having a date on a night like this. He claims that having dinner with a woman is merely his way of coping with this crisis. Methinks you are putting words into Yeon Woo's mouth, since she clearly didn't mean it that way.
He goes to purchase some wine from 1996 – from the year he and Hee Young were last together.
As Hee Young leaves Taereung, she bumps into her ex-husband, who's coming to see Director Hong for some sponsorship. Noting her nice clothes, he asks if she's going out to dinner with Do Wook. Hee Young relishes the fact that he's acting as if he were jealous, but the ex says he pities her instead.
With a mix of her ex's and the head nurse's testimonies, Hee Young finds out that Do Wook became a cripple because of her. When they had gone to visit a mountain, Do Wook had protected Hee Young when she fell. That put him out of shape, and so he was not in good form for the competition. He had told the head nurse to keep it a secret from Hee Young so that she could concentrate on the Olympics.
Do Wook waits at the restaurant, handing the waiter the bottle of wine for later. The minutes pass by…and the hours…but Hee Young doesn't show. The restaurant slowly empties, and Do Wook is ready to ditch. He reaches for his cane – and that's when Hee Young arrives.
Speaking for her, he says that she doesn't have to apologize for being late – he was playing around with an app on his cell that has a man spacing out while waiting for his date. I love that he has to be sarcastic about everything. Hee Young says that last night she only felt sorry for him because the accident may have brought up bad memories. It was pretty much just consolation sex for her, so she hopes that he didn't develop feelings for her again. Masking his hurt, he says that it wouldn't have mattered if he slept with her or another woman. Her hand grips her bag tightly, but she forces a smile and leaves.
Yay you two – more foreplay. (I'm being sarcastic, in case you can't tell.)
The tactless waiter then chooses that moment to come by Do Wook's table and tell him they're preparing the dishes. Do Wook gifts the expensive wine to another couple and leaves, thoroughly pissed off and a bit perplexed by the situation.
The head nurse finds Hee Young sitting outside, sobbing. Well girl, who asked you to dump Do Wook like that?! She blames herself for not even being able to say "sorry" even though she knew the truth. If only she were completely heartless, she might have been able to feign ignorance and start over with Do Wook. Methinks girl is taking it too hard upon herself; sure the accident may have put Do Wook in bad shape for the competition, but he was also nudged by another skater. Had he not been nudged, he might have retained balance and kept on to the end of the race uninjured.
But OK Angst, I'll give you this one, since you're so intent on giving us tragic foreplay between these two.
Ji Heon runs around the track early in the morning, and memories of when he first reconciled with Sang Bong comes rushing back to him…when he and Sang Bong had a mock spar on the field. He falls to his knees, and Do Wook witnesses Ji Heon's moment of weakness.
On this particular day, Yeon Woo is also to start treating the athletes with Do Wook. Translation: Yeon Woo gives her diagnosis, Do Wook contradicts her in front of the patient and reprimands her later. He counters every excuse that she has (she's not as experienced as he is; the athlete won't get caught for doping because her competition is over a month away). Someone's in a bad mood… and even the nurses notice.
Yoo Ri comes bounding up to Ji Heon, complaining that he should have texted her that he came back. (You're! Not! His! Girlfriend!) Tired of all her mothering, Ji Heon flat out tells her, "Stop paying attention to me. Don't you know that I don't like you?" He leaves Yoo Ri standing with her mouth wide open, and Go Bum comes up behind her. He snarks, "Is this a one-sided love?" and then calls her an idiot.
That wakes Yoo Ri up from her reverie and she yells, "What did you just say!?" I almost raised my hand and cried out "Yoo Ri-Go Bum ship please!" (Whaat? Go Bum's a looker…) but then I remembered, "Sweet Taek Woo versus Bad Boy Go Bum…HMMMM."
At the judo training center, Woo Ram kindly reports back to Ji Heon about how none of them saw Sang Bong. Ji Heon is unresponsive, caring only about the tape around his fingers. That's enough to scare Woo Ram away. Sparring practice begins and Ji Heon is paired with Taek Woo's lackey, Dong Ho. While Dong Ho easily lifts Ji Heon and brings him down, Ji Heon stops midway through the lift. The thought of lifting his opponent brings back memories of how he caused Sang Bong's accident, and it gives Dong Ho the opportunity to defeat Ji Heon instead.
Ji Heon's hesitation does not go away unnoticed by the coaches. After practice, he feels a pain in his injured knee, and visits Do Wook and Yeon Woo. Awkward triangle!
Yeon Woo is immediately concerned that his knee is hurting and after inspecting it with ultrasound she recommends that he go for an MRI. However, Do Wook counters her and prescribes medicine that will treat the inflammation. Yeon Woo tries to argue but Ji Heon just accepts the diagnosis.
Once he leaves, Yeon Woo rails against Do Wook, annoyed that he never lets her be right. But Do Wook tells her that he actually prescribed vitamins. He thinks that the knee pain is linked to psychological shock. Yeon Woo argues that he might be wrong, and is just being an overconfident ass, but Do Wook replies that she only know how to look at machines. They only have an X-Ray and an ultrasound – is she planning to send every athlete they can't properly diagnose to Hankook Medical Center? (Hence, the pressing need for an MRI, Bom Jang!! Also an oxygen tank and a newer ultrasound, by the end of the month please. But Bom Jang is reluctant, saying that he can't conjure up so much money by Do Wook's deadline.)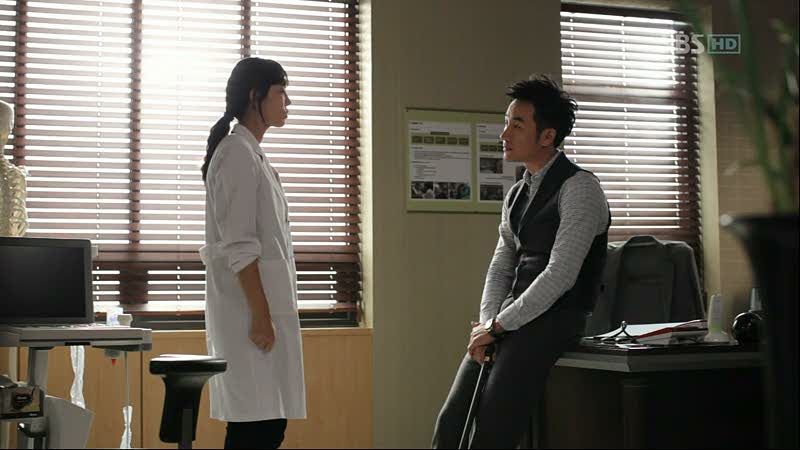 Unable to take it any longer, Yeon Woo confronts Do Wook – why has he been mocking her all day, and all of a sudden too? Do Wook: "All of a sudden? Since when have I ever been nice to you?"
UHM – when you asked for Doctor Terror to be fired? Or when you saved her ass two times at board hearings?
He tells her to check on Ji Heon – after eating the "medicine" he should be fine. And true enough – Ji Heon is once again running at full speed with no problems. Yeon Woo swallows her pride – doggone it! Do Wook was right!
Later that night, Do Wook orders her to bring Ji Heon to his office; they're going to go visit Sang Bong. Ji Heon is currently at the judo center with Woo Ram. Aware of his weakness, he tries to overcome it by sparring with Woo Ram. However, the memory is too strong to bear, and he stops midway from throwing Woo Ram down on the mat. Rather than try again, Ji Heon just sends Woo Ram away.
Yeon Woo comes in and tells him they have somewhere important to go. Even though athletes aren't allowed outside, she's already gotten permission from the coaches – and no, she didn't say he injured his knee again. They're going to visit Sang Bong.
Ji Heon raises his hackles – when did he say he was going to visit? Yeon Woo assumes that Ji Heon would have visited one day, but Ji Heon denies it. He won't go and beg for forgiveness (which he thinks is what everyone wants him to do), because he's not at fault.
But Yeon Woo raises a sore point – she heard from Woo Ram that he can't practice judo properly anymore. Oooh, ouch.
Ji Heon makes the excuse that it's because of his knees, but she shuts it down right away. He was prescribed vitamins, and was lied to about the inflammation. It was all Do Wook's way of finding out if Ji Heon had a psychological problem – and he does.
Now it is his turn to give Yeon Woo the cold shoulder. He tells her that she has no reason to worry about him, especially since she's not interested in him.
Yeon Woo: You're the first patient I ever dealt with when I came to Taereung National Village. Do you remember? You came in on my job interview day. No, actually you were my patient even before that. So why won't I be worried? Because somehow, I want you to rebound. So I think it's best you see Sang Bong.
But Ji Heon has a better idea. Since he needs some immediate comfort, he grabs her wrist and leans in close. Oh no, this is not the kiss I want!!!!!
Do Wook enters just in time: "You, that pubescent boy with the look of naughtiness on his face, let go of that hand."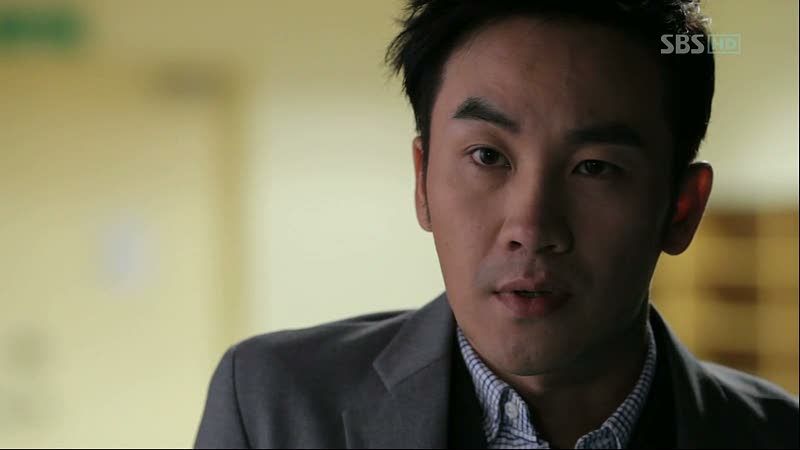 OK aberdeen_angus – you better have the answers and resolutions we're looking for!!!!!!!!!
Comments:
This was a hard episode to swallow. I definitely enjoyed how Ji Heon as a character is growing. It only makes sense that he's as tortured as he is and is acting out in all the wrong ways. I don't even mind the attempted-forced-kiss at the end as a plot point. In reality, I'm totally against a guy abusing a girl like that, but in this story it totally worked from Ji Heon's perspective. He is certainly going to be making bad decisions at this point, and I like that his bad decision is to pervert his love for Yeon Woo. But for the next episode, Yeon Woo should give him a hearty slap across the face and tell him to wake up.
As for the angst: I like it when it's well played and makes me feel frustrated inside because I so badly want the issue to be resolved (I'm not a masochist, I just like it when a drama is pulling the right emotions at the right time). That is the case in this episode; I just wanted to shake Ji Heon and tell him to snap out of it. The angst is prolonging the storyline in a way that makes me wanna go "KYAAAA!" and judo kick it far away, but it's also what is making this series so good. We definitely had our fun in the beginning, so now with episode 11 we are moving towards the melodrama just in time.
Now as for the Do Wook-Hee Young storyline: I am SO HATING IT. Hee Young breaks up with Do Wook just because of a stupid accident on a mountain? I get that every injury can be a "life or death" situation for an athlete, but I felt that it was so contrived that she must be at fault, or feel like she's at fault, for his handicap. Hee Young just needs to give herself unnecessary burdens just because she thinks she's a good person now. She's not – she's a boring, pitiful person. Their relationship reminds me of Choi Han Sung and Han Yoo Joo in Coffee Prince – I can never watch the series without thinking that their relationship struggles are so dumb and contrived.
I was afraid that there might be some late developments on the love triangle, especially with the ending, but I think it won't be as bad as it seems. Sure, Yeon Woo still seems stuck on Do Wook, but her growing concern for Ji Heon indicates otherwise – even if she may not realize it just yet. I won't call her dumb or hate her for still liking Do Wook – after all, who can get over a crush that easily? It's not like she has Seo In Woo beside her. I still think we are dealing with two parallel love stories here; it's just that Do Wook is the only fluid member who can push Ji Heon's buttons at the right time to help catalyze his relationship with Yeon Woo. And this whole accident is Yeon Woo's catalyst to become the comforter for Ji Heon, rather than the comforted.
RELATED POSTS
Tags: Cha Ye-ryun, Dr. Champ, featured, Jung Kyeo-woon, Kim So-yeon, Uhm Tae-woong