Dr. Champ: Episode 12
There, there, darling.
Drama, we need to take some time to think. I've never been a particular fan of this tactic, taking it as a subjacent "I want to break up, but don't have the courage to". This time, I'll remain optimistic. Don't ask me why; not even I understand that. Despite seeming gratuitously sadistic and cruel, I firmly believe you're more than that. I listened to your excuses and you're right – you're not completely to blame if you ate some gummy bears adulterated with high concentrations of methadone, which ended in you having hallucinations and being a general idiot.
However, you're still not completely reliable and we're remaining friends until either you prove yourself worthy or we confirm you're a tragedy junkie.
SONG OF THE DAY
Dear Cloud – 무너져 (Collapse) [Download]
Audio clip: Adobe Flash Player (version 9 or above) is required to play this audio clip. Download the latest version here. You also need to have JavaScript enabled in your browser.
Episode 12 recap
This episode kicks off with Ji Heon grabbing Yeon Woo in a pretty unbelievable move that shows exactly how deep he's sunk. Do Wook saves the day (and pretty much Ji Heon-Yeon Woo's relationship) by ordering him to stop it with that childish attitude. Since Ji Heon's acid stare refuses to go, Do Wook provokes him a little, describing his behavior as something shameful. Furious, Ji Heon grabs Do Wook only to be stopped by the latter's warning – if he continues what he's about to do, he'll make sure his days as an athlete are over.
The doctors go out to pay a visit to Sang Bong (Ji Heon is still in denial), and Yeon Woo confronts Do Wook for his harsh words to our judoka guy. Do Wook's pH must actually be negative, as he also questions her "new method" to cure athletes' diseases – it would include kissing them. Shocked, Yeon Woo just remains in silence.
Meanwhile, Ji Heon remains in his not programmed robot alter ego, training like crazy, treating human beings like crap, etc. Or, like Yoo Ri puts it after being completely ignored by him, "Butt has changed".
After so much time, Yeon Woo has picked her books again in order to gain some brownie points from Do Wook. Her efforts are proving to be successful, since she treats an athlete at Do Wook's office without being mocked by him for the first time. Their next patient is a guy who has a competition that same day, but is suffering from an acute pain. She gives him a temporary solution which must be given by Do Wook due to her lack of experience and difficulty of the procedure (it involves giving an injection, and hitting a nerve would make the athlete's condition more painful).
At judokas' training facility, Go Bum is making some people go crazy. And by some, I refer to all of them. He's refusing to acknowledge his "maknae" role, something Taek Woo won't tolerate. They eventually stop fighting over it, but the fire is just growing slowly between them. That same day, both doctors visit with the excuse of just watching how the team is doing, while focusing mostly on Ji Heon's progress (or lack of). In fact, Ji Heon is hallucinating with Sang Bong, thus losing concentration and failing to train properly.
Do Wook thinks that the best way to force Ji Heon to return to the land of the living is to make him accept what has happened and visit Sang Bong. Yeon Woo, on the other hand, is not so sure, since the accident was very recent. Either way, the coach, deeply concerned (either for the judo team or Ji Heon – maybe both?), wants to know whether he'll be able to be an athlete again by the time a Japanese team arrives in 10 days for a good-will match. Do Wook takes this timeframe as a deadline for Yeon Woo: she'll be responsible for his recovery. If she fails, Ji Heon most likely will be dismissed again from the team. After the coach leaves the mini meeting, Yeon Woo protests – her experience treating is poor, it would be better if Do Wook took the case. He's against her suggestion, it's time for her to spread her wings.
As a first step, Yeon Woo visits Sang Bong and talks to him, even when he's still with his eyes closed. She just expresses how cool he was enduring pain like a champ at the Olympic Games (since he was fractured), and ends telling him that his friend is messed up too. In a different level – more psychological maybe – but as painful as his. Offering her help to reunite them, she walks away.
Later, Yeon Woo talks to another doctor about her concerns regarding our two judokas. Her initial doubts are cleared when he explains that Sang Bong is still in step 1 of the "Five Stages of Grief" (denial, anger, bargaining, depression, and acceptance), so he needs to wake up to reality as fast as possible. If Ji Heon shows up, it'd be a win-win scenario: Sang Bong's wrath would certainly push him into the other stages and Ji Heon would finally face his guilt. She has to work his psyche and persuade him.
So, the rules of the game have been set, the only thing Yeon Woo needs is to realize how to reach this new distant Ji Heon. With that in mind, she asks her mum for advice. When they were facing hard times due to financial bankruptcy, how did she cheer her husband up? It's not a matter of "cheering the person up", they would think you're stoopid; what truly helps is just being there for them and holding them.
Well, for a married couple, holding each other is quite easy, but Yeon Woo has another idea – the guitar may keep her away from skinship!
At the National Village, Ji Heon can't shake off his robotic new attitude, even when the coach gives him those 10 days to practice when and how he decides to. He warns him, if those Japanese guys come and he's not ready to fight as a professional, kaboom, it's o-vah. Afterwards, an incident at the cafeteria caused by Go Bum's high tendency to douchbaggery, ends with Ji Heon accused of not having dignity because of his judo-block. Way to torture this guy over and over again.
Unsurprisingly, Yeon Woo's tactic fails miserably (how many things have failed this episode?!). She chooses a song about love. Love. And she sings it to the guy who's madly in love with her. Good choice. Not. Anyways, he softens a bit, only to restart his programming and go back to square one: she will never understand the excruciating pain he's going through, she should just shut her trap and get lost.
Hee Young's WTF decision to leave Do Wook is so uncomfortable to bear, that when she accompanies Yoo Ri for a medical check up, one could literally take a piece of air and build a statue. This evident distance between them is quickly noticed by Yeon Woo, who in her first WTF moment of the night, faces Hee Young to ask her if they've broken up.
Rolleyes to the infinite.
With her suspicions confirmed, she storms into Do Wook's house (!!) having understood that now that he's been rejected, he'll leave Korea for good. His dream wasn't so poetic after all, he was just following a woman.
And exactly why are you entitled to make this kind of reprimands, again?
Anyway, back to Ji Heon's Depressingland, the man himself is forced by his niece to watch a documentary on Sang Bong. No, they little boy is not a sadistic torturer, he still doesn't know what happened, and he's super excited because his uncle is appearing (quite sporadically and in the background) on TV. Ji Heon, on the contrary, wants to avoid that damn program at all cost.
Sang Bong: The most difficult opponent? It's not because he's good, it's because he's my friend.
(Ji Heon turns his head to watch it directly)
Sang Bong: I was feeling bad towards him, so I considered going up a weight division. But my coach was against it. In any case, since my friend has entered the national village again, I'm happy.
I can't breatheeeeeeeeeeee! Why is this so sad?!
Sang Bong's words shake Ji Heon's dulled senses off. He'll go and face his friend, and his own fragility. In order to do this, he calls Yeon Woo to accompany him (thus saving her from an atrocious haircut, or hair-murder?); his panic is too big to handle alone. She goes right away to the hospital, and takes him to Sang Bong's room.
As if Sang Bong had felt that Ji Heon was the one entering his room, he opens his eyes only to see the responsible for his tragedy. Quite predictably, he suddenly turns violent (similarly to Do Wook's reaction when Hee Young was leaving him), squirming on his bed and shouting Ji Heon to get lost.
How can I continue writing when the tears blur my sight?
Sang Bong's pain was written all over his face, and who could blame him for firing up against his ex-friend? Thinking it coldly, yes, Ji Heon didn't do it on purpose, but does it make it any better? No. And I love this storyline to bits, period. I could do without the romance if they managed to handle skillfully this particular sub plot.
Ji Heon walks away in shock and goes back to his curled up pill bug status. His companion sees him leaving the hospital and follows him, just to witness his mental defeat. Now, she understands what her mum said by holding a person can be more helpful that cheering them up – she stays by his side, in silence, as his support.
In this current situation, it's pretty clear that Ji Heon's mood is in no shape for competition – or even training at all – so he decides to quit. His coach is showing his heart for one, telling him that as the responsible for the team, yeah, he is quite worthless, BUT as his sunbae, he can't allow him to run away like this. He believes Sang Bong would think the same. Having said that, he challenges Ji Heon to compete with him: for 5 days, he'll have the chance to fight with him, until he flips him over. They won't sleep at night, they'll train and prepare; that's his offer and Ji Heon's last chance.
Yeon Woo is facing interesting changes in her life too. She's finally decided to let go of Do Wook's surveillance, and go back to treating patients in her office.
The day of the good-will match has arrived, and so has the deadline for Ji Heon's recovery. Yeon Woo considers attending the match, only to stop before entering (ack, frustrating!). She has no time to reconsider, Do Wook calls her to attend a meeting with the vice director to further discuss their "budget problem": it seems that at last, they've granted them a reunion with the Bureau Chief.
Coach's late at night sessions of private training have paid up, leading to Ji Heon's positive performance at the match. Yay! As he goes out, he receives a motivational text message that Yeon Woo had sent before, driving him to try and meet her. Oh, mighty Gods of the Olympus, how unfortunate must be Ji Heon's timing? He catches her while she was leaving with Do Wook.
BAH!
They change formalities about that day's match and before Ji Heon could utter a word, they had already left for their budget meeting. The reunion with the Bureau Chief was one of the most awkward moments in this episode, including some sexist remarks on Yeon Woo and Do Wook talking about his injury in exchange for a serious consideration of the medical machinery matter.
After the dinner was over, Yeon Woo let the doctor know how surprised she was at his accommodating behavior. He teaches her a valuable lesson in life: don't be so stiff if you want to succeed. As a matter of fact, he was actually doing it for her sake; she's the one who'll need the equipment once he's gone. With tears in her eyes, she rejects his compassion – she doesn't want him to go.
Do Wook tries to explain his motives for having suddenly given up on the National Village. When his life as an athlete was terminated, he took medicine as his new dream. So no, he wasn't there just for a chick as she had previously deducted, he was indeed following his dream… or so he thought. When he met Hee Young, the past that was left behind, came back to haunt him. As a person who's still stuck in the past, not letting go of his tragedies, he can't be the National Village's representative. In a nutshell, he has to go back because of this. He'll help her with all his heart until he leaves, it doesn't matter which strategy he must use.
Yeon Woo: Can you not go? I still… need you.
*head-desk*
Do Wook: Don't worry, I'll leave a doctor who'll work instead of me.

Yeon Woo: No, I said I need you, not another doctor.
Okay, no. This is not the way to go, writers. Hopefully, you'll fix this by next episode's initial chat?
Do Wook is so cool about her stubborn crush – he decides to smile tenderly without making her feel dejected or embarrassed.
And why am I getting hopeful here? See, the following day, Ji Heon (I bet he's dead tired of handling his brother's decease, his friend's disability and his chosen woman's changes of mood) goes directly to face Do Wook.
The subject? Yeon Woo.
The moment? Now.
No rules. No chickening allowed. Let the Doctor – Athlete Smackdown begin!
Kaedejun, you're the referee!
Personal comments
…and we better have a definitive adult talk! (considering Do Wook has never showed any romantic interest in Yeon Woo, this doctor-athlete discussion should be quite amusing)
I'm amazed at my willingness to give second chances to this drama, one after the other. The truth is, while the romance bits are driving me bonkers, the pure "dramatic" storyline is smashing my heart to smithereens.
I have catalogued Sang Bong as a mere plot device many times here, and I stand by that definition. Nevertheless, he's interesting as such, providing the kind of angst I wasn't expecting; and I have nothing more than curiosity to see what follows. Yes, my inner curious self has been sparked by this devious twist. I came for the romance, I stayed for the sport's angst; that's a first time for me (seriously, how cute is the judo team?).
On the other hand, what about the writer and female leads? Are they a mortal enemy or what? Both Yeon Woo and Hee Young are ridiculous, hysteric, unfairly cranky. I'm trying to understand Hee Young's attitude from last episode, and her logic is still a mystery: you feel guilty ergo you mistreat the guy. Say what?!
Yeon Woo seems to have made one (temporary?) step backwards in character development, trying to cling onto Do Wook, even when in previous episodes she had acknowledged her defeat. I'll just wait a little more before choosing to be irreversibly harsh and unforgiving, because I kind of understand how much she respects and admires her boss, and seeing him go must be shocking enough to make her do this kind of stupid teary semi-declarations. I can't explain my dissapointment when I didn't see any progress in her snail paced opening up to her colleagues, patients and, particularly, Ji Heon. Don't get me wrong, even if I love him till the end of the universe and beyond (and would love to see him happy by the ending), if she's not interested, there's nothing we can do (at this point it's pretty safe to say that she'll warm up to him sooner or later). However, she was in charge of his recovery, but barely talked to him what? Twice? (they had 10 days, right? Ji Heon made it thanks to his coach). What happened with their growing friendship from before the accident? The only moment in which she showed some concern was when she let her concrete walls fall, and hugged him at the hospital. It was a small gesture, but it spoke volumes about her and her existing ability to empathize with him. She has a soul after all, and he only lets it out when she's by his side – she has no need to prove anything to him, her self imposed social barrier has no point at all.
Maybe Ji Heon and Do Wook can team up to make the ladies get back to their senses?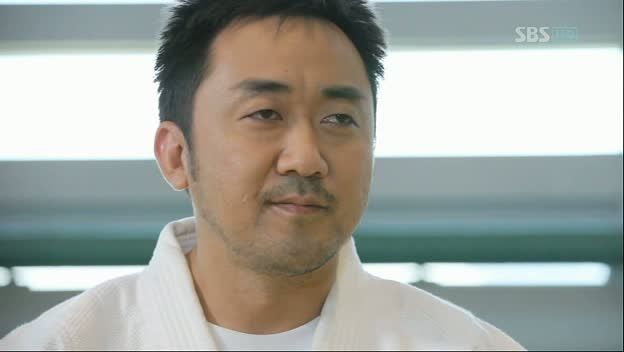 Coach approves.
RELATED POSTS
Tags: Cha Ye-ryun, Dr. Champ, featured, Jung Kyeo-woon, Kim So-yeon, Uhm Tae-woong