Hollywood screenwriter acts in Athena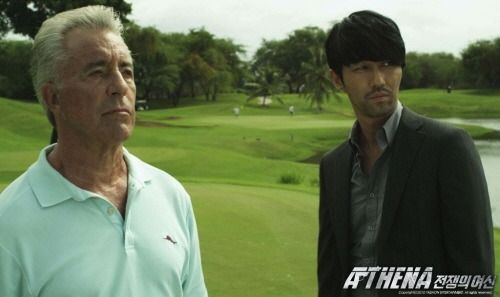 Er… I can't be the only one who finds this news random. The production company of upcoming spy drama Athena: Goddess of War has announced that a famous Hollywood screenwriter will be acting in the drama: It's Douglas Day Stewart of 1980s hits The Blue Lagoon and An Officer and a Gentleman.
In the drama, Stewart plays the head of Athena, which, like IRIS in the original series IRIS, is a secret underground organization. He's therefore the "key to the secret" in a number of cases; he's also the fierce, poker-faced boss who gives baddie Cha Seung-won his orders, which explains the stills pictured here.
So how'd Stewart get involved in the first place? According to a rep from Taewon Entertainment, Athena's production company, he caught their eye at auditions held in Hawaii, which is one of the drama's numerous foreign shoot locales. Apparently they liked him right away and cast him without knowing of his credits as a writer, which they discovered after bringing him onboard.
The stills with co-star Su Ae were filmed in Hawaii as well, and the production plans to head to New Zealand next; they'll travel at the end of November.
Athena will air following Giant beginning in December.
Via Star News
RELATED POSTS
Tags: Athena: Goddess of War, Cha Seung-won, Su Ae