I Am Legend's Hong Ji-min in musical
…called…wait for it…NUNSENSATION. I kid you not. Really, I couldn't make this stuff up if I tried.
It's Nunsense! No, it's NunsenSATION! A sequel to the original Broadway musical Nunsense (1985) about a group of nuns who put on a show, Nunsensation is the Las Vegas-based sequel that sends the group of singing and dancing nuns to…headline a cabaret show? Okay, clearly I haven't seen this, so I might be missing that crucial logical link that gets us from the convent to the casinos. Just a thought. Either way, sounds totally wacky. To top it off, apparently one of the sisters hits the jackpot (are nuns allowed to gamble?) and hijinks ensue.
Singer and actress Hong Ji-min recently played Fazaaah (the way Kim Jung-eun always hilariously pronounced her name), the over-the-top but lovable and loyal best friend, in SBS's I Am Legend. She also has some serious vocal chops, so it was a shame that she didn't get to flex them much in Legend, playing the bassist and resident glamorpuss. Her outfits in that drama alone could be their own sixteen-episode running gag.
Looks like she'll be donning a nun's habit in the musical, along with her co-stars Yang Hee-kyung, Lee Tae-won, Kim Hee-won, Kim Hyun-jin, Kim Hyun-sook, Lee Hye-kyung, Choi Woo-ree, Kim So-hyang, and Lee Jung-mi.
Hong said, "Because we're an all-female cast, we found that we could share our boy troubles freely with each other," laughing at the advantages of girl-talk and camaraderie on the set. Not as rockin' as the ajumma-turned-rock-band in Legend, but adorable all the same. There's something so warm and endearing about Hong, because she really does seem like some crazy lady who lives down the street and gets herself into Lucy-esque scrapes. Her onscreen relationship with her hubby in Legend was adorable, as was her awesome devotion to "Jjang." Hope to see her in many more dramas to come, as quirky side characters are always a welcome addition for me.
Nunsensation is playing in Seoul at the Doosan Art Center until January 30.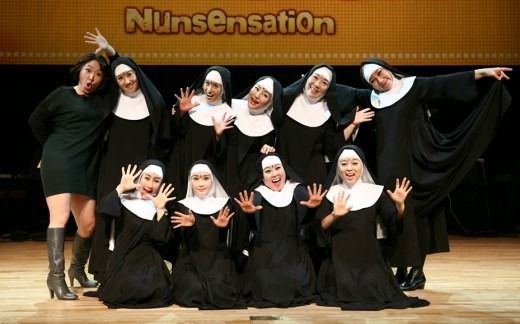 Via Seoul NTN
RELATED POSTS
Tags: Hong Ji-min, musicals