Kim Min-joon takes villain's role in Blue Salt
With the addition of Kim Min-joon (Friend, Our Legend), upcoming thriller film Blue Salt has its villain — or at least another one, given that lead actress Shin Se-kyung is playing an assassin. Though I suspect she will not quite be a villainess; her character does approach the retired mob boss played by Song Kang-ho on orders to kill him, but I expect a tentative bond will develop to complicate things.
Kim Min-joon's character is mysterious cold-blooded killer, and goes only by the name "K." (Hmm, where have I heard that before?) As a veteran assassin, he carries out his missions swiftly and efficiently, which will give Kim a chance to show off some action chops.
I've been sorta iffy on Kim Min-joon in the past; he's definitely had some notable moments in his career (Damo), but also some frustrating ones as well (Tazza). After taking on a darker role in last year's Friend, Our Legend, though, I can definitely see him pulling off the part of a killer here.
In addition to the above-mentioned cast, the film boasts a string of high-profile names, which include Chun Jung-myung (Cinderella's Sister), Lee Jong-hyuk (Chuno), Yoon Yeo-jung (Housemaid), Kim Roi-ha (Comrades), and Oh Dal-soo (Thirst). Quite a solid lineup.
Blue Salt has already begun filming, and released the two stills below, which garnered some notice for Shin Se-kyung's dramatic image shift in going from the girl-next-door to shady badass. The film plans to wrap filming this winter for a release sometime next year.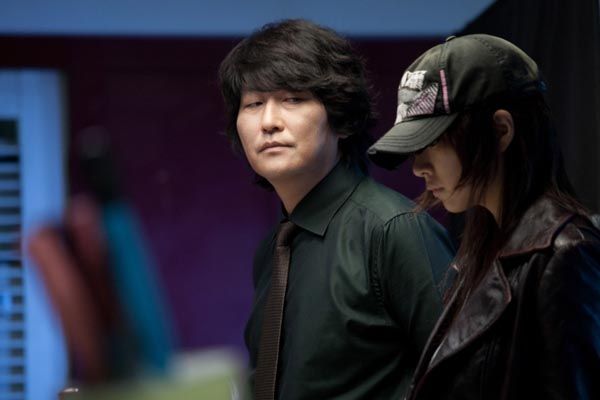 Via Asiae
RELATED POSTS
Tags: Kim Min-joon, Shin Se-kyung, Song Kang-ho