Lee Yoon-ji joins idol-laden cast of Dream High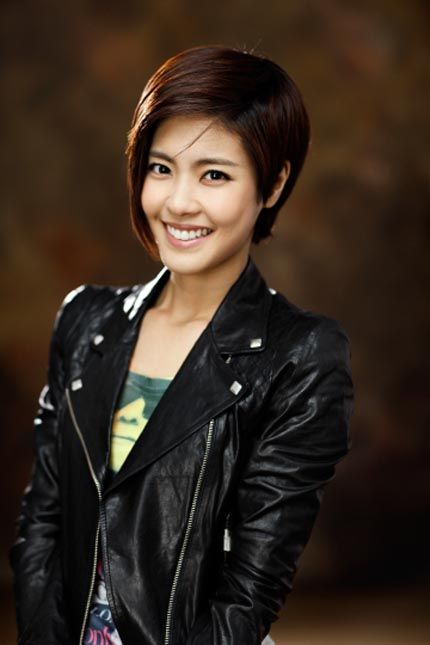 Underrated (imo) actress Lee Yoon-ji (Dandelion Family) has come onboard the Korean Fame-like drama series Dream High, in which lots of idol stars will act as aspiring versions of themselves, playing high school students in an arts school. Lee will play a teacher at the school who is characterized by "elegant, perfect style and strong charisma," who cultivates young stars of tomorrow.
And can I just say: Finally! A real actor! I was worried for Kim Soo-hyun (Giant) for a bit there, because while he is a fabulous young actor and can certainly carry the lead role, he's surrounded by newbies. He's held his own (and then some) opposite some of television's top veterans, so I just hope his talents aren't wasted.
(I'll take the moment to reiterate that I am not saying all idols make horrible actors. Some are decent, and a select few are good, even great. (Some also suck.) It's just that I grow doubtful when a whole cast of relative newbies is thrown together and expected to carry a drama on the strength of their fanbases and personal charm. A star's appeal and charm are great things, but they are in no way substitutes for acting experience or training.)
The other cast members include idol stars Taecyeon (Cinderella's Sister) and Jang Woo-young of 2PM, Suji of pop group Miss A, and T-ara's Ham Eun-jung (Coffee House). The show is being produced by Hallyu actor-producer-businessman Bae Yong-joon and kpop hitmaker Park Jin-young, both of whom are slated to make cameo appearances.
I can't say I'm excited, but with Kim Soo-hyun and Lee Yoon-ji attached, my fears are alleviated somewhat. We shall see soon enough; Dream High is scheduled for an early January premiere, and will produce 16 episodes.
Via No Cut News
RELATED POSTS
Tags: Dream High, Lee Yoon-ji