Medical investigation drama Sign begins filming
Having just mentioned MBC's My Princess, here's a look at its competition, SBS's forensic-crime-investigation drama Sign (formerly titled Heaven). The following are the first stills from the drama, which began filming about a week ago.
(Sign will get a few weeks' jump on My Princess, which will be attempting to crack the supposed "MBC curse" that has killed drama after drama in its Wednesday-Thursday lineup. In fact, since 2008, MBC hasn't had any dramas maintain double-digit ratings in that slot, except for one: Personal Taste.)
Sign stars Park Shin-yang (Painter of the Wind) and Kim Ah-joong (Accidental Couple) as two forensic doctors who engage in some C.S.I. action as they solve murder cases through science. The drama also covers the workplace relationships and politics at the lab where they work, in addition to — of course! — romantic entanglements. Besides Park and Kim, we have Eom Ji-won (The Woman Who Still Wants To Marry, in the still above) as Park's ex and an aggressive prosecutor.
In a cute tidbit from behind the scenes, stars Park and Kim came out for one of the first shoots on November 14 — they weren't filming, but came in support of Eom, who was — and spent some time tweeting to each other on their phones. (See below, in the last photos.)
Kim had written to Park (Twitter account: http://twitter.com/parkshinyang), "Hello… It's Ah-joong… I'm learning how to tweet from sunbae-nim… I'm at the Olympic Stadium.. ㅅㅅ" to which Park added, "I hardly know how do do it myself… who's teaching who?" He then tweeted, "I'm introducing the Twitter account of Kim Ah-joong, who plays 'Go Da-kyung' in the drama I'm shooting with her, Sign~"
(Too bad it seems Kim has since deleted her Twitter account, which was at http://twitter.com/AJoong82.)
Sign will premiere on January 5.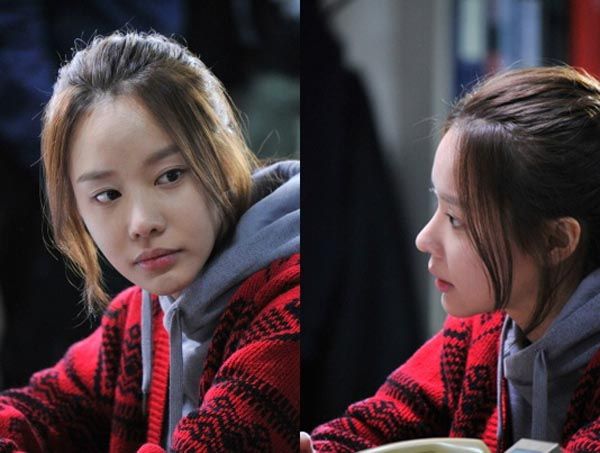 RELATED POSTS
Tags: Eom Ji-won, Kim Ah-joong, Park Shin-yang, Sign