My Princess begins rehearsals
Earlier this week, star-studded rom-com My Princess held its first script reading, and I would've given my left foot to be a fly on the wall of that room. Because if it went the way I imagine, this drama is going to be one epic crash and burn.
Please, someone tell me who thought it'd be a good idea to have Kim Tae-hee (IRIS) and Song Seung-heon (East of Eden) deliver dialogue written by the most verbose of drama writers. Writer Kim Eun-sook (Secret Garden, On Air) is known for her "brand-name/designer dialogue" [명품 대사], which is characterized by fast-talking witty banter, delivered a mile a minute. It's what you'd call delivery-dependent dialogue, because without good actors behind it, the writing feels deliberate, and labored. Imagine lesser actors behind the banter in Secret Garden. Characters like Joo-won who spit miles of vitriol but convey depth underneath the surface are not possible without the acting chops to back it up.
You see my concern with this drama?
I don't dislike either actor, but I wouldn't exactly want a pair of actors, known separately for their wooden acting…to join forces as the romantic leads for a drama laced with rapid-fire dialogue. 's all I'm sayin'.
I remember liking Song Seung-heon when he debuted. He was shiny and new. I will admit to being distracted by the pretty. But his acting ability has stayed exactly the same since then. To be fair, so has his face, so that's good for him. Kim Tae-hee was a take-it -or-leave-it actor in IRIS, so I'm sure she'll be serviceable here, but I've never seen her be gripping in anything.
Who knows? There might be a hidden gem in this drama and Kim and Song will pull out all the stops, making my jaw hit the floor.
But with a chaebol-meets-princess storyline to top it all off, that's asking a lot, Show. You should know that I will be armed with much snark, come January.
My Princess also stars Park Ye-jin and Ryu Soo-young as the second leads, and will be premiering on MBC in January.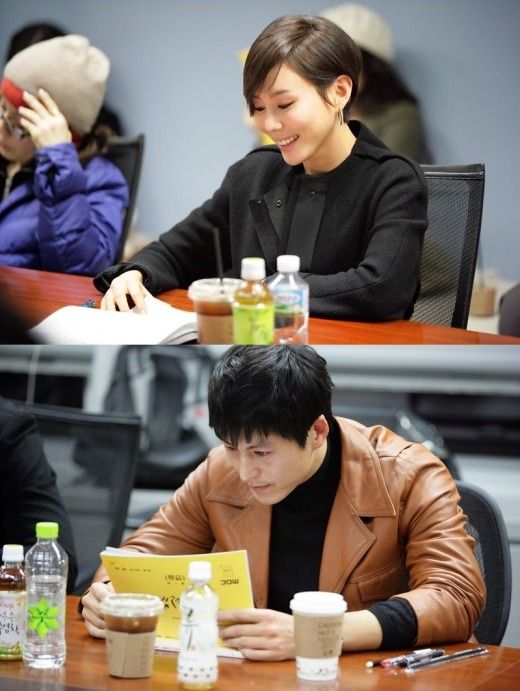 Via TV Report
RELATED POSTS
Tags: Kim Tae-hee, My Princess, Park Ye-jin, Ryu Soo-young, Song Seung-heon