Noh Min-woo rocks out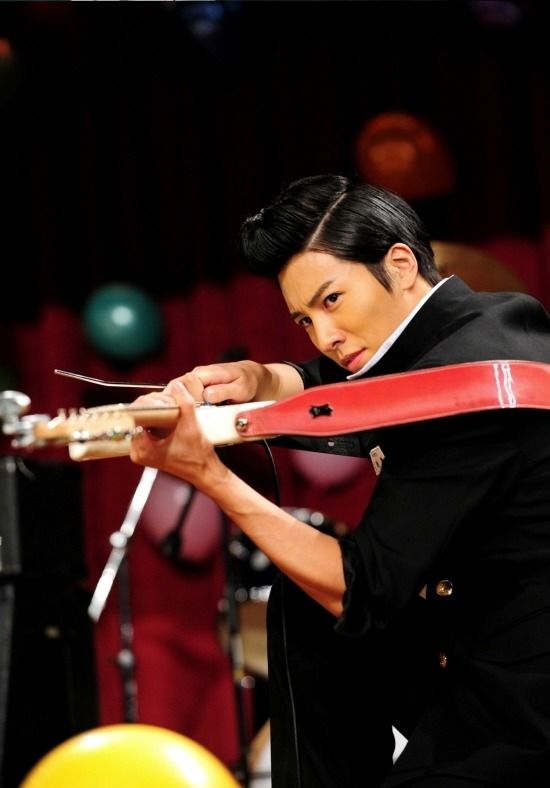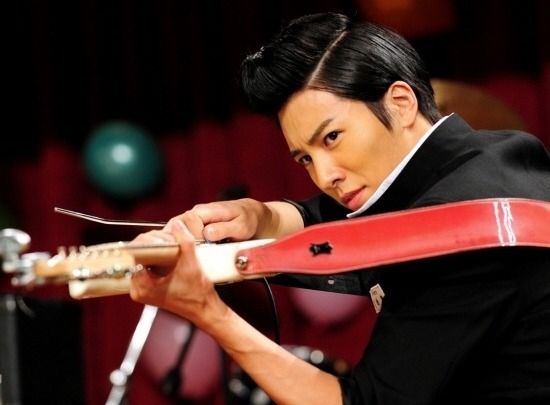 Rock drama special Boohwal has undergone a name change. It's now called… wait for it… Rock Rock Rock. (Geddit? Is it…maybe about…ROCK?) The first set of stills released from the set show leading man Noh Min-woo rockin' out like it's 1985.
It's probably more like 1979, but by the high school uniforms, you'd think it was the 50s or something. Those hats always throw me. What I like about the stills though, is that they actually show some acting potential from Noh, who is, let's face it, mostly known for his very pretty, but expressionless face. I think his two facial expressions in My Girlfriend Is a Gumiho were angsty and constipated. Oh wait. That was the same face.
*Ducks for cover*
But here, he's showing some intensity, and not of the forced kind, but of the I-will-battle-you-with-my-kickass-guitar-skills kind, which is totally winning me over. I sort of wish it were a musical rather than a music drama, because in the still below, he seriously looks like he's about to break into a song-and-dance number, like Grease-meets-West Side Story, and it's awesome. The last still, where he's totally into it, kind of kills me. It's so cute.
But the hair? I can't explain the hair. I mean, what's with piling it into the middle like a sideways toupee? It makes me want to rip it off his head. If they're going with the full hair-rock thing, I sincerely cannot wait until we get the stills of Noh Min-woo in long, flowing locks. That? Will be a sight to behold.
Rock Rock Rock is a four-episode drama special, a biopic about the life of Boohwal lead guitarist Kim Tae-won. The stills look like they're starting early in Kim's life, which is cool, because he was known as that whiz kid rocker who could play Led Zeppelin's guitar riffs in middle school. He also wrote his first song at sixteen, the first of about, oh, 47 million or so.
Rock Rock Rock has been pushed back two weeks, and will air December 11 and December 18 on KBS.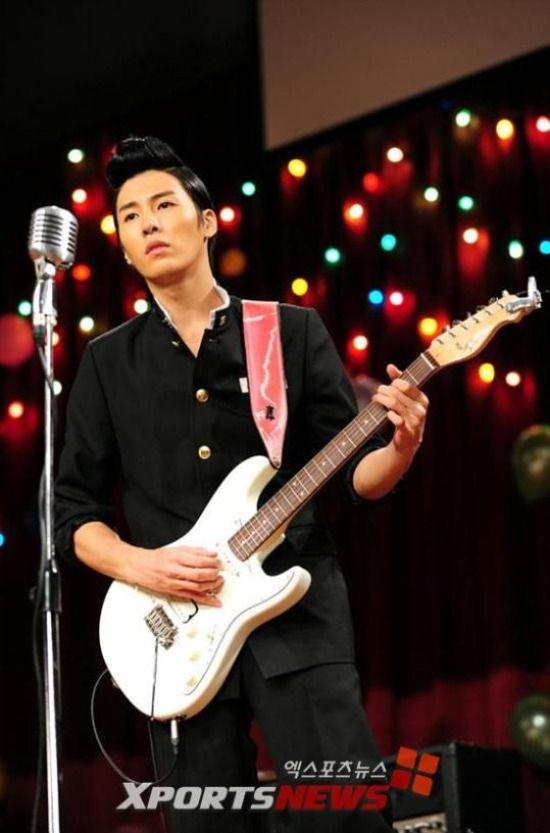 Via Joy News
RELATED POSTS
Tags: Noh Min-woo