Secret Garden: Episode 5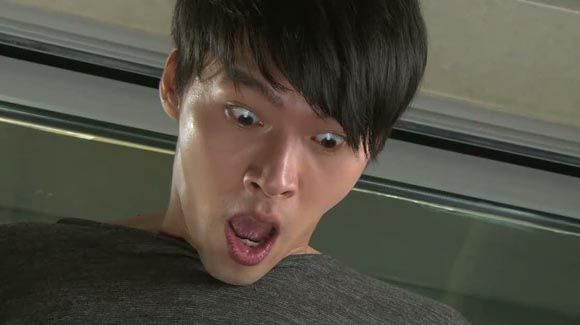 Finally, it's here! The moment we've all been waiting for. And while it's been a long time coming, I feel safe declaring that it did not disappoint.
Last week's episodes were a bit more serious, setting the stage for the inevitable body-swap… but now that we're here, I can't WAIT for all the wacky hijinks to begin. Characters have met and clashed, stakes have been set (and raised a couple times), and now all that's left is for the insanity to unravel. Yeehaw!
SONG OF THE DAY
TRAX – "오! 나의 여신님" (Oh! My Goddess) [ Download ]
Audio clip: Adobe Flash Player (version 9 or above) is required to play this audio clip. Download the latest version here. You also need to have JavaScript enabled in your browser.

EPISODE 5 RECAP
At the posh Jeju resort, Activity #1 in Ra-im's "Romantic Date with Oska" — lunch — is crashed by Joo-won, who anticipates their arrival.
Joo-won, feeling secure in having established the upper hand, points out, "Your guest can't take her eyes off me." Oska returns, "It seems more like she's glaring to me." Unfazed, Joo-won answers, "That's right, since I told her she's prettier when she's mad."
The waiter regretfully turns Oska away because all of the tables have been reserved by Joo-won — so the only option is for all three to dine together. What, you're not even going to pretend you want to get away from Joo-won by trying a different restaurant?
Joo-won goads Ra-im during the meal, but the joke's on him because he has to put up with their cheesy exchange as Oska compliments Ra-im's beautiful eyes. Joo-won's expression grows increasingly incredulous as she says bashfully that it's because a blinding star sits in front of her. Oska gallantly offers to turn away from her, but Ra-im volunteers to go blind instead.
Joo-won barely holds onto his lunch at the sickly-sweet banter. And that's before she ups the ante by asking to call Oska oppa. Oh, no she di'n't just resort to the Oppa-Pout-Wiggle! Joo-won stews in his petty jealousy, which is just what he deserves.
A singer — Tae-sun — performs, which momentarily sends our two bickering not-yet-lovers into flashback.
Joo-won remembers watching Ra-im wrapping her bandana around her safety-pinned bag after he'd insulted her for it. Another flashback takes us back to their fight at the department store, after which he'd returned to the pile of fancy clothes he'd thrown on the floor and told his employees to have them wrapped.
Ra-im's flashback takes her back to the moment she first received Joo-won's text message to meet her at the bar, resulting in an uncharacteristic display of girlish insecurity as she'd rooted through her roommie's wardrobe for something pretty to wear.
Oska excuses himself to confront Tae-sun, who is under the misconception that Oska reserved the whole restaurant so that he could sit in it alone. He's insulted as a performer, that his stage was so belittled (since he'd robbed him of an audience) by the very person who supposedly wants to help him. Oska feels wrongly accused, and wrist-grabs him to hold him back. He clarifies that he didn't rent the place, and that he's never once belittled Tae-sun's musical skills — because Tae-sun's better than him. (Aw, is this the romance we should really be cheering?)
And then, just as I make that quip, Tae-sun warns Oska to let him go and tells him that he's gay. Oska thinks he's joking at first, then stammers that it's no big deal, that he doesn't care, that there are lots of gay people who are out these days.
Back at the table, Joo-won mocks Ra-im's fawning over Oska, which is such a contrast to the stiff way she deals with him. She answers that oppa treats her like a young woman and not a poor charity case, unlike some other people. Touché.
Joo-won warns her that Oska's a player, but the conversation is interrupted by the appearance of Seul, who covers up her jealousy at seeing another woman sitting with her future husband. Is it strange that supreme confidence and delusion are so difficult to tell apart?
Ra-im snorts in amusement while listening to this amusingly stilted exchange; Seul feigns surprise to see him in such a "fateful" meeting, just "like magic." Sure, if magic can be acquired through massive amounts of money, bribery, and manipulation.
Joo-won curtly dismisses her, but as Seul leaves, Ra-im recognizes her and chases her down. It takes some prodding, but Ra-im reminds her of their earlier encounter, determined to wrest an apology or at least acknowledgement from the woman who almost got her friend fired.
Joo-won steps in and tells Ra-im to apologize, because she was the one who upset the VIPs who pay 100 million won a year for the privilege of that exclusive, plebeian-free lounge. Seul smirks to herself and feigns a demure, damsel-in-distress-y attitude — until Joo-won turns to her and tells her to apologize, too, for not honoring her promise to let the incident slide. Way to piss off both ladies, dude.
And then, Oska steps in and asks for a moment alone with Seul, face grim.
Joo-won makes sure to tell Ra-im that he wasn't taking Seul's side; he was just on the side of rules. Well, okay then — that'll make her like you. Ra-im asks what's so different between her and those snooty people who think they're so great, and he boils it down to one thing: money, with which they buy inequality and discrimination.
Ra-im asks if he's the same way. He answers, "There's no reason I shouldn't be."
Another budding argument is interrupted by the appearance of Jong-soo, who registers Ra-im's presence with displeasure. She explains that she managed to score a free plane ticket, which elicits a smile from Joo-won (ah, so she's NOT just here to see Oska?). Asked about lodging, she assures him that she's found a jimjilbang (sauna) nearby — which, if you're familiar with Korean dramas, is something of a last resort. (They're not meant to be cheap hotels, but since you're allowed to hang out at your leisure after paying an entry fee, they're often used in place of that former standby, the all-night PC room.)
Holding back his temper, Jong-soo gives her his room key and tells her to wait for him — they're gonna have a talk after he's done with work.
Ra-im skips off happily, figuring she can take a shower, ignoring Joo-won's incredulity at the idea of her lounging around a man's hotel room.
Joo-won orders Secretary Kim to secure another room, but with Oska's music video being shot here, there are none to be had. Even Joo-won's own usual suite has been usurped… by Oska.
Seul announces that she'd like to be on good terms with Oska now, since they're "about to become family." In her delusions. They hadn't parted amicably, but she says they should be able to get along since they weren't in love — a declaration that Oska doesn't agree with.
So when she asks about that woman Joo-won was with, he answers that he's dating her. For all Seul's nonchalance about their past, she looks pretty upset to hear it.
The breakup is shown in flashback: Oska had prepared a romantic scene and gotten down on one knee, reciting a speech and presenting a monstrous diamond. But Seul had called him a has-been star, laughing at his naivete for taking it seriously when she was just playing around.
Back at the resort, Oska heads to see… Joo-won, of course! In my mind, he's seeking out a buddy for some companionship, but he gives Joo-won a different reason, proposing a bike race and accompanying wager.
Joo-won's not interested until Oska offers to move out of their villa if he loses. But if he wins… he wants Gil Ra-im, a person he suddenly "desperately needs." Given the timing of his realization, something tells me this is more about pride and revenge than emotional fulfillment.
Oska does have a shred more understanding about women than Cousin Crazy, though, and he points out that Joo-won isn't capable of giving up everything for a woman. He, on the other hand, can: "Women can sense that instinctually. Especially poor women."
Ra-im sees the men preparing to head out and, since she enjoys dirt biking herself, asks to be included. She doesn't mind being in the middle of a bet, and offers up her own conditions — if she wins, she'll be cast in Oska's MV.
And off they go.
At a fork in the road, the men's close jostling flips a sign and points it to the opposite path. I find it highly improbable that the kickass stuntwoman with a head start would find herself in last place, but I understand that the story needs this point, so… Yeah, she takes the other road.
When the men emerge from the forest and speed toward the finish line, Joo-won constantly looks behind him, wondering where Ra-im went.
Joo-won's in the lead, but he hears a scream through the walkie-talkie and halts — twenty feet in front of the finish line — giving Oska the victory. More worried about Ra-im than the bet, he yells back in the walkie-talkie, but gets no response.
He and Oska separate to search different parts of the biking route, calling emergency service in case medical attention is needed. (A hilarious bit: A paramedic asks Secretary Kim to describe Ra-im's clothing so they know what to look for. He hasn't seen her today, so he can only say, "Well, if the president chose it… pretty clothing?")
At the forked road, Joo-won sees the sign pointing the wrong way and heads down the road less taken.
He's imagining all sorts of horrible possibilities, but to his surprise he finds Ra-im safe and sound. However, there's something strange about this forest — the walkie-talkie doesn't work here, and neither do cell phones. Oddly, Ra-im hadn't heard the scream that sent Joo-won on the search in the first place — and she certainly didn't do any screaming.
Unaware of the search party that's looking for her, she's most bummed that her chance to do the car stunt has been ruined. She's calm and matter-of-fact about this all — in contrast to Joo-won's nervous worry — and points them to a remote restaurant, where they can call a taxi.
They follow the sign to the isolated shack, called "Mysterious Garden," which is located deep in the woods and amidst lots of fog.
The building itself looks rather familiar, although Joo-won doesn't connect it to the strange house in the painting he'd almost bought.
The Mysterious Garden turns out to be a bizarre place decorated with strange talismans and owned by an even stranger proprietress. Ra-im looks around at the many colorful bottles while Joo-won tries to call out.
The woman serves them a chicken dinner while asking Joo-won closely if he's sick — maybe he's got that pesky cancer, or some other illness? Her strange intensity is unnerving, and he scoots away. To Ra-im she says, "Nice to see you" — which is a greeting that is often used to mean "Nice to see you again."
Ra-im sees that the woman is making liquor, which her father also liked to do. The woman retorts, "He liked drinking it more than making it."
It's a medicinal type of liquor, which she is making "to save my daughter." But when Ra-im asks if her daughter is sick, the woman says in her curious way, "That is apparently her fate."
They make it back to the hotel safely after dinner, and Joo-won chides her for accepting a gift of two bottles of liquor from the woman. It's an odd thing to give, and he jokes that she's got an (old-fashioned, quirky) ajusshi living inside her. Ra-im returns, "I've got several."
She adds with a little smile, "One of the shy ajusshis among them has something he'd like me to tell you. Back there, thanks for coming to get me."
To cover up his pleasure, Joo-won balks that the ajusshi should've said so earlier, so Ra-im counters, "If you keep this up, the ajusshi who likes to fight is going to make an appearance."
She holds out one of the bottles to Joo-won, which he rejects. Until she clarifies that it's for Oska. Then he grabs it, naturally.
They find Jong-soo waiting for Ra-im with arms akimbo, anger simmering that she disobeyed his instructions to wait for him. Ra-im apologizes, assuring him that she's here to work and not play, even if it looks like the opposite is true.
As they walk off together, Joo-won balks at the idea that the stunt team will be using the same hotel room, but Jong-soo answers evenly that his team doesn't discriminate between gender. Maybe that's why you're not gonna get the girl, dude.
With exasperation, Jong-soo explains that he's keeping her off the shoot because she's not ready. She insists that she's not afraid of injury, and doesn't want to always be pushed behind just because she's female. To which he tells her that she had better find another team, then, "Because I'll always make you stand behind, till I die." O…kay. That's another reason you won't be getting the girl, not that we're counting because really, the only important reason is: You're not Hyun Bin.
Joo-won enters at this point to press his point about Rai-im sharing their room, or rather, Ra-im NOT sharing their room. Therefore, he'll vacate his own room so she can use it, while he'll share with his cousin.
Mention of the LOEL store event makes Jong-soo wonder if Ra-im is here as prizewinner, muttering to himself that he'd done something stupid, which answers the question of how her name was in the raffle in the first place. Ra-im accepts Joo-won's room offer, explaining it to her boss as preferring to make him uncomfortable over her teammates.
Joo-won follows her back to his room, peppering her with questions about her relationship to her boss. She asks why he's bugging her and following her around as though the truth weren't as obvious as a pink elephant in the room holding flowers and candy and a sign reading "I LURVE YOU." He answers that she already knows the answer.
He says that he possesses too many things to give up all for a woman, but then he opens his arms to her: "So, let's try a hug." In his worldview, women fall into two neat categories: women to marry, or women to play around with. (Aren't you a prince! In your fairy tale, I bet people call you Charming just to be ironic.) "But you keep hanging around someplace in between the two. So let's hug just once."
She challenges him, "And if you like it? Then what?" He smiles: "Then I'll make sure you live a life that's different from your life now."
Ah, so she becomes Cinderella. Ra-im is not impressed at this prospect — but even less so at his correction: "No, the Little Mermaid." Which is to say that she can hang around as a nonentity, "Then disappear, like bubbles."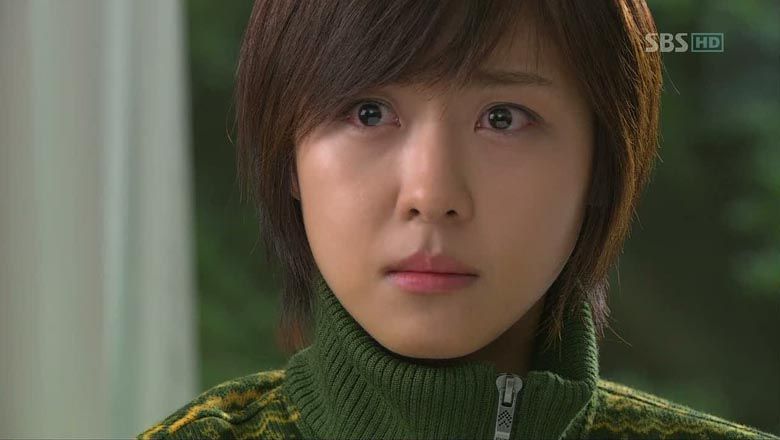 Ohhh. You. ASS. And here I thought you'd already scraped the bottom of the barrel in the last episode. Even Hyun Bin's general awesomeness isn't doing much to elevate you now, Joo-won. Ra-im's eyes fill with tears as though even she's surprised at how cruel he could be, like she hadn't expect him to go this low.
At least she has the good sense to slap him for his assery this time. But he just says, calm as you please, to think it over.
Meanwhile, one of her sunbaes pulls some strings to get Ra-im a meeting with the MV director… which goes about as well as you'd imagine. Seul enjoys this reversal, while Ra-im bows her head meekly.
Oska flips out when he joins the MV team, only to realize who the new director is. He flatly refuses to work with Seul, and storms out. His manager arrives just in time to get the brunt of Oska's anger, but he retorts the this is all a situation of Oska's making anyway — nobody else would work with him.
Oska fires back that he won't do the MV — and they may as well cancel the album while they're at it! He kicks everyone out and gets ready for a long sulk.
Joo-won joins him, and settles down for a brooding session of his own. Oh, are you lonely, baby? POOR WIDDLE RICH BASTARD.
When Joo-won wonders at his cousin's relationship to Seul, Oska merely answers that she's his anti-fan. Ha. I guess that's not a lie, technically.
Ra-im spends the night at that sauna after all, which I'm vastly relieved to see, since staying at Joo-won's place after his ever-so-gallant speech would have been tantamount to accepting his terms.
Both Ra-im and Joo-won sit contemplating their bottles of liquor for a while before uncorking and drinking. To signal the enormity of the mojo they're tapping into, as they drink, lightning flashes and a storm brews outside.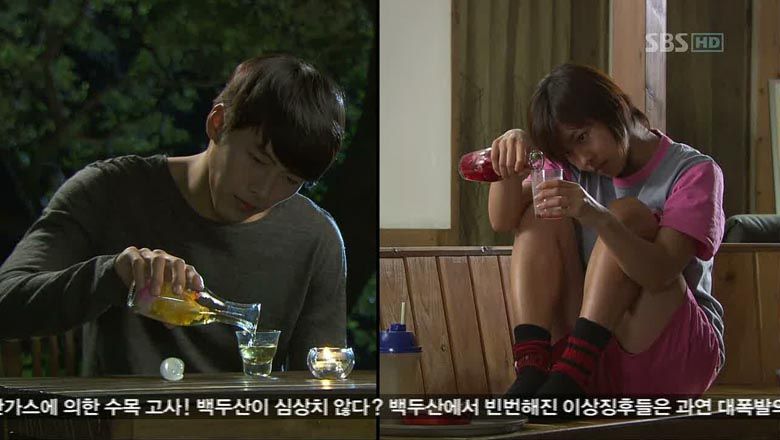 And in the morning….
Joo-won wakes up in bed and sees Oska lying beside him…
Only it's Ra-im's voice that thinks, "Am I dreaming? What a sweet dream." S/he looks at Oska with adorable giddiness, pleased with her subconscious for conjuring such a delightful dream.
On the other hand, Ra-im's body wakes up in the sauna, in a room of sleeping ajummas — where Joo-won's voice wonders at his own strange dream.
Slowly, it starts to dawn on Ra-im… and Joo-won… that their dreams are too vivid.
Ra-im (in Joo-won's body, or as I might have to call her, Ra-Him) stumbles out of bed, looks down at her strange hands… and registers a strange presence, um, below.
Meanwhile, Joo-won-in-Ra-im's-body (what shall we call her/him? Joo-won-ita? Lady Joo-won?) puts a hand to his/her chest, and realizes that there's more there than there used to be…

COMMENTS
I know that Joo-won is written as the world's most supreme dickwad specifically because he's going to get served in the coming episodes. And the more egregious the offenses now, the more satisfying the downfall later. I get that, and I look forward to it.
Even so, I think they pushed him just a wee bit too far for my liking in this episode. If the body-switch hadn't happened at the end of this episode, I may have hated him too much for even the promise of turnaround to mollify. There's a line between making the hero a misunderstood, or maybe stunted, or maybe socially inept blunderer who just doesn't know how to be a nice guy, and making the hero a hateful asshat. Unfortunately, I don't think Joo-won is aware such a line exists, nor does he care, because lines are for common people. Back it up a bit there, buddy.
That said, props to Hyun Bin for going for it and portraying the character's privileged, arrogant, offensively superior attitude. And if the last few seconds of this episode are any indication, he's going to be amazing to watch as the girly Ra-im.
By the way, feel free to throw out suggestions for what to call these two when they're body-switched. I found that when doing Who Are You, it was necessary to call the main character by different names to make it clear who was in whose body at any given point. (There, it was Seung-hyo when he was normal, and SeungHyoDad when he was possessed by the spirit of Dad.) I have a sneaking suspicion that referring to these characters might get a wee bit confusing without clear monikers to establish who we're talking about.
RELATED POSTS
Tags: featured, Ha Ji-won, Hyun Bin, Kim Sa-rang, Philip Lee, Secret Garden, Yoon Sang-hyun