Sungkyunkwan Scandal: Javabeans' and Girlfriday's review
You didn't think girlfriday and I were gonna just let this drama go without commenting on it, did you? Both of us have been watching Sungkyunkwan Scandal weekly, even if we haven't been able to do the recapping ourselves, due to the finiteness of that thing we call time. But now that the drama's over, we thought we'd weigh in with our likes, dislikes, and general impressions.
Since the series has been thoroughly recapped, we won't linger too much on the expository plot elements. Let's just cut to the good stuff…
SONG OF THE DAY
Park Ki-young – "나예요" (It's Me) [ Download ]
Audio clip: Adobe Flash Player (version 9 or above) is required to play this audio clip. Download the latest version here. You also need to have JavaScript enabled in your browser.
JAVABEANS' REVIEW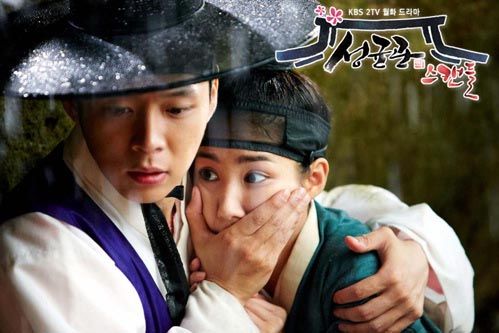 And, as we all know by now, there was a lot of good stuff in this drama, so let's start with those.
Such as the Jalgeum Quartet, or J4, whose members were all very distinct and endearing in their own ways. The drama could have fallen into the trap of sticking each one in their respective corners in a superficial way, designating them things like "The Nice One," "The Playboy," "The Leader," etc. Not that that's wrong; it worked for F4. But in placing them along different points of the ideological spectrum, they also complemented each other in a more meaningful way.
The most obvious way being how our leads challenged and bettered each other through their friendship. This was no bubbly girl melting the ice man's heart, or rich man saving the poor Cinderella. It was a marriage of true minds, and while it was not without impediments, it IS why Yoon-hee and Sun-joon won me over early on as the main pairing, even though I will acknowledge that Jae-shin cuts the more dashing figure. Yes, he's very easy to fall for, and helped along mightily by Yoo Ah-in's charismatic performance. But I love that the expected Hero Figure isn't the main character here, and that the Stodgy Nerd is. And that Yoon-hee's his perfect foil and just as intellectual. Yay for brainy girls!
To be perfectly honest, Yoon-hee was my least favorite character of the bunch, but that's not really an indictment since the others were so likable. She was obviously necessary and had a bunch of admirable traits, but I probably feel about her the way many people felt about Sun-joon; I understood her place in the story, but wasn't personally moved. Then again, while Jae-shin and Yong-ha so often stole the show, they are perhaps just that delicious because they aren't the focus. They're fantastic in small doses that leave you wanting more.
With all that said, it's too bad the ending was a huge cop-out.
I always grumble when a drama's ending delivers us a deus ex machina to save the day — which is to say, a last-minute solution dropping into our characters' laps that isn't an organic resolution of the problem, as in an act of god or some other magical fix. In this case, we get an act of king.
I understand that the king's reaction to Yoon-hee's identity is important, and appreciate that it was realistic to show him as a flawed man who let himself be swayed by less-than-noble ideals in sacrificing her for the sake of his vision. But when le shit hits le fan only in the very last episode, we know that it's going to be resolved right away, sapping the conflict of all its conflicty energy. And when the trajectory of said big conflict is addressed from taking King Angry! to King Not Angry Anymore!… Well, what's the point, really?
Basically you manufactured the final conflict, then manufactured its solution out of thin air. The king's ire is the big problem, but then he just changes his mind, and therefore the day is saved.
Also, WTF with the vagueness of the epilogue?
First off, the end bit with Yong-ha annoyed me to no end, because it seemed to go back on the whole point of his character. One thing I appreciated so much about the earlier episodes is how each of the four had issues to work through, including Yong-ha and his matter of social class. He's the tradesman's son who pretends to be a nobleman, who is shunned for his social standing and then gains a measure of that acceptance back from his peers…and then you go and stick him back in trade?
I can see how the drama thinks it's being cute in fulfilling his fashionista's heart by making him a prototypical fashion designer, but this drama also has an ideological streak a mile wide and this just reneges on the point that a classless society is a hope worthy of harboring. This epilogue seems to say that society won't change, so you may has well live with its strictures, which would make this whole geum-deung-ji-sa hunt and the king's pursuit of a noble new Joseon…pointless. Yong-ha states that he's fine because he's found friends who accept him as is, which is true enough. But given how everyone else is given a pat happy ending that isn't restricted by the soundest logic, his leaves me with a bitter aftertaste.
Then for the ending scene wherein Sun-joon and Yoon-hee are professors at Sungkyunkwan: She is addressed by the dean as Kim Yoon-shik, so she's teaching as a man…while being married to Sun-joon? How, logistically, does that even work? What happens to her legally? How do people react to Mrs. Sun-joon after knowing her as Mr. Professor Yoon-shik? These may seem like nitpicky questions, but they're actually quite important because they're tied to the very foundation of the story.
All series long, I had been eagerly awaiting the solution to this dilemma of what would become of Yoon-hee once the truth of her identity became known. That was the whole point of all this tension and intrigue: How will it resolve? I had faith that this drama, which had done such a solid job with its plotting and characterizations, would give us a satisfactory answer.
These issues of gender and class — Yoon-hee's status as impoverished gentry, her struggle to educate herself in the face of an oppressive patriarchal society that deems it illegal for her to go to university — drive the narrative, and part of our addiction is because we're dying to see how the drama resolves this seemingly impossible dilemma.
Only, the ending didn't give us any answers at all. It totally bailed on us, which means the whole drama was basically an ideological tease.
I was even ready to accept an ending that may have been historically inaccurate as long as it made sense in the context of the story. For instance, let's say that Yoon-hee is made an unofficial member of the king's cabinet — and even though she couldn't be officially recorded in the annals of history as a government minister, the king would see her worth and find her wisdom valuable to his reign.
Or they could have even kept their epilogue mostly the same, and if the drama didn't want to contradict history, it could have made the cheeky nod that everyone addressed her as Yoon-shik while knowing she was really Yoon-hee. Thus she is allowed to teach, but for historical record would be known as Yoon-shik. That would explain the crowd of students mooning after her and Sun-joon's jealousy, as well as why she was teaching under a male name. If you're gonna give us fanservice, then at least give us concrete scenarios to go out on rather than questions.
But enough about the ending. True, it did knock down my overall opinion of the drama a peg, but it doesn't negate the fact that I found Sungkyunkwan Scandal to be, for the most part, delightful fun. And I'm aware that perhaps I'm only disappointed because the earlier bits were just so wonderful, so engaging, so cracktastic. Even an okay ending is going to feel like a letdown after the fantastic zippy angsty hilarity that preceded it. Such is the nature of crack addiction, I suppose.
GIRLFRIDAY'S REVIEW
I have this perennial problem with relationships—I set my expectations low, so as to not get invested, and not get hurt, but then once that hurdle actually gets crossed (at great peril, no less), I find that managing my expectations is near impossible. Now, this is sick, mind you, but my problem with dramas is pretty much the same. If you finally win me over, cracking my ice-encased heart and making me love you, then all of a sudden, I go from expecting nothing to expecting you to bring me the moon. Or the Moon. The hot one who doesn't bathe.
Either way, we're both screwed.
Because Show, as much as I did love you for a spell, you also let me down. It's my own fault for letting my expectations get the better of me, but what can I say? I saw what you could've been.
Sungkyunkwan is an interesting case, because it didn't get truly GREAT until the middle stretch. I clearly recall watching Episode 7 and thinking, "Now THAT's what I'm talkin' 'bout!" and that greatness continued…until Sun-joon found out that Yoon-hee was a girl. And then it lost steam.
I know. You're upset. But that's what happens when your setup is so awesome…and then you don't deliver the dramatic payoff. And that's not even counting the finale, which basically made me want to hurl things at innocent passers-by.
Take for instance Sun-joon's discovery that his naughty crush on a he is actually a not-so-naughty crush on a she. (Taken with a grain of salt, of course, that the drama feigns to be neutral on the issue but succumbs to the same hetero-normative ideas that make his so-called gay feelings just a holdover on the way to true love.) Such wasted dramatic potential there. How can you gloss over such a monumental change in the story? They go from discovery to happy footsie in what feels like a millisecond, and the dramatic weight is sapped out of the thing that drove the main storyline for those crack-laced middle set of episodes. That was the moment, when my love began to die.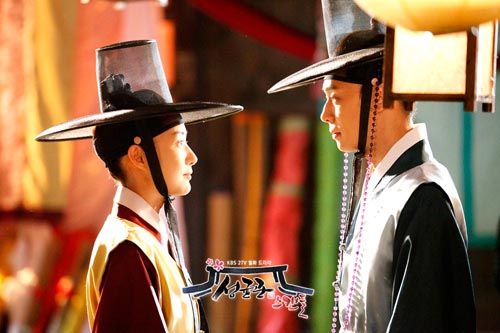 I didn't need Angst to Move Mountains or anything, but Sun-joon's pulse-less reaction did nothing for me. I'm going to go out on the proverbial limb and say that acting was a major factor in this. Even Jae-shin's discovery, which came much earlier, was handled better and given more weight, which just further confused the second-lead sufferers out there. I don't know why you'd bother with such a fantastic setup (and it really was) if you're just going to skip the good stuff.
And as a side note, I don't know why everyone's so up in arms about comparing Sungkyunkwan to Coffee Prince. Of course people are going to compare them. They use the same tropes. Why on earth shouldn't they?
As much as that particular narrative crux bugged the crap out of me, I did get re-invested once the foursome got together in a more cohesive way. I liked the political intrigue once our main characters were set with the task of finding the geum-deung-frakkin-jisa. (Not that it proved worthwhile. GAH.)
But by then, I was already checked out of the romance, because it lost me back at the Road to Zero Tension. For me, Jae-shin became the hero (which was easy, since he's written as the classic Big Hero type), and I stopped caring about the main couple's romantic journey.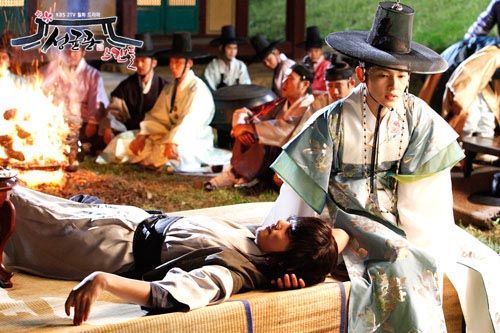 That isn't to say that I checked out of Yoon-hee's journey, because I stayed firmly with her throughout the entire series. I just cared less how she ended up with Sun-joon, because there was no dramatic push or pull there. I wanted very much for her to be happy, which included her very cute nerdy romance, but that was in no way the thing that made me tune in to watch.
As for the ending…I really don't understand why they waited until the last episode to deal with the yet-again-monumental story point of Yoon-hee being outed as a girl. That's a guaranteed second strike against you, in my book. I knew there was no way they wouldn't leave me dissatisfied. I could've spent the entire second half of the drama on this one narrative thread alone, and it got relegated to an afterthought. I felt cheated for wanting so much for her, as the heroine of this story.
And the worst part is, you made us believe that Yoon-hee will bring about a new world, and after ALL THAT…you have her continuing to live as a man? WTF, Show?
I'm further confused as to why the foursome didn't end up in politics, because what the Zeus was the point of their "legacy" to bring about a new Joseon if they weren't going to be on the front lines of making it a reality? I get that Sungkyunkwan professor fits the character profile, but it somehow doesn't satisfy me narratively, even though I get that they're educating the new generation and paying it forward.
The one thing I REALLY wanted in the finale, that might have made up for my distaste with the rest of it, was that one moment with all four characters, to openly admit that they all knew that Yoon-hee was a girl. Why is there no such moment? You have the three guys meeting up to maybe say it out loud….and then you cut away? (This is when the hurling of objects began.) Again, perfect setup, no payoff.
And it truly killed me inside to never let Jae-shin have one moment of gratitude and acknowledgement from Yoon-hee, for his undying love. But that's less of a narrative gripe, and more of a wish-fulfillment moment for such a fantastic character.
All of this isn't to say that I didn't love Sungkyunkwan, because I did. But it had this major flaw of constantly setting me up for something AWESOME…and then dropping the ball, leaving me hugging my moon-shaped heart.
But what I did love, I loved wholeheartedly. I love how each of the main characters is idealistic in his or her own way, and the idea that in youth and education is the seed of change. Each character's separate journey or reason for wanting a new society—whether Yong-ha dreams of a classless one, or Yoon-hee dreams of one where she can be equal as a woman—comes together to form a picture of a new world that you honestly feel that these characters could bring about. Even if what they dream of only begins to happen centuries later, I love what the fictional portrayal represents: that the true movers and shakers of the world are not the old and wise. They are the young and idealistic, the ones who dream of something that people in the established world could never imagine. I love that above all else, educating people of all backgrounds is what this story idealizes, in presenting Sungkyunkwan as a safe haven, and as the place where change begins.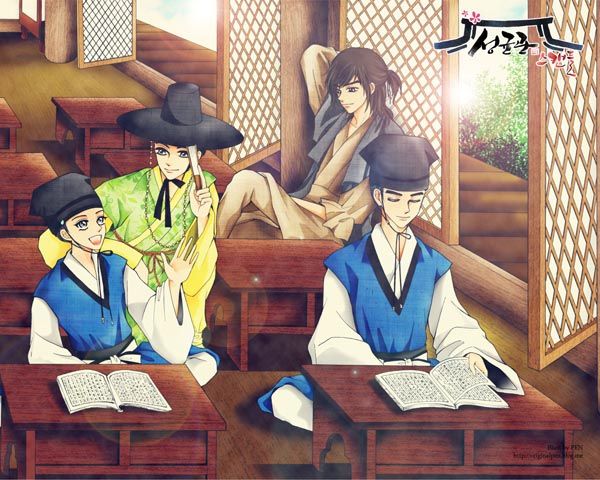 RELATED POSTS
Tags: featured, Sungkyunkwan Scandal