Ahn Nae-sang goes royal for My Princess
Ahn Nae-sang is a familiar face in dramas — you've probably seen him at one point or twenty in dramas like Sungkyunkwan Scandal, Three Brothers, Story of a Man, Cain & Abel, Tazza, First Wives Club, and so on — and now he dons royal vestments for MBC's My Princess, where he plays Kim Tae-hee's great-grandfather.
Before you crinkle your brow and wonder, "Er, WHAT?" (as I did, since he's 46 and she's 30), his role will likely only be seen in photos and perhaps flashbacks; he portrays Joseon's last emperor, Sunjong.
Historical note: I know there's a difference between emperors and kings — and monarchies and empires — but in this case (as with Goong), things get a little muddled, not least because in these dramas we're already stretching reality with the whole "monarchy revived!" theme. But it's also because Korea was ruled by a monarchical system for much of its history (I'm condensing), until the 20th century when it briefly operated under an imperial system under the Korean Empire years of 1897 to 1910 (which were the last years of Emperor Gojong's reign). After that came the Japanese occupation, the war, and then the separation of the two Koreas. So dramas that take liberties with the system are reimagining that the imperial years have been revived, even though the title of this drama is My Princess and not My Empress.
This news answers another of my lingering questions, because that makes Kim Tae-hee's character the last remaining heir to the old monarchy. Er, empire. For the purposes of this drama, Sunjong had an unknown (but legitimate!) son, and she is descended from that lineage.
But because this is a kdrama, Fate must reinforce the bond of love between our leads with a healthy dose of coincidence; there's a "special bond" between Emperor Sunjong and chaebol businessman Park Dong-jae (played by familiar grumpy gramps Lee Soon-jae)… who is the grandfather to Song Seung-heon's diplomat character. Grandpa CEO Park uses some of his clout to reinstate the monarchy and goes out of his way to locate the lost granddaughter.
ONE MORE WEEK.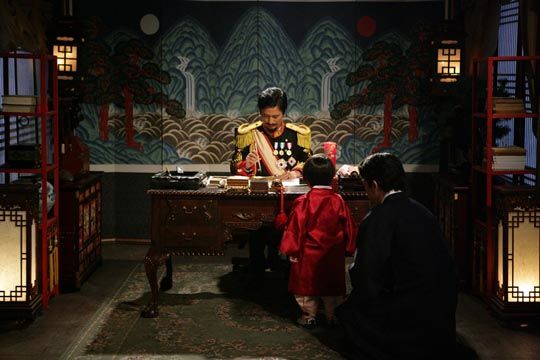 Via Hankyung
RELATED POSTS
Tags: Ahn Nae-sang, My Princess