Character posters for SBS's Sign
Question: If your two main characters are forensic doctors, why is one of them holding a camera in the drama poster?
Here are the character posters for the new SBS drama Sign, in which Kim Ah-joong (with said camera) plays a forensic doctor who decides to make a (slight) career change after working in the coroner's office. Instead of investigating in labs and exam rooms, what she really wants to do is examine evidence at the scene of the crime. (Okay, I see the point of the camera. But I contend that it's still… weird.)
The "sign" of the title reportedly refers to the traces of evidence that the forensic investigators search for at crime scenes. Kim's poster bears the tagline: "We must grant the victims' last wishes."
Below, we have her co-star Park Shin-yang, who more appropriately wields a scalpel. Although one might wonder why he's holding it up like a magician with a rose about to burst out, "Tada!"
Then it's Eom Ji-won's turn, who's looking pretty sharp. She plays a successful, smart prosecutor who apparently views the doctors' work as merely one tool for HER to use. Her poster insists that she's really the one in charge, not those investigators. I anticipate lots of fiery clashing.
Jeon Gwang-ryul portrays a leading figure in the legal world, who's bound to stir things up even further.
Last but not least, Jung Kyeo-woon (what happened to his HAIR?!) is a hot-blooded cop working in the violent crimes division.
Sign premieres on January 5.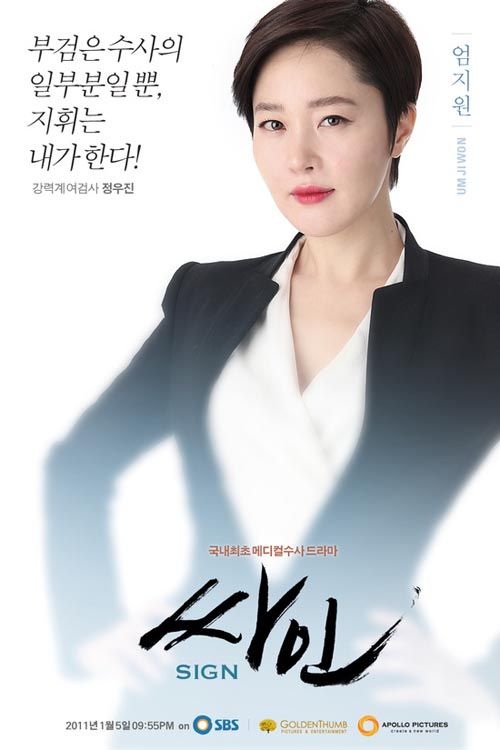 Via Star News
RELATED POSTS
Tags: Eom Ji-won, Jeon Gwang-ryul, Jung Kyeo-woon, Kim Ah-joong, Park Shin-yang, Sign