Daddy's Girl cast donates half-ton of rice to charity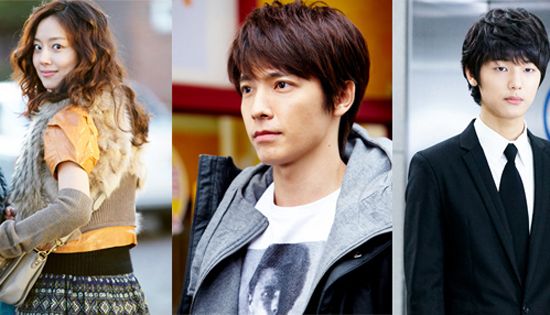 At the time of its pre-premiere press conference last month, cast members of SBS's Monday-Tuesday drama It's Okay, Daddy's Girl — namely, series lead Moon Chae-won, Super Junior's Donghae, and CN Blue's Minhyuk (all pictured above) — had been the recipients of rice donations intended for charity from their fans. These have now been given to charitable organizations in the stars' names.
All total, the rice donations amounted to 500 kg, and the producers donated 250 kg last weekend to a humanitarian organization for the disabled, Hanbeot. The other half was donated to Yeontan Bank, a nonprofit that provides coal briquettes for heating to those who can't afford to buy it.
This strikes me as a very shrewd way to honor your favorite star, and a tactic that has a higher chance of benefiting him or her in the long run than other types of gifts. I'm sure other forms of fan gifts are appreciated — and Korean fans have really perfected the process of organized gift-giving — but this has the added effect of creating goodwill and associating your star with a positive bit of press, and potentially adding some luster to their image. I'm sure we've all run into an aggressive fan at some point, acting on behalf of their star, who may have actually turned us against that star for no better reason than their bad behavior. This is a great way to do just the opposite.
It's Okay, Daddy's Girl has been airing quietly on Mondays and Tuesdays, its latest episode drawing an 8.4% in the ratings. Not dismal, but definitely disappointing. I can see why it's not attracting a more fervent fanbase, but I continue to find the relationships full of warmth and the stories moving quickly. It's enjoyable despite the unsophisticated plot: the good guys are very good, and the bad guys unequivocally bad. The conflicts are fairly black and white, the stakes are high and clearly defined. It's familiar, comfort food-like fare, in a good way; not challenging, but sometimes you just want to root for the good guys and hope everyone ends up happy, because they've made you care what happens to them.
Via IS Plus
RELATED POSTS
Tags: good deeds, It's Okay Daddy's Girl