Gong Hyo-jin and Ryu Seung-beom take on their first couple ad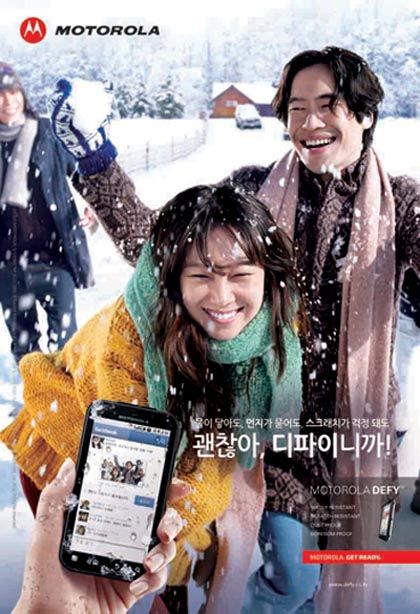 I love when real-life couples act as couples in acting projects; that meta awareness adds just a little something extra to the cute. Such is the case with this couple, who are not only adorable together but talented to boot — Gong Hyo-jin (Pasta) and Ryu Seung-beom (No Mercy) — and who have teamed up to endorse a cell phone.
The product is a Motorola brand smart phone, Motorola Defy. I guess that is meant to sound cool, but to me it just sounds like an imperative, and I'm already wary of smart phones being, well, too smart. I don't need you to add defiance to my phone's list of capabilities. Just sayin'.
In any case, Ryu and Gong traveled to a Gangwon-do ski resort to shoot the above ad, which demonstrates the concept of being able to engage in active sports while carrying the smart phone on your person. The tagline reads, "It's okay, because it's Defy!" I suppose the other ads in the campaign have other concepts, though they're unexplained. Unless you count cooking as an extreme sport. Which, based on your skill level, I suppose it could be.
This isn't Gong and Ryu's first time appearing onscreen together — he did make a cameo on Pasta earlier this year — but it is their first CF together. Love them.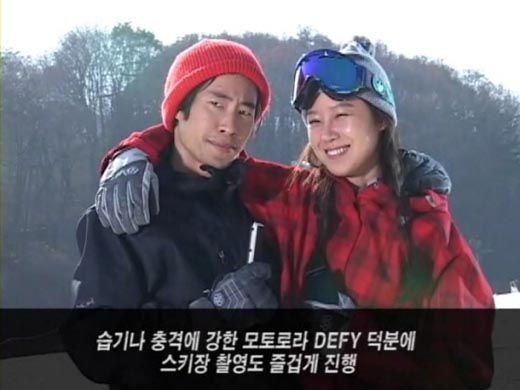 Via DongA
RELATED POSTS
Tags: CFs, Gong Hyo-jin, Ryu Seung-beom