Green Rose: Episode 1
Here's #2 in our First Episodes series: 2005's thriller-revenge-melodrama Green Rose, a 22-episode SBS series which starred Go Soo and Lee Da-hae.
I don't talk about this drama much so you may not have seen this recap coming, but I wanted to mix things up a little and highlight a show that seems to fly under the radar a bit. Although at the time, Green Rose was hardly low-flying; it had solid ratings that surpassed 30% and was extended by 2 episodes (having originally been planned for 20).
So what is Green Rose about? At the core you've got a young man who becomes the fall guy for something much larger than himself, whose happy life is turned upside-down and devastated, who comes back even stronger to reclaim what he lost. Corporate malfeasance, arson, attempted murder, a frame job, gangsters, industrial espionage, wrong-side-of-the-tracks love, revenge… yep, it's got 'em all. The pace is zippy, the hero sympathetic, and after his downtrodden beginnings, his road to revenge is enough to you a warm feeling of satisfaction.
SONG OF THE DAY
Green Rose OST – "그린로즈" (Green Rose) by Just [ Download ]
Audio clip: Adobe Flash Player (version 9 or above) is required to play this audio clip. Download the latest version here. You also need to have JavaScript enabled in your browser.

EPISODE 1 RECAP
We start off in the middle of a chase. A man, LEE JUNG-HYUN (Go Soo) runs out of an airport on foot, evading a team of police officers in hot pursuit. While a traveler is loading luggage into his car, Jung-hyun jumps in the driver's seat and speeds away.
With police cars close behind, Jung-hyun — haggard and desperate — grimly drives along an expressway until a police roadblock forces him off the road and through dirt.
The chase grows more reckless, Jung-hyun's car gets increasingly battered, and finally he is forced to stop as he approaches a bridge. A SWAT team levels guns at him, and he skids to a halt.
Surrounded. Jung-hyun emerges from the car, casting frantic looks around him. With standoff imminent, the lead cop urges him to give up, talking to him almost sympathetically.
But no — Jung-hyun is too far gone for surrender. He inches closer to the wall, and before anybody can stop him, he quickly swings himself onto the railing of the bridge. The cop shouts at him to stop. Jung-hyun shouts at them to stay away, akin to a cornered wild animal.
As he gazes at the water below, he tears up, thinking desolately:
Jung-hyun: "I could have been happy, too. Mother… Su-ah… We could have been happy, couldn't we?"
Closing his eyes, he lets his exhausted body fall off the bridge, and he crashes into the river.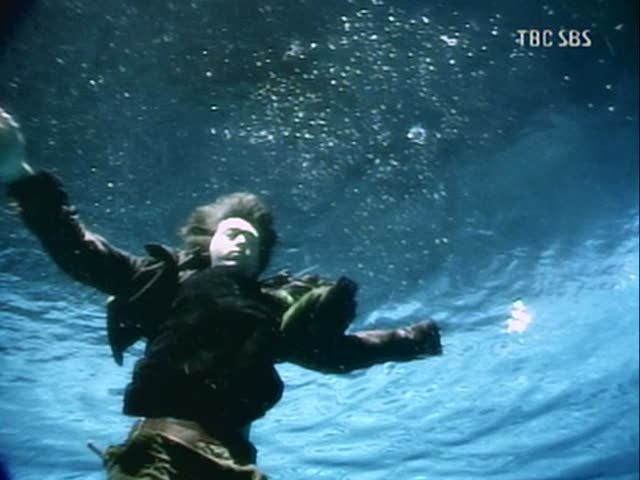 As images of those beloved people flash across his mind, he narrates:
Jung-hyun: "At 26 years and 8 months old, in the cold river water, I died. Some may mourn my death, but there is another who will toast it. I don't know who that person is."
To find out how he got here, we jump back a year.
It's quite a different story a year ago: Jung-hyun and his best buddy Dong-wook have just been accepted as new employees in the electronics conglomerate, SR. As bright young men in their mid-twenties, scoring a stable job with a prestigious company means their futures are secured, and they are ecstatic.
The boys go out that night to celebrate with friends, toasting to their good fortunes. Their boisterous fun is interrupted by a woman sitting at the bar — a very drunk OH SU-AH (Lee Da-hae). She's rather rude but in a cute way — a bubbly drunk — who scoffs at them for their enthusiasm toward SR Electronics, which isn't as great as they think.
Unfortunately for her, she can't pay the bill because she can't find her wallet. With a coy smile, she drunkenly asks the guys' table for a loan, who dismiss her as an annoyance. But Jung-hyun, ever the gentleman, gets up to give her cash and advises her that it's dangerous to drink alone. Su-ah tells him not to be nice, because SR "eats nice guys alive."
Thus he's pretty surprised to see Su-ah among the new recruits on orientation day. Naturally, he's curious to know why someone with such a bad opinion of SR would work for them.
Our boys Jung-hyun and Dong-wook greet her warmly, but she's cold and dismissive. She pays Jung-hyun back for the bar and spares them no further glance.
However, the trio finds themselves assigned to the same team in a training exercise for new recruits, which sends them on a group hike up the mountainside. The weather soon turns harsh, prompting an uneasy Dong-wook to suggest they return early. Jung-hyun and Su-ah want to press forward despite the difficulty, since they can't risk elimination.
A misstep sends Su-ah tumbling down the hillside, spraining her ankle badly. Jung-hyun sends Dong-wook ahead for help while he stays behind with her.
Deciding to find shelter while they wait, Jung-hyun takes her on piggyback, overriding her protests by assuring her that he's used to carrying his sickly mother on his back. Even so, it's a difficult climb through the mountainside until they finally spot an empty cabin, where they take shelter.
As the blizzard worsens outside, Jung-hyun starts a fire and checks on Su-ah's dislocated ankle, which he snaps back in place, then ices and bandages with strips torn from his own shirt. Such gallantry in dire circumstances prompts Su-ah to look at him in a new, less jaded light.
That doesn't mean she's any less jaded about her own life, however; Jung-hyun asks why she joined a company she hates, to which Su-ah answers matter-of-factly that she intends to sink it. He assumes she's joking, but adds that the best way to be blessed is to send your own blessing to the one you hate. He suggests, "Let's bless, and be blessed."
She'd already sensed he was a nice guy, but his good-heartedness moves her. When Su-ah wakes up in the early morning, she finds herself wrapped in Jung-hyun's jacket while he sleeps huddled to himself. She returns the favor and moves to drape it over him.
When both are awake, Jung-hyun carries Su-ah outside to look at the sunrise, and tells her to make a wish. She does.
Nearly a year later, they are an adorably happy couple and life is grand. Su-ah calls Jung-hyun "oppa," they speak in affectionate banmal, and she and his mother adore each other. Mom and Jung-hyun aren't rich, which we can see from their small, humble house, but they're content.
That evening, while the three have dinner, Mom and Su-ah both make joking comments about when Jung-hyun's going to settle down and marry, prodding him to hurry and propose already.
The one wrinkle in their relationship is an issue that has long been a sticking point: Su-ah resists the prospect of introducing him to her father, and while she is fully a part of his life, she holds her family back from him. He has put up with it till now but it's only a matter of time before it drives a wedge between them, as he feels like she's hiding him.
Finally, Su-ah gives in reluctantly, inviting her to meet her father on his birthday. Jung-hyun is ecstatic to finally move past this last barrier.
Now for SHIN HYUN-TAE (Lee Jong-hyuk), who is the director of SR's overseas division. Cold and professional, he travels frequently to China and is well-liked by the company's president. In fact, the president likes him so much that he drops the hint that he wants to set Hyun-tae up with his daughter; Hyun-tae gives a diplomatic and noncommittal answer, though we see that he doesn't love the idea.
He is having a secret relationship with CHA YU-RAN (Kim Seo-hyung), the secretary to SR's president. She's a chic, professional woman and openly in love with him, while Hyun-tae is much more wary and makes sure this relationship remains quiet.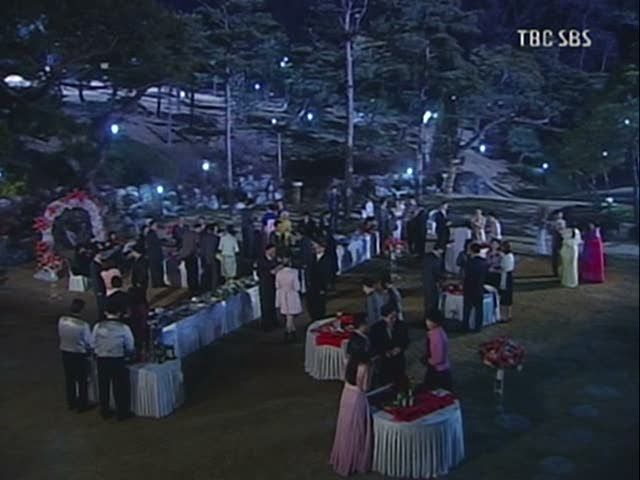 The day before Su-ah's father's birthday, Jung-hyun's mother spends all night making special rice cakes for the birthday table. Following Su-ah's directions to her home, Jung-hyun arrives at a large mansion and is sure he has the wrong address. However, Su-ah's friend spies him and ushers him to the posh garden party. Suddenly self-conscious, he's aware of his humble homemade gift, knowing he sticks out like a sore thumb.
But nothing's a bigger shock than seeing Su-ah at her father's side, looking regal as she greets the partygoers. And now that we see that she is the president's daughter, things start to make sense — why she works for SR despite disliking it, and why she was reluctant to tell Jung-hyun about being a chaebol's daughter.
Understanding how far out of his element he is, Jung-hyun tries to leave quietly, but Su-ah hurries after him. He's hurt at her lie, while she pleads her case — she hadn't meant to deceive him, but was afraid of losing him. She asks her to at least meet her father, and he relents.
When Su-ah brings Jung-hyun to her father, the president accepts the greeting politely, though it's clear that he doesn't see him as anything above lowly peon. Su-ah tries to take her father aside to clarify that Jung-hyun is her boyfriend, but Dad brushes her off to greet business contacts.
Eager to be out of there, Jung-hyun tells Su-ah they'll talk later, and leaves the party in dejected spirits. Adding insult to injury, his way out takes him past the gift table laden with fancy presents — and his mother's homemade gift has been set on the ground next to the table.
Jung-hyun can't bear to his mother's efforts disregarded like that and takes it with him, yet he can hardly take the box back home, either, and hurt his mother's feelings with the truth. Throwing food away is just as disrespectful to the preparer, so Jung-hyun sits by the river and eats every rice cake by himself.
GAH, this is the scene that got to me most in the episode, because there's such a depressing juxtaposition between the act of eating (nurturing, fulfilling) and the reason he's doing it, to spare his mother pain.
Su-ah's father blows off her attempts to talk to him about her relationship with Jung-hyun, not least because he has other plans for her. The most he gives is a noncommittal "Let's wait and see," which of course is tantamount to rejection.
She's also dealing with the cold shoulder from Jung-hyun, who has been avoiding her ever since the party. Not only is he upset over her lie, but that she thought so little of him that she thought the truth would have chased him away. He's proud of his life and his family, even if they are humble.
Su-ah begs for his forgiveness, but Jung-hyun is too hurt and he can't see her in the same way now that the truth has illuminated the chasm that separates them. So she makes one last-ditch attempt to reach him, and takes him to the cabin where they once spent that snowy night. Life is full of regrets, so she wants one night together, without any.
Sitting in the cabin, Su-ah cries that she'll disown herself — she's given up so much of herself already to be a chaebol's daughter. She gave up her dreams for her own life when she joined the company per her father's dictate, "And if I lose you too, I'll die."
Finally, he can't bear her pained sobs and grabs her in an embrace.
In the morning, they watch the sunrise together, and just like the last time, the moment is marked by new conviction. Having reconciled, they are intent on making this relationship work, and doing what they can to overcome her father's disapproval.
President Oh, meanwhile, is off to work in more scenic environs, and heads down to his vacation house. There, he receives unwelcome news when his employee, Director Seo, reports that Hyun-tae has been conducting meetings in Shanghai behind the company's back. Seo has photographs to prove the meetings occurred, but the president, for all that he's cool and business-minded, also seems a little naive in the way he insists that it is unsavory to harbor suspicions. He argues that Hyun-tae has no reason to go behind his back, since he'll marry Su-ah and take over SR anyway.
Still, President Oh can't help feeling perturbed and orders a meeting with Hyun-tae immediately. Hyun-tae is bothered by the unexpected summons, but makes his way to the mansion.
Secretary Yu-ran receives instructions via a phone call, then calls Jung-hyun to report that the president wants to see him. She instructs him to leave right away to meet him at the vacation house.
Jung-hyun arrives late that night, finding a car parked in front but no sign of anybody around. Surprisingly, the front door is unlocked, and he peers inside the dark, seemingly empty house.
Cautiously, Jung-hyun makes his way inside, his confusion giving way to alarm as he recognizes signs of a struggle — furniture is overturned, a vase has fallen… and a man is slumped on the ground.
Rushing over to the man, Jung-hyun recognizes Director Seo, who now sports a bloody gash on the head. Seo lurches forward with the last of his strength and tries to strangle Jung-hyun, presumably in self-defense.
And then, another sound: President Oh groans in pain, collapsed on the ground nearby. Jung-hyun grabs the president and starts to carry him out on his back.
Crash! The front window shatters. In flies a molotov cocktail, its flame quickly catching on nearby furnishings. The house quickly starts to burn.
Through smoke and darkness, Jung-hyun spies the figure of a man in a suit walking away from the house. He tries to wake Seo and carry out President Oh, but with his attention thus occupied, he doesn't notice another man appearing behind him. One swift blow to the head sends Jung-hyun falling, unconscious, and all three men lay prone on the ground as the house burns around them.

COMMENTS
Green Rose is one of those dramas I didn't think I'd be drawn to, but which sucked me in with its fast-moving plot and high stakes. The conflicts are solid and the drama answers just enough questions to keep you hooked, not giving up its big secrets right away, but not withholding so many that you grow frustrated.
One caveat is that while it's a great popcorn drama — fun to sit back and get caught up in – there are some issues with tone that keep Green Rose from being a favorite of mine. A drama like Bad Guy masters that cool, polished ambiance with its deft directing; this, on the other hand, often tries a little too hard to be cool, and therefore ends up a tad corny. To me, that's part of its charm, because I actually enjoy the cheesy bits, but this is just not a drama you turn to for subtlety or delicate beauty. The plot is brute-forced, but pretty effective for all that.
The whole purpose of this First Episode series is to give a taste of the drama without revealing the whole thing. However, with Green Rose the setup takes a few episodes, and we're not quite there yet. So here's a rundown of the next several episodes:
MINOR SPOILERY BITS:

This mansion attack is a frame job, but the evidence — and the person engineering this scenario to turn Jung-hyun into the fall guy — is too strong for humble Jung-hyun to counter. Not to mention that the lawyer offered him is not working in his best interest.

President Oh survives the attack, but is left unconscious in a coma and can't provide any testimony. Su-ah believes that he didn't try to kill her father and vows to stick with Jung-hyun, but he is found guilty of attempted murder. His poor heartbroken mother commits suicide. While Jung-hyun is transported to prison, an accident affords him the chance to escape the prison vehicle, and he makes a run for it.

From then, he manages to build his life out of quite literally nothing, and starts on the path to clearing his name and getting revenge.

The above description avoids significant spoilers since it's all setup, but if you want the more interesting version with details, read on. The following takes you through approximately the first eight episodes.
MORE SIGNIFICANT SPOILERS

After escaping, Jung-hyun scrapes by as a homeless bum for a while, and it's when he's on the lam that the opening chase in Episode 1 occurs. He jumps off the bridge into the frigid water, but the death he alludes to in the voiceover is not a physical death but a symbolic one. Jung-hyun is fished out of the water by a homeless man who shares his shelter with him. The sickly man dies in the night, giving Jung-hyun a unique opportunity to shed his identity. He trades clothing (and ID) with the homeless man and puts him in the water, so when the bloated, disfigured body is found weeks later, it is identified as the escaped prisoner Jung-hyun. Thus he "dies" in a legal sense and he is free to escape and re-create his identity.

He manages to stow away on a ship to China, where he joins a small Korean expat community and gets by doing menial work. Returning to Korea and clearing his name is beyond his scope of reality until one key encounter: He discovers that Secretary Yu-ran has basically been ditched by SR and shipped off to China, where she is now scraping together a meager existence as a nightclub singer. She was the one who called Jung-hyun to the house in the first place, on someone's order's — and now that she has been used and abused by her superiors, she's just a wee bit bitter toward SR. In particular, her cold bastard of an ex, Hyun-tae. Putting the pieces together, they realize Hyun-tae has played a huge part in their fates.

Then, one day Jung-hyun has a run-in with Chinese gangsters, and ends up saving the life of the mob boss. The grateful mobster wants to reward him, and this is how Jung-hyun finally gains access to the means for his rebirth. He takes on a new name and quickly rises within the mobster's organization, reinventing himself as the director of a corporation… and returns to Korea as a rich, powerful man with Yu-ran by his side as teammate in revenge.

His business puts him in direct contact with SR, which by extension brings him face to face with dastardly Hyun-tae… and Su-ah. Who is reluctantly engaged to marry Hyun-tae. However, at first glance she knows that Jung-hyun is back — even if he presents himself as a businessman from China named Jang Joong-won. She's almost, just about, practically positive that he's really her One True Love, who must not have died after all. But what can she do when he denies it?

The heart knows what the brain denies, but for everyone's sake Jung-hyun must keep up the ruse. And that's what we call angst city, baby.

One of my favorite aspects of the drama is the conflict outlined above regarding our main couple. So many dramas mishandle the angst portion of the story, because there's usually not enough legitimate conflict so the writers cook up as many as they can based on flimsy reasons, and the audience tires of these half-baked explanations keeping them apart. Here, the rationale is crystal-clear and the stakes are so high that the angst is delicious. You want the truth to come out right away so they can reunite, but logically speaking he can't reveal himself until he's solved the case and cleared his name, as Jung-hyun would still be a criminal in the eyes of the law.
One reason I knew I'd been hooked was because of how quickly I felt the love between Jung-hyun and Su-ah. The drama chooses to skip entirely past the courtship phase in Episode 1, which could be a risky choice, but the two have such adorable chemistry that it seems totally believable that they've fallen in love. And believing in the strength of their love is crucial in sustaining the tension throughout the rest of the drama.
That pull can be attributed to Go Soo and Lee Da-hae, who at the time of this drama were both still developing their skills but showed promise. I really loved Lee Da-hae in her earlier career, and this drama aired prior to her big breakout with My Girl, so she was known more for her tearful, dramatic chops back then. It's a shame that she's been bogged down with some unfortunate choices (Hello Miss, Robbers, East of Eden) and some bad performances (Chuno), which is sad because it seems like she has lost her acting spark. In my opinion, she's too talented to squander her skills, so I hope she picks a meaty project soon — AND makes the most of it. (Really, Chuno gave her a lot of opportunities so I can't blame the drama; it was like she checked out mentally and phoned in that performance.)
But back in 2005 at the time of Green Rose at least, she was still tuned in. To be honest, I think Su-ah's character is written rather flat, but Lee Da-hae makes her believable as the woman in love with Jung-hyun, and the woman Jung-hyun loves. Considering how important their central relationship is to the tension in the plot, that's a significant feat.
In contrast to her, I actually don't think Go Soo really got good until after his army discharge, such as in last year's Will It Snow For Christmas, where he was much more in command of his character's presence and emotional expressiveness. Here? His acting's a little underformed, a little more raw.
HOWEVER. Here, he still achieves the most important thing he must do as Jung-hyun, which is to make his underdog hero someone to root for, someone you want to see pick himself up from the ground and earn his revenge. In Episode 1, Jung-hyun is a good-hearted man with simple desires; left unchallenged, he would have been content marrying Su-ah and working as a salaryman his whole life. These trials harden him, toughen him up, and turn him from a mellow "nice guy" into a sharper, sleeker, slightly-less-nice guy. (Let's face it, he's got too good of a heart to be a true bad guy.)
And that's one of this drama's weakness AND strengths, in my opinion: its lack of gray area, its avoidance of flirting with moral ambiguity. Unlike, say, a murkier piece such as Bad Guy where everyone has shades of gray, except maybe the batshit crazy Madam Shin. Green Rose's lines are clearly delineated, meaning that character complexity is sacrificed, but in its place we get a fast-moving story with dramatic turns, where you know exactly who you're cheering for.
RELATED POSTS
Tags: featured, first episodes, Go Soo, Green Rose, Lee Da-hae, Lee Jong-hyuk