Joseon X-Files: Episode 11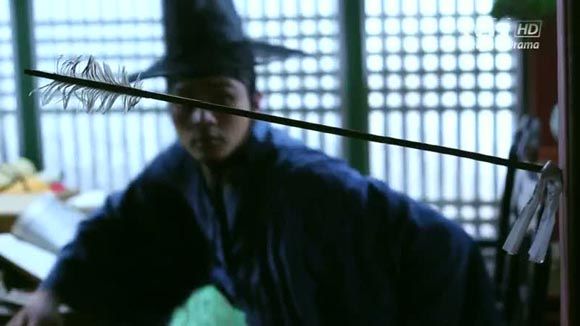 Episodes 11 and 12 are really two parts of one story (as were Episodes 7 and 8 ) and aired on the same night, so I considered writing them up together. But I think there's enough to talk about in this one alone, although I plan to have 12 up shortly so we can get to the ending soon enough.
SONG OF THE DAY
Ash – "Tattoo" [ Download ]
Audio clip: Adobe Flash Player (version 9 or above) is required to play this audio clip. Download the latest version here. You also need to have JavaScript enabled in your browser.

EPISODE 11: "Rebirth of the Dubak God" (Part 1)
The door opens to the vaults of the secret records, the X-Files after which this series is named, and Ji Seung makes his way inside. Once in its depths, he locates a hexagonal red box amongst all the sealed scroll tubes, which is labeled Dubak-gyo, or Cult of Dubak. He takes it and leaves the record hall.
Next, it's business as usual for our Team X-Files, who gather in the coroner's office to inspect their latest case, involving a strange corpse. The coroner explains that there are three peculiarities about this man's body. First, the hand-shaped scorch mark on the man's chest, which Yoon-yi holds her own hand against and declares as a woman's handprint.
As Jang heaves up his lunch, the coroner points out the stitching that goes all the way around the man's neck, connecting severed head to body. Only, the head and body are mismatched; they belong to two separate people.
However, Ji Seung steps in to quiet the coroner before he can explain the third oddity, and curtly dismisses the team. He tells them to keep their mouths shut about this case and step away; it's something they can leave to the state authorities.
Yoon-yi and Hyung-do exchange perplexed glances; this is uncharacteristic behavior from Ji Seung. Yoon-yi confirms that this is the first time she's ever seen him act like that.
They talk it out amongst themselves as they eat, and although the matter seems to bother Yoon-yi more than Hyung-do, they both conclude that they want to continue working on the case. Hyung-do agrees to ask Ji Seung for permission to proceed with the investigation — and the camera lingers on a diner at a nearby table who takes particular note of their conversation.
While Yoon-yi hits the books about possible past cases, Hyung-do makes his way to Ji Seung's office at the government building, only to be told that he's not here. He hasn't been seen in a few days, but a subordinate officer recalls Ji Seung planning to make a visit to a particular mountain location, as he does every year.
Hyung-do waits in Ji Seung's office, where he finds documents illustrated with the image of a man bearing a handprint on his chest. Clearly Ji Seung recognized something about the case and for whatever reason deemed it unsuitable for his team to inspect.
But even stranger is the pipe Hyung-do finds dropped on the floor — the pipe Ji Seung is never seen without. Recalling that Ji Seung is always escorted by an assistant, a formidable guard, they try to locate him — only to find him dead.
All signs indicate that Ji Seung is likely in mortal danger, which puts Shinmuhwe in emergency mode. Another official steps up as interim leader and debriefs the members, instructing them to spread out and search for Ji Seung, making sure to keep their movements secretive.
Although there's no concrete evidence linking the disappearance to the latest case of the scorched corpse, Hyung-do suspects that Ji Seung has been investigating on his own, without the rest of Shinmuhwe. Jang wants to believe he's just off in a gibang, being coddled by an attentive gisaeng, but that's just wishful thinking fueled by his own cowardly desire to avoid further creepy encounters. You can always count on Jang to opt for the path of least scariness.
Agreeing to meet up with Yoon-yi tomorrow, the team splits up and the men head to the mountain location to which Ji Seung makes his yearly pilgrimages. It turns out to be a Buddhist temple, and a curious tablet set at the altar piques Hyung-do's curiosity. The monk has no insight into the meaning of the symbol on the tablet, which is a star set within a group of concentric circles, but Hyung-do's intuition tells him it's worth noting.
And so it is, as Yoon-yi discovers upon meeting with the coroner, who shows her the body's third peculiarity. At the base of the neck, just above the stitches connecting head to body, is a small tattoo bearing exactly the same mark.
Busily, she gets to work researching the mark and her books, and comes up with the symbol — which Hyung-do and Jang both immediately recognize.
Yoon-yi links the mark to the Dubak-gyo, which is the name given to a cult that created an uproar 20 years ago and was subsequently wiped out by the government, who viewed them as a state threat.
It began when a man named Kang Yu-seok was struck by lightning, after which he developed mysterious powers, which he attributed to the god Dubak. He found that with his electrified touch, he could revive the dead and heal the sick, and therefore amassed a large following of believers.
The government felt they were a danger to the peace, and declared Kang and all of his followers traitors, executing them as well as their families.
Or at least that's how the story goes. Yoon-yi states that although Kang Yu-seok did exist, he didn't create the cult himself.
To gain further insight, the team visit's the official state shaman at the palace, asking her for more background on Kang and the cult.
The blind woman answers in a detached, semi-cryptic way that the victors are the ones who write history, implying that the official opinion on Dubak-gyo has been distorted by those in power. In fact, she states that the religion had brought solace to those who died unjustly, and did not arise a simple 20 years ago but dates as far back as the reign of King Taejo (in the 14th century, three centuries prior to this drama's timeline).
The shaman adds that some people don't believe the truth that is right in front of them, and even may hide the truth to create injustice. Hyung-do bristles at her answers, which border on treasonous, and asks her to clarify — is she saying that Dubak-gyo was in the right, then? And does it still exist?
The shaman backs off with ambiguous responses, and the team decides that they've gotten as much information as they will from her. Rising to go, they file out of the room — which is when a bunch of round metal bells tinkle from their resting place, despite a lack of provocation. Hyung-do looks at them with suspicion before making his exit.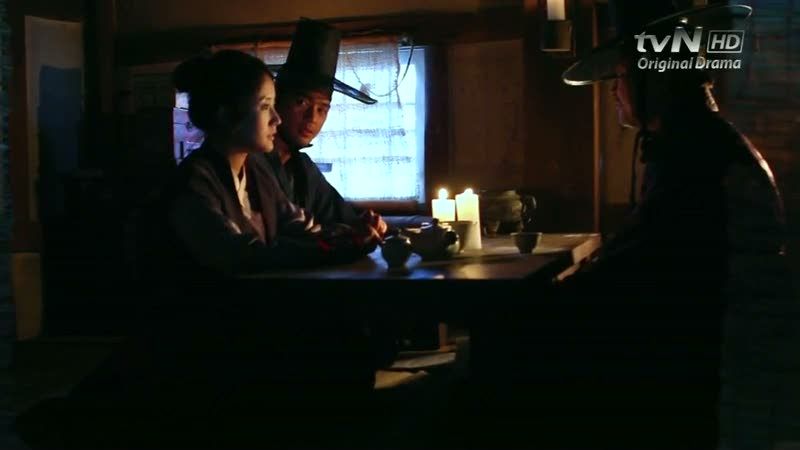 They debrief with the interim Shinmuhwe leader that night, trying to make sense of Ji Seung's involvement with the cult. Hyung-do argues that Ji Seung isn't the type of person to associate with such wicked types, and deduces that the government, afraid of the cult's growing influence with the people, would have put Shinmuhwe in charge of suppressing them. Which means Ji Seung would have been in charge of that role, as the head of Shinmuhwe.
The interim leader confirms his suspicions, and Yoon-yi suspects that Dubak-gyo still has active followers, even if they're not as visible as they once were.
She's right; the group has been driven underground but is still active, as we see when a group of them assume a false cover to head to their secret meeting spot.
A body is prepared at the altar, a man's head sewn to the corpse of another, under the careful watch of their leader. Then another leader is called forth — the state shaman, not blind after all — and she holds up her hands, which spark with electricity.
Placing her hands over the man's decayed flesh, the shaman shoots sparks into his chest. Acting like some sort of ancient magical defibrillator, the current jolts him back to life. The followers look on in excitement as the man gets up and walks along the table haltingly… until he crumples and falls off, dead again.
Ah, so the cult is trying to revive their old leader, but they have been unsuccessful. This is their sixth failure, and the shaman decides that it's time to bring in the big guns. Reviving mere flesh and blood isn't enough; true revival means resurrecting the spirit of the Dubak god. In order to do that, they need their sacred artifact — some mysterious object that is currently out of their possession.
As Hyung-do works, an arrow is shot directly into the room, lodging in a nearby post. A message is tied to the shaft, and he reads the demand that calls for him to show up alone at a particular meeting spot in the mountain — a message that is signed by Ji Seung, but whose voiceover is given by a different person, we might note.
Hyung-do keeps this information from Yoon-yi, who returns from a research mission after finding out that the Dubak records have been classified. They suspect that Dubak followers have managed to work their way into the palace, which means they must take additional care to keep their movements secret.
Hyung-do heads out to the designated meeting place, telling Yoon-yi where he's going but not why, explaining that he'll fill her in when he's back. There, he is greeted by a shady-looking man (the Dubak cult leader), who starts to lead him away to meet Ji Seung.
Hyung-do is, naturally, extremely wary of being at their mercy, although it's hardly like he has much of a choice. The leader produces Ji Seung's identification tag to prove that he is telling the truth — and the instant Hyung-do reaches for his sword, hidden men emerge to hold their own swords to his throat.
All pretenses of fair negotiation aside, Hyung-do is blindfolded and bound, led through the mountains by his captors. He has enough foresight to drop little green balls in the road behind him at periodic intervals, marking the way like Hansel and Gretel's trail of breadcrumbs.
He is taken to the same meeting place where the cult's failed ritual took place, which is also where Ji Seung is being held. As Ji Seung jolts awake from unconsciousness, a flashback shows us how he was taken in the first place — his tobacco, prepared by his trusted assistant, was drugged. Hence the dropped pipe.
Hyung-do's blindfold is removed and he sputters in righteous indignation at their treatment. The cult leader seems to find his anger quaint and gets to the point: Ji Seung harbors a particular object within his vault of case files. That is the cult's sacred artifact, and if he wishes to emerge from this alive, he will hand it over.
Ji Seung remains stoic and instructs Hyung-do not to negotiate, but Hyung-do's panic drives him to consider the deal. He argues to his boss, "There is nothing more precious than life." Ji Seung counters, "The secret files are more important than my life."
But against his boss's will, Hyung-do agrees to their condition, leaving Ji Seung shouting after him, trying to insist that they stand their ground. As Hyung-do is led away, he asks Ji Seung if he was the one who killed the cult leader 20 years ago. Ji Seung doesn't answer, but his look of despair and hanged head give us his answer.
In the morning, Hyung-do awakens to find himself untied, and hurries back to the city.
Yoon-yi and Jang have more questions to ask of the shaman, but they are informed by an assistant that the shaman is out to perform ceremonial rites elsewhere. With no reason to hang around, the two head out, but as Yoon-yi closes the door she catches a glimpse of the assistant turning away from her — and the woman bears a Dubak tattoo at the base of her neck.
This serves as confirmation that she and the state shaman are both affiliated with Dubak-gyo.
Hyung-do arrives back in the city, tired and out of sorts, and shares his dilemma with his team. He only has until midnight to comply with the cult's demands to produce the artifact, and although he's pretty sure that Ji Seung is still hiding something, he has no idea what. And with his own limited knowledge, he isn't sure what the right thing to do is.
Still, he can't just abandon his boss to certain death, so he heads to the record vault that evening, pretending he's just there to file a record. He finds the red box marked Dubak-gyo and takes it with him.
Naturally the guards won't let him carry anything out of these high-security records, so Hyung-do surprises them with an attack — though he precedes it with an earnest, "I'm sorry for this."
While Hyung-do makes his way back to the cult's meeting place — alone, of course — Jang and Yoon-yi also head into the woods, with a team of police in tow as backup. They follow Hyung-do's trail of breadcrumbs, growing more excited as they collect 11 of the 12 total.
Hyung-do is again blindfolded as he is led to the cult base, but when he is allowed to remove the blindfold once there, he looks around in confusion. The leader smirks and informs him that his officers haven't followed him here, so he can give up on that hope — he'd noticed the dropped balls and sabotaged the trail.
Sure enough, when Jang picks up the last marker, the team discovers that they've been led on a false trail culminating in a dead end. The police are angered to be taken on a wild goose chase, but worse yet, this leaves both Hyung-do and Ji Seung in mortal peril, without any hope of rescue.
The cult leader takes the sacred artifact from Hyung-do and presents it to the shaman, who accepts it excitedly.
Somewhere in a cave dotted with icicles, the shaman sets the red box in front of an altar, where she kneels and addresses her father. Opening a black box reveals a severed head — Kang Yu-seok, the old cult leader — preserved in a block of ice.
With tears in her eyes, the shaman says that in two days, he will be resurrected — through his enemy's body. She assures him that preparations have been completed, now that they have their artifact. And their enemy.
Turns out that Ji Seung is the enemy in more than a symbolic sense as the head of Shinmuhwe. A flashback to Kang's execution shows us that the man who delivered the deathblow was Ji Seung himself.
With face covered, the shaman makes her way to the room where Ji Seung is being kept, watching as he seems to doze. But when he raises his head to see her, she whirls away quickly, as though not wanting to be recognized. He demands to know why she won't look him face to face — where's the bravado that led to his kidnapping?
And so, she turns back and glares at him fiercely, angrily, before stalking out.

COMMENTS
I love all the little clues and puzzle pieces that fit together — there's enough room left for interpretation, but enough careful planning that shows they know where they're going with everything. I'm sure some points will be explained in further detail in the finale, but even if they weren't, we're able to draw the connections here.
For instance, take Ji Seung's yearly pilgrimages to the temple, which we can link to his lingering reaction to the execution he performed. Although we aren't told so explicitly, we can read his conflicted feelings in his response (or non-response) to Hyung-do's question of whether he was the one to kill the leader. It makes sense if he is still haunted by that, even if those feelings don't supersede his loyalty to his overriding cause, Truth.
Also, note the parallels in this scenario and the one in the series opener, when Hyung-do was put in the position of saving his mentor, only to realize he'd been used as a pawn when the Gangwon-do governor was executed anyway. Hyung-do can't let it happen again and agrees to the deal to save Ji Seung — and yet, this situation is so similar. He has to play their game in order to get Ji Seung back, but without the assurance that they'll honor their promise anyway. There's a good chance Hyung-do will face the same result, because why would the cult give back the man whose job it is to hunt down the cult? But he has to try, and so he does.
I only hope that it isn't a fruitless gesture, because I notice that Ji Seung carries out the red box in the beginning of the episode. We don't see what he does with it, and perhaps he was just examining it for clues — but there's always the possibility that he has swapped out the contents, or done something with them to prevent the cult from getting their grubby hands on it.
I don't suppose the finale is going to answer all the questions raised by the series thus far, and I don't expect that it will, but even if we must leave some things open-ended, I like seeing hints of linking threads between episodes. For instance, although this episode had nothing to do with monsters, aliens, or ghosts, we still have motifs involving electricity, metal, and water, which recur in most if not all of the episodes.
Recall the haunted house episode (#6), where strange things happened in stormy weather, culminating with lightning striking the metal rods and metallic objects acting of some other force. Or the episode after that, where rain erased "traces" of people in New Land. Or Yoon-yi falling into a dry well that contained a magnetic metal pole. Or the compass needles that went crazy in the presence of water (Episode 4) or metal (Episode 6). While the motifs aren't played as strongly in this episode, they're still there, which I appreciate: Both father and daughter have the power to conduct/command electricity, and there's even a brief moment when the metal bells jingle in the shaman's quarters.
Only one episode left! I hope it's a good one.
RELATED POSTS
Tags: featured, Im Jung-eun, Jo Hee-bong, Joseon X-Files, Kim Gab-soo, Kim Ji-hoon