KBS's President off to a slow start
The battle of the presidents has begun! Only, it wasn't much of a battle with SBS's Blue House drama Daemul leading the pack by a wide margin, drawing a 25.7% rating against KBS's premiere episode of President, which had a 6.3%.
The numbers are a bit of a drop-off from the finale of Runaway Plan B, which signed off last week with a 13.6%. Despite the slow start, though, it seems like President is drawing initially favorable responses, and it's still early days for the show. With Daemul nearing its end, the real question is how well it'll perform once the big rival is out of the way.
Over on MBC, the "Korean Desperate Housewives" drama Home Sweet Home pulled its highest rating yet, nearing but unable to quite make it into double digits with a 9.9% rating.
President tracks the progress of an assemblyman (Choi Su-jong) as he runs for president with his strong, capable wife at his side (Ha Hee-ra). Their family includes three children, the eldest of whom was adopted and is played by Personal Taste's In-hee Bot, Wang Ji-hye. The couple also has two biological children, a son played by idol star Sungmin of Super Junior (whose character name is likewise Sung-min) and a daughter played by Park Mi-jin.
Another pop singer is featured in the cast, Trax member Jay (J?), who received strong marks for his acting performance. He plays the secret son of our presidential candidate — scandalous! — who hears the truth of his father's identity as an adult. And… then starts to "grow closer" with Wang Ji-hye… his biological father's adopted daughter.
(ARRRRGH, Korean Dramas, why do you do this? Must you flirt with faux-incest at every turn?? Can you just imagine the headlines? "President's Children Marry Each Other.") (Confession: I gripe, but to be honest I AM intrigued. All of a sudden I have a lot more interest in the narrative possibilities here… Curses! It must be something in this melodrama-lovin' Korean blood.)
Last but not least, playing a shrewd political consultant is sexy bastard Kim Heung-soo (Invincible Lee Pyeong-gang).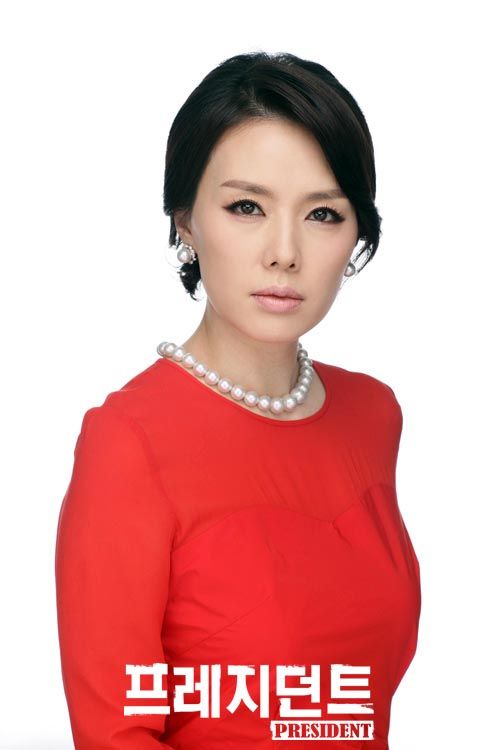 "Woman of steel" Ha Hee-ra

The (future) First Family

Sungmin, Wang Ji-hye, Jay

Kim Heung-soo
Via Yonhap News
RELATED POSTS
Tags: Choi Su-jong, drama ratings, Ha Hee-ra, President, Wang Ji-hye