Lee Seung-gi nominated for SBS MC Daesang
Looks like puppy's having a good year. Triple threat singer/actor/MC Lee Seung-gi (My Girlfriend Is a Gumiho, Brilliant Legacy) is playing with the big boys now—he's been nominated for SBS' MC Daesang, up against veteran heavyweights Kang Ho-dong, Yoo Jae-suk, and Lee Gyung-gyu. There's not so much a chance in hell that he'll win, but that's not the point, as being nominated with these guys is pretty much the highlight for such a relative newbie like him.
I say relative, of course, because compared to these comedians (all three come from the gagman-to-MC camp), 23-year old Lee Seung-gi is just a kid. Lee Gyung-gyu debuted before Seung-gi was even born; Kang Ho-dong debuted in 1988, Yoo Jae-suk shortly after in 1991. But despite his greenness, there's something about Seung-gi that almost everyone universally acknowledges: what Koreans would call MC-chaejil, meaning he was born to do this.
He has this disarming way of making everybody love him, which isn't so hard to believe since he's everything from the Nation's Little Brother to Korean moms' number one pick for a son-in-law. He and Kang Ho-dong have fantastic chemistry as an odd couple, on both Strong Heart and KBS' 1 Night 2 Days, and frankly, theirs is my favorite tv bromance, because it's real, and completely adorkable.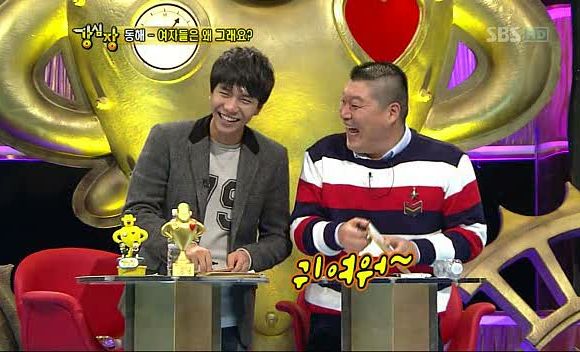 I think what makes him good is that he's natural in front of the camera and doesn't shy away from being himself, which is dorky and funny and naive. But his success as an MC has everything to do with Kang Ho-dong, who isn't afraid to look bad while making Seung-gi look good. Together they have this great comic timing that makes them click.
I have no doubt that the real battle for the award will be between Kang Ho-dong and Yoo Jae-suk, as they are both at the top of their game and always neck-and-neck for the year-end MC awards. But it's nice to see Seung-gi coming up in the world.
Lee Seung-gi and Kang Ho-dong (bottom right) are both nominated for Strong Heart (and Kang Ho-dong also for Star King); Yoo Jae-suk (top right) for Running Man; and Lee Gyung-gyu (top left) for Star Junior. The SBS Awards will air December 30.
Via Newsis
RELATED POSTS
Tags: Lee Seung-gi