Noh Min-woo performs in concert with Boohwal
Having just played a rock star in the KBS Drama Special mini-drama Rock Rock Rock, actor (and former member of pop band TRAX) Noh Min-woo will be a special guest at the 2010 Boohwal Christmas Concert. He'll perform alongside Kim Tae-won, the famous rocker guitarist of Boohwal whom Noh portrayed in the drama.
Apparently Noh Min-woo first met Kim Tae-won at an Lee Seung-gi concert (aw, Gumiho support), and they now enjoy a friendly, brotherly relationship. Kim said of Noh's portrayal of him, "When I heard from Noh Min-woo that he'd be playing me in the drama, I shared stories with him about my life. Through that process we became closer, and that's how I ended up inviting him to this concert."
As I mentioned briefly in my year-end review, I was impressed with Noh in Rock Rock Rock, having kept low expectations about his acting after seeing him in other dramas earlier this year. He was certainly very pretty in Pasta as one of the young Italian chefs at the restaurant, but he was mostly beautiful wallpaper in that. He had more to do in My Girlfriend Is a Gumiho, but his low-energy performance made me think he'd be just another wooden actor with a model's good looks. It was much to my surprise that he came to life in Rock Rock Rock, showing a youthful energy I didn't know he possessed.
Noh will participate in two songs at Boohwal's December 24 and 25 concerts, which take place at the convention hall at Seoul's Grand Hilton Hotel.

Noh Min-woo on press conference day; the real Kim Tae-won;
Noh Min-woo as fabulously be-mulleted '80s Kim Tae-won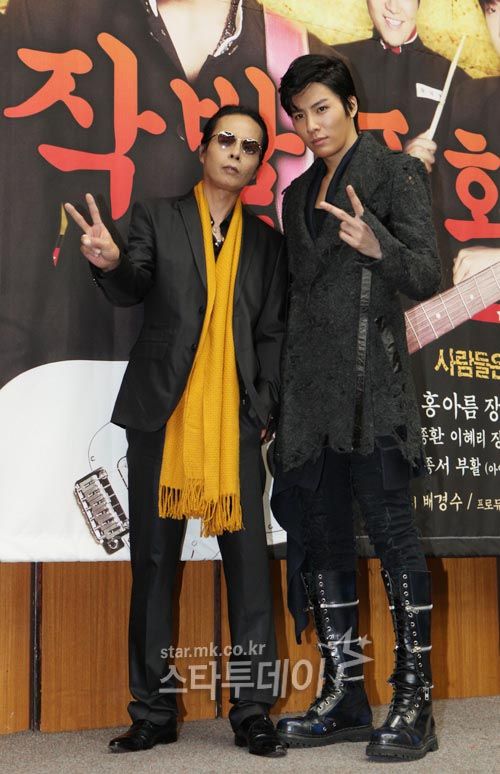 Noh Min-woo and Kim Tae-won together
Via Asiae
RELATED POSTS
Tags: Noh Min-woo