Secret Garden: Episode 11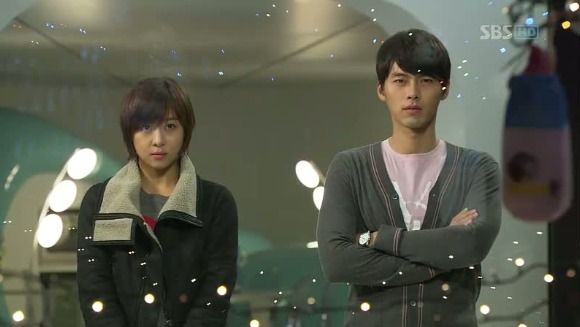 Ah, finally the break I've been waiting for! After all the Brooding, that is. (There is a LOT of it.) Not that I haven't been enjoying the heck out of Secret Garden, but plotwise we've been in slower territory for the past couple episodes, and it's about time that things shifted. Power dynamics slide around and set us up for some potentially very interesting things in the near future. (I hope.)
SONG OF THE DAY
Vodka Rain – "그 어떤 말로도" [ Download ]
Audio clip: Adobe Flash Player (version 9 or above) is required to play this audio clip. Download the latest version here. You also need to have JavaScript enabled in your browser.

EPISODE 11 RECAP
With Ra-im sitting right there, Joo-won makes his thoroughly dishonorable speech to his mother about how he's only playing around, and that she has nothing to fear because his fixation with Ra-im is temporary. As though that's not bad enough, he adds, "Even if this woman were to change her mind and agree to marry me, don't give your approval. Oppose it till the end, and rid me of this woman."
While I deliver a mental slap that I deeply wish could be physical, Mom eyes him in suspicion, as this is too easy (she didn't even have to bust out her secret hussy-ridding voodoo incantations!). Ra-im stonily replies that although Joo-won sees her as an adequate temporary plaything, to her Joo-won isn't even worth toying with, "not even temporarily." She adds that she'd be grateful if Mom kept Joo-won from following her around.
Rather than being pleased that her problem has washed itself off her hands, Mom is offended at Ra-im for speaking so bluntly, for not being cowed by her intimidation, for being so low-class as to come bearing an offensively poor gift like a fruit basket.
Of all the things to breaks through Ra-im's stoic facade, it's that last complaint that does it, and her bottom lip trembles while Mom finishes her tirade and storms off.
Fed up with this family, Ra-im shakes off Joo-won's arm, warning him to stay away from her. A telling remark: "If it's just a short while for you, do you think it's automatically a short while for me?!" On one level, this points out his extreme selfishness in neglecting to consider how this affects her, but on another level, it gives us a hint that she might find herself drawn to him if she allowed herself.
As she walks through the neighborhood, he trails her in his car, then parks and orders her to get in. It's a good thing you're so pretty, Joo-won, because you sorely lack charm.
Ra-im accepts the ride on the condition that she drive, and he lets her take the driver's seat. But when he walks toward the passenger side and reaches to open the door, she zooms off, stopping a few feet away. He approaches again and reaches for the handle, and she zooms off again, halting a few more feet away.
Joo-won catches up to the car and angrily faces Ra-im, who makes her point: Not so fun being toyed with, is it? More than anything, she was hurt by their careless regard for her fruit offering, having been taught by her father that guests should bring a gift when visiting somebody's home.
Joo-won says in his belittling way that surely she didn't expect him to take her side, did she? If she did, she's pretty naïve; how could he have possibly taken her side against his mother, when that would have made her even more furious? That's something out of a fairy tale, and he asserts that what he's doing now is the best he can do. (And here's where I might point out that crushing realization that many of us make on the cusp of adulthood: Sometimes your best just ain't good enough, buster.) Somehow Joo-won makes this more about him, even though she's the one who was demeaned, saying that she should be understanding. Apparently in Joo-won's world, understanding is a one-way street. Guess they're easy to navigate when he's a bulldozer.
Ra-im says that that's true — but it pains her that he's right, and she berates herself for briefly letting herself feel drawn to him. Joo-won replies, "If it upset you, I'll apologize. I'm sorry." But Ra-im tells him not to bother, since he isn't sorry.
Off on their separate ways they go to brood, reliving past moments together in a series of flashbacks. Ra-im sits in a cafe alone for a long while, staring off into space while deep in thought, until she is eventually joined by someone who sits down and drinks straight from her coffee cup: Joo-won.
He deliberately dabs his lip with foam to make her laugh, but she's hardly in the mood. Trust Joo-won to have heard her rejection and fixated on the one line that gave him hope: the part where she mentioned feeling drawn to him.
Although Ra-im doesn't deny it, she points out that there are times in life when ignorance is bliss. She he counts him as one of those instances, advising him to find a rich, classy woman who'll make his mother happy.
When Oska calls, he guesses from Joo-won's tone that something happened, that his mother tried to buy Ra-im off and made her cry. Joo-won admits that he really thought he could do it: "I was sure I could keep myself from falling for her." Alas, things didn't work out as planned.
I love that Oska has this brotherly heart-to-heart while he's at the salon, changing his hairdo. He tells the stylist that an ajumma showed up to his latest fansigning sporting his hairstyle, and while he doesn't expect to pass for an idol boy, looking like the sister of an ajumma fan is really not his style. He can't help insisting, "I looked better from the back, though!"
More cacophany regarding Oska's plagiarism scandal arises when news surfaces about the identity of the songwriter of the original song… which turns out to be Tae-sun (who wrote the song under the name "Sun"), as Seul has already discovered.
Oska blusters about being an equal victim in the mess, but Tae-sun ponts out that Oska had a couple chances to find out this truth — such as when Tae-sun gave him the song on his mp3 player — and had known Oksa would come looking for him. However, he'd anticipated that the first thing to do would have been to give him an apology, and the fact that Oska didn't bother shows a basic lack of courtesy.
Seul joins them — or rather, joins Tae-sun and and pointedly ignores Oska — which suprises the latter, who had no idea the two were on familiar terms. Seul presents Tae-sun with contract papers, having agreed to meet all his stipulations.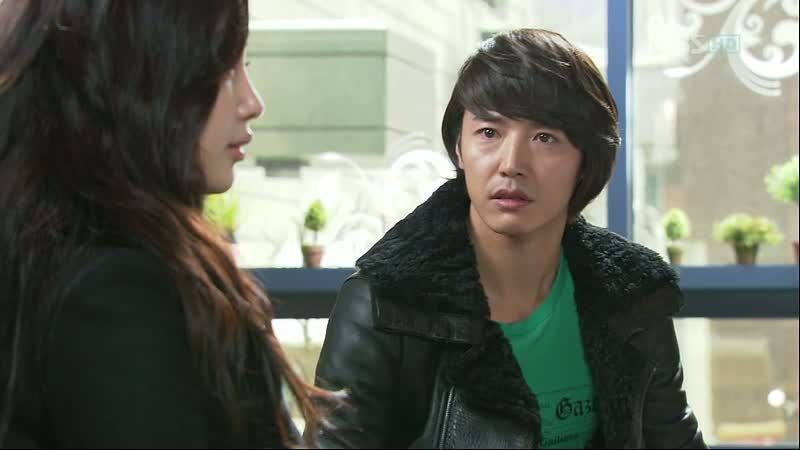 Oska is stunned and aggravated, because HE was the one hot to cultivate Tae-sun as his protege. But it's exactly for that reason that Tae-sun agrees to the contract, knowing how much it'll burn Oska up, and he declares that he has just now decided to sign with Seul.
Oska asks Seul if she was really the one who leaked the latest news, in a voice that clearly believes she did. Her reply references their earlier argument (and their lack of trust issue): "If you say it's me, then it must be me."
They're both hurt as they part ways, and as Oska takes a phone call with his mother, he looks directly at Seul as Mom sighs that she'd like to see him settled and married. Just as Seul passes within earshot, Oska replies that he will find a nice girl to marry.
His mother has had enough of sitting back while Joo-won gets the glory as the department store president, and meets with Director Park to strike a deal. She offers to make him the new president — usurping Joo-won's position — if he will accept Oska as his VP. With his age ticking upward, Oska can't stay a pop singer forever, and she wants him to have a position in the family biz after retiring. Director Park is happy to join forces in staging this coup.
Then, it's Brooding Hour for all. Each of our main characters spends time coping with their feelings, Joo-won and Ra-im both reading through Alice in Wonderland in deep thought.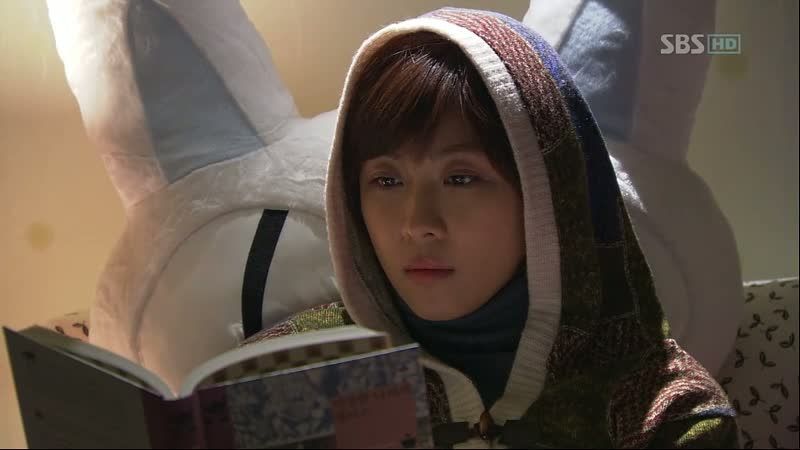 While they read, Oska plays piano, Seul thinks back to their breakup, and Jong-soo views footage of Ra-im in action. Joo-won and Ra-im alternate voice-overs of the following key passage from the book, a conversation between Alice and the Cheshire Cat:
"Would you tell me, please, which way I ought to go from here?"
"That depends a good deal on where you want to get to," said the Cat.
"I don't much care where–" said Alice.
"Then it doesn't matter which way you go," said the Cat.
"–so long as I get SOMEWHERE," Alice added as an explanation.
"Oh, you're sure to do that," said the Cat, "if you only walk long enough."
The next day, Ra-im is at the lockers readying to begin her workday when she takes note of the photos posted on her door; they've been there for ages but she hasn't noticed them lately. The one with her and her father spins her off into a flashback from her high school days.
It's a mundane scene, but full of affection as she and Dad meet on their way home and he gives her a stuffed cat doll, which she still owns. No doubt this memory was jogged by the Cheshire Cat.
Ra-im hears that she passed the first stage of auditions for the Dark Blood film, and will need to send in her demo tape. Excitedly, she races to meet Jong-soo to hear the news from him.
He confirms the news and congratulates her, and she is so thrilled that she offers to treat everyone to dinner. He declines the invite, which confuses her, so finally he gets blunt: she was right to tell him what she did, and need not worry about his feelings — what he needs now is space and time.
He means her rejection of him, of course, but she has no idea since it was really Joo-wonda who did the rejecting. Jong-soo tells her to pretend she knows nothing (not hard, when she's utterly at a loss), while he'll make sure he's not "found out" again.
Ra-im may not know what he means, but she's pretty sure she knows how things got to this state, and she fumes.
Over at Joo-won's glass castle, he takes an unexpected interest in his staff's setup of Christmas decorations. He's more of a hindrance than a help, getting in everyone's way, but he gamely pus himself right in the thick of the decorating session.
Joo-won even hangs a pair of Oska socks on the tree — not for his benefit, surely, but for the Fantasy Ra-im whom he imagines standing beside him.
He tells the Imaginary Ra-im that he doesn't like decorating Christmas trees — he doesn't enjoy tending to anyone's birthday other than his own, HA — and says, "But I think you'd like it, because you only like things I don't like."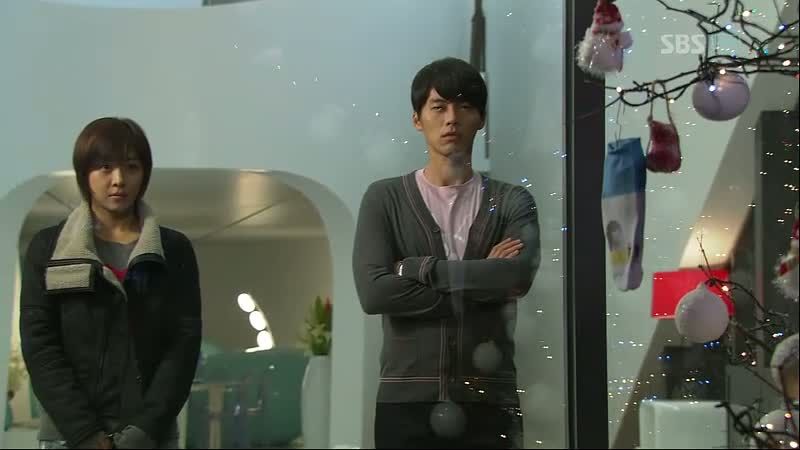 He tells her she won't be getting Christmas gifts, because Santa doesn't give presents to kids who cry. (Which, WTF? What kind of messed-up Santa mythology has he been told?) Imaginary Ra-im counters that he's the one who made her cry, but Joo-won shrugs, since it's not the reason for the crying that matters as much as it is the tears that are shed.
"Jerk," she says. "I know," Joo-won replies. "Why'd you go and cry?"
And then, the real Ra-im comes stalking in, interrupting his reverie; she walks right through her fantasy self, dispersing the apparition in a wispy poof.
Seeing Real Ra-im standing right where Fantasy Ra-im had been standing, Joo-won's eyes widen and he has to poke her cheek with a finger, wondering, "Are you the real Gil Ra-im?"
Ra-im glares furiously and demands to know what he'd told Jong-soo.
Joo-won reminds her that he'd already pointed out that Jong-soo likes her, acting like she should thank him for telling Jong-soo never to confess the truth. Her actual reaction is far from gratitude; she calls Jong-soo her teacher and family, the person she most respects in the world. Furthermore, this is her business, not his: "More than the pain you gave me, it hurts me more that you used my face to hurt the director."
Joo-won scoffs that it's not like she would've dated Jong-soo anyway, and challenges, "Do you like him back?" Contrary to his expectation, she answers readily, "Yes, I like him. Thanks to you I know how he feels, so I'm going to like him as a man now."
Way to drive your quarry straight into the enemy's arms. Smooooth. Joo-won stands there speechlessly as she heads out, then hurries after her. Whirling her around, he plants a declarative kiss on her lips.
Ra-im struggles, but he keeps his grasp firm and continues kissing. I suppose it's supposed to be romantic, but there's an uncomfortable vibe that cannot be escaped given the palpable tension (and not just the sexual kind) and use of physical force (though one wonders what happened to the badass fighting stuntwoman who can't shake off his grasp).
Intently, Joo-won tells her that he's "earned the right" now (to interfere in her love life), and orders her to stop thinking about other men. Oh, if YOU say so.
Oska interrupts the scene, immediately sensing that they've fought. He advises Ra-im to kick Joo-won to the curb, to which she replies that no matter how hard she tries, Joo-won won't acknowledge being dumped.
When Oska offers her a ride home, Joo-won interrupts to say he'll take her. Ra-im ignores him and accepts Oska's offer, leaving Joo-won to stare plaintively like he's just lost his favorite toy. Which he has.
Ra-im begins coaching Oska for the physical work in his CF, taking him to the climbing wall. Halfway up, she realizes she has forgotten her chalk (to keep sweaty hands dry), so he offers up his pouch for her use. Ra-im cops an accidental feel, and jerks her hand away embarrassedly upon contact with his butt. Oska, however, declares that he's the kind of guy to "turn the other cheek" (lmao), and offers up the other side for equal treatment.
They have lunch afterward, during which Ra-im confesses that she lied about being his fan for the past three years. In fact, she's liked him for thirteen, from before his debut when he was in a Hongdae band, "When you sang even worse than you do now." Lol. She may be a fangirl, but she's not deluded.
Hesitantly, she asks him to explain the details of the Jeju bet between him and Joo-won. Oska fills her in on their game of wagering the things they want most — Joo-won with Ra-im, Oska with his house. Since Oska won, he teases that Ra-im is his now, which leads them to play-flirt about getting married.
Chae-rin makes a surprise appearance at their table, having been directed here by Joo-won, who told her that Oska was here with a strange woman. She's pouty to see that it's true, and Oska immediately assumes that she's still holding the threat of naked pictures over his head. Except that there are no naked pictures. Chae-rin admits with a laugh that she made it all up.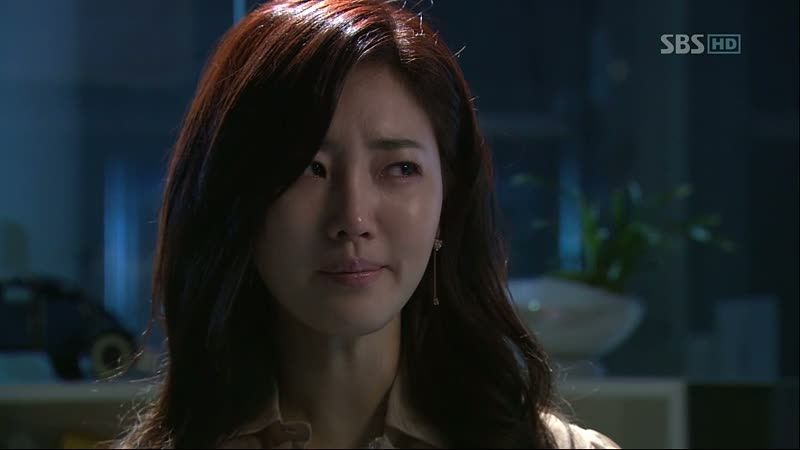 To prove to us that heartless Seul isn't quite so heartless after all — it's just disguised under massive layers of materialism and snobbery — Seul looks at Oska's "Thanks for all your love" autograph near tears. More brooding as she thinks back to old memories of being told that Oska was playing with her, and hearing Oska declare as much. Spurred by that hateful memory, she rips the autograph up, composes herself, and puts her plan in motion.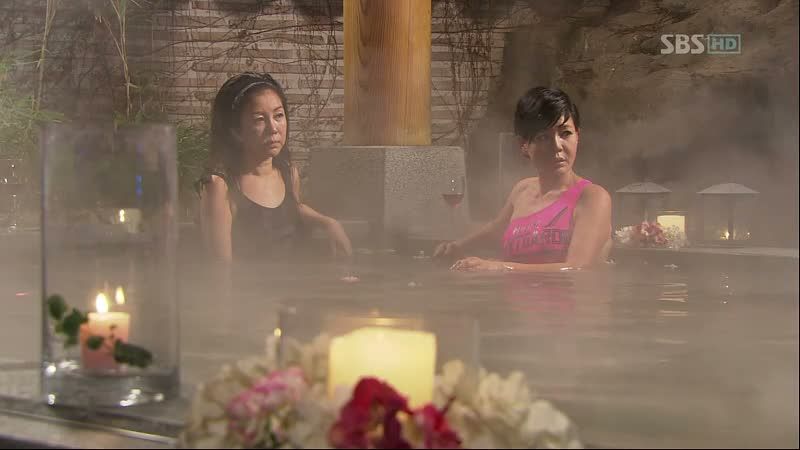 The chaebol mothers engage in their never-ending round of My Son's Better over wine at the hot springs. Whoops, almost wrote "whine," which is just as apt. Oska's mom starts pushing the "Joo-won's only successful because of his talented subordinates" angle, and alludes to an accident that wiped out some of his memories, saying he's still not back to normal (Joo-won's mom bristles at her pointed use of normal), and may suffer aftereffects for life.
Seul and her friend enter the pool at the other end and start chatting about Seul's recent blind date. Though no names are mentioned, dropping a few key phrases (about him owning this spa) perks up the moms' ears, and they listen closely.
Bait successfully cast, Seul sighs that it's not working out. He's in love with someone else, and she doesn't want to be the woman who breaks that up, especially when he only sees her for her status. The ladies sigh that Seul's good-hearted nature is her undoing, which, *snort.* Well, this IS a fantasy drama.
The mothers waste no time making themselves known, and Seul immediately acts contrite, bowing her head respectfully to Joo-won's mother.
Mom invites Seul to have a cup of tea with her, liking her for a few reasons. First, Seul had already been selected as bride candidate when she was set up on the blind date with Joo-won, meaning she's pre-approved in the areas of wealth, status, and background. Second, she's not Ra-im. At this point, both are equally desirable in Mom's eyes.
Mom confirms that the stuntwoman is the third party, muttering that she was too nice in her dismissal of Ra-im. Scary thing is, I think that WAS her being nice. Who else shudders to think what horrors she might unleash if she were actually trying?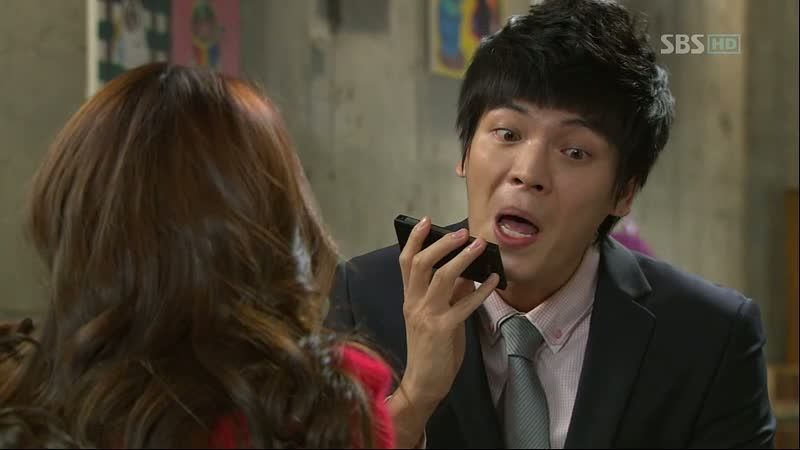 Secretary Kim enjoys a date with Ah-young, and is therefore reluctant to interrupt it by answering Joo-won's call. He ignores the phone several times, finally picking up in annoyance to bark that he's ignoring the call for a reason.
Joo-won can't believe his secretary would dare talk to him in such a way, but Secretary Kim feigns ignorance and says innocently that he assumed the President Kim who was calling was that other president Kim, the owner of the restaurant that sells pig's feet. Offended (pig's feet?!), Joo-won suspects he's lying, further affronted when his secretary pretends that his signal is cutting out.
But it's Joo-won who gets the last laugh, because he knows Secretary Kim's weakness. Ah-young.
He calls Ah-young and Secretary Kim into his office, where they wait nervously for him to get to the point. Unexpectedly, Joo-won invites Ah-young to dinner, which sounds awfully like a statement of interest…
Joo-won adds one caveat: They'll each bring their best friend in the world along to dinner. Dressed prettily, of course. LOL. He's getting pretty transparent, isn't he? And yet, even more hilarious is the fact that neither Ah-young nor Secretary Kim realize that this is all a roundabout way to summon Ra-im.
So after all that effort, Joo-won is left staring in dissatisfaction when Ah-young turns up with a friend who is very much NOT Ra-im. (Although even sadder may be the fact that his "closest friend" is Secretary Kim, who spends the entire scene glare-pouting at Ah-young.)
Pointedly, he says, "Ah-young-sshi, you must have a lot of friends." She replies that this IS her closest friend, especially with things being awkward with Ra-im these days. Joo-won bursts out, "How can friendship change?"
He starts to explain that this whole arrangement was for Ra-im, but stops himself. Instead, he asks Secretary Kim how well he knows Ah-young. He rattles off a list of things he knows about her, picked up from his time in Ra-im's body, which sound positively strange coming from Joo-won's mouth — sleep and bathroom habits, for instance — capping off with advice: Secretary Kim should stay with her even if she dumps him once, because she believes that the way to keep a guy who's merely playing around with a girl is by dumping him and seeing if he sticks.
Joo-won says, "Take good care of her," tells Ah-young to come home late tonight, and leaves.
He goes to Ra-im's apartment, waiting outside in his car and making calls that go ignored. Finally, she trudges up the hill toward her gate, where he intercepts her.
He's upset and incredulous, demanding, "Who do you think you are?" She looks at him indifferently, and her lack of emotion just fuels him — he can't understand how she can not care about any of this. How can she be so unaffected, especially after they kissed? How could someone as lofty as he be reduced to sitting around for her for hours? Hey, don't ask me to explain your mental issues, buddy.
He blames everything on her — if she'd just told him she wasn't Chae-rin when they met, this would never have happened. You know what else would have prevented events from spiraling this far? How about some sanity on your end?
Ra-im calls him a nutjob, to which he agrees, blaming her for making him into one. (I think you were doing just fine on your own, frankly.)
It's killing him that he's so torn up, while she's going about her life as normal, "So I'm going to do anything and everything from now on." Uh-oh, I think he just stated his intention to let his crazy loose. To that end, he asks for her cooperation: "You have no intention of becoming the Little Mermaid. So I'll become the Little Mermaid myself."
He clarifies: Now he's the one making the offer to disappear like bubbles after their relationship has run its course: "I'm outright begging you."

COMMENTS
Well, finally! As much as I think Hyun Bin is killing this role, and am getting a huge laugh out of his wacky antics, I've been gradually disliking Joo-won more and more over the past few episodes. In this one, I found him damn near insufferable.
He has that maddening way of spouting sexist, classist drivel with unflappable calm, as though his way of thinking were perfectly normal, turning the tables around to make it sound like everything is Ra-im's failing instead of his own. At least Mommy Dearest is under no illusions that she's being benevolent or kind, whereas Joo-won has this gift of framing his actions in a way that absolves him of responsibility. And like Ra-im, I find myself almost seeing his point, even when his point is pure fiddle-faddle, which is frustrating because you have to concede that there's a logic to his madness.
So it's pretty satisfying to see him driven to the limit of frustration, because it's really a hell of his own making. All along, he's been poking at Ra-im, treating her like a doll without a brain or a heart. Then acting like the doll is out of line for making him care about it. You can't have it both ways, but he was exhausting his excuses to explain his actions in a way that his emotionally stunted mind could understand. HE'D created this, but refused to acknowledge that.
Offering to become the Little Mermaid isn't exactly the reverse of telling her to be one — telling her to get lost after he's finished playing with her is NOT the same as volunteering to do the same yourself. It's all about agency; he's still calling the shots in both scenarios. But here's a baby step forward, for him to even consider swapping roles, to hand over the position of power, to be that desperate for her company that he'll concede this symbolic point. He made his bed, and he's finally lying in it.
RELATED POSTS
Tags: featured, Ha Ji-won, Hyun Bin, Kim Sa-rang, Philip Lee, Secret Garden, Yoon Sang-hyun