Secret Garden: Episode 8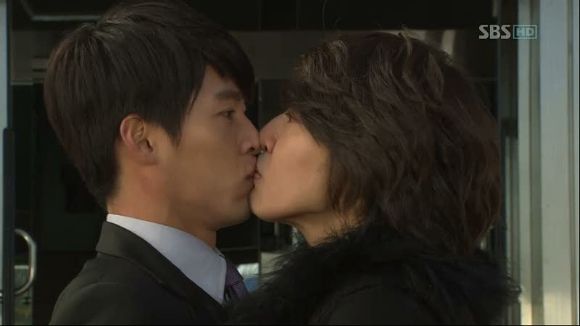 We've got kissing, handholding, bed-hopping, and towel-dropping, and that's all in the first half hour. Our body-swapped souls get entangled in each other's affairs, further complicated by the heartbreak rivalry going on between Oska and Seul. It's funny that both cousins are fighting, but neither is fighting for the same girl…except for purposes of maximum annoyance. Let the best man-child win.

EPISODE 8 RECAP
Oska repeats that he won't give up on the bet over Ra-im, which we see is entirely for Seul's benefit, as he watches her leave with angry tears forming in his eyes. It has the added benefit, though, of stunning Ra-Him, to Joo-wanda's great displeasure.
But Oska confesses to Joo-wanda that he's just using "her," in this fight against Seul…because he wants the fight to last a little longer. Joo-wanda sees that his cousin is actually sincere about this, whatever mixed-up feelings he's got going on with Seul.
Meanwhile, Seul leaves to go back to the golf course, and she broods over a past love triangle with a jealous other guy who had promised to show her that Oska was just like other men. Well that's just too easy, isn't it? That's the reason you broke up? Some doofus framed him? Gah.
Joo-wanda caves, and Ra-Him drops the charges. Outside, Oska enacts his revenge on Ra-Him in a childish headlock, which Joo-wanda refuses to help her out of. So she resorts to tickling Oska to get him to let go…and he starts to lose his balance. He lurches forward not to fall, landing him smack dab onto Ra-Him's lips.
Hahahaaaaa. I knew this "kiss" was coming, but damn if it isn't still gloriously lulzy.
Joo-wanda's eyes widen in horror, and Oska is the first to pull away in disgust, spitting and freaking out. Ra-Him just grins sheepishly, as her foot goes up and she touches her lips, with that I-just-kissed-my-idol-oppa dreamy look on her face. Well, on Joo-won's face that is.
He's quick to remind her of that fact, running up and rubbing water on Ra-Him's lips, yelling at her to scrub them clean. He accuses her of doing it on purpose. Well, she certainly couldn't hide her reaction, though it was a happy accident.
Oska has already fled the scene of the kiss, having been freaked out by Ra-Him's reaction more than anything. He tries to grab a taxi with no money, pathetically trying to jog the taxi driver's memory with a song to prove that he's famous. Joo-wanda drives right past him.
Magic veil of Un-switchiness: Ra-im gets out of the car and tells Joo-won to go ahead without her, as she plans on going back to get Oska. Joo-won doesn't understand her over-extending care for his hapless cousin…does she like him?
She asks if that's jealousy, but he scoffs that he'd ever be jealous of Oska, and HER, of all people. Joo-won: "You'd love it if I were jealous, wouldn't you? Why are women like that?" Because it's the ass backwards way of getting you to confess your feelings. Don't you know anything about girls?
He concedes that he'll be jealous then, if she stops caring about Oska. Haha. Are you actually trying to pretend like your jealousy is a favor? Pffft.
Ra-im isn't falling for it, and explains that it's not because she likes him, but because she's his fan. For all the tough moments in her life—enduring abuse on set, losing her father—Oska's songs were there for her through them all. She adds that it's the first time she's grateful for the body switch, because she has the chance to help Oska.
Joo-won promises to make her regret those words, just as Oska pulls up to the golf course in a cop car. Back to switched bodies. He yells at Ra-Him for leaving him behind (Even as he covers his lips at the sight of her. Heh.) and Joo-wanda steps in to say that it was his idea, because he dislikes Oska, and begins to rag on his has-been idolness, with has-been hair. Haha. Ra-Him can do nothing as she watches Joo-won in her own body insult her idol oppa.
Seul arrives and invites them all to stay for a weekend, since the golf resort is her family's. Joo-wanda and Oska decline, but Ra-Him sees an opportunity for retaliation. She accepts the invite, and when Seul comes to her side and links her arm, Ra-Him pointedly takes her by the hand instead, to the horror of Joo-wanda and Oska. Kekeke. I love that they're milking this switch for all its worth.
They start to walk away hand-in-hand, and Oska breaks them up, leading Seul away to talk. He asks what she's trying to do with Joo-won, who is his cousin, and his younger brother. (Aw, I adore their love-hate brotherly relationship.) He tells her that Joo-won isn't interested in her, and she laughs that Ra-im isn't interested in Oska either, since she and Joo-won seem to be dating.
He asks what she's doing with a guy who has a woman, and she spits back that she has lots of experience with those kind of men. Oska hangs his head at that remark. She adds that she's not interested in Joo-won anyway. It's his money and his status that she's interested in. Ugh. Uh…points for honesty? I guess?
Oska wonders why she's doing this to him when she's the one who ended things, but she remembers it differently, as she flashes back to the love triangle, in a moment when the other guy baited Oska into denying that Seul meant anything to him. She of course overheard.
He reminds her that she's the one who turned down his proposal and went abroad with the other guy. Geez, well then didn't you already have your revenge? She muses that she was so pretty and naïve back then…what did she mean to him? He thinks she ought to know, since he said it all in the proposal.
They both agree to drop the music video, since Oska plans to scrap his seventh album anyway. Seul confesses to having used the video as an excuse to get close to Joo-won, but now it seems like marrying him will be the faster route. I can see why you loved her in the past, but do you still love her now? Really?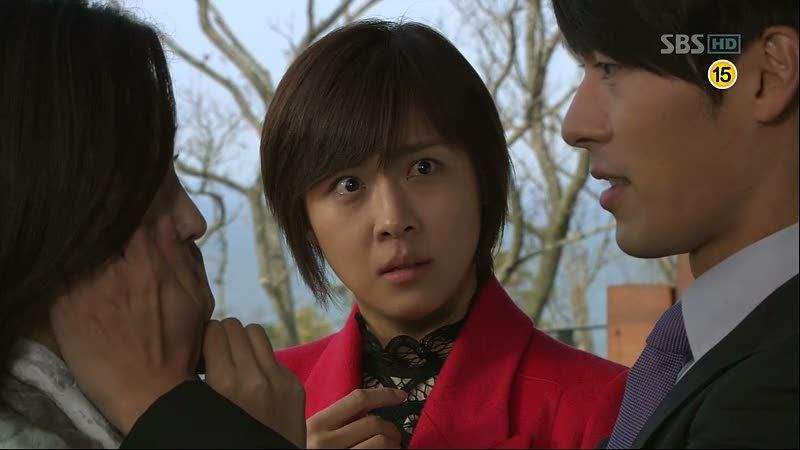 She finds Joo-wanda, and Ra-Him joins them, noticing that Seul's cheeks are red from the cold. She warms them with her hands, making Joo-wanda's eyes bug out in anger. Seul blushes and puts her hands on Ra-Him's cheeks too, as Joo-wanda yells, "Take those hands off this instant!"
Later at dinner, as Ra-Him and Oska barbeque, Seul notes that she loves a man who cooks, and Ra-Him lays it on thick, that she thinks women who appreciate her cooking are the prettiest. She invites Seul over (to Joo-won's house) so she can cook for her again, making sure to invite her over "late at night, so you can sleep over."
Both Oska and Joo-wanda gag out loud at the disgusting display. Oska's had enough, and he drags Ra-Him away to the sauna, to wash everything clean (starting with their lips, heh) and start over.
Oska soaks and Ra-Him comes tiptoeing into the men's sauna, wrapped up to her chest in a towel. Oska yells at her, thinking she's doing it on purpose because of their awkward kiss, and so she gingerly lowers her towel to her waist.
She's about to step in to the pool that Oska is in, so he gets up to get out…
…as Ra-Him screams, bug-eyed, then faints. Pwahaha. What exactly were you expecting, in the men's sauna?
In the women's sauna, Seul blathers on about her "perfect" body, and Joo-wanda guesses that it's all fat, while the body he's in is all muscle. Heh.
Outside, Ra-im and Joo-won sit down for a drink, back in their own bodies under the mystical veil. Ra-im asks how it was, going to the sauna with a 36-24-34, and he counters that his ideal type has changed, to "a woman who can't run for Miss Korea." [Note: Kim Sa-rang, aka Seul, was a Miss Korea contestant.]
It's not that she can't; it's that she won't. Joo-won: "Yeah…because your skin is dark and you're ugly." Ra-im retorts that it's not a thing for a guy with uneven butt cheeks to say. HA!
He points a finger at her perviness (yeah, takes one to know one, buddy) and she asks him why he's even out here instead of sleeping. He's curious about something that kept him up. Why she's missing something that everyone else has. Ra-im: "There's so much. What? Money? A House?" Joo-won: "A family."
She sighs, as she tells him that her mother passed away soon after she was born, and her father told her that her eyes and her laugh were the same as Ra-im's. Her dad was a firefighter who was brave and saved lots of lives, and he died on the job when she was seventeen.
Joo-won: Who raised you?
Ra-im: I grew up on my own.
Joo-won: On what money?
Ra-im: What the government gave me.
Joo-won: So all my taxes went to you.
Ra-im: Does it seem like a waste?
Joo-won: I should've paid more, if I knew I was raising you.
Ra-im: When I look at you like this, you're not a total jerk.
The next morning, Seul and Oska each wake up in their beds…to find surprise visitors asleep next to them. They both freak out, while Ra-Him and Joo-wanda don't realize that they've slept in the wrong beds, in their drunken haze.
By the time they realize their mistake, Seul and Oska have a glare-off in the hallway.
Commence breakfast of most awkward proportions. Thankfully, Oska's manager calls to break up the frivolity with some bad news. Someone leaked the title song to his seventh album—the one that was plagiarized. He rushes off in Joo-won's car, and Seul goes with him, leaving her car with Ra-Him and Joo-wanda.
Ra-Him gets a text from Jong-soo about the script for Dark Blood and asks Joo-wanda about it, excited for the film she's been waiting her whole career for. She's dying to do the stunts, until Joo-wanda has to remind her that she's not a stuntwoman right now; she's a department store boss.
But HE isn't, since he's in her body…so she tries to get him to at least audition for her. She insists that she can teach him, and Joo-wanda calls her crazy and walks off.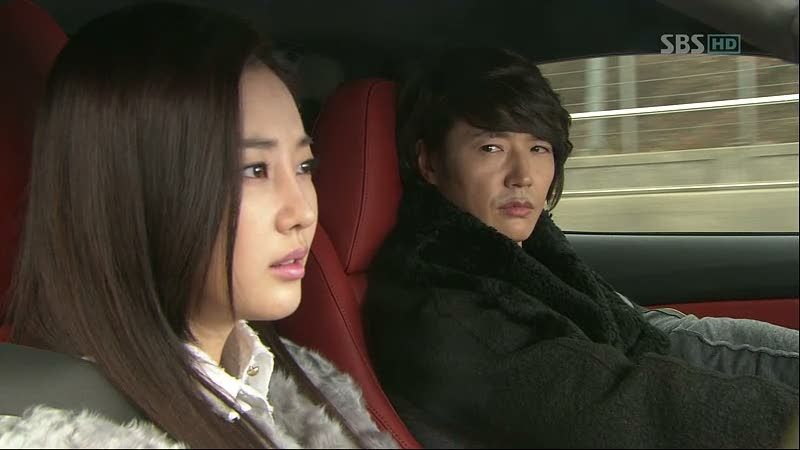 On the way to Seoul, Oska can't take the tension with Seul anymore and ditches her on the side of the highway. That's what you get, princess.
He goes after Tae-sun, thinking that he leaked the song (not so bright, our Oska) only to find out that the leak came somewhere from Seul's office.
Joo-wanda decides to do a little shopping in the meantime, and takes his own credit card for a spin, buying sequined dresses that cost a small fortune. Ra-Him refuses to be party to it, so Joo-wanda signs for the purchase himself, telling her that he'll just take all the clothes back once they've switched back.
I love that he actually relishes shopping for himself as a woman, like he's living out some fantasy of dressing a Barbie doll or something, only now he gets to dress himself like his ideal woman. God, it's sick AND hilarious.
Upstairs, Director Park gets wind of Ra-im signing for Joo-won's purchase (hitting a particular nerve because he's been trying to perfect Joo-won's signature for weeks). He announces that there is only one reason why a man would be under a woman's thumb: she must be pregnant. OH, BARF.
Joo-won's mother keeps tabs on him via a housekeeper, who confirms that he's acting a little strange lately. She confirms that Ra-im has been around, sending Mom into a tizzy for her secretary to track Ra-im down for a chat.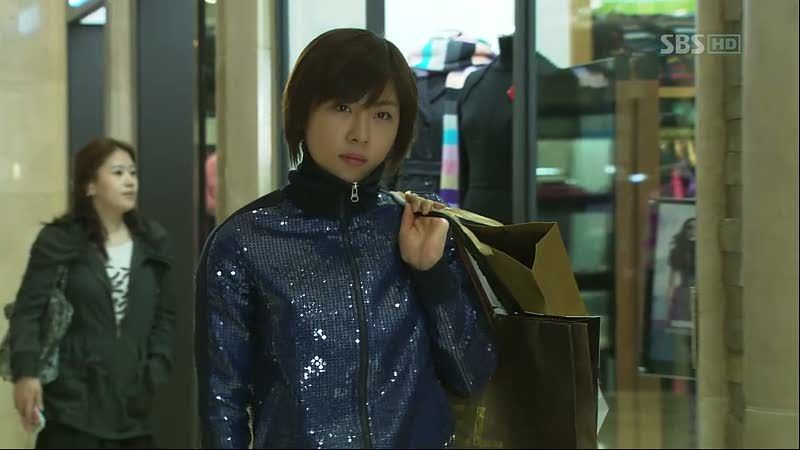 Joo-wanda steps out of the department store sporting yet another sequined tracksuit. Hahaha, it really IS the tracksuit that would not die.
Ra-Him takes even more issue with it now that it's on her body, asking if that's a tracksuit that a person in his right mind would wear. Well, no is the answer, but neither is Joo-wanda of sound mind. Just sayin'.
Ra-Him: "I'm going to kill that Italian artisan!" Hahahaha.
Joo-won's mother calls Ra-im's phone…only her son's voice picks up the other line. She flips her lid that he's answering Ra-im's phone now, and demands to see her at once. Joo-wanda shows up, and as soon as Mother sees that tracksuit, she asks warily if they went to Italy together. Heh.
She shows her distaste for Ra-im quite clearly, and offers up an envelope of money, along with a contract that she won't go near her son again. Joo-wanda peers at the envelope, noting what a tiny sum it is, and then asks if she's done this sort of thing before. She confirms that it's hardly her first time buying off an unworthy girlfriend, which Joo-wanda hears with a heavy sigh.
He goes straight to Dr. Lee's office, and tells her what just transpired with Joo-won's mother. He asks what "she" should do.
Dr. Lee sighs that his mom is still doing such things (seeming to confirm that she was once on the receiving end of just such a dismissal attempt), and tells him not to see Joo-won anymore. She doesn't say it in a jealous way, but rather in a very pragmatic way.
Dr. Lee: He won't be able to protect you. Because he has no reason to protect a common woman.
Whoa. Harsh. And yet, totally true. It definitely hits Joo-wanda right in the kisser, as it starts to dawn on him that perhaps he isn't such a saint. It also makes me really curious as to just how close he was with Dr. Lee…before she became his shrink.
Meanwhile, Ra-Him gets stuck having to deal with Director Park, who presents her with a slew of things to decide on, and one in particular that Secretary Kim motions for her to sign herself.
Director Park walks away from the meeting bewildered at the sudden 180-turn of polite Joo-won, wondering what on earth he's up to now. He opens the file that Ra-Him signed off on, and shrieks in horror: He's changed his signature! Hahaha. Ra-Him signed his name in the girliest manner possible, all hearts instead of O's, and meanwhile Director Park thinks it's a way to undermine all the work it's taken for him to learn Joo-won's signature.
On her way out, Ra-Him stops to tell Director Park that his voice is "totally awesome." Heh. She asks Secretary Kim what kind of boss Joo-won is, assuming correctly that he's pretty much as rude and condescending as he is elsewhere.
They happen upon an uproar in the men's department, where a VVIP (Really—they make it a point to call them V-V-I-Ps, like one "very" isn't enough.) is accosting a sales clerk, grabbing her ass and then announcing that she'll be fired when she dares to talk back.
Ra-Him walks up and tells him to shut his trap otherwise his jaw will come loose…and then decks him. Ha! Love her driving Joo-won's body around. Such glee.
Ah-young comes home and tells Joo-wanda what happened, as his eyes bug out in horror. He texts Secretary Kim to call his lawyer, confusing the poor guy since Ra-Him is sitting right next to him.
He rushes into the police station, appalled to see Ra-Him sitting there handcuffed, eating soup. She admits to being in the wrong, but Joo-wanda rails into her for being exactly the same as she was that night, when she showed up with that dreaded handbag—that she's never once thought about him. Somehow you live in a universe where that makes sense, but it doesn't to the rest of us.
He decides to let her rot in jail, and calls off the lawyer, and even tells the pervert VVIP to press charges and not let up. Ra-Him tries to remind him that it's his body (which Secretary Kim overhears), but Joo-wanda is having none of it, and leaves.
Just then, a mystical storm brews outside, and it starts to pour. As soon as Joo-wanda steps out into the mystical rain, their souls magically get swapped back. Joo-won finds himself in his own body, handcuffed in the police station, and Ra-im is back in hers, standing in the rain.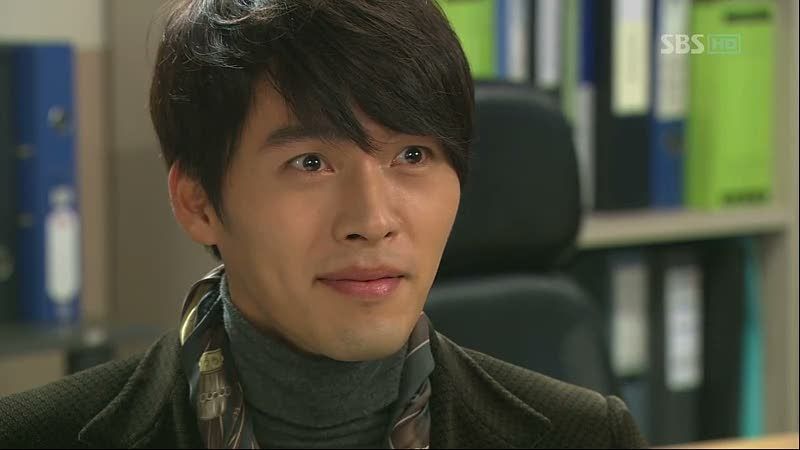 She rushes back inside, and she and Joo-won look at each other, as smiles spread across their faces, and Ra-im jumps for joy.
They're back!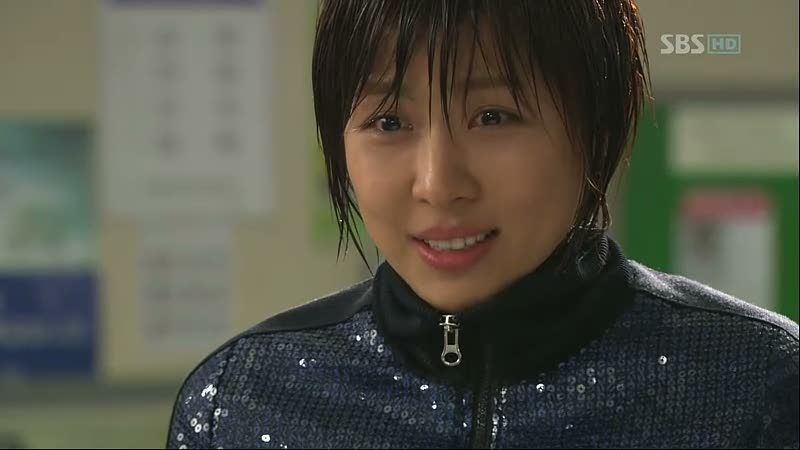 COMMENTS
Really, Show? Mystical hoodoo rain? That's the thing that brings them back? Apropos of nothing? No lessons learned, no big revelations, no walk a mile in her shoes kind of thing? Just whammo, presto, change-o? Boo. Big fat boo.
Is that all they were going to do with the body switch? What on earth is the point of that? I mean, comedy aside (which is a big reason to love it, sure) I hope we're going to get bigger consequences. There'd better be, Show.
Truthfully, as much as I loved Episode 6's crazy switcheroo antics, I wasn't as into 7 and 8, because they seemed to hit a stalemate as far as how much each was going to budge (in concern for each other's lives and such). I was beginning to wonder if the switch was going to change either of them at all.
So now I'm confused, because neither character has changed sufficiently for me to be done with the body swap narratively, and yet I miss their crackling chemistry when they were in their own bodies pre-swap, so I'm torn. I suppose the door is left open for them to re-swap and un-swap at length throughout the series, every time it rains or whatever other mystical precipitation is in the forecast.
And this is maybe a nitpick, but I'm a fan of rules in a genre piece. If you've got a mystical world, there ought to be rules that govern that world, and we as the audience have to be let in on those rules. Why? Doesn't it take all the mystery out? No. There's plenty of ways to frame the rules of your world as oblique, and you can always find clever loopholes to surprise us—that's the fun in ALL of us knowing the rules, ya dig? If the circumstance just changes, for no rhyme or reason and worst of all, in a seemingly random fashion, we lose faith that the mystical world has a purpose and an internal logic. This is going to sound inordinately picky to those of you who aren't obsessed with supernatural, mythology-laden narratives, but I swear, there's a reason behind my nitpickery. No matter how loosey goosey you are with the rules, you have to establish them. Because otherwise there is no meaning behind the mystical events.
Whether or not Ra-im's father is pulling all the strings, or Fate intervened to un-swap them, or the swap is only temporary, or someone spiked the rain with magic mojo…matters, and it matters more than the un-swapping itself. Either I'm going to feel like the body swap was merely a gimmick, or someone's got some 'xplainin' to do.
RELATED POSTS
Tags: featured, Ha Ji-won, Hyun Bin, Kim Sa-rang, Philip Lee, Secret Garden, Yoon Sang-hyun