An intro clip and first stills from The Duo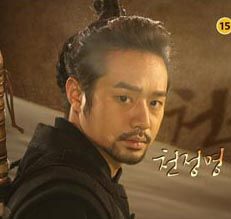 Here's our first look at MBC's new fusion sageuk drama The Duo, which has released a few stills from the set of its poster shoot (at bottom). Above, we have character shots of our four main leads, taken from the drama's first teaser video, which was also just released. (Watch below.)
Dressed in black and wearing a weapon strapped to his back is our hero Chun-doong, played by Chun Jung-myung, who's a righteous bandit. Always a fun kind of character; the heroic bandit is principled, but operates on his own standards of ethics, and that should make for some (hopefully) interesting character development.
We've seen this familiar archetype in characters like Hong Gil-dong and Iljimae, to name the most famous examples. Chun-doong is the nobleman's son who is switched at birth and instead grows up a poor man.
His identity-swapped counterpart, Gwi-dong, is played by Lee Sang-yoon and grows up a nobleman despite his origins as a slave. As an adult, he's a police chief — oh, har, get it? The man who should've been the lawman is the outlaw, and the outlaw should've been the officer… (groan…)
K-dramas, you've surely never met a poetic reversal you didn't like to beat into the ground, have you? It's like Sandglass crossed with East of Eden, but with a dash more cheese. (That doesn't mean it's bad — you just can't out-epic Sandglass, which practically defines the term. Or Eden, for that matter, which gathers all its story, logic, and acting chips and cashes 'em in at the epic table.)
But no, we're not done with the symbolic contrasts just yet, because then there are the ladies to contend with: Han Ji-hye is Dong-nyeo, the woman who gets caught in a love triangle between the two men. She's the daughter of a village schoolteacher — pretty, bright and clever. Seo Hyun-jin, on the other hand, is the neighborhood tomboy Dal-yi who pines after Gwi-dong and later becomes a gisaeng.
So we have one man on either side of the law, and one woman on either side of the social divide and perhaps — since we're talking about Korean dramas with their obsession with purity — also on the virtue divide.
Above is a clip with some of the cast members, which will probably take a moment to load. (The songs, you may recognize, are Humming Urban Stereo's "Insomnia" and "Salad Day.") In the clip, the actors introduce their roles and make silly puns on the title to describe what the drama is about.
Below are the stills from the drama's recent poster shoot, which featured approximately 100 extras.
The drama will be a Monday-Tuesday series airing after Queen of Reversals, and premieres on February 7.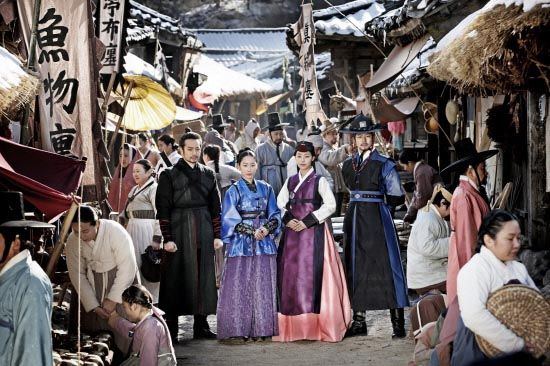 Via Sports Chosun
RELATED POSTS
Tags: Chun Jung-myung, Han Ji-hye, Lee Sang-yoon, Seo Hyun-jin, The Duo