Daddy's Girl issued warning for content
SBS's Monday-Tuesday drama It's Okay, Daddy's Girl has received a warning from the Korea Communications Standards Commission regarding its content, which is, to be fair, veering a little makjang.
At issue is the drama's provocative content with all its violence, threats, and secret plots that the commission deems excessive for a youthful audience. A few examples: Jeon Tae-soo has the hots for Moon Chae-won, and in his attempt to play the hero, he hires a guy to assault her, intending to save her. When a character dies, the guilty party uses his connections to get off scot-free and pin it on someone else. People are paid off and sent away. And so on.
While that excessive content was cited by the commission, in my opinion Daddy's Girl is really so mild that none of those issues are all that edgy or dark, really. The problem is partially that dramas in that timeslot (9 pm rather than 10 pm like other prime-time dramas) are more sensitive to controversial content because they're on earlier, but seriously, Daddy's Girl is tame. There has been FAR worse content in shows with similar timeslots, like Wife's Temptation and its spinoff, Angel's Temptation. There we had rape, revenge, and suicide, to name a few quintessential makjang elements.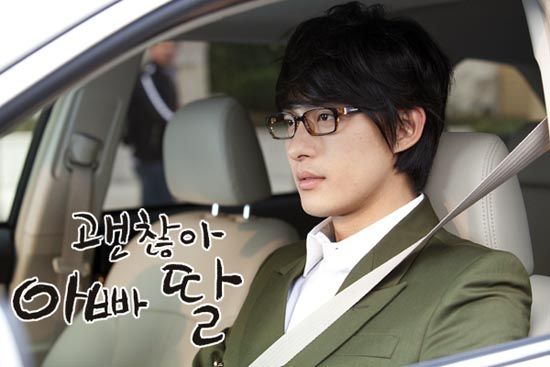 On top of that, Daddy's Girl has received the complaint that there is too much product placement, with almost all of the cast possessing techie gadgets that look right out of a sales catalog. Sometimes those are even accompanied by a few lines of dialogue indicating the nifty special features built into the machines.
Now, this complaint I DO agree with — everyone's sporting touchscreen tablets with GPS/phone/maaaagic! capabilities, and so on, even the supposedly dirt-poor characters — but again, this kind of stuff is so common in kdramaland that I just ignore it.
Meanwhile, the drama has been extended for one episode, bringing the total to 17 episodes. Originally slated for 16, the show got off-schedule in its first week due to a broadcast pre-emption, and this move is to even out its finale week.
To be perfectly honest, I can't explain why I'm still hooked on this show, because it is very obviously mediocre in many respects. The pacing was strangely slow in the beginning, giving us nearly 10 episodes without the main couple even interacting much, much less falling for each other. The baddies are laughably bad, and the rest of the cast is unrealistically good. There's a lot of crying. There are a zillion and one subplots, all of them potentially interesting but none of them given enough time or attention to play out sufficiently. And, sadly, the acting ranges from serviceable to very, very green.
And yet? I'm watching every episode with interest. Maybe it's because Daddy's Girl lets my brain rest, or maybe it's because I enjoy watching characters who are, for once, largely good-hearted and kind. Aside from the bad guys who are unscrupulous to an outlandish degree, the other characters are the kind to go out of their way to help someone, just because they can, or ought to. They look out for each other, step in to help each other, and all agree about doing The Right Thing.
In a drama landscape where most people (even heroes and heroines) are largely about doing what's best for themselves, it's refreshing to see people come together with warmth and compassion. Even if the drama surrounding them handles the plot in an elementary, clumsy way.
Via E Daily
RELATED POSTS
Tags: It's Okay Daddy's Girl