Dream High emerges as ratings leader
The tables have turned entirely with the Monday-Tuesday dramas, as Dream High leapfrogs over its rivals into first place in its third week.
The race is still fairly close and there's no big loser, with all the shows performing in the mid-teen range. But if you look at the trend in recent weeks, things look particularly promising for Dream High with its steady increases, while heavily hyped action series Athena slips a little with each episode. The extended rom-com Queen of Reversals, formerly in first place, has been keeping one step ahead of Athena but it conceded its lead this week.
Ratings for Dream High have been climbing ever since its 10.7% premiere, and Monday was the first day that it claimed the top slot. Its 15.5% rating beat out the 14.7% brought in by both Queen of Reversals and Athena.

Queen of Reversals
Dream High's numbers improved for Tuesday's episode, which hit a series high at 15.8%, even despite some stiff competition from the Asia Cup, which aired on MBC and pre-empted Queen of Reversals for the night. The Korea-India soccer game drew a commanding 24% rating, a whole 10-point increase from Reversals' usual ratings in that timeslot, while Athena slipped a little more to settle at 13.9%.
It's not a horrible showing for Athena, to be sure, but given the show's tremendous pre-show buzz and strong 22.8% premiere, the gradual decline is disheartening. It's following the Runaway: Plan B trend more than the success of IRIS, which its makers so hoped to re-create. One wonders what this means for the upcoming IRIS 2…
My tentatively positive impression of Dream High has been keeping me entertained in the past weeks, but it was really with yesterday's Episode 5 that my interest exploded into giddy, unabashed love. There was just something so heart-squeezingly good about the way the story turned — misfits unite! — and I'm crossing my fingers and toes that the drama keeps it up.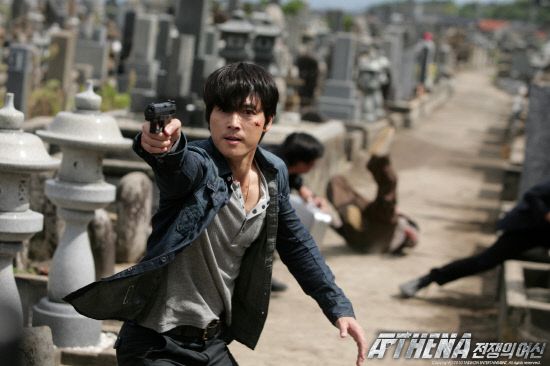 Athena: Goddess of War
Via OSEN
RELATED POSTS
Tags: Athena: Goddess of War, drama ratings, Dream High, Queen of Reversals