Dream High: Episode 2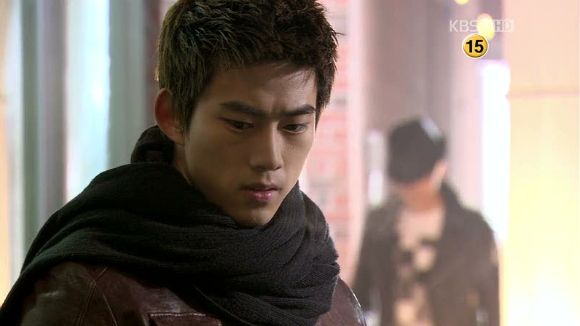 So far, I like. It's not So You Think You Can Dance, the drama version, (and someone please get on that, stat) but it shows promise to become something like it, so I like what I've seen thus far. It's actually got a healthy dose of drama-comedy-song-and-dance, though I'd like a little more of the song and dance, and well, I could stand for more comedy in everything.
I think the drama is still finding its footing, and the performances are uneven (with some of the worst by veterans, whereas the newbies are holding up okay in contrast), but there's two crucial things I like about it at the outset: the premise, and the tone. I do trust that this drama will do one thing, and one thing well—deliver on its setup of dreamers-to-stars in a satisfying way. Whether or not the performances will hold up is another story, but what the hell, let's dream high, shall we?

EPISODE 2 RECAP
Hye-mi kneels in front of President Jung, and begs for him to save her. Cruelly, this school has a live feed of every audition into the room where the other auditionees are waiting, so everyone sees her moment of humiliation.
President Jung tells her not to beg—it's not even what third-rate students do, and so she tries to recover by harrumphing that she wasn't kneeling just now…she was looking at his nostrils. Uh…not so quick on your toes there, eh Hye-mi?
Baek-hee smirks, showing her hidden All-About-Eve tendencies rather quickly (although I suppose if not, I'd be rooting for her as the heroine automatically). As Hye-mi turns to leave, she declares that she'll show them that President Jung's decision was the wrong one. Baek-hee speaks up that SHE'll show them that it was the right one. Nice. I like this war already. Diva Showdown 2011: Wannabe Popstar Version.
Hye-mi and Baek-hee practice their first Fierce-Off, as she stops to glare on her way out. Baek-hee shows that she's not quite up to par, because as soon as Hye-mi leaves the room, she faints. Ha. That's what happens when you expend all your ki on a glare. She's got a ways to go if she's going to keep up.
Baek-hee is helped up, and she turns around to ask President Jung one last thing. She wants to be sure that he picked her for her skills, since she's been told her whole life that she's inferior and will never live up to her pipedream. He smiles as he looks down at his own Kirin medallion, and silently hands it to her. He tells her that it's a good luck charm, or however she wants to think of it.
Baek-hee is moved to tears, at the first acknowledgement she's ever received for being anything other than third-rate. She cries and thanks them over and over, declaring that she's going to work really hard. Aw, I sort of wish this was the first role I'd seen of Ham Eun-jung's, because she's great here. This is why I'm a fan of idols' early roles being high school students, because it fits them to a tee, and it doesn't stretch my suspension-of-disbelief too hard. (Now I realize that my hatred for her in Coffee House may have been at least 50% about the character, and not all her.)
Meanwhile, Jin-gook's friend is having some performance-anxiety-related toilet issues when they call his name, so he asks Jin-gook to stall for him. Jin-gook does the only thing he can think of: to cause a ruckus with a fire extinguisher, forcing security to back him into the audition room.
President Jung looks up at him and tells him that if he's trying to buy time, he should just dance instead; he's a good dancer, no? Jin-gook immediately freezes up at that and walks out.
Just outside the building, he catches Jason dancing, practicing for his audition. It's a nice little moment, as Jin-gook looks on, captivated. It gives him pause, perhaps about the almost-audition and his own angsty reasons for not dancing, but he turns and walks away.
As he gets on his motorcycle to leave, Hye-mi appears, trying to dodge the debt-collecting gangsters, and asks for a ride out of there, not knowing that it's him. When he turns around, she scowls and turns down his offer. He speeds away, but when he sees the thugs from the other day standing around waiting for her, he turns back to pick her up.
As they ride off, Sushi Roll Girl, whose name is KIM PIL-SOOK (IU), is up for her audition. The teachers want her to take off the ridiculous costume, but she's too shy to do so, and President Jung allows her to sing, sushi costume and all. She belts out a song, as we cut back to Hye-mi and Jin-gook, riding away to the river.
He drops her off there, and tries to ask for his helmet back, but she walks away, pretending not to hear him. He yanks it off her head, only to find that she's crying, and now embarrassed about him seeing her that way. He gently puts the helmet back on her head, so that she can cry comfortably. She looks up at him, for the first time without a scowl on her face. He leaves her with the helmet and rides off.
Back at Kirin, the teachers are wowed at Pil-sook's vocal chops, but insist she take off the costume now. She finally does, revealing a shy, chubby girl with glasses. She hunches downward, trying to hide her face, as the teachers talk back and forth about God not giving with both hands, yadda yadda, blech.
President Jung smiles, not at all phased by her appearance, and leaves the decision up to Director Shi, who decides to give her a chance. As she walks out, President Jung tells him that she'll become very pretty. Uh…I hope that's not an advertisement for plastic surgery, because that's not a message I can get behind, Show.
Pil-sook walks out of the audition elated, as she jumps up and down, and takes out a picture, saying, "Oppa, I got in!" She kisses the photo, which is of Kim Hyun-joong. HA. That's a kind of meta that makes me laugh.
We see that along with Pil-sook and Baek-hee, Jason and Jin-gook's friend have all gotten in to Kirin. Director Shi comes to find President Jung with the list of incoming students, announcing that they've only chosen 97 when 100 was the goal. President Jung tells him that he's got three students in mind—one is a kid he's had his eye on for some time, while the other two showed up today.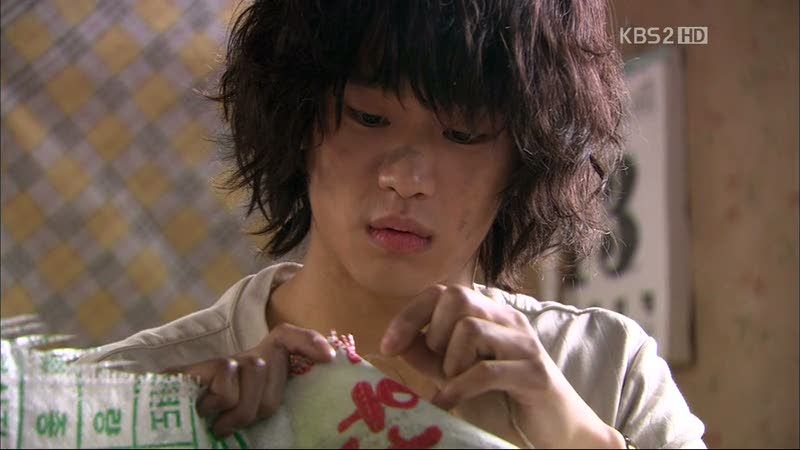 That one mystery student is SONG SAM-DONG (Kim Soo-hyun, finally!) who Director Shi recognizes by name. We're given just a brief glimpse of him in his poor country home, his face covered in dirt, as he sews a rice bag for some unknown purpose. Director Shi warns President Jung that no teacher will want to take that kid on as a student, and President Jung answers that he's already got a teacher in mind…
Enter Professor Kang, bottom of the totem pole and thisclose to getting fired today. Ah, so he'll be the teacher of the misfits, eh? Standard setup, sure, but I always like a story about underdogs. And I like Eom Ki-joon.
Hye-mi gets a text from her little sister that they've been kicked out of their house today, and she finds her scrounging through the heaps of trash for a few precious belongings. She declares that she isn't going to that crap school, and when asked about Baek-hee, she tells her sister never to bring up that name again.
Baek-hee, meanwhile, is doing an exorcism of her own, throwing out every picture and belonging she owns with associations to Hye-mi. She even takes a pair of scissors to her matching pigtails, making me a little afraid and a little triumphant at the same time. I like to see her breaking out of the Hye-mi-pa role, but damn, put the scissors down, girl.
Hye-mi and her little mini-me sister drag their stuff along in the streets, and end up at the studio that Jin-gook took her to, when his friend returned her photo. Refusing to go to Kang Oh-hyuk's house, she insists that they can manage on their own and sleep here, despite the rats. Oh, yes…RATS.
Jin-gook arrives home and tells his hyung that he went to Kirin today, and his friend balks that he could ever get into a place like that. He counters that his friend's dream of becoming a lawyer is just as crazy, and Jin-gook declares that if he gets into law school, he'll wear a miniskirt, shave his eyebrows, and dance like Girls' Generation. Ha. Now that's something we'd all like to see, methinks.
Unfortunately, due to trouble back home, Jin-gook's friend has to move out of the apartment. Looks like Jin-gook is back on the streets. He packs a bag and broods on a rooftop, overlooking the city. He thinks back to earlier when he watched Jason dance, and in a moment of inspiration, he busts out the same dance, move for move. Aw….yeah! MOAR, please.
He heads to the studio, where he finds Hye-mi and her sister asleep in the car. The package of yogurt drinks on the dash reminds him of when they first met, as kids, fighting over the last pack of yogurt drinks on Christmas. Back then he was hiding from his mom, who was about to send him to an orphanage, and Hye-mi had cried for him, this kid she just met on the street.
He looks at her fondly as she sleeps, wondering aloud just what kind of girl she really is.
In the morning he heads out to pick up some food for them, which is right when the thugs happen to recognize his motorcycle, parked outside the studio. They nab Hye-mi and take her away, as her little sister chases after, memorizing the car's license plate. Jin-gook sees her pass by in the car as well, and chases after, but loses them.
In a move of ridiculous proportions, the thugs take her to a nightclub and put her in a lounge singer's outfit and stick her up on stage, telling her to sing to repay her father's debt. Ironically, the song is the same trot song that lost her the Kirin audition, and she refuses to sing. But…you agreed to put on the outfit? Anyway, she throws her shoes (her favorite mode of attack) and runs around the nightclub in circles, trying to get out.
Just then, the doors slam open, and a shadowy figure enters through smoke in slow motion, ready to kick some ass. We expect it to be Jin-gook, but in walks the nerdy Kang Oh-hyuk. HA. I was about to groan at the overuse of cheesy slo-mo and the hero's entrance, but now it's hilarious. Glad Show's got a sense of humor.
Oh-hyuk flashes his teacher's ID card like a sheriff's badge, and announces that Hye-mi is a student at Kirin. Hye-mi stands there shocked, as her little sister trails behind Oh-hyuk, coughing at all the music-video smoke in the doorway. Ha.
He takes responsibility for the girls and takes them to his house, and Hye-mi agrees in her surly way that this is only because of money, and nothing else. At home his sister has a fit that he's taken the girls in, but he tells her that this is the only way he can live. He was fired from Kirin, but President Jung gave him one last chance to survive: bring Hye-mi (and the other two students) in, and keep his job.
Hye-mi overhears and looks in his bag at the name of the other students left to track down. The first is Song Sam-dong, who we get another glimpse of, as he finishes his rice-bag cape and tests it out with a smile. Gah, I'm so intrigued by his character and it's driving me crazy that we haven't officially met him yet.
The other is Hyun Shi-hyuk, which is Jin-gook's real name. He arrives at the nightclub to rescue Hye-mi, but gets trapped by the gangsters for his trouble.
At Kirin the new students meet each other for the first time, as Baek-hee, Pil-sook, and In-sung (Jin-gook's friend) introduce themselves. They go to their first class, with star teacher SHI KYUNG-JIN (Lee Yoon-ji), who cracks the whip right away, and threatens them with the possibility that if they slack off, she'll happily send them to the Beginner's Class, the place where music goes to die. It's illustrated by zombie students who are forced to study (the horror!) instead of dance.
Jason arrives late, also part of the star class, along with the others. Pil-sook in particular swoons at the pretty.
Director Shi whines at President Jung's insistence on including the three special entrants, on top of which he's chosen a new teacher to replace one who's going on maternity leave…
Cut to Park Jin-young as YANG JIN-MAN, a struggling musician, who's selling his keyboard as a last-ditch effort to hang on to his girlfriend (to buy a ring for her), but can't manage to do it.
Hye-mi thinks about what she overheard Oh-hyuk saying, that if he didn't find all three special-entry students, the whole deal was off. She heads out to track down Song Sam-dong herself, and tells Oh-hyuk to find Shi-hyuk.
She arrives in the countryside and finds signs with Sam-dong's name all over them, and follows them to a local broadcast of a star-search-type show, where Sam-dong is gearing up for his big break. They run into each other in passing, and Sam-dong is hit with the twinkly sounds of crush-at-first-sight.
Meanwhile, Oh-hyuk decides to track down Shi-kyuk, aka Jin-gook, and finds him collapsed at his studio, bloodied from his run-in with the gangsters.
At the same time, President Jung tracks down Yang Jin-man at home. Jin-man answers the door scratching his ass, and then promptly shakes President Jung's hand with the same. He thinks it's some prank, but President Jung scouts him as a new teacher for Kirin. Is anyone else surprised that Park Jin-young seems to be the more natural actor than Bae Yong-joon?
Sam-dong takes to the stage, surprising his mom who is under the impression he doesn't even like music. Hye-mi is shocked as well, to see that the weirdly dressed kid from earlier is the guy she's looking for.
The MC asks him why he's here, and he says that it's to help his mom sleep at night, since she's always up worrying that he'll die a lonely bachelor. Amused at that, the MC tells him to go find a pretty girl and bring her up on stage with him. He locks eyes with Hye-mi, sitting in the front row, and with a gulp, he heads down toward her…
Jin-man wonders if President Jung has made some mistake—how could he want someone like him as a teacher? Isn't he scared what might happen? President Jung answers that he is, but that's the kind of anticipation he likes…not knowing at every new meeting, whether that relationship will be destined for good or bad…
Sam-dong walks up to Hye-mi, and bravely asks her to come with him. She looks up at him in shock, as he takes her by the hand and leads her up to the stage.

COMMENTS
I only wish we had actually gotten to witness Sam-dong's performance before the next episode, since we've waited forever and a half for him to even appear. But I like the setup for his character, and of course Kim Soo-hyun is already showing such interesting colors, even in the two minutes of screen time he's gotten. More, please.
I guess I'm finding myself chanting that a lot over the first two episodes—MOAR please, Show—whenever we get glimpses of the awesome that could be. So far it's still just that: a COULD BE-vibe, showing flashes of fist-pumping awesome, couched in between all the necessary maneuvering and plot setup.
The these-students-are-destined-for-greatness stuff is definitely ham-handed, for sure. I could really lose Bae Yong-joon's character and be MUCH happier. But I don't mind the way that each of them is brought out of different settings and circumstances, and the way they all converge over one dream in one place. I just want to get there a little bit faster, or maybe even just with a little more screen time for characters like Sam-dong, who is supposed to be the star, yeah?
I don't know if the show is ever going to lose that self-important vibe (which I suspect it will, once we get past the opening setup, really) but even if it stays that way, I can forgive a lot if they buoy it with a lot more of the performances. I say we stick to our strengths, Show. More dance, fewer gangsters; more song, less Bae Yong-joon.
Other than that, I liked Episode 2, and hopefully it showed more of what's to come. Pass the popcorn, and the dance tunes.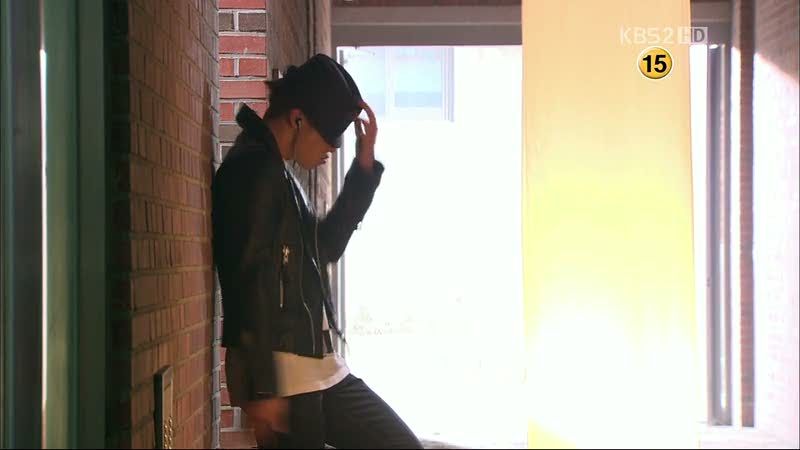 RELATED POSTS
Tags: Bae Yong-joon, Dream High, featured, Ham Eun-jung, Jang Woo-young, Kim Hyun-joong, Kim Soo-hyun, Suzy, Taecyeon