Joo Ji-hoon signs with Keyeast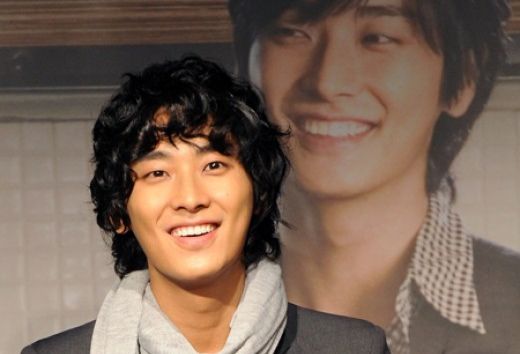 He's not due out of the army until November of this year, but it looks like Joo Ji-hoon (Goong, Antique Bakery) is already preparing for his comeback. Army duty can do a lot to wash a slate clean; it's the Korean equivalent of earning your stripes as a man, and when your public image is tainted, it does the double duty of serving as penance for crimes committed.
Joo has signed with Keyeast, Bae Yong-joon's management company, joining the likes of Kim Hyun-joong, Lee Na-young, Choi Kang-hee, and Lee Jia, just to name a few. I know it's a management company's job, and Bae Yong-joon is as much a brand name as it is a person, but I have this strange image in my mind of Bae Yong-joon collecting stars like little playthings. Perhaps his role in Dream High is coloring my impression. But if that drama's confirmed one thing for me, it's that Bae should stick to being the behind-the-scenes puppetmaster. There is no denying this man's brilliance in turning stardom into cold hard cash, but his performance leaves a lot to be desired. And I say this having been on the bandwagon in the nineties. It just…ain't 1998 anymore, is it?
Regardless, it's all good things for Joo Ji-hoon fans, who can expect a fully-manned comeback, with lots of press and a slew of new projects. Time to start making your wish lists for the drama gods.
Via Seoul NTN
RELATED POSTS
Tags: Bae Yong-joon, Joo Ji-hoon