My Princess: Episode 7
Cute cute cute. We've got the beginnings of relationship angst, which is tricky minefield to navigate (particularly when it's loaded on in shovelfuls) but can be so satisfying when done in just the right amounts. And the guilty-conscience-fighting-growing-attraction internal conflict? Oh, count me in.
SONG OF THE DAY
My Princess OST – "Kasio" by Taru [ Download ]
Audio clip: Adobe Flash Player (version 9 or above) is required to play this audio clip. Download the latest version here. You also need to have JavaScript enabled in your browser.

EPISODE 7 RECAP
Yoon-ju delivers her spiteful warning to Seol with a calm voice and pleasant smile, which frankly makes her even more hateable, not that she needs the help.
The team settles down for a "concept meeting" to plan out Seol's public image. The assistants toss out ideas, all of which Yoon-ju rejects, citing reasons that backhandedly take a dig at Seol — such as avoiding the "commoner's princess" tack because that'll remind people she's an orphan and adoptee, and likewise shying away from traditional princess garb lest that remind people of her low-rent part-time job.
As this goes on, Hae-young sees Seol growing dispirited and looks bothered himself, but Yoon-ju presses on — aware of her effect but not bothered by it. Yoon-ju gives a little speech about the necessity of representing the monarchy in all its glory, how they must exceed people's expectations. That they must take care not to appear bumbling. That this task would have been easier with a prince, but alas, a princess is their reality. Oh, poor you and your heavy burden, scorpion queen.
Seol walks out of the meeting in low spirits, and Hae-young talks to her in a consoling way, understanding how she feels. He advises her to prepare herself for even worse attacks in the future, and that compared to what might happen, this was child's play. Sheesh, pretty man-bot, you may wanna work on your pep-talkery skills.
She tells him she's used to not being looked after, as though declining his oh-so-generous offer of help. She points out, as Yoon-ju so graciously did, that she's an orphan. Touché. And sure enough, Hae-young continues to be bothered with Yoon-ju's strategy. Well, if this is what it takes for him to realize that she's a snake, then so be it.
A lady in waiting comes to Hae-young's room in a panic — the princess has disappeared. Hae-young tells her not to breathe a word of this, and rushes out to look for Seol.
A cursory walkthrough of the palace turns up nothing, until finally he arrives at the gallery, where he hears her voice. Not noticing his presence, Seol sits in a car on display, repeating the words "It's all your fault" in various intonations.
As he approaches cautiously, we see that Seol is actually watching something on her phone — an episode of Queen Seon-deok! — and mimicking Go Hyun-jung's delivery, trying to be as commanding and regal. She adds names just as Hae-young comes within earshot: "Park Hae-young, it's because of you! Oh Yoon-ju, it's all because of you!" while shaking a finger indignantly. Omg, too funny.
Hae-young joins her in the car, using her own words to answer the question of why he's here, as he shakes a finger back at her and retorts, "It's because of you."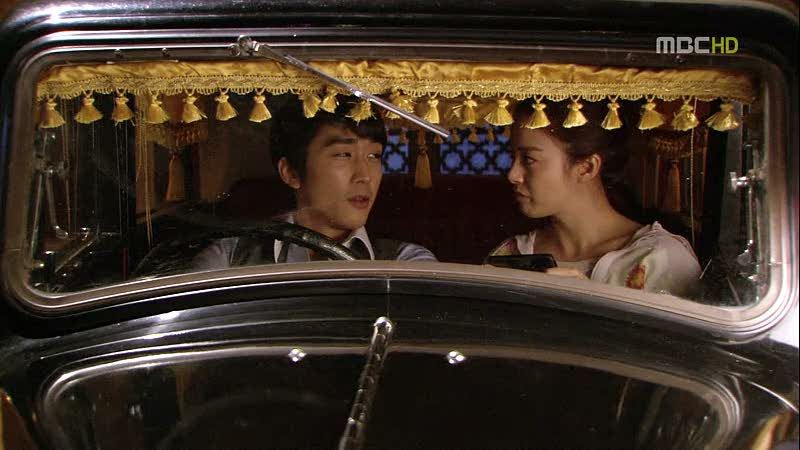 She tells him she's studying, now that she's found her role model. He asks dryly if she intends to learn how to assassinate (Mi-shil's specialty), and she answers in all seriousness that she has to learn, since she's surrounding by enemies.
He's amused and asks, "Really? Then your most good-looking enemy must be me." I just love the egos on these characters. They're matter-of-fact without being (too) snooty, which is so refreshing. It's just, Shrug. I'm hot. So what?
He supposes that he's also the enemy she dislikes the most, and the enemy who gives her the hardest time. She just replies that he's wrong about one of them, and with his curiosity thus piqued, Hae-young refuses to let her out until she answers which one he was wrong about. She refuses, so he pretends he's ready to spend the night sitting here, sighing that he won't be able to sleep well.
They're interrupted by Seol's two court ladies, who burst into the room, relieved and worried. To cover up, Hae-young explains that he's giving her a driving lesson (in the stationary car), and she plays along. Either these court ladies are dumb as bricks, or they're really afraid of offending the boss. I'd say it's even money.
Afterward, Seol appears at Hae-young's door bearing warm milk, since he'd said he might have trouble sleeping. She offers the mug while speaking in formal royal language, which is adorable; I love Seol trying to channel Mi-shil's authoritativeness. Hae-young advises, "You should stop watching sageuks." Still, he drinks her milk with a smile.
But his conscience is starting to ping, because he can't forget that he's really got an ulterior motive despite pretending to be helping Seol. When meets the president for a princess update, he's asked pointedly, "Aren't you putting a lot of effort into your fake teacher act? What if you end up losing your entire inheritance?"
Hae-young assures the president that he'll just watch over her till the press conference, as though that'll take care of everything.
Yoon-ju introduces herself formally to the staff and continues with the princess grooming, finding amusement in the painful massage she puts Seol through. Seol rightfully accuses her of enjoying this and doing it on purpose out of revenge, though Spiteful Helmet-Haired Bitch replies sweetly that this skincare treatment is for Seol's benefit.
Yoon-ju assures Seol that there's no misunderstanding or revenge at work here — and then puts Seol in a short hairstyle meant to make her look elegant. It does NOT make Seol happy.
Yoon-ju dismisses the attendants before dropping the nice facade and the polite speech. Seol asks why she took this position if she dislikes her so, to which Yoon-ju answers that she's only doing this because the chairman pressured her into doing it, and adds that if he were to die tomorrow, everything would go away. At Seol's bewildered expression, Yoon-ju accuses her of being either naive or stupid, or acting.
Seol can't believe Yoon-ju's so forthright in her maliciousness, but Yoon-ju speaks as though she fears no one, like there's no way for her behavior to come around to bite her in the ass. Seol wonders how she can speak of her future husband's grandfather this way, and Yoon-ju replies, "He can't hear — not unless you tell him."
Seol works up her courage to declare that she's going to live it up at the palace from now on. She'd felt sympathetic for Hae-young (and Yoon-ju by extension) for usurping his inheritance, but now? "I'm going to be a princess — and I won't feel sorry at all!"
Seol receives another visit from her mother and sister and showers them with gifts. Even the normally frosty Dan thaws a bit as she tries on the pretty things Seol bought her, and the reunion is lively.
But Mom and Dan have come at Hae-young's request, to go over the matter of Seol's adopted father. The mood is killed when Hae-young asks her mother to confirm that Dad had once been arrested for selling a forged version of Emperor Sunjong's letter, which angers Seol (and Dan, for that matter). But Hae-young insists that with the press conference approaching, Mom is better off telling the truth.
Mom sadly confirms it, saying that she'd tried to stop her husband because Seol might need the document later to search out her birth parents. Hae-young tells them that they'll have to reveal this truth at the press conference.
Dan turns her anger on Seol, accusing her of plying them with gifts to soften the blow of selling out her adopted father to save her biological one. Seol may no longer be a part of her family, but if this information is released, Dan's career and her future are ruined — nobody will ever hire her.
So Seol confronts Hae-young, asking why he was so nice to her when he was just going to do this. He counters that he's still treating her well — this is all to clear her bio-dad's name. But Seol can't sacrifice one family for another, refusing to clear dad in this way.
Exasperated, Hae-young calls her greedy: "I'm about lose everything because of you, but you don't want to lose anything at all." Well, put that way I suppose Man-Bot's got a point, albeit a flawed one since what he wants is money and what she wants is to not cause people pain. But yunno, potayto, potahto.
Furiously, she declares that she'll take care of this on her own, and warns him not to interfere at the press conference. Ooh, a threat. Too bad Seol woulda been more effective if she hadn't announced her intention to her adversary. You've got to work on your poker face, girl!
Gun finds Seol staring off into a tomato plant, cheering her with his usual friendliness and jokingly referring to himself as an uljjang. Seol responds to his display of ego by saying he's suffering from a "prince complex." Said the girl with the princess complex, which was figuratively true long before it was literal.
Sensing her mood, Gun tells her to feel free to come to him to vent her worries, lending her his shoulder to cry on (or yell at).
Deciding that perhaps she might benefit from sharing her worries after all, she calls Jung-woo. Her plan: To locate any and all people who knew her bio-dad to vouch for his integrity. If she can show the world that he's a decent man, she may be able to avoid giving up her adopted dad as a sacrificial lamb.
Jung-woo promises to do his best. He asks if she still has the pouch that once belonged to the empress, which was left with her years ago. While she has a vague memory of it, she has no idea what happened to it, although we do — ten to one it's the pouch Dan had in her desk.
Seol invites Jung-woo to eat with her, and who should they find in the dining room but the Hae-young and Yoon-ju. Hae-young pointedly says that the princess shouldn't be hanging around random other men, and keeps glancing over at Seol throughout the meal. Yoon-ju does as well, while the other two ignore them and smile winningly at each other.
Hae-young criticizes the way Seol cuts her steak, which is so petty that I love it. Especially since Jung-woo understands perfectly what's going on, and takes Seol's plate to cut her meat up for her while the other people pretend they don't care.
So Hae-young slides his plate over and requests the same service, since it appears the good professor is particularly skilled in this arena. He even references the bathroom incident that transpired the last time Seol had steak, and has the nerve to add that his toilet got stopped up that day. Oh man. You've really got it bad when your version of pulling a girl's pigtails equals humiliating her with talk of her bathroom habits.
Then Yoon-ju jumps in to criticize Seol's conversational skills, which prompts Jung-woo to defend Seol by saying Yoon-ju's conversation is much worse, and then Hae-young criticizes Jung-woo, which brings Seol to his defense. This four-way snipe-o-go-round is enough to make your head spin. I LOVE IT.
Jung-woo surprises them all, however, by explaining that he's actually here for a meeting… with Chairman Park.
The old man hears from Jung-woo that Seol doesn't have the embroidered pouch, and explains that he is asking Jung-woo because he can't trust Seol's answers, as she doesn't trust him either. He tells Jung-woo to search for the pouch while working at the palace, which is a fairly flimsy excuse to bring him into the palace — but if it gets our quarreling quartet all up in each other's living spaces, I'm all for it.
They both agree to keep this meeting a secret, Jung-woo specifically requesting that the chairman not tell Yoon-ju about it.
Seol is thrilled to hear that Jung-woo will be reporting to the palace every day — and naturally, that makes Hae-young pissy, and he gives Jung-woo a particularly rude dismissal.
Jung-woo declines Yoon-ju's request to speak with him, and leaves her hanging by saying he's quite at ease these days. (Read: I am SO over you.) Oh, I'm liking him more and more.
Seol calls to check in on her mother that night while sitting in her new hideaway, the antique car on display. Hearing Hae-young enter with Yoon-ju, she ducks down out of sight.
Yoon-ju makes a reference to the car being entered without permission, and Hae-young covers for Seol by admitting that he'd done it. Surprising both women, Hae-young responds to Yoon-ju's comment that Seol is a troublemaker by saying sympathetically that she's probably acting out of self-preservation. He reminds her what it was like after Yoon-ju's mother died when they were kids and they'd leaned on each other. By contrast, Seol is alone in the palace.
But Yoon-ju long traded her heart in and replies that pity is for those who deserve it, and tells Hae-young what Seol had said earlier about intending to live it up in the palace without guilt. Contrary to her intention, though, Hae-young isn't upset; that means he can feel less sorry to Seol as well.
Outside, Hae-young catches a glimpse of Seol burning some papers — the stories about her adopted father's crime — which indicates her decision not to choose between her fathers. He doesn't interrupt, and instead opts to brood alone, as he so often does.
Mom and Dan are relieved at Seol's decision not to discuss Dad at the press conference, and Mom sends Dan to the palace with a large box of homemade rice cakes. Dan ditches the food at the bus stop — such a pill, that one — and heads to the palace empty-handed, where Yoon-ju greets her.
Given that it would seem these two have the most cause to gang up against Seol, it's sorta gratifying that they haven't, and that it's Dan who is holding out. She doesn't like Yoon-ju — or, more to the point, doesn't trust her — and has no reason to go along with her. Seeing that Dan won't be cooperating, Yoon-ju turns cold(er) and tells her to quit loitering at the palace without a reason.
Dan challenges, "And if I have a reason?" and brings up the issue of the empress's pouch.
Hae-young receives a call from somebody who knew Seol's father, who had made several attempts to contact him. It turns out that the matter was covered up by Secretary Oh, who thought it best that he remain in the dark.
Secretary Oh means this in a protective way, because the discovery of a witness would cause Hae-young to lose his own father — because his dear dad wasn't perhaps as noble as Hae-young remembers.
A flashback shows us a man in a suit — Hae-young's father, we presume — with young Seol, as her father came rushing in to claim her. Seol's father had reminded him that he wasn't to mess with his daughter, while the rich man had warned him to stay out of his sight — and especially his father's — or risk death.
Then, complicating matters, young Hae-young had entered just as Seol had been leaving. Gah, is there no drama storyline untouched by Fate?
Hearing the story, Hae-young shakes his head in denial, angry at the implication and refusing to believe that his father would have tormented the emperor's heir. He asks if the secretary is making this story up to turn Seol into the princess, clinging to the fact that he doesn't remember any of this. But clearly he's rocked by the possibility that it's true and breaks down, just as his image of his beloved father starts to crumble.
Seol is excited that this witness has surfaced, and asks to meet him right away. Hae-young drives her, keeping his own feelings under wraps, and they arrive at a harbor some distance from home.
As they approach the man's home, Seol has a memory of being a child and living her with her father.
It turns out that this man had fished with Seol's father back in the day, and produces a photo to support it. Even without the concrete proof, Seol is starting to recall more memories, which are stirred by this location.
She and Hae-young have dinner at a local seafood restaurant, where Seol indulges her good mood with a bottle of soju, ignoring Hae-young's caution to lay off the sauce. Despite her insistence that she's got a strong head for liquor, she slurs a bit as she asks Hae-young if he'd still be upset with her being a princess if his inheritance had nothing to do with it. He recites all of her outlandish behavior (dancing in the street, asking a stranger to hand over his receipt, and so on) to point out how very un-princessy she is.
After asserting that he's merely her teacher and she's the princess, Seol flops over, dead drunk. She staggers her way out in the snow, and falls over. Deciding that the expedient thing to do is to carry her off on piggyback, Hae-young warns that if she vomits on him, he'll throw her into the ocean.
Seol teases and prods at him, covering his eyes playfully and talking in a flirtatious baby voice about how his eyelashes are the best. She asks him to give them to her (lol), which earns her a dry look from him, though he answers grudgingly, "Yours are pretty too." Aw.
Seol is basically the most adorable pain in the ass ever as she sing-songs, wags her feet, and makes cute demands of him to tie her shoelaces in that sageuk royalspeak. Finally, he sets her down and grumbles that she's pretty fearless to get drunk in a strange neighborhood. She gaily replies that she trusts her protector — what could happen to her with him here?
That unwarranted faith in his character pings his guilty conscience, and Hae-young looks at her intently. He sighs, "You really drive me crazy," not knowing what to do with her; things would be easier if they hated each other.
But she replies — answering his question from before — that of the three choices he'd given her, it's the disliking him one that's false. (Which also means that she finds him her most handsome enemy, as well as the one who gives her the most difficulty.)
Pulling him to her, Seol gives him a kiss on the cheek. After she pulls away, he stares at her for a few long moments, then looks away, unsettled.
When he looks at her again, he prefaces his next move by instructing her, "Forget this."
With that, he moves in for a kiss.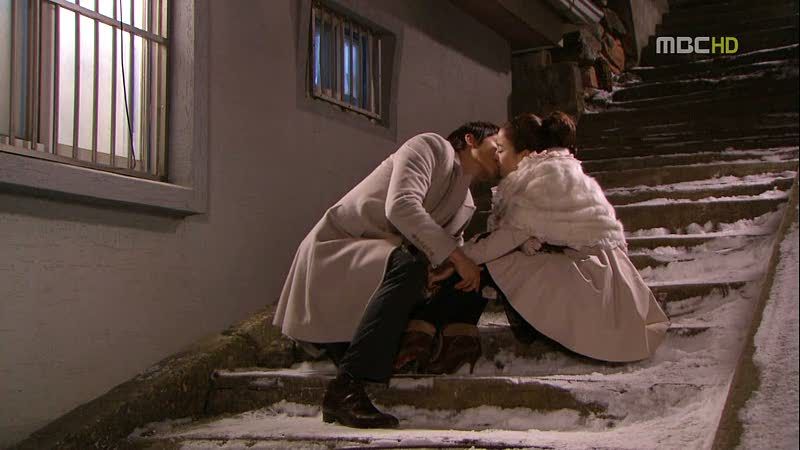 COMMENTS
If we're going to have a villainess mucking up the works, at least she's the kind who's very easy to hate — not much depth from a story point of view, but at least it's satisfying to watch her fall victim to her own bitterness and, ultimately, failing to undermine our heroine. Yoon-ju's the kind of person who has to convince herself that she's happy, when really, she courts misery with her overwhelming desire to make something of herself and prove that she's better. In contrast, Seol's a much happier person, even when she's down in the dumps, so Yoon-ju will always be foiled by her own insecurity and manipulation. I can live with that, and in fact wouldn't mind her going even more over-the-top — all the easier to have fun anticipating her demise.
Yeah, the plot can be a little flimsy, particularly with the overwhelming importance attributed to one measly press conference. Or should I say, The! Press! Conference! The one, singular, make-it-or-break-it event upon which the future of the entire monarchy rests… NOT. For now, it gives us a handy deadline by which certain conflicts must play out so I'm content to let that slide, although I find myself laughing a little bit more with every mention.
My Princess does share the low-key plot and focus on relationship-building of the director's previous drama, Pasta, and you can feel the similarities in directing choices as well. The upside of that for this drama is that even at its least developed, a monarchy/conspiracy/princessy drama has a lot more going on than one that focuses the weight of its conflict on how to make linguine.
Plus, Kim Tae-hee and Song Seung-heon? Just adorable together.
RELATED POSTS
Tags: featured, Kim Tae-hee, My Princess, Park Ye-jin, Ryu Soo-young, Song Seung-heon