My Princess surpasses 20% ratings, solidifies lead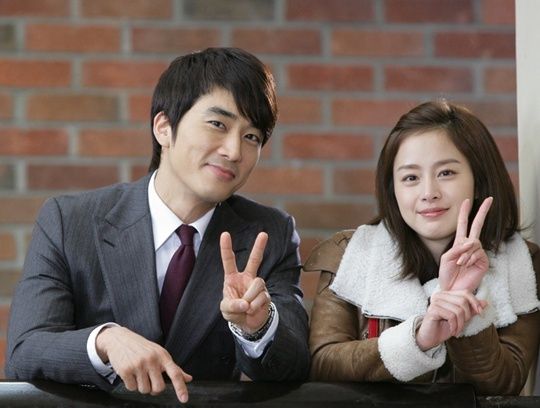 In its second week, My Princess pulls away from the pack and increases its lead as the No. 1 show on Wednesday and Thursday nights, breaking the 20% mark and also the so-called MBC curse.
(It should be noted that Personal Taste actually broke the curse as well; it was the only show of the past two years to stay in double digits consistently in that slot.* A few others, like Home Sweet Home, managed an episode or two in double digits, but averaged single-digit ratings for most of their runs.)
But My Princess now definitively casts off the bad mojo, and this week's Episodes 3 and 4 drew a 20.0% and a 20.9%, respectively. Over on SBS, Sign dropped from its first-place premiere-week numbers to 16.2% for Wednesday's episode, then to 14.8% for Thursday's. KBS's President had a 7.1% for both days.
My Princess makes me laugh like a giddy fool, so I'm happy to see it doing well. And while I have seen comments likening it to Pasta (which shares the same PD), I think My Princess is much, much more watchable — there's just so much more PLOT, first and foremost. More stuff happens, the stakes are automatically higher, and the pace is brisker.
As for Sign, to be honest I had fully intended to recap or at least introduce the drama after I'd caught the first week or two… but I have to admit that after watching it, I didn't really know what to say about it. It looks okay, I guess, but the acting is all wacky (weirdly over the top), Eom Ji-won (whom I LOVE) is channeling some sort of shrill, dominatrix leather-queen aura, and the leads are sort of dull. Plus, the murder cases are given all this urgency and drama and intensity, but it feels a bit forced to me, and therefore it's almost cheesy instead of cool. Sorry, not a fan.

* For the curious, here are the shows that fell under the dreaded "MBC curse," which has killed numerous shows since early 2009. (That's mostly a poetic way to describe it, since you could argue that really, the shows killed themselves with bad writing, bad acting, or bad directing, although a few were undeserving sacrifices to the timeslot.) They are, in chronological order:
Return of Iljimae, Cinderella Man, Triple, Hon, Heading to the Ground, Hero, The Woman Who Still Wants To Marry, Personal Taste (which survived), Living Without Incident, Running, Road No. 1, Playful Kiss, and Home Sweet Home.
Via TV Report
RELATED POSTS
Tags: drama ratings, My Princess, Sign