New Gisaeng Story premieres this weekend
With Secret Garden bowing out of the weekend drama race, it's time to turn to the drama taking its place: New Gisaeng Story.
The drama takes an interesting premise: New Gisaeng Story is set at the sole traditional gisaeng establishment in the country, Buyonggak, whose gisaengs serve only the creme de la creme of modern Korean society. The drama tells of the "sorrowful love stories" and "unfortunate lives" of the people living there.
It's not a sageuk or even a fusion reworking of one, but deals with gisaengs in the modern day. Historically, the gisaeng was a female entertainer well-versed in the arts and poetry, whose function has been somewhat replaced in contemporary times by the modern bar hostess (beautiful, desirable, but of a socially inferior class) and was a familiar fixture in bygone times, figuring prominently in Joseon-era sageuks.
Watch the preview:
Rather than hingeing on star actors, this drama is putting its faith in star scriptwriter Im Sung-han of such melodramas as Heaven's Fate and Love in Heaven, and also last year's lighter family comedy Assorted Gems. Its cast is full of new faces: Im Soo-hyang (Paradise Ranch), Jung Hoon, and Baek Ok-dam (Madam of Ahyundong). In fact, when the drama cancelled its planned press conference, a source from SBS stated that with a main cast of rookies, they'd wondered if a press conference would be effective. It was to have taken place on January 19, and there are no plans to reschedule.
Other cast members include Kim Bo-yeon (Goldfish) and Kim Hye-sun (Dong Yi), who play the madam and the head cook at Buyonggak, respectively.
New Gisaeng Story is planned for 50 episodes, which makes me sigh a little since I'm always torn when my interest is piqued by a drama that long. That won't stop me from watching, of course, and I'm intrigued by the premise, particularly since I've always been fascinated by the seemingly contradictory high-class/low-class dichotomy of gisaeng life, being a status symbol affiliated with the elite class, yet having very little personal agency.
Originally set to premiere this Saturday, the drama is giving up its Saturday slot to the Secret Garden special, and is scheduled to air its first two episodes on Sunday, the 23rd.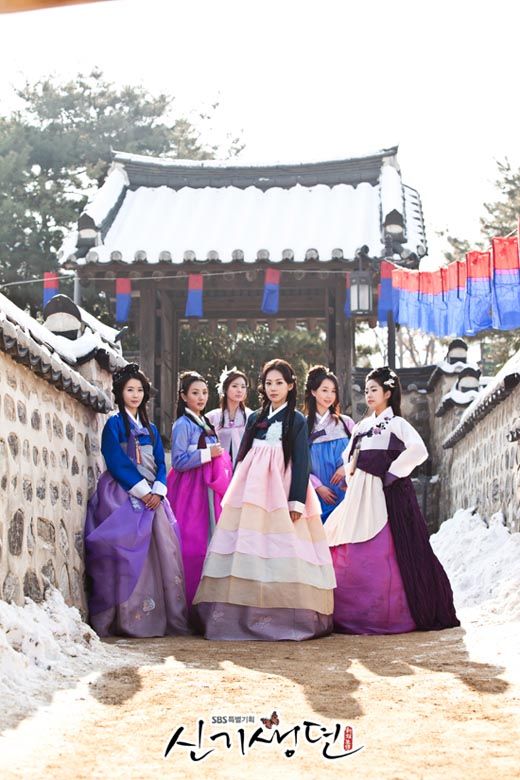 Via Yonhap News
Tags: New Gisaeng Story