Sign posters and upcoming premiere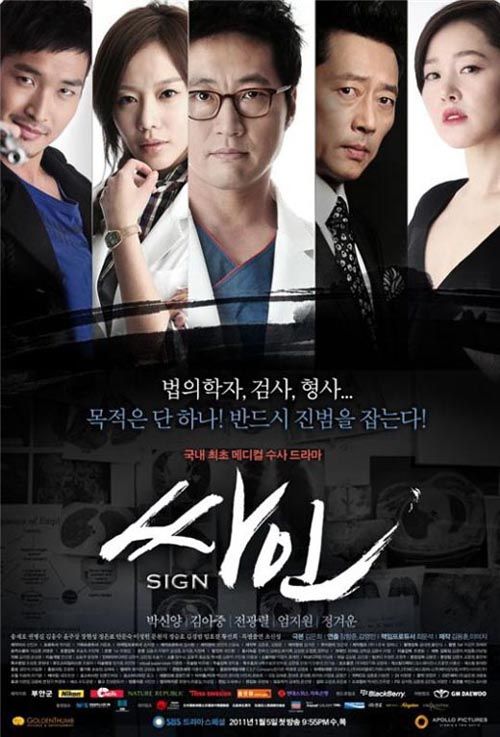 Here are the official posters for forensic-investigation series Sign, which stars Park Shin-yang and Kim Ah-joong as forensic doctors and crime scene investigators (although truth be told, I'm more into second leads Eom Ji-won, playing a DA, and Jung Kyeo-woon as a cop). The leads will hunt for the titular signs (aka evidence/clues) on the bodies of the victims they are called to inspect.
It's no stretch to call this a Korean C.S.I since it seems the production is making the comparison fairly deliberately, and the U.S. series has done quite well in Korea. (Other popular imports: Prison Break, Lost.) But since this is a kdrama, I presume Sign will depart from the established C.S.I structure and include more character development, rather than focusing each episode on one specific case. Plus, it'll look at the murders from multiple angles: crime scene, laboratory, prosecutor's office, police station. Still, I'll be curious to see if Sign can meld the Korean drama style of storytelling with the episodic nature of U.S. procedurals; it seems every year or two there's talk of a new hybrid kdrama style tackling the Western format, but ultimately fizzling.
Sign premieres on the same day as another new show, and to be honest it's been easier to get excited about upcoming rom-com My Princess (it has more press, more hype). That brings our new-drama count for the coming week to three, with Dream High being the other (it is, however, on Monday-Tuesday and therefore doesn't compete with the other two). I'm frequently wrong in my predictions, but I suspect My Princess will start stronger, and Sign will be the dark horse. (KBS's President is the third Wednesday-Thursday show; it's holding steady in the ratings, though disappointingly so with single digits, despite general praise.)
Episode 1 of Sign airs Wednesday, January 5, on SBS.
Via Hankyung
RELATED POSTS
Tags: Sign