Tons of new Sign stills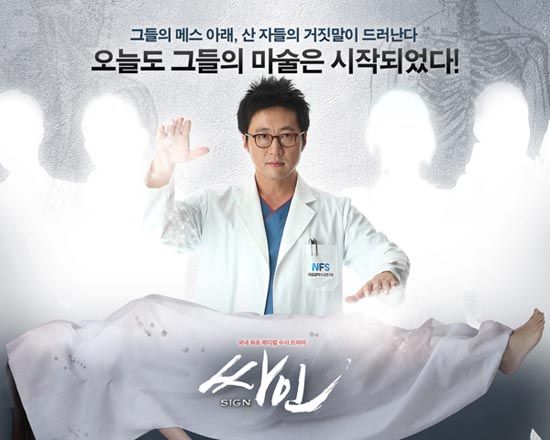 Yeah, I still find that above image weird. Is he a magician? Is he going to raise the dead with his super-psychic powers? Is he unleashing some sort of snowmaking abilities from his hands? I… got nothing.
Ahem. In any case, SBS's Sign kicks off this week, and in anticipation of its premiere, here are a whole slew of stills from the drama, featuring its five main characters: Park Shin-yang and Kim Ah-joong as forensic doctors (he's a genius, she's a rookie), Eom Ji-won as a tough prosecutor, Jung Kyeo-woon as the hot-blooded cop she appears to be butting heads with, and Jeon Gwang-ryul as the boss at the forensic lab.
In case you're wondering what that collection of pretty boys is doing (oh, look! It's that creepy kid from Hon (Soul)), the case in Sign's Episode 1 features a death among an idol boy band. I suppose if you're going to go for pop-cultural relevance, idols are the way to do it.
The drama airs its first episode on Wednesday, January 5, against KBS's President and the premiere episode of MBC's My Princess.
RELATED POSTS
Tags: Eom Ji-won, Jeon Gwang-ryul, Jung Kyeo-woon, Kim Ah-joong, Park Shin-yang, Sign