Dream High: Episode 12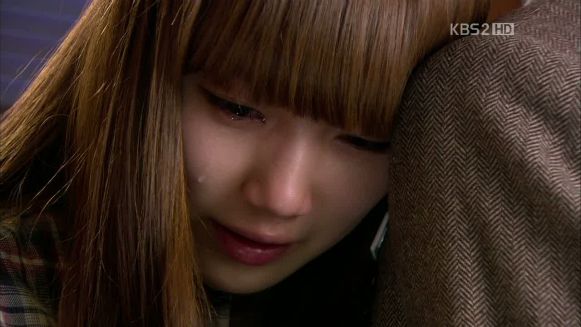 If I could write a song about how much I love Dream High, I'd perform it in my own showcase called "Ode to Dreaming High," and it'd have background dancers, a laser show, confetti cannons, and fireworks. It would have a dance interlude by Yang Jin-man in Hammer pants, and then it would close with a hip-hop version of The Nutcracker, because that's what I hear the cool kids are doing these days.

EPISODE 12 RECAP
Hye-mi overhears Baek-hee's tearful declaration that she won't lose out her spot in group K to Hye-mi. But that's exactly what happens, as Baek-hee gets put on ice by her manager: she's out, and Hye-mi's in. She has to watch as Hye-mi walks into the room and take her place, and she waits nervously outside.
Hye-mi comes in with her decision. As she comes out, Baek-hee asks her what she's decided, as she bitterly admits that her fate is tied to whatever Hye-mi has chosen. She adds angrily why it's always her. Hye-mi muses that it's funny—she said the exact same thing when Baek-hee got chosen to debut before her. Seems they're more alike than they realized. She tells Baek-hee that she didn't sign, and when Baek-hee asks why, she replies, "I don't know…why would I?"
Jin-gook greets Hye-mi excitedly, asking if she's signed on. She tells him that she turned it down because it's not the right time for her. He's disappointed, but accepts that there's probably a reason, and a reason why she can't tell him. Yeah, his name is Song Sam-dong. He used to wear your underwear. Or possibly Baek-hee. Whatever.
They rush off to school, where Oh-hyuk is giving his test lecture as part of his hiring interview. They watch with Jin-man from outside, cheering him on nervously. Oh-hyuk takes a deep breath and goes to the front of the class…only to be interrupted by the entrance of Principal Shi.
He kicks out all the students and brings in a group of board members to serve as the mock students. He himself sits front row center, just to ruffle Oh-hyuk's feathers. It seems to work at first, and Jin-man watches nervously, saying that if he loses this ki war with Principal Shi, it's over.
Oh-hyuk braces himself, thinks about his tactic, and then a smile spreads across his face, wiping off the triumphant grin on Principal Shi's face. He commands the lesson with confidence, even playing to the older audience with songs they'd recognize from their youth. He scores the highest, fair and square, beating Principal Shi at his own game.
He enters the office to thank Principal Shi for his warnings. What used to feel like harassment became lessons for him to learn, and Oh-hyuk confesses that they made him become a better teacher. Aw, that's cute. I don't doubt that it's sincere, but it's also a good way to get under the principal's skin. He wrestles his old teacher ID badge out of Principal Shi's hands with a toothy grin.
Just outside, Jin-gook and Hye-mi hover, waiting to find out the results. Oh-hyuk flashes his badge and goes for high-fives…which Hye-mi denies with a sour face. She's still mad that he never told them, and she pouts that she thought he was leaving them forever. Aw. I love her begrudging friendship with Oh-hyuk.
Jin-gook picks up her arm and high-fives Oh-hyuk anyway (heh) and even tries to get her to bow to her teacher. That's going too far for Hye-mi, and even Oh-hyuk says it's okay. Begrudging acceptance is one thing, but deference is not Hye-mi's style.
Once Jin-gook's out of earshot (though he still hears them), Hye-mi tells Oh-hyuk that's she's worried about Sam-dong. They find him banging on the piano angrily, and when Oh-hyuk comes in to ask about the showcase, Sam-dong says he's not performing, and there's no real reason.
Hye-mi rushes up to ask him what's really going on, and that she can't help him if he won't tell her. He just silently goes back to playing the piano, and Oh-hyuk drags her out of there for the time being.
Over at Top Entertainment, the manager tells the members of K that they'll all be performing at the showcase this time around, with solos. He wants to determine which of them is best suited for a solo album, and he'll use this opportunity to decide.
His songwriter takes out a folder to hand out songs to each member, and Baek-hee freaks when she sees that it's the same folder she poached her song from. To top it off, her manager tells her to perform her own song at the showcase, since she touted herself as a singer-songwriter. Well that's karma for ya.
Jin-gook decides to go with "My Valentine." Jason: "You're…singing…a ballad?" Jin-gook asks if it doesn't suit him. Jason: "Yeah…a lot." Ria asks which teacher Jason's choosing for his showcase coach. Jason: "The opposite of whoever you choose." Heh, I'm liking his one-liners more and more. Jason and Jin-gook choose Oh-hyuk, and so does Baek-hee. Everyone's surprised since she's Kyung-jin's little protégé, and she keeps their fallout to herself.
In-sung interrupts to ask Jin-gook to hand off Hye-mi's notebook for Sam-dong. He fills Jin-gook in on the details of what's been going on with Sam-dong and his trip to the dark side.
He finds Hye-mi and asks if she took all those notes for Sam-dong. He tells her that he's mad—not about the notes, but that she didn't tell him that Sam-dong was in trouble. He says that they could've looked for him together. Oh, you would've just made it worse, but I suppose it's not your fault that you don't know that.
Later that night Kyung-jin gets wasted on a bottle of wine, feeling sorry for herself. Oh-hyuk comes to get her, and she asks what his secret is: Why do his students thank him and follow him loyally, while hers never say thank you, never acknowledge her on their albums, never give her flowers on Teacher's Day? Ha.
She wonders if maybe she wore glasses like him…and snatches his glasses off his face. Heh. Oh-hyuk hauls her out of there as she blabbers on. Once in the car, she asks with tears in her eyes if maybe she's the problem then. She thinks of Baek-hee, and then tells him that she has a student who's on her way to becoming a monster…what is she supposed to do?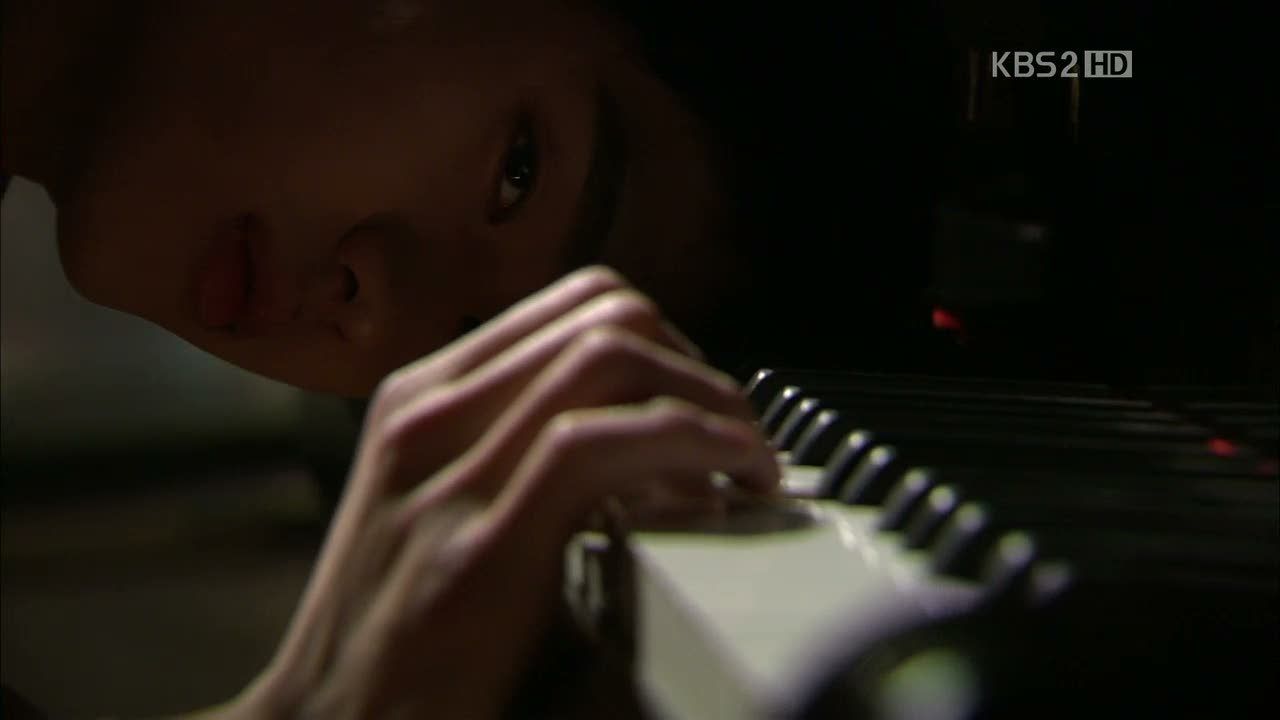 Oh-hyuk tells her that it's best to help that student come to the realization on their own, and that he has a similar problem right now. Cut to Sam-dong, playing piano alone in the dark, as Oh-hyuk continues in voiceover that he's drowning and refuses to grab his hand for help, as he sinks further and further.
Sam-dong rests his head on the keys and plays one note over and over, as the sound dulls and fades. He bangs on the keys angrily and slumps to his knees on the ground. Ack, you're breaking my heart.
Oh-hyuk's sister walks home after getting sloshed at the same bar, and on her way home, she has a fateful meeting with young man who gives her his scarf and walks her home (a cameo by 2PM's Chansung).
She thinks she's dreaming the whole thing up, but he walks her all the way home. He's surprised that this is her house, and she says that it's under her brother's name, but it's technically hers. When he says to keep the scarf until they meet again, she goes in for a kiss.
The camera swings around to reality, where the recipient of the kiss is actually a very surprised Man Doo-shik. Hahaha. He returns to his office, mulling over Fate, and how he happened to take all the steps that led him here. He has a moment of enlightenment and decides to reincarnate his talent agency. Aw, yeah. Wheels in motion.
At school, Pil-sook poses awkwardly while In-sung gets ready to snap a picture with her cell phone. Jason casually walks in front of the camera…and then casually walks back, asking what In-sung is doing. In-sung: "I'm taking a picture of Pil-sook." Jason: "Pil-sook? Oh, were you standing there? I didn't know!" Hahaha. Subtle as a bulldozer, this kid.
Pil-sook tells him that they're taking a new profile picture for the showcase, because all her old pictures are pre-diet. He decides a cell phone photo won't do, and takes her to his agency's studio.
And the costume he chooses for her? An angel, complete with wings. Ha. Pil-sook is too shy to come out and thinks this is overkill. She's not wrong. But Jason tells her she has to stand out at the showcase, and he asks their photographer to do him a favor. He agrees, musing that Jason's certainly got a lot of girls: "Your cell phone's full of pictures of that one girl, now who's this?" Pil-sook pretends not to hear, but it gives her pause.
Please, let it be pictures of her, pre-diet.
Please, let it be pictures of her, pre-diet.
She poses for her shots, and Jason watches, pleased as punch, but also with one hairy eyeball on the photographer, just in case. Heh.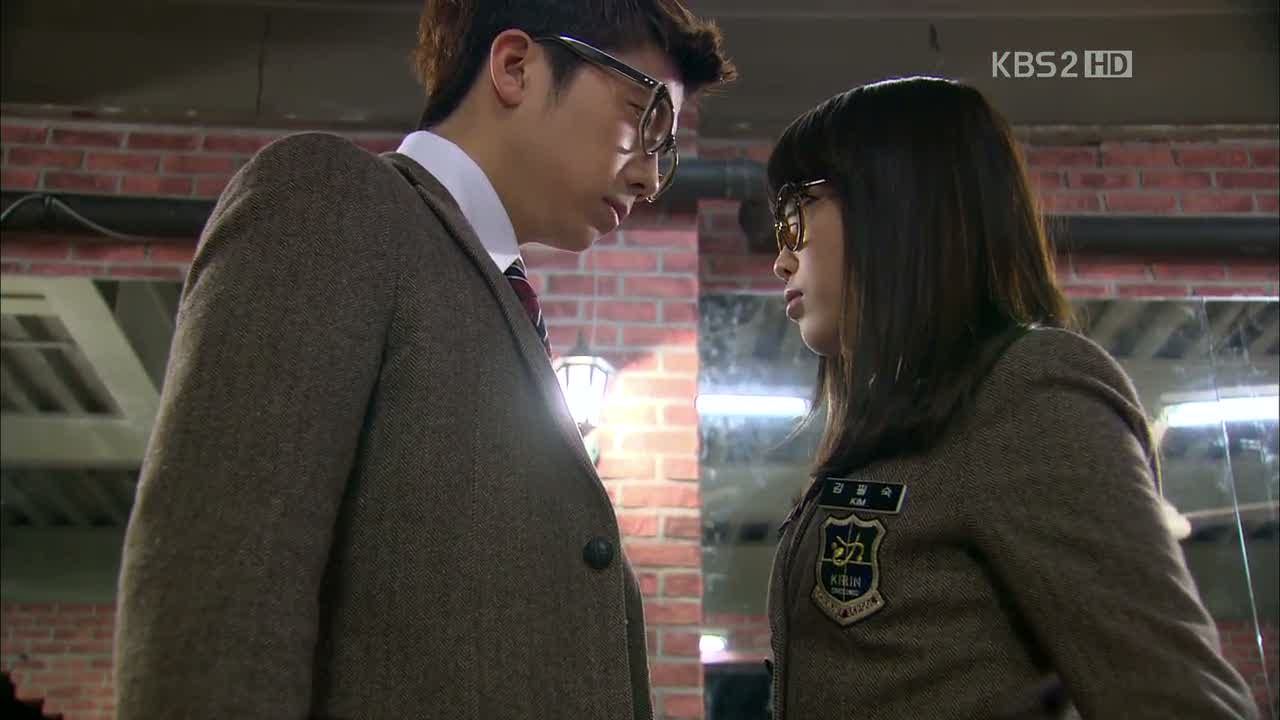 Jin-gooks asks Hye-mi about Sam-dong, and she says he still hasn't told her what's going on, and she's ready to give up—she's done all she can. Oh-hyuk comes to showcase-prep class, and can't believe there's five whole students there, who have chosen him as their advisor. He's especially thrown by Baek-hee's presence.
He begins, but gets a call from Jin-man, who wants to be put on speakerphone. He starts to tell the kids about the mindset that they have to be in to conquer the stage. Baek-hee asks who's on the phone. Jason: "This guy…he's large, but he's got a liver the size of an anchovy." (Little liver = scaredy cat.)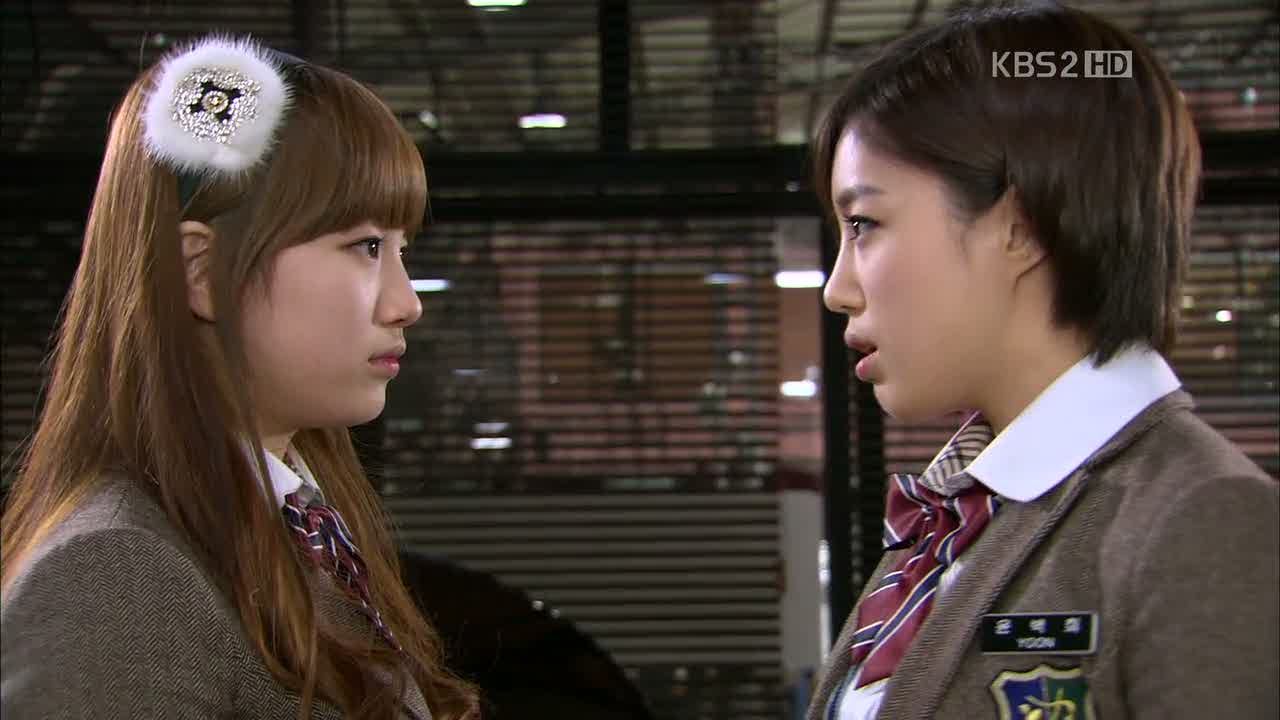 Case in point: he's lecturing them from just outside the room over the phone, because he doesn't want to get caught. Someone would tell this guy that they're not really the Rogue Class anymore, except it's too fun to watch him squirm. Oh-hyuk catches him, but just lets him continue his covert teaching.
He has them do an exercise in ki-warring. They stare each other down in pairs and sing a refrain from a children's game to get the other person to back down. Jason beats Pil-sook at first, but she comes back fighting. Hye-mi and Baek-hee stare down, but Hye-mi beats her with a self-assured smile, as Baek-hee lowers her head.
Oh-hyuk sits down next to Jin-gook, saying that Sam-dong really ought to be here for a proper match, but he'll have to do. He offers to fill in, but when Jin-gook levels his best blue steel, Oh-hyuk chickens out immediately. Ha.
Hye-mi cleans up Sam-dong's room, and finds a piece of paper shoved underneath the bookcase. It's his diagnosis from the doctor. She reads it, trembling, and then looks it up online, to find out what it means.
Sam-dong comes home to find her like that, and she asks if it's true. She asks if it's because of her, because he saved her. He denies it, like the hero that he is. She asks how it happened then, but his eyes dart back and forth, and he responds with the same answer, "No." She realizes that he can't hear what she's saying.
She ekes out, "Can you hear me right now?" Sam-dong searches her eyes, unable to hear but not wanting to let on. He just repeats himself again, "I said, no." Crushing.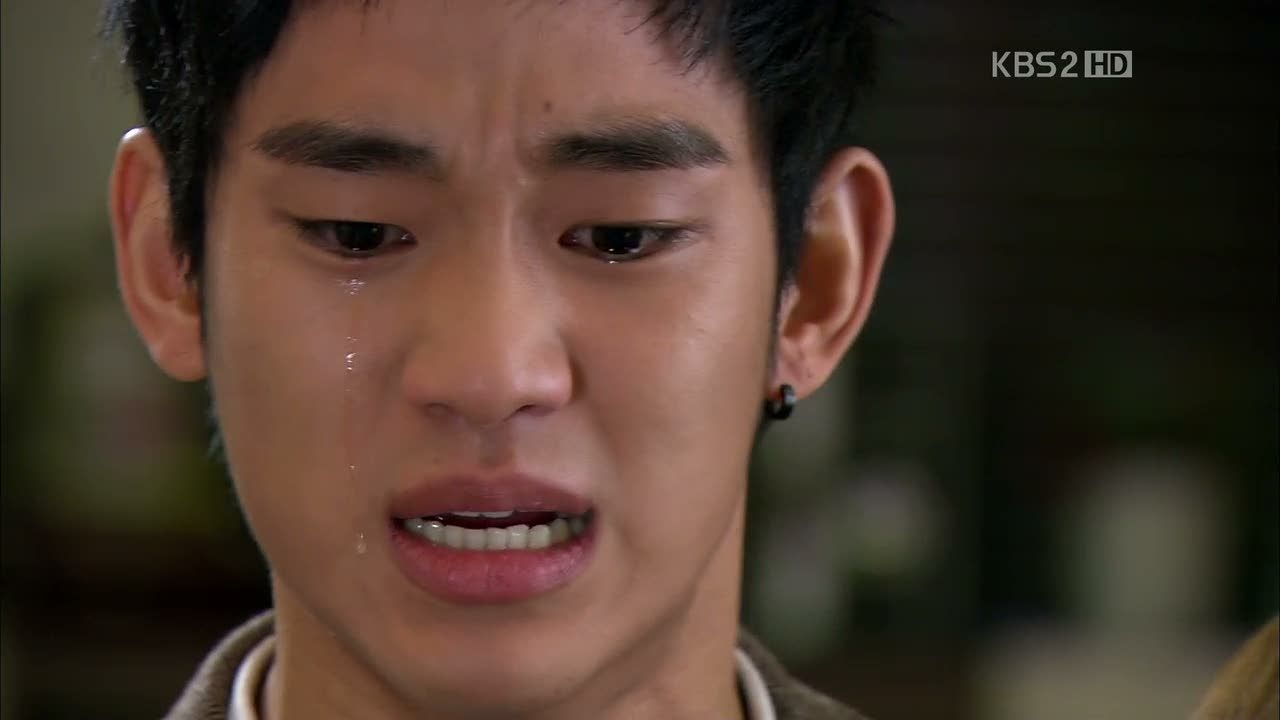 Hye-mi stands there dumbfounded, as tears come pouring down. She runs over to hug him, crying that it's her fault. He cries too, as he tells her angrily that this is why he didn't want to come home, why he said she'd regret bringing him here. He didn't want to burden anyone else with what he's become.
She takes his hand as she falls to the ground.
Sam-dong: You said before…that you wouldn't give up. That you would pull me up. Go ahead and pull me out. Please…pull me out.
Aaack! How can you break my heart so badly? Sam-dong was heartrending before, but his "Save Me" declaration just put me over the edge.
They stay there like that, crying together while she clutches his hand. Oh-hyuk walks in alarmed, asking what's going on. Hye-mi cries, "Teacher, help us." Oh my god, she's breaking my heart too.
Oh-hyuk sits alone in the dark as he reads over the diagnosis. He tries to hold back the tears, and then braces himself to go talk to Sam-dong. He says with a smile that it's an condition that can be controlled with medication, and that it won't change his daily life.
Sam-dong says with a defeated look in his eyes that if his hearing fails him while he's onstage, it'll ruin everything. Oh-hyuk says that it's a one in a million chance, but Sam-dong reminds him that his condition is one in a million, but it happened to him. Oh-hyuk doesn't know what else to say to that.
At school, Pil-sook sits down with her lunch at an empty table, and finds a cell phone there. Someone else says it must be Jason's, since he was just sitting there. She eyes it nonchalantly, but the temptation starts to overwhelm her.
She looks away and her hand starts reaching for it…but she pushes it away. She vows not to stoop that low. Except one teensy look…but no! And she goes back and forth like that for a while, basically in a tug of war between her dying curiosity and her sense of decency.
She starts to crack again as she leans in close…but Jason swoops in snatches it away, panicked. Jason: "Did you see any of the pictures in here?!" Pil-sook answers honestly that she didn't, and he sighs in relief. Oh, you SO have pictures of her in there. Why didn't she look? Okay, I'm not advocating her sneaking a peek, but! The Cute!
Jin-gook practices his solo ballad at the piano, and Baek-hee asks if he's really going with this song instead of a dance number. He says that he's shown them his dancing and rapping, but in order to win he has to show them a different side.
She realizes that he wants the solo album just as much as she does, and asks good-naturedly if that makes them competitors now. She asks if Hye-mi told him why she didn't join K, and he tells her that she did.
Baek-hee insists that she didn't ask her to give up the spot just for her, but she did anyway. She clocks Jin-gook's confusion, realizing that he didn't know the real reason. He tells her that she's not alone in her corner, like she always thought. Jin-gook: "Someone's on your side. It's Hye-mi."
He finds her sitting in their old classroom, head on the desk like she always is when she's lost in thought. He tells her that she's grown up, to give up something that she's wanted so badly, just for a friend.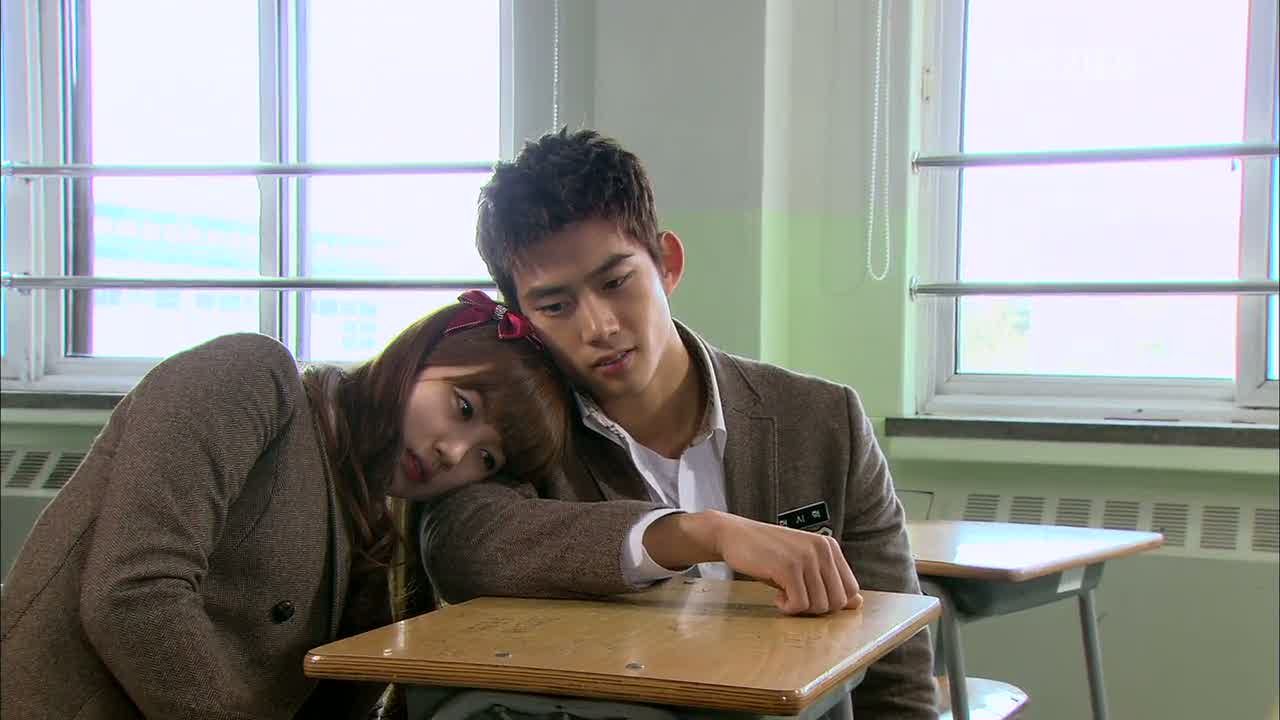 He doesn't push her to tell him what's wrong, and just says that there must be a reason. She leans on him without a word.
Sam-dong comes back to school, walking through the halls of Kirin just like his first day, and feeling just as lost as he was back then too. He finds Oh-hyuk teaching class on the stage today, as he tells the kids that the stage will speak to them and tell them whether they can make it as soloists.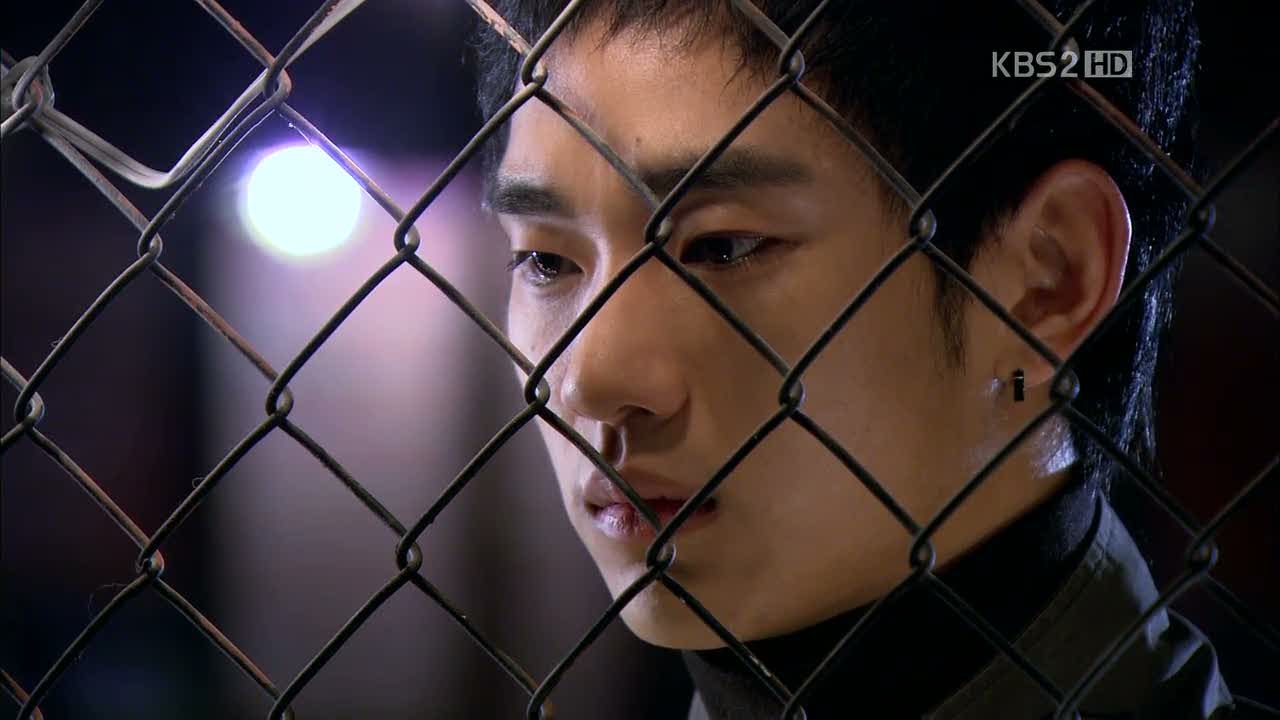 Pil-sook takes him literally, putting her ear to the floor with a knock, making Jason embarrassed for her, while the others don't really comprehend what he means. He tells them that on the day of the showcase, as they perform, the stage will answer whether or not they've prepared, whether they have the right to stand there—and the stage never lies.
Sam-dong watches from above, and asks, "Will it answer me too?"
They head back to class, where they're met by Jin-man, wearing a crazy video game visor to shield his face. From his POV, the visor screens each person in the room with the following info:
Oh-hyuk: Danger. Good points: None. Bad points: A help to life…NOT.
Hye-mi: Wild. Good: Voice volume. Bad: Difficult personality.
Jason: Cocky. Good: Dance, Singing (a little). Bad: Arrogance, Refusals are severe, Has a lot of girls, Resembles a bird.
Jin-gook: Strong. Good: Has a lot of strength. Bad: Has a lot of strength.
Baek-hee: Exertion. Good: Effort. Bad: Truthfully this is the first time I've seen her.
Pil-sook: Gluttony. Good: Singing, Emotive. Bad: Minus those things, all, especially appetite.
LOL.
He addresses the class in Robot Voice, because he somehow thinks that it hides his identity from them. Omg, cracks me up. They just look at him like the loony toons he is, but pretend not to notice, for his sake.
Sam-dong walks in and joins the class, and Jin-man breaks Robot character for a second, to whine that he turned in his music so close to the show. Oh-hyuk asks if this means he's performing at the showcase, and Hye-mi beams. Her reaction doesn't go unnoticed by Jin-gook.
Jin-man works with them over the coming days, even teaching Pil-sook how to dance, much to his chagrin.
It's Showcase Day, and Ma Doo-shik shows up in his formal agency capacity as White Entertainment, which he clears with Principal Shi. And the rivalry with Top Entertainment is on.
He comes across Oh-hyuk's sister, who happens to be wearing his scarf. He points it out, jolting her out of her fantasy with horror.
Backstage, Hye-mi asks Sam-dong if he's starting his music again, if that's why he's performing in the showcase. He says that he's here because he's going to ask the stage whether or not he can put his hopes and dreams into music again.
If he can perform without a hitch, if he gets applause and gets scouted, then he'll allow himself to hope again. But if something happens to his hearing, then his performance will crash and burn, and he'll walk away from music, and never look back. Hye-mi says that he won't mess up on stage today: "I won't let you."
Baek-hee prepares and Kyung-jin comes by to wish her well. Baek-hee asks why she hasn't said anything about her plagiarizing her song. Does that mean she's saying it's okay for her to cheat?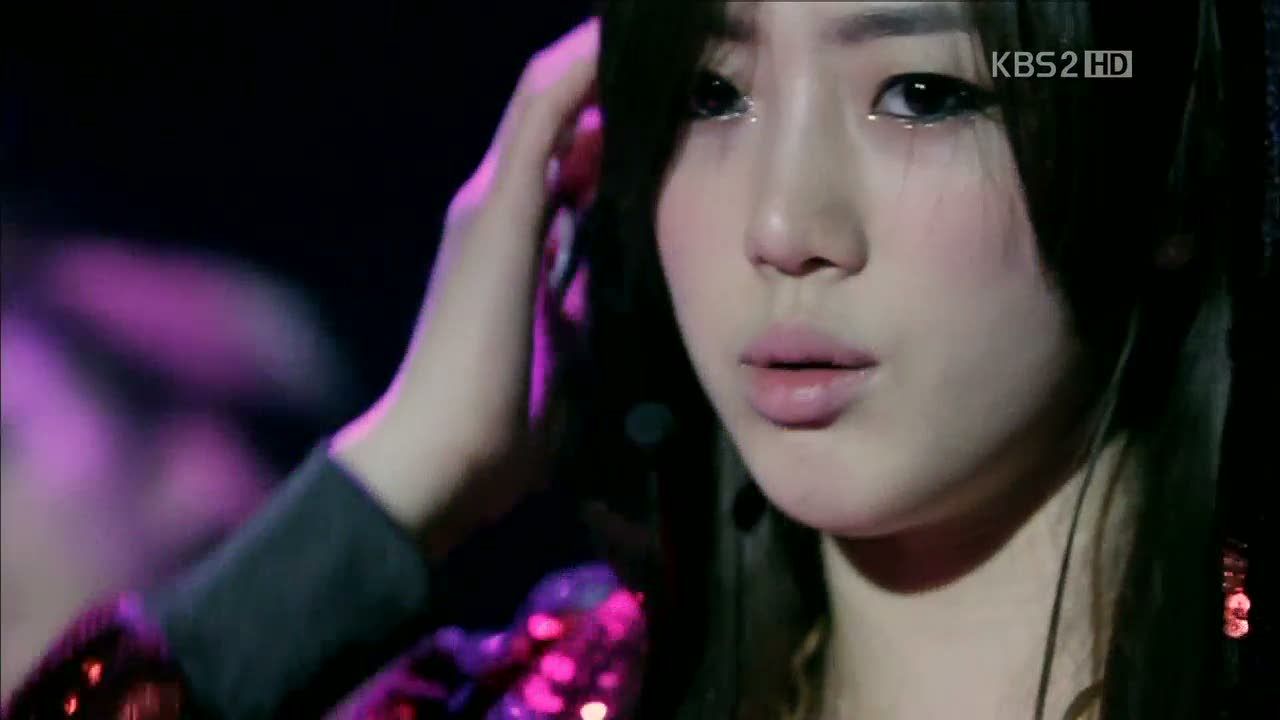 Kyung-jin makes it clear that she doesn't approve. "But you won't hear anything I say right now. So I'm going to let the stage tell you. That cheating is wrong."
And sure enough, when Baek-hee takes to the stage, she tells herself it's going to be okay, but she starts faltering under pressure. She sees the songwriter whispering to her manager, and she buckles under the guilt and the shame, ultimately falling to the ground. She gets booed off stage, and comes face to face with her own demons.
Next it's Sam-dong's turn to take to the stage, and he steels himself. He gets up in front of everyone, but as the music starts, his hearing starts to fade out. Ruh-roh.
He looks out at the audience, and Hye-mi watches with bated breath, as he raises the mic…

COMMENTS
Ack! Cliffhangers! Will his hearing come back? Will he sing anyway? Will he show his genius cred and blow them away even if he can't hear? Maybe Hye-mi will keep her promise and save him somehow.
I love that Hye-mi and Oh-hyuk found out about Sam-dong's condition. I was worried it'd get dragged out, but this show always does a good job of putting just enough weight behind each conflict, and then sending a reprieve just in time. I like that while Sam-dong is still on his heartbreaking journey to hold onto his dream in the face of these obstacles, that Hye-mi will hold his hand and take her turn to be his knight in shining armor. He's protected her and been her guardian angel; now it's her chance to do the same for him.
What's really effective about the love triangle for me is that it's not about declarations of True Love or love till the hereafter. It's just high school, and going with your feelings, and leaning on your friends who are there for you. I like that in the end, the journey is for Hye-mi to grow and become a better person, which is what Sam-dong makes her do, and what Jin-gook notices in her.
Baek-hee's road is nicely carved too, because we're not letting her off the hook with a simple AHA! moment and a guilt trip. She's got rock bottom to hit before she can look herself in the mirror and face what she's done.
Jason, Pil-sook, and Jin-man continue to be 31 flavors of awesome, as per usual. Can we please have Robo-Teacher do every lesson?
RELATED POSTS
Tags: Dream High, featured, Ham Eun-jung, IU, Jang Woo-young, Kim Soo-hyun, Suzy, Taecyeon