Dream High: Episode 13
This drama gives me the warm and fuzzies, but even more than that, it fulfills that hole left by so many dramas where style and fanservice are swapped in as stand-ins for actual plot or continuity. With so many idols, Dream High could so easily devolve into a nonstop fanservice extravaganza, but instead it's working the performances in to make sense with the plot, rather than just shoehorning them in 'cause they know the fans'll eat it up regardless.
This episode kept the drama in first place for the night, recording a strong 17.9%.

EPISODE 13 RECAP
Sam-dong stands there onstage, hearing dulled, wondering, "Is this the answer the stage is giving me?"
He watches the keyboardist play and counts down to his cue, then starts singing. Problem is, while he's on time and his voice sounds good, he's singing in the wrong key, sounding a discordant melody.
Sam-dong sees the confused murmuring in the audience and realizes that something is wrong, and breaks off, courage faltering. But Hye-mi, true to her promise, refuses to let him fail and heads to the second story. She gestures that he's flat, then indicates the beats so he can get back on track — and he does.
[ Download ]
Audio clip: Adobe Flash Player (version 9 or above) is required to play this audio clip. Download the latest version here. You also need to have JavaScript enabled in your browser.
Hye-mi mouths along the lyrics as she keeps the beat, and Sam-dong keeps his eyes fixed on her as he wows the crowd, both of them letting their tears fall.
In the end, he gets a standing ovation, and he cries out of pain and relief — his dream's not dead, but the revival of an almost-dead hope is a painful thing.
Hye-mi and Oh-hyuk meet with Sam-dong's doctor for notes on how to help Sam-dong, and are surprised when the doctor informs them that his illness has nothing to do with head trauma.
Jin-gook is the guest of honor at a ceremony celebrating his recent No. 1 performance on Music Bank as a solo artist. Even his manager is impressed with the level of his success, but Jin-gook is more moved by a particular congratulatory wreath, sent by his father.
Hye-mi presents Sam-dong with a tuning fork, telling him that if he's able to grasp the A note as his anchor, he'll be fine. She starts to rattle off a list of foods he needs to avoid, and Sam-dong cuts in to remind her that the doctor said his head injury has nothing to do with his deafness — so she can stop acting out of guilt. Hye-mi says that she knows, but that doesn't matter, and that she'll help him no matter what.
Sam-dong asks if she's doing this because she likes him, or feels sorry for him. It's a rhetorical question, and he adds the request that she stop, because it's confusing him. Aw. It's the sort of thing you say when you like somebody who you know doesn't like you back, and you're trying your best to get over them.
He tells her that she's done enough and that he won't do anything stupid, so she can stop worrying about him. And that he's sorry for making her cry.
The next focus of music lessons is about pitch, and Pil-sook is the only student with perfect pitch. (Perfect pitch is a natural talent where a person can identify any note without needing a music cue.) Kyung-jin tells them that perfect pitch is nice, but what they really need is relative pitch, the understanding of the notes' relation to each other.
This lesson is particularly relevant to Sam-dong's interests, because he could perform without worrying if he could always be assured of the right notes. He asks if one can learn perfect pitch, disappointed when Kyung-jin answers no.
Still, it's worth checking out, so he asks to meet Pil-sook later, and she readily agrees…which gets Jason's Pil-sook-radar up and his jealousy-o-meter spiking. He asks Sam-dong, then Hye-mi, what that's all about, but doesn't get any answers and stands there in dissatisfaction.
Baek-hee is now the new outcast at Kirin, thanks to her showcase disaster. She sits at a cafeteria table, only to have the two girls haughtily move over to a different table. Sigh. The misery of the high school condition is universal.
Ah-jung joins the girls and gossips that Baek-hee plagiarized her showcase song from a songwriter at her agency, and she's going to be cut loose any day now. That means no other agency will take her on, and her budding career is finito.
Baek-hee is joined at the table by Hye-mi, who sits down without saying a word and sticks her earbud into Baek-hee's ear. Baek-hee points out that there's no music playing, to which Hye-mi tells her to just go along with it.
Touched at the gestury but wary, Baek-hee says that her career isn't over, and that she won't give up. Hye-mi merely says, "I know."
Kyung-jin finds Baek-hee sitting alone backstage, and approaches her sympathetically. Baek-hee admits that she knows why she did what she did, and that breaking the rules got her to this point. She intends to ask President Yoon for another chance, and if he gives it, she promises to work hard without cheating. And if he doesn't…well, she'll have to start all over from the bottom, hard as that'll be.
Kyung-jin nods her approval, and answers Baek-hee's request for help with a heartfelt "I will." I've gotta say, I'm really liking how formerly tough-as-nails Kyung-jin has evolved into this awkward softie.
Sam-dong practices in the studio, trying to grasp perfect pitch. Oh-hyuk cautions him that learning it isn't easy (or even, perhaps, possible), and that with medicine and care, he won't lose his hearing. The problem is the tinnitus that comes and goes and drowns out sound — and if Sam-dong were to give up the idea of performing and instead took on songwriting, he'll have no problem continuing on.
But Sam-dong doesn't want that — he won't give up performing, and he vows to rid himself of his weakness.
At half-past five (and therefore well into Pil-sook's meeting with Sam-dong), Jason is hyper-conscious of the time and trying to talk himself out of caring, or barging in on them. The other students send him annoyed looks since he's ostensibly listening to music, but instead arguing to himself like a crazy person, and holding up the line at the listening station.
With some prodding from an annoyed In-sung, he finally decides to go. Well, it only took you forever.
In the old Misfit classroom, Pil-sook describes to Sam-dong how she hears pitch, and how her vocal cords understand how much they have to vibrate to produce a particular note. So it's not just about the sound, necessarily, but about the feel of the note.
Hye-mi doesn't seem to be jealous of the situation but she's there nonetheless, watching the lesson, keeping abreast of Sam-dong's progress. She finds it very amusing to see Jason sidle up to the window, and upon seeing her he comes up with a lame excuse about losing his way to the library.
I love that Hye-mi always sees Jason at his weakest, and that she calls him on his bluff: She offers to take him to the library, and he has no choice but to go along. Well, it's that or tell her the truth. And we all know he can't handle the truth. Yet.
The teachers meet with Ma Doo-shik, now the CEO of White Entertainment, who is interested in managing the debuts of Pil-sook and Hye-mi. Each student has her weaknesses: Pil-sook's is her old photos, considering how this is a cruel, cold world that values appearance more than anything.
Jin-man is disgusted with this line of reasoning and throws a mini hissy fit ("Does a person sing with their face? Or dance with their face?"), which is both hilarious and a little paining since Park Jin-young has seen his share of face-ridiculing in his day. Aw. I'm sorry. Your awesome comic acting totally rocks, if that's any consolation. Well, plus you're super-rich and successful.
Hye-mi's problem area is her personality, and although Jin-man tries to defend her as "not that bad," he then remembers examples of her rudeness and is shut down by Principal Shi. The principal wonders why Doo-shik picked such problematic students to back.
Doo-shik wonders that himself, and imagines a scenario where the two girls (who've been formed into the group "Sook and Mi") are guests on a live radio show, hosted by Super Junior's Eunhyuk and Leeteuk. A fan calls in and makes mention of Pil-sook's weight troubles, sending Hye-mi into a rant against her since she's recognized the voice as Ria. Gotta say, when Hye-mi seemed like a bitter pill, I had no great liking for her attitude — but now that she's shown herself to be caring and sympathetic, I LOVE her surly face. It cracks me up every time it's used as a recurring joke.
Doo-shik backpedals with Oh-hyuk, who says he's "disappointed" in Doo-shik for being no better than all the other agency presidents who throw money around to make kids into singers.
Jin-man hilariously flip-flops loyalties from one side to the other, and Oh-hyuk smartly maneuvers Doo-shik into proceeding with the debut. At mention of Sam-dong, Jin-man says that it's too bad he has such stage fright (the explanation that has circulated about his showcase performance), since he has such a strong sense of relative pitch.
Stirred by those words, Oh-hyuk hurries to inform Sam-dong that there may be a way for him after all: Instead of trying to learn perfect pitch to identify all notes, if he just focuses on one note — the tuning fork's A — then he ought to be able to figure his way around, using the A to root himself and link him to the other notes.
Jin-gook loiters outside his father's house, feeling buoyed by the wreath his father sent. Gruff Dad isn't comfortable with those fluffy things normal people call emotions, so he mutters to his secretary, "Why'd you do something I didn't tell you to do?" But the secretary answers, "But you told me to send it yesterday…" Jin-gook smiles, and tells his father he's been working hard. He sees that Dad is wearing the watch he gave him and grins wider, and leaves in high spirits.
Jin-gook calls Hye-mi out, who congratulates him for his No. 1 on Music Bank. He scoffs at her trademark blank face, to which she answers, "This IS my congratulations face." Ha. Love it. He tells her about his father sending the wreath, and she brightens up in excitement over it.
Jin-gook pinches her cheeks to confirm that he's not dreaming, so she returns the gesture and tells him to confirm his own dreams. So they stand there, pinching each other's cheeks, grinning like giddy fools. This may be the first time I've ever thought this couple was cute, but it's better late than never.
Sam-dong approaches and Hye-mi quickly lets go of Jin-gook, which is a fact that doesn't go unnoticed by him. But Sam-dong isn't fazed to see them together, and congratulates Jin-gook pleasantly on his single success.
A call from his agency darkens Jin-gook's mood, as he had specifically asked President Yoon to NOT turn his father's gesture into a promo opportunity. Looks like the president has reneged on his word, and Jin-gook heads off to go take care of the matter.
…and the next thing we know, he's at the police station for assaulting President Yoon, with reporters swarming around for the juicy story.
Oh-hyuk comes to collect him, and delivers him to tempoary refuge in the old basement studio, which Doo-shik has rented. Sitting there, Jin-gook notes glumly, "I've come back to the bottom." So fleeting, the idol's fame.
Hye-mi and Sam-dong see the report on TV, which looks mighty bad for Jin-gook. President Yoon works the victim stance by sobbing about trusting a friend, wearing a neck brace and sitting in a wheelchair. Worst of all, the attack was all caught on CCTV.
The Kirin students enjoy a laugh at Jin-gook's expense, since some Photoshop-happy netizens have parodied the incident with references to Baker King (changed to Assault King) and My Gangster Boyfriend (changed to My Gangster Shi-hyuk). Gossipmonger Ah-jung spreads the story that Jin-gook hit Baek-hee at a previous showcase, bruising her face and necessitating her stage makeup. At least there's one voice willing to dissent, and In-sung defends his friend.
Make that two: Jason tells Ria (who's busy speculating on the gangster status of Jin-gook's supposed bio-dad) to shut up. Baek-hee feels bad for him as well, but she keeps herself out of view.
Oh-hyuk takes Jin-gook home late that night, and they arrive as Hye-mi and Sam-dong are cleaning up the graffiti'd posters and slurs posted up on their front wall. Oh-hyuk's sister fusses over him sympathetically, but not without trying to fish around for a story. Lol. Can't blame a reporter for trying.
Jin-gook's father hears the news with chagrin, and is advised to keep his distance because involving himself would only cause more media furor. He arrives at Oh-hyuk's house later that night and asks for an explanation, showing some faith that his son wouldn't have acted like that without a reason. Jin-gook merely bows his head and says through tears that he was reckless, and that he's sorry for disappointing him. Really, is now the time to be playing the noble idiot? What do you have to lose by admitting the truth?
Instead, Jin-gook just kneels and apologizes over and over.
Baek-hee goes to her mother's store that night, where Mom has been delivered a special present from the agency president — a box of fresh abalone, an expensive and generous gift.
Mom is pleased to accept, and doesn't understand why Baek-hee suddenly looks desperate and begs her to return the gift. Such a large gift without reason may just signal a prelude to her being let go…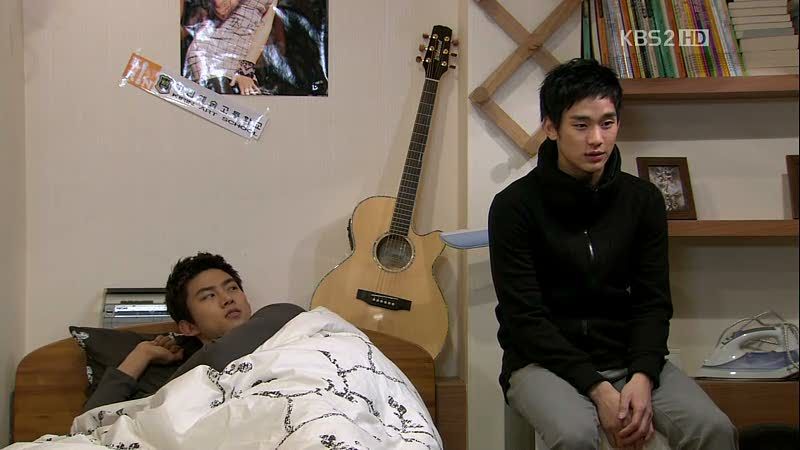 Sam-dong comes into the room as Jin-gook is sulking in bed and wallowing in his misery. I love that Sam-dong's first attempt to draw a response is, "Hey, I'm wearing your underwear." HAHA. But no, you know the depression is severe when that gets no rise out of Jin-gook, so Sam-dong offers to play a little game of "Whose life sucks more?" Hey, I thought this was supposed to cheer him up, buddy.
Jin-gook is in no mood for this, but Sam-dong proceeds, starting with their parents: Jin-gook has no mother, but Sam-dong has no father, so they're square on that front. But Jin-gook has got a No. 1 TV appearance under his belt, while he hasn't even debuted yet, so he's got one up on him.
And sure, Jin-gook has turned into a national gangster overnight, but Sam-dong has a bigger concern: "My ears are ruined."
Jin-gook is shocked, and that defuses some of his tension. Sam-dong presses his point: "I'm just as depressed as you, but I'm doing my best. Even if there's no sound, I chase it so I can sing. Do you know why? So I can beat you." He wants to take on Jin-gook fair and square and be so strong that nobody can pity him, and win — meaning, with Hye-mi.
Sam-dong tells him to buck up and get it together, which is just the thing Jin-gook needs to hear to kick his butt into gear. In the morning, he finds a note from Sam-dong telling him to see him prove himself, since his music test at school today.
In the cafeteria, Pil-sook overhears Jason talking to some hussy named Julie and signing off with an "I love you." So when he slides over to ask about her meeting with Sam-dong, she glares at him while he explains, just as her senior, that hanging around with guys one-on-one could lead to misunderstandings and scandals — though of course HE's not the type to misunderstand. It's just all those pesky other people she has to watch out for!
She retorts that he'd better watch it with the "I love you"s to his precious Julie, and that brings a smile to his face as he guesses, "Is that advice, or jealousy?" She asks him the same thing, but neither one is willing to confess first, so they agree to both spit it out on the count of three…and then neither one says anything.
Jason huffs, "Forget it" and leaves, while Pil-sook sits all peeved. But then he turns back and sits down again, admitting, "Okay, I was jealous. You?" She admits the same, and AAAAGHHH THESE TWO ARE SO CUTE.
Hye-mi grabs Sam-dong (pushing him against a wall, rawr!) before his test to check on his condition, and tells him to look to her if his hearing fades out again so she can signal him.
She's not sold on his assurances that he's fine, but he points out that she can hardly follow him around all his life sending him hand signals, and promises to demonstrate so well that she won't ever worry about him again.
There's an adorable moment in the testing room when Jason and Pil-sook both reach for their test music and draw back shyly, urging the other to go ahead. Then they decide to both go on the count of three, which is hilarious because you just know they're the couple who gets sickeningly lovey-dovey at everything, cooing, "No you hang up first. No you. No really! Okay, on the count of three…" I love that Kyung-jin puts the kibosh on that ridiculousness with an eyeroll.
The test is simple: Sing their selections a cappella, two students per song, complete with harmonization. The piano will start them off.
The Milk couple had looked excited at the prospect of singing together, so when Jason realizes he has the same music as Hye-mi, he sends the most hilarious sad-puppy face Pil-sook's way. Adorable.
Audio clip: Adobe Flash Player (version 9 or above) is required to play this audio clip. Download the latest version here. You also need to have JavaScript enabled in your browser.
Hye-mi and Jason perform well, with just a few flat notes each. [ Download ]
Next up: Sam-dong and Pil-sook. Jin-gook arrives at the school in time to join Oh-hyuk and Jin-man outside the test studio. Before starting, Sam-dong asks if they can nix the piano, wanting to start off a cappella, which shouldn't be a problem for his partner since Pil-sook has perfect pitch.
It's a strange request since this would be a handicap for most students, and the teachers are nervous at Sam-dong's show of bravado. Kyung-jin warns that he can't complain about his grade, then.
With that, Sam-dong starts them off a cappella, and when Pil-sook joins him, they're perfectly in tune with each other. [ Download ]
Audio clip: Adobe Flash Player (version 9 or above) is required to play this audio clip. Download the latest version here. You also need to have JavaScript enabled in your browser.
Everyone's amazed, and Jason's really tickling my fancy in this episode, with the way he smiles widely when looking at Pil-sook sing, then grimaces when he looks at Sam-dong, then smiles again at his honey. Silly, transparent boy.
Kyung-jin admits that she'd thought Sam-dong was full of hot air — but sure enough, he and Pil-sook both managed without any mistakes. A+.
Jin-gook watches in with a mix of admiration and, I think, bitterness (or at least self-pity) that Sam-dong managed his demons so well. Sam-dong chases him down in the hall to tell him that it's Jin-gook's turn to dig himself out of his own abyss, reminding him that he won't wait for his showdown forever. So he'd better get on it, pronto.
Sam-dong turns back at the last minute to toss something his way — the K pendant, which he no longer needs.
At the lockers, Hye-mi sees Baek-hee in a daze, stumbling over her own feet and swaying dangerously as she walks up the stairs. She follows her to the roof, where Baek-hee approaches the railing and slips one foot out of her shoe.
Hye-mi interrupts, playing the moment lightly by chiding her for walking around with her shoelaces untied, bending down to tie them for her. But when she looks up, she's startled at Baek-hee's expression. In tears, Baek-hee cries on Hye-mi's shoulder and says pitifully, "It's all my fault, what happened to Jin-gook. He hit President Yoon while saving me."
WHAT?!
HOW CAN YOU JUST END HERE?
I need to knoooooooooooooow!

COMMENTS
Oooh, great twist! After I was all ready to sigh that Jin-gook's reckless moment seemed overplayed for something relatively small, this is a welcome revelation. So the question is: Why exactly did Baek-hee need saving?
I have a couple of theories. Perhaps Baek-hee went to the agency to beg the president to take her back, and he got angry and was about to get violent with her, which Jin-gook saw (while there to talk about his own beef with the prez) and stopped. OR… and this is more unsavory, but perhaps Baek-hee was begging for another chance, and President Yoon saw fit to take advantage of the situation by offering a sponsorship situation (sponsorship = casting couch scenario). I don't think she'd offer that herself (what with her vow not to break the rules anymore), but the guy always seemed a bit scummy… It would be an interesting way to address one of those common issues that everyone knows about but doesn't address openly (at least, not until recent years).
As much as I'm a fan of bromance, I appreciate that the Sam-dong/Jin-gook storyline in this episode went much deeper than that. I love that Sam-dong beelines for Jin-gook after his test (rather than, say, Hye-mi or his teachers) and pushes him to dig himself out of his funk. These characters care about each other too much to let each other slide into misery, but they're not afraid to tell each other the harsh truth, either, rather than coddling them. Like with Hye-mi and Sam-dong — she is essentially let off the hook by the doctor…only she realizes she perhaps doesn't want to be let off the hook. Or rather, she wants to help regardless of things like obligation and guilt.
It's this kind of tough love that Baek-hee lacks, and while strength of character is at least partially innate, it doesn't help that she fell prey to exactly the type of cutthroat, superficial system that feeds off of her weaknesses and insecurities. In contrast, our Not-Quite-Misfits-Anymore have built up a support system, and I love that the round-robin with the K pendant is a nice motif to illustrate that. They know they can't save their friends from their demons, but they CAN push and encourage and persuade their friends to save themselves.
Last but not least, here's the ending clip, with Taecyeon/Jin-gook singing "My Valentine" on Music bank. [ Download ]
Audio clip: Adobe Flash Player (version 9 or above) is required to play this audio clip. Download the latest version here. You also need to have JavaScript enabled in your browser.
RELATED POSTS
Tags: Dream High, featured, Ham Eun-jung, IU, Jang Woo-young, Kim Soo-hyun, Suzy, Taecyeon