Jumong couple back together for Crime Squad
Song Il-kook (A Man Called God) and Song Ji-hyo (Goong) were first paired in the 2006 sageuk blockbuster Jumong, and now they find themselves paired again in the upcoming KBS drama Crime Squad.
Not having watched much of Jumong, I can't tell you what their chemistry was like then, but they sure look playful and winsome here (which makes me see Song Il-kook in a different light, actually, since he's always played such intense characters). And, yeah, a bickering couple cuffed together (the less intentional, the better) always makes me laugh. (It's for that reason only that I got suckered into watching Three Brothers for waaaay too long, I think.)
In Crime Squad, he plays a homicide detective while she's an intern reporter. As you might tell from these stills, they get off to a rocky start; they find each other irritating but have to put up with repeated run-ins, clashing all the while.
Song Il-kook said of his co-star, "Working with Ji-hyo again after four years, we're meshing together extremely well. Since we're good friends, the mood on set is very easy and I'm able to act comfortably, for which I'm thankful. We make up for each other's weaknesses, and together, I want to make this a good drama."
Song Ji-hyo said, "Song Il-kook sunbae has gotten into his character to an astonishing level, so as his colleague, I'm learning a lot. He's always very thoughtful on set toward the staff and cast, and takes such care to make the set an enjoyable place that I'm grateful to him."
The drama will follow Dream High on Mondays and Tuesdays, and premieres on March 7.

Here they are five years ago in their Jumong days:
And here they are again for Crime Squad: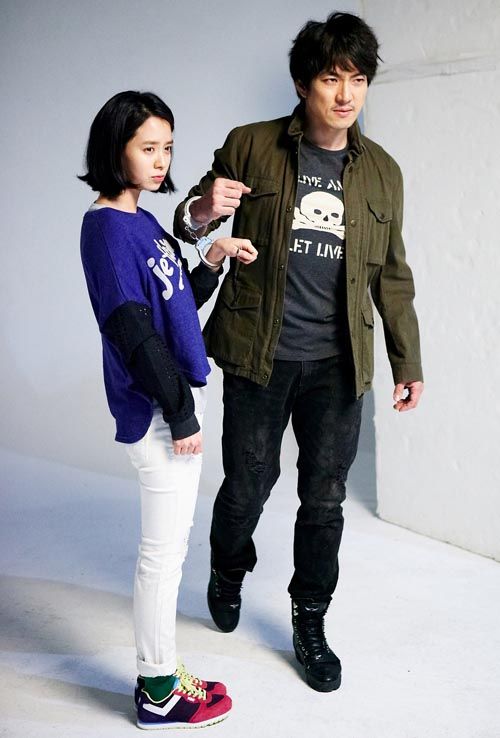 Via Hankyung
RELATED POSTS
Tags: Song Il-kook, Song Ji-hyo