Kim Soo-hyun cries for Dream High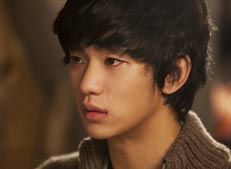 [SPOILERS AHEAD. YOU ARE WARNED.]
Kim Soo-hyun, who plays country-bumpkin-with-the-voice-of-an-idol Song Sam-dong in KBS's Dream High, is looking mighty melancholy in the newest stills released from the production, which come from an upcoming episode (Monday's Episode 10).
One only need scroll down to the other set of stills to guess why. At least that's the assumption I'm making, because the episode reportedly marks a turning point for the Sam-dong character, who sheds his role of faithful-protector-standing-in-the-shadows and "comes back a tough guy," complete with new short haircut.
The upcoming school trip to Japan allows for the date between Hye-mi (Suzy) and Jin-gook (Taecyeon), pictured below, and when Sam-dong witnesses the cozy scene, he makes the vow to become a top star.
Sounds like the story's finally gonna give him some meaty material to work with — not that I haven't been fully loving the Hye-mi/Jin-gook/Baek-hee stories, but it's been a damn crying shame that a fantastic actor like Kim Soo-hyun (the cast's best actor by far) has been so underutilized thus far. But I have really appreciated the way the drama has been taking the characters and giving them lots of growth and reversals, such as Hye-mi's development from spoiled brat into a (gasp!) sympathetic character, and Pil-sook's awesome independence from her Jason crush. Can't wait for the new chapter in the stories.
Via Seoul.co.kr
RELATED POSTS
Tags: Dream High, Kim Soo-hyun, Suzy, Taecyeon