Lee Hong-ki to star in Japanese drama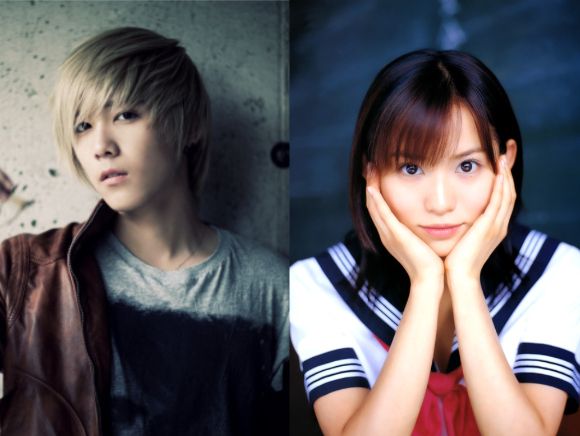 Hong-ki! Dramaland has missed you! FT Island's voice-of-a-hardened-rocker-in-the-body-of-a-kid lead singer Lee Hong-ki (You're Beautiful) has just signed on to be the lead in a Japanese drama. He'll be starring opposite Ichikawa Yui (Love Game), above. Are they just trying to explode the screen with cuteness? They look like a pair of anime characters.
The drama is called Muscle Girl, and I can't even begin to fathom what that means, because it can't be literal. Maybe she's a gangster who kicks ass and he's her toady? Maybe she's an athlete and he's her trainer? Maybe it's totally nonsensical and has nothing to do with anything? Yeah, I'm gonna go ahead and put my money on the last one.
It seems that Hong-ki's going the same way of his You're Beautiful co-star, Park Shin-hye, who's starring in Taiwanese drama Hayate the Combat Butler. While I'm all for his global success, I'd like to see him back in k-dramaland sometime soon. He played my favorite character in You're Beautiful, and though he's still got a lot to learn as an actor, he's got a raw talent for emoting onscreen.
If there's going to be dubbing in this drama, I'll be sad, mostly because his voice is what makes Lee Hong-ki stand out. But chances are, that's the way it goes. On the upside, FT Island will be doing the OST for the drama, so there'll be lots of Singing Hong-ki on the soundtrack. FT Island already does well in Japan, so the album should be a hit.
Muscle Girl will air on TBS/MBS in Japan in April.
Via Joy News
RELATED POSTS
Tags: Lee Hong-ki