My Princess: Episode 12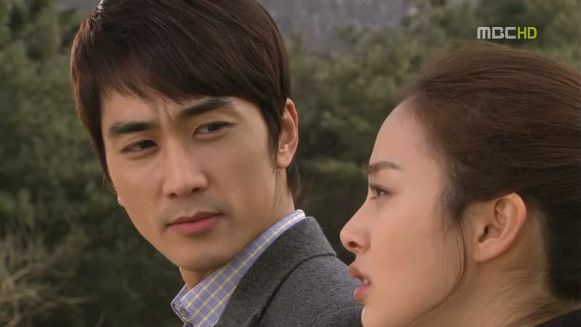 Our couple gets backed into a corner, and everyone comes over with a bad case of Noble Idiocy. Well, everyone who has a heart. But thankfully Hae-young's got it bad enough to go princess hunting. Which of course sends everyone else on the hunt as well. Who needs wabbits when it's open season on princesses?

EPISODE 12 RECAP
We backtrack a bit to catch up with Yoon-ju's conversation with Jung-woo, where she lays it out for the naïve and trusting professor. He asks if she's claiming that Dan is the real princess, but she tells him that it doesn't matter, since what she's aiming for is the downfall of the monarchy, complete with the Chairman's collapse.
He's shocked, as if he's somehow surprised to find that she's a heartless bitch. He hugs her, asking her to stop before it goes too far, but she refuses. I sort of hate this reasoning in dramas (always for the second lead) when they admit that they have nothing left to gain, but since they've "gone this far," they have to keep going. I mean, what's that about? Real people don't do that. They cut their losses and save themselves.
Seol grabs Dan into her room to ask what she was talking about—not the princess stuff, but about Hae-young's father. Yoon-ju comes in and tells Dan to go to the apartment she's prepared, and volunteers to tell Seol everything.
With a condescending air, (not that she has any others, mind you) she tells Seol about Hae-young's father chasing her own father down, and asks how it feels to be Romeo and Juliet. Seol trembles, tears forming, but Yoon-ju tells her she hasn't even begun.
She tells her that today's news was about the satchel, but tomorrow's news will be about Hae-young's father. She puts it all out there in a bald-faced threat: drop the princess act and disappear, or else Hae-young never gets to lift his head in Korea again.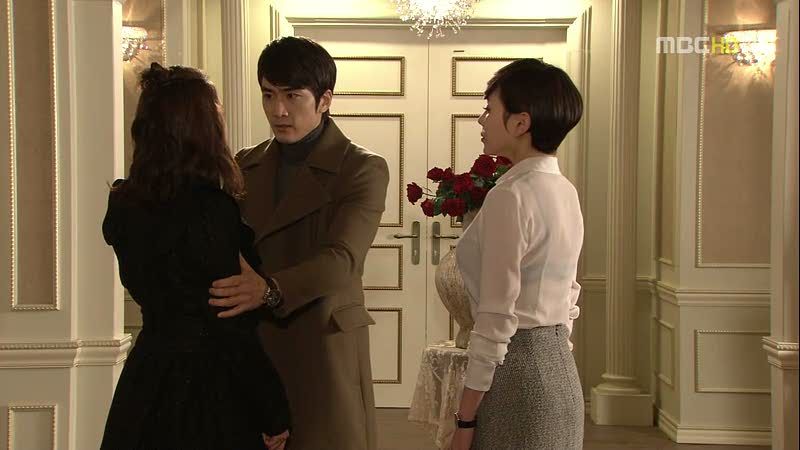 Dayum. At least she's smarter than I thought. For a while Yoon-ju was both bitchy AND ineffectual, but she's stepping up her game, I'll give her that much.
Hae-young walks in and clocks the tension between the two women, and asks Yoon-ju what they were talking about. Yoon-ju lies that she was offering words of comfort (pffft), but then Hae-young hilariously doesn't believe her for even a nanosecond.
He turns to Seol and tells her to trust him: "Just trust me, and tell me what she said to you." He pleads with her to tell him so that he can protect her, and Seol wavers for a charged minute, while I scream: TELL HIM! TELL HIM!
But she doesn't, of course. Because Noble Idiocy is the name of the game.
Hae-young decides he has to tell her about his father, but before he can start, Seol stops him: "I already know." He reels, thinking that she's already been told about their dads' past, but then she covers it up by saying that she doesn't believe anything her sister says, so he shouldn't either.
She puts on a smile and asks to rest, so he walks out. But the second he's outside the door, she starts sobbing. Problem is, Hae-young's still within earshot. Oh no. Here we go with the Big Misunderstanding. Now he thinks she knows about their fathers and is lying because she thinks they really ARE Romeo and Juliet, and can't face him.
In the morning, Seol comes to confront Yoon-ju, who's pleased as punch and smug enough not to hide it. Seol calls her out for being evil enough to make her choose between the two most important people in her life, and agrees to leave the palace.
But she adds that this doesn't mean she's running away, or giving up the throne. Seol: "I will return. And when I do…you're dead." What's funny is she says it in the schoolyard way, like "you're totally dead," which just makes me want to see them in an actual schoolyard brawl. My money's on scrappy princess.
Yoon-ju just comes back at her with more threats—there's no way for her to ever come back, because the second she steps foot back in this palace, the whole world will know about Hae-young's father. She twists the knife further, blaming her for messing up so many people's lives, including her beloved Hae-young. The only way to make things right is to disappear forever.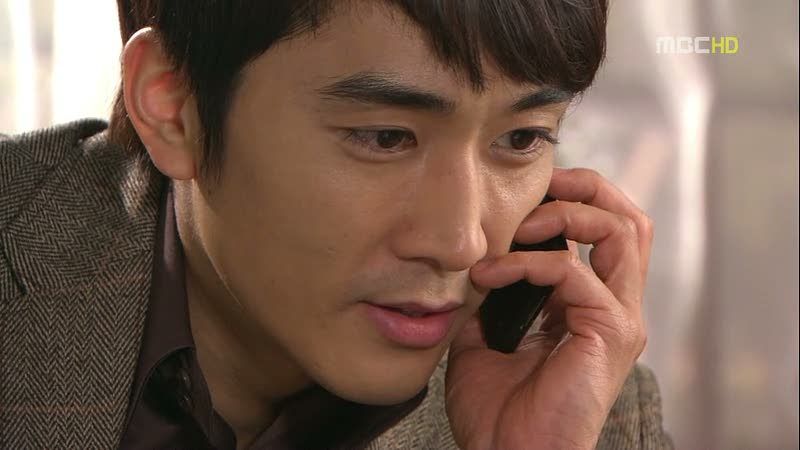 Hae-young hesitates, and then decides to call his father in New York. He leaves a message, awkwardly thanking him for the baseball he sent when he was a kid, and asks him to call. He's heartbreakingly hopeful when he calls his dad.
He goes to see Seol to ask her for the picture of her with her father, so they can go to the press with their side of the story. She worries about what it'll do to Dan, and tells him that it won't be enough anyway; that it'll eventually lead to DNA tests and the exhumation of bodies. Must be the show acknowledging all the "Go CSI on their asses" comments to the royal satchel hullabaloo.
He tells her that they'll take it all the way then, and gets her to agree to think about it. She asks for the day to rest (or run away forever, what have you) and he gets up to leave. She stops him to ask if he really believes that she's the princess.
Hae-young: Yes, I believe. Even if the whole world says you aren't. Until the day I die, to me you're the bad princess who stole my entire inheritance.
Aw. How cute that he can say "you stole my inheritance" like it's a term of endearment now.
He tells her to entrust everything to him and leaves, not realizing that this was her goodbye. Seol packs her bag with a heavy heart, ties her hair into a ponytail with her strawberry hairtie, and heads out.
Hae-young heads for Dan, who's on the phone complaining to Yoon-ju about how bored she is. Oh, is conspiracy boring you, princess? She freaks out when Hae-young comes knocking at her super-secret hideout, and Yoon-ju tells her not to answer the door or the phone, from anyone but her.
Hae-young knocks and finally just talks to her through the door. He tells her that Seol has evidence to prove that she's the princess, but she refuses to use it, fearing what'll happen to her sister if she does. Hae-young tells her that Seol is going to shoulder this on her own, and even as Dan scoffs to herself that Seol is playing the good girl, she does appear to be shaken.
He leaves for now, asking her one last question: who is behind this plot? Really, you don't know? You're starting to lose my confidence as the fixer here. He asks her to contact him if she changes her mind.
He then heads for Secretary Oh, and asks for proof that Seol is the princess, since he remembers that Grandfather was so sure of her identity, enough to kneel in front of her at first sight. He doesn't respond, so Hae-young asks if there's more to his father's involvement than just pursuing Seol's father.
Again, no answer, but Secretary Oh implies that Hae-young's dad is connected deeper than he'd like for Hae-young to know. He decides he's had enough of other people telling him about his father, and vows to find out straight from the horse's mouth.
He turns to ask one last thing…does Yoon-ju know all this too? Secretary Oh can't believe that Hae-young is accusing Yoon-ju of being behind the conspiracy, when they're family. Hae-young apologizes, but tells him that he can't trust anyone right now.
He returns to the palace and finds out that Seol took off, so he heads to Mom's house to look for her there. Well if she went there it wouldn't really be running away, now, would it? He promises her mother that he'll take care of Seol.
Meanwhile, Seol is at the police station inquiring after the accident that killed her father. They tell her that incident reports aren't kept that long (What?) and she hits another dead end. But she remembers something, and heads to her father's friend the fisherman.
She asks if they remember anything about her and her father being chased, and he does recall that they did leave suddenly in the middle of the night, without a word. Soon after, a well-dressed man in an expensive car came to inquire after them. They add that they called the number in the newspaper ad looking for information on her father a million times, but always got the runaround. It was only through Park Hae-young that they had eventually gotten through to her.
Seol stays the night in Jung-woo's office, scared and alone. The next day she calls the number herself, and asks the Daehan Group secretary for the list of everyone who called this number with information. She says that almost all of it was useless and refuses to hand it over, but Seol threatens to go straight to the Chairman, which does the job. She spends all day calling everyone on the list, to no avail.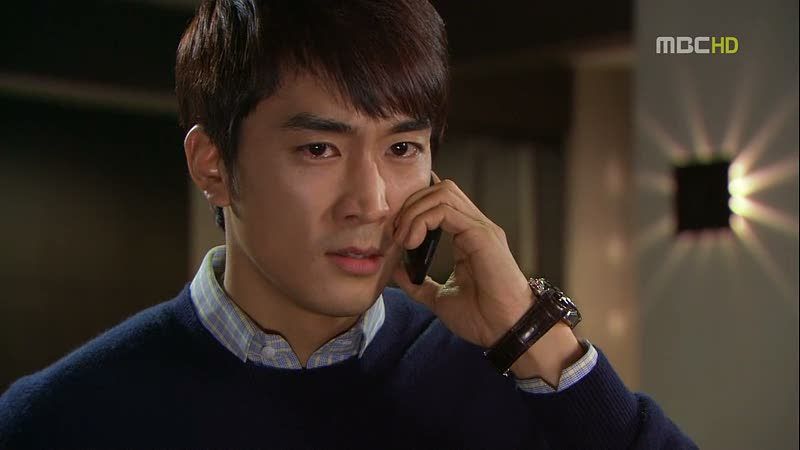 Hae-young broods in his apartment, and decides to call Seol's friend Sun-ah. She tips him off that it looks like Seol spent the night in the office, but thinks she won't be back. She promises to call if she returns.
Hae-young makes another call to his father, and this time he pleads with Dad to call him back. He ends up asking if he killed Lee Ahn, and begs for an answer. God, what a question to get on your voicemail.
Seol plods through her list, and finally comes upon a call from the States, from a James Park. She frets over having to use her limited English, then decides that he's a Park, so he's probably Korean. She calls, and it's the same voicemail greeting that Hae-young's been getting the last two times he's called his dad. She leaves a message asking for information on her father.
Hae-young calls Yoon-ju over and asks if she knows where Seol is. He says that he's sorry, but he hasn't been able to do anything all day, and then it occurred to him that Yoon-ju might have put a tail on Seol, and before he knew it, he was calling her. He tells her he doesn't care why she had her followed, but to just tell him where she is.
Yoon-ju agrees to tell him, but says that Seol can't return to the palace, no matter what. Hae-young: "I can't hear a word you're saying right now. Where is Seol?" Ooh, I love the urgency. Hot.
He finds her at the coffee shop where she's just been discovered by a crowd of people, and when he finds her stuck in an altercation over spilt coffee, he just yells at her for being such a mess without him for one day. Oh, all about YOU, is it?
In the car, he asks if she's going to run away again, and she says that until she can find out about her father's past, she's not going back. Hae-young: "Do you really think that my father and your father…" She doesn't answer, but asks him if he believes in his dad.
He says it's his only hope right now, and tells her that they'll find out the truth together from now on. Well thank goodness for that. Not much more broody separation I can take.
And then he takes her to…Jung-woo's house? Well that's a surprise. Or are they staying there…together? Oh, hells yeah. Why didn't this happen sooner?
Yoon-ju gets word that the threesome is shacking up at Jung-woo's house, but she doesn't have the same reaction as me. Hm. She then gets yelled at by Grandpa for letting Seol disappear under her watch, and her father realizes that she's more involved than he thought.
At the palace, Team Seol hunkers down for an afternoon of internet damage control. Cute.
Back at Three's Company Bungalow, Hae-young starts opening refrigerator doors like he owns the place, and drags Jung-woo out to let Seol wash up in privacy. At the store, he buys steaks for dinner, adding for Jung-woo's benefit that it's the cut that Seol likes, and he likes what the princess likes.
Jung-woo actually rolls his eyes at Hae-young's childishness, but that doesn't mean he's above it all, and picks an expensive cut for himself, since Hae-young is buying. They return home to find Seol asleep on the couch, and Hae-young snipes that Jung-woo should own a larger couch so she didn't have to scrunch like that.
He starts to ask for a blanket but Jung-woo's on top of it, and when he tenderly covers her with the blanket, Hae-young tells him to just place the blanket, minus all that unnecessary touching. HA.
Jung-woo asks why on earth he came here, and Hae-young says it's because he didn't think Yoon-ju would come here, even if she knew where they were. Jung-woo tells him that he doesn't know Yoon-ju very well, and the way he sees it, she'll just end up getting hurt one more time because of Hae-young.
He then tells Seol she can get up now, since they're done talking. Seol opens her eyes sheepishly, and asks how he knew. Jung-woo's familiar with what she looks like when she's really dozing off, and tells her that he brought home dinner. Hae-young: "I'm the one who paid for it, and you're taking all the credit."
The doorbell rings, and Jung-woo guesses that it's Yoon-ju. Sure enough, she comes in and asks to speak to Seol alone.
Yoon-ju scoffs, "This is where you ran off to?" Seol: "It must make you jealous, that I'm with both the men you refused to let go of." Nice. Yoon-ju tells her to shut up, but Seol doesn't back down: "This must be your true face. Let's be friendlier. So I can see all your sides."
Yoon-ju tells her to go see Grandpa and tell him that she won't be the princess anymore. Seol asks what her proof is that Hae-young's father killed her own. She tells Seol to go see the Chairman, who will give her the proof she needs, since he knows how it all went down.
Hae-young interrupts them and takes Seol by the hand. Yoon-ju tells him to let go, by the Chairman's orders, but Hae-young tells her to blame it on him—that he took Seol away, and then he does.
He tells her not to meet Yoon-ju anymore, especially alone. Yes, thank you. She asks where they're going, and he says where doesn't matter, as long as nobody knows…since they're going somewhere alone, just the two of them. Rawr?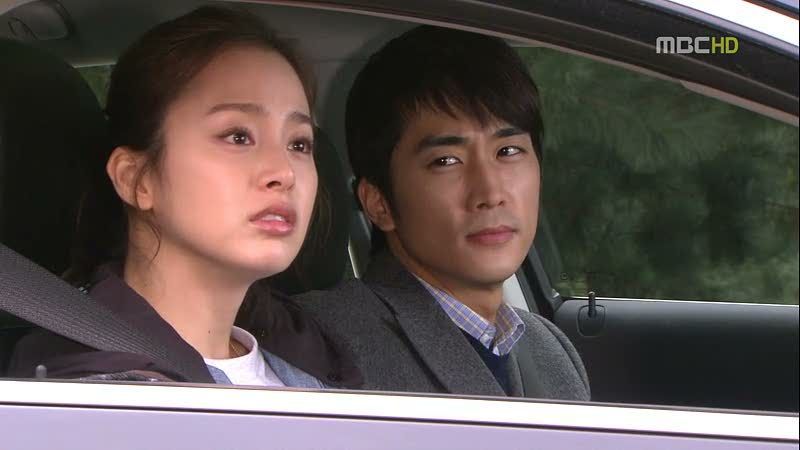 Hae-young: I wasn't going to do this because your heart is in hell and I didn't want to just make myself happy, but…I'm just going to be the bad guy.
As in: Being alone with you makes me inappropriately happy in your time of crisis, but to hell with it, I'm gonna drag you away to a secluded spot and just be happy. As in: Swoon.
They pull up to a house in the countryside, and when Seol walks up, she has a memory of Hae-young's father, coming to greet her at the door.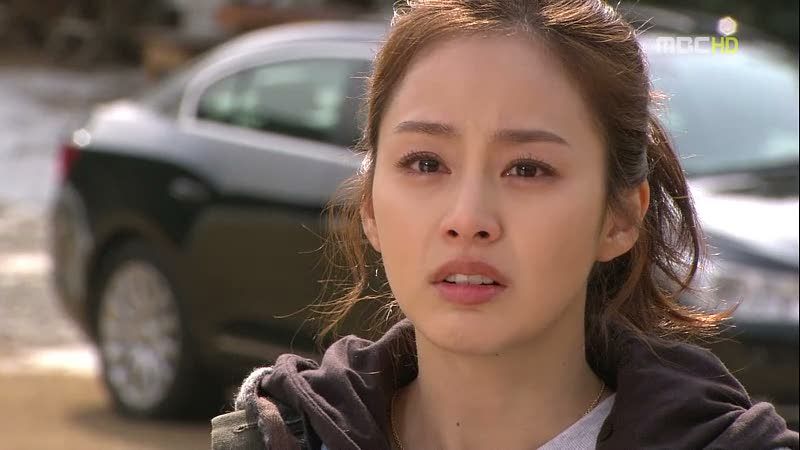 COMMENTS
I have no doubt that Hae-young's father is as misunderstood a Noble Idiot as his son, so there's bound to be some good that comes out of finding her memories in that house. But in the end, we're just going to be waiting, and waiting, and waiting, for Mr. P Senior to show his face and clear it all up, for the love of all that is holy.
And until that time, I'm with Hae-young. Let's just wait it out with some happy times, yeah? If you had to leave Jung-woo's house (which by the way was sorely underutilized, despite the stirrings of jealous awesome) then let's at least take the romance up a notch, eh?
Perhaps by some miracle that house is deceptively small inside, and has only one bed and one shower. And one blanket.
What I like about this drama is that the couple is always sweet and funny together, and that characters catch on to each other's motivations rather quickly. What drives me kinda bonkers is that they're less perceptive when it comes to the big-picture stuff, which is frankly a little hard to believe, as well as frustrating. (I was frankly bored to tears by yesterday's episode, which was just dramatic pause after dramatic pause, and I was like, "Spit it out already! We knew this plot was coming since Day One!")
I can see every play in this drama's playbook forty miles away, which leaves me going "Yeah, check. Next?" a lot more often than I'd like. If this drama had more surprises and played a little more loose and free (like showing up at Jung-woo's House of Mine's Bigger Than Yours) then I'd be a much happier camper. Less broody, more kissy. Chop, chop!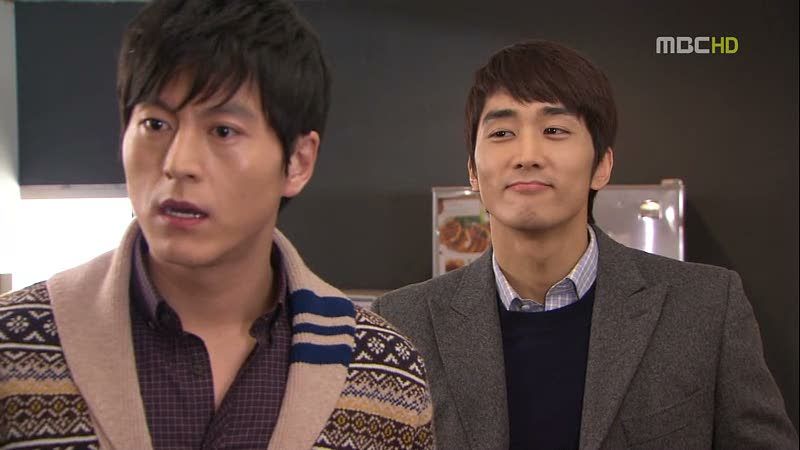 RELATED POSTS
Tags: featured, Kim Tae-hee, My Princess, Park Ye-jin, Ryu Soo-young, Song Seung-heon