My Princess: Episode 13
We're playing with some of the same plot points in this one, but at least we get some snuggle-bunny times for our princess and her bodyguard. Not a whole lot, but hey, I'll take what I can get, since this couple's cuteness is more than half of the drama's sustaining life force. The remainder (for me, at least) is probably in the fun of hating the troublemakers, who are operating on a different plane of logic than the rest of us mortals and therefore require us to waste no time finding reasons to explain or justify their behavior. We can just hate 'em.
SONG OF THE DAY
Park Hyo Shin – "눈물날려 그래" (Tears are falling) [ Download ]
Audio clip: Adobe Flash Player (version 9 or above) is required to play this audio clip. Download the latest version here. You also need to have JavaScript enabled in your browser.

EPISODE 13 RECAP
Hae-young and Seol arrive at his family's vacation house, where Seol has a flashback of seeing a man (his father) at the door. Hae-young explains that this is "a place with lots of memories." Oh, I'll bet you don't even know the half of it.
Seol takes a look around, settling at the piano to tap out a few notes. She opens Hae-young's old piano books and finds stickers of Disney princesses, har har. Hm, I think you should let Dream High handle the meta jokes.
Hae-young reminds her of their deal: While they're in this house, she's only allowed to think of him and listen to him.
They spend a cozy night in by the fire (with some bickering thrown in, naturally), and Seol falls asleep in his arms. He sets her down to sleep (on the wood floor? For the princess?) and traces the lines in her face. She wakes groggily and wants to stay awake with him, but he tells her to go back to sleep, adding to himself, "If I see your eyes today, I don't think I could sleep."
In the morning, Hae-young insists on tending to Seol, from wiping her face with a towel to tying her hair for her (using her hairtie in the wrong way, I might add, which kinda makes it cuter).
This triggers another memory of her "father's friend" — the man she recalled seeing at this house — and it's a good sign that her lost memories are starting to return to her.
Seol steps outside to take a call from one of the people on her call list, who turns out to be Park Tae-joon, Hae-young's father, requesting a meeting with her. Aw, how much is it gonna hurt when Hae-young realizes his dad ignored his calls, but returned one to his girlfriend?
Since Park Tae-joon is barred from entering the country, he asks Seol to speak to Chairman Park about lifting the ban, since she's the only person who can sway him. Seol just wants to know if he had anything to do with her father's death, and he answers no, that it was a mere accident, and that's why he took her in after her father died. But he declines to elaborate, saying he'll tell her the rest in person.
He hangs up on her, and when Seol turns back to the house, a few more memories trickle back, like how he had brought her here as a child (with her imperial sachet in hand) and told her that her father was dead.
Jung-woo tells the chairman that the pouch/sachet/reticule/oh-who-cares-it's-just-a-plot-point that Dan produced is NOT, in fact, genuine. He had anticipated that it would be used to mess with the restoration, and lied to throw Yoon-ju off…which is weirdly convoluted but partly awesome just because I enjoy whenever Yoon-ju is thwarted. He has the real one in his possession.
Jung-woo asks to be entrusted in the handling of this situation — he'll clear out the troublemaker and bring Seol back to the palace.
Hae-young finds the house empty; Seol, after calling Secretary Oh, has left the house. He calls her, and she informs him that she's abandoned him, and that it turns out all the stuff her sister had said about their fathers is true.
He reminds her that they'd decided to go after the truth together, but she replies that she can't see him anymore, as it makes her feel too sorry to her father. She hangs up on him, ignoring his pleas to tell her where she is, and is picked up soon afterward on the road by Secretary Oh.
Jung-woo tells Yoon-ju that he has just come from meeting with the chairman, and that he'd swapped out the imperial sachet with a fake. Yoon-ju contains her reaction and says that she won't fall for his lie, and that he's not that kind of guy, and that he'd always been understanding of her. He replies that he's reached his limit with that, and that she's free to have the sachet examined.
He tells her to step down from her position, and in return he'll keep quiet about her using Dan to attack the monarchy. That's the only way he can help her, and he won't wait long for her decision.
Seol meets with the chairman and asks if Park Tae-joon killed her father, because she was taken to his vacation house on the day her father died. How would that have happened if he had nothing to do with it?
The chairman swears that his son didn't kill him — not literally. He has come to consider it the same thing, since Park Tae-joon chased Dad around and threatened him, but the death was an accident. Seol answers that this means the chairman killed her father, and he agrees readily, bowing his head in regret.
Seol says that the chairman's plan for restoring the monarchy has sacrificed the lives of her father, Hae-young's father, Hae-young himself, and Dan. And now he expects her to play the princess for the very people who were responsible for her father's death? The chairman protests, saying that the restoration is 500 years in the making, a part of history. He describes this work as his fate, insisting that it's not for personal reasons, but Seol asserts that it seems to her that he's really acting out of a guilty conscience. She won't be a pawn in his Wipe My Slate Clean project, and asks him to give up the restoration.
Secretary Oh and Yoon-ju enter as the chairman begs Seol not to go, kneeling before her…and then he collapses.
ARGH!$&*#o*&$*(#)(rFAJKSDAJF;DLSAJFD. Et tu, My Princess???
The president gets word of the chairman's condition and immediately leaps into strategy mode: The moment Chairman Park dies, quarrels will break out over his money, which was to be relinquished to the monarchy. He wants to bring Seol under his purview by making her the Blue House representative. He is firm in his belief that Seol is the real princess, but even if she weren't, from a political standpoint it's to his benefit to insist she is anyway.
The opposition politician happens to "coincidentally" run into the president, and sidles up to smugly comment on Chairman Park's collapse, since his death clears the way for both of them, politically.
Hae-young arrives at the hospital to see the chairman, drawing short to see Seol standing with Yoon-ju. The latter he ignores, and he warns Seol not to go anywhere while he checks on his grandfather.
Yoon-ju snidely congratulates Seol for her ability to send the chairman into collapse and figures she must be scared, since this puts her princess standing in jeopardy. Seol can't believe Yoon-ju's cold-heartedness, and calls her a bitch, almost in wonder at how apt that word is. 'Cause she's much nicer than me, considering I've been using that word since Day 1.
Secretary Oh tells Hae-young that he thinks Seol has found out more information, based on the chairman begging for her forgiveness. He makes the educated guess that the list of callers responding to the ad about Lee Han included Hae-young's father.
Combined with the fact that Seol had asked for the list a few days ago, ahh, well now things start to make sense for Hae-young. He realizes that she knows everything now.
Jung-woo arrives at the hospital, and Yoon-ju takes him aside to ask for the sachet back. Buoyed by her "miracle" (the chairman's ill health), she has gained extra time and has no intention of stepping aside, per Jung-woo's warning. She tells him to step aside himself, but likewise, he isn't going to quit now.
She tells him not to do this, because if he does, "I have nobody to lean on anymore." Oh really, evil bitch-bot? That's your argument? If you don't help me wreak havoc, then I won't have anyone to support me while I wreak havoc! Boo frickin' hoo.
Jung-woo agrees with me, although perhaps not in so many words, and tells her that he's regretting having sided with her previously and letting things get to this point.
Yoon-ju calls Dan out to tell her that her part is over. For an evil accomplice, Dan sure is whiny, which Yoon-ju points out when Dan complains of being bored in her hotel room and annoyed that she can't answer her mother's calls. Yoon-ju smirks as she enlightens Dan on the part of this scheme that Dan was either too naive or foolish to realize: That gaining something means losing something, and that she'll never have her life back. She's being given a large sum of money to flee the country for good, and she's free to do so now.
Dan asks suspiciously how she knows it's safe to go — what if Yoon-ju backstabs her the moment she's gone, blaming this all on her? Yoon-ju's amused, because that's exactly what she's going to do, and for a smartie, Dan sure took a while to come to that realization. Dan counters that she'll stick around and tell everyone that Yoon-ju put her up to it, but Yoon-ju doesn't care, and will proceed with her plan anyway.
Hae-young finds Seol outside, and guesses that she'd talked to his father today. He tells her that no matter what she remembers, no matter what the truth is — even if that means he can't be with her — he's always on her side.
Seol says that the chairman had told her that Hae-young's father didn't kill her father: "If you're on my side, then help me to not be the princess." But she doesn't mean this out of a generous spirit, but rather as a way to keep the Park men from ever being able to relieve their consciences of her father's death. "Whether it's causing his death, or threatening and frightening him and causing him to wander all his life — it's all the same to me. Because in the end, my father died."
And really, what can he say to that? In her frame of mind, pretty much the only way to make things right is to bring her father back. Being neither God nor vampire, he's SOL on that one.
Yoon-ju watches while her father tends to the chairman, her fury growing as her eyes fixate on the loose button on her father's sleeve. The chairman stirs, and her father rushes out to get the doctor, leaving her alone in the room. Now, I hardly believe Yoon-ju so far gone as to kill, but this hardly seems the smartest idea, amirite…?
Yoon-ju approaches his bedside as the chairman mumbles for the princess. She tells him that Seol left, and forces herself to say that she's happy that he woke up. And lookit, there's no bolt of lightning to smite her on the spot or anything. Must be her lucky day.
Jung-woo finds Seol as she's leaving, and tells her the good news about the chairman waking up, to her relief. She tells him that she's had a memory of the sachet — not enough to serve as proof, but enough to confirm that it was hers, and that she had it before living at the orphanage.
Jung-woo asks what she'd like done about Dan. While Seol is still peeved and would love to stick it to her sister, ultimately she's sighs that she's still family. Backstabbing, petulant, deceitful family.
Seol returns to her mother's house for a happy reunion, although Mom gets a little shifty when Seol asks after her sister. It's a touchy subject, so Mom hedges and says that Dan left the house for a few days because she felt bad about "the mistaken news report" and is getting some time to herself.
Mom's on her way out to meet somebody, she says a little nervously. Seol sees that Mom has prepared a bag of clothing — obviously for Dan — and plays it off, telling her cheerily to go.
Mom chides Dan for setting off this scandal, and asks what her motivation could possibly be. Dan says she's merely interested in the truth, since there's a possibility that she could be the princess, but Mom's not buying that excuse for a second. After all, she knows that Dan is in contact with her biological parents, so clearly she has no claim to royalty.
Mom sighs that Dan wasn't this kind of person, that she was always so proud of her. Dan says yes, she was, the opposite of trouble-causing Seol — and that's why she's got such a bug up her butt. "You know what was the most horrible part of everything? That you loved us both equally."
Oh, GOOD LORD. First you're gonna whine that Mommy loved Seol more, and now you're going to complain that despite equal affection, you deserved more of that love? You might want to check your math on that. Well, I suppose a girl who has no idea how to love would have a few misguided notions about the principle.
Dan tells her mother that just as she could never earn more love than Seol through her actions, Mom can't love her less because of this. GEEZ. Are you sure you're not the real princess? You sure have the complex.
Mom assures Dan that she loves her and apologizes, but urges her to stop, because this is taking things too far.
Yoon-ju is shaken from the chairman's recovery, and tells Jung-woo that the hoped-for miracle didn't occur after all. Are we really going to turn this whole wishing-for-death scenario into an argument to feel sorry for you, Evil Bot? What's with the skewed self-pity today, ladies?
Jung-woo tells her firmly that such a thing is hardly a miracle, and she wonders, "Is that so?" Yes it is, Yoon-ju, who understands not the meaning of words. It makes sense you'd pair up with Dan, who understands not the workings of math.
Before Yoon-ju is ready to give Jung-woo her answer, she has somewhere to take him. Let's just hope it's not a dark pit with a shovel.
She asks him to help her pick out an outfit, though it's not for her. She describes something for a man with broad shoulders — "Shoulders that will be feeling heavy, because of me." Something lightweight for the burdened shoulders of her father.
She orders it for delivery, because going in person will just make him thank her, and she doesn't want her father feeling indebted to anyone. Jung-woo points out the inconsistency of her logic, because if she dislikes him thanking people, how does she feel about making him apologize to people? That's what her actions will cause.
Yoon-ju says that'll never happen, declaring that her secret will be kept forever, and tells him to bring her the real sachet. Jung-woo's disappointed, having hoped for better: "You've just thrown away your last chance."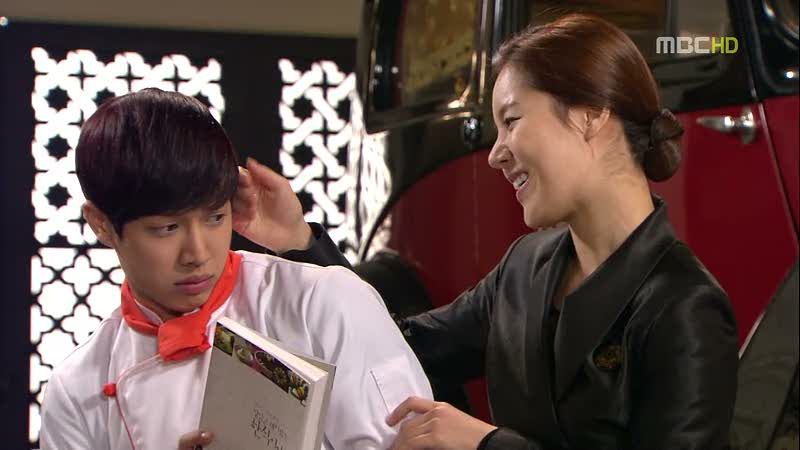 With the princess gone, Gunnie and Seol's main lady in waiting thumb through a cookbook and sigh over all of Seol's favorite dishes. The court lady has been growing increasingly flirty with him, and today she instructs Gun to meet her in the garden later for a "creative" night. Ooh la la.
Hae-young arrives at Dan's hideaway just as she's leaving, packed bag and all, and sets her straight: Don't bother going to the airport, because she's been put on the no-fly list. Oh also? Imma make you pay for everything you have coming to you.
Dan sputters, saying that she ain't scared of his threats and that she'll never regret her actions. Her indignation holds for just about three more seconds, because Hae-young informs her that her big payoff isn't coming, since her funds have been frozen. So if she has plans to live it up abroad with her boatloads of cash, she can cancel them 'cause that boat has sunk. She can forget about her earlier hopes of becoming a lawyer or a judge in Korea, too, because that's not bloody likely either. And she can say goodbye to ever seeing her mother or Seol again. Nor is she to be in contact with Yoon-ju again.
That does the trick, and Dan is visibly scared. Never, ever cross a diplomat-chaebol-rich-man-angry-boyfriend. You're just never gonna win.
Hae-young arrives at Mom's pension as Seol is feeding the dogs, like she'd done on his first visit here. She turns down his request to talk and hurries inside, leaving him to pound on the door, which remains closed.
He speaks through the door anyway, knowing that she's standing on the other side listening, and says he's going to be patient, "So let's not get discouraged." She doesn't open up, but she does sit just inside all day long. Hae-young waits outside on the porch all the while, and late that night, he speaks up again:
Hae-young: "When I consider what my father did, and the pain that caused you, I shouldn't come here. I shouldn't have come back. I know that's the only courtesy I can show you, but I'm sorry. I couldn't do that today. The fun of always finding something to nitpick and bicker with you about — I can't give that up. And I can't give up making you feel breathless and making your heart race. I was pampered as a child so I'm not that patient. I've never given anything up before. Yes, as you said, I'm a real jerk. You're right…but…what can I do about missing you?"
His voice breaks at that and he stars to tear up, as does Seol inside. He continues, "What can I do about missing you 24 hours a day? I miss you right now. I miss you to death! What should I do? Lee Seol…I love you. I said, this Mr. P loves you."
Well, that does the trick.
Seol opens the door and starts to say, "I also…" but he doesn't give her the chance.

COMMENTS
I agree with girlfriday's comments in the previous recap about not being surprised by My Princess, and it does dim the experience when things happen and you think, "Well, duh, of course that would happen." Or worse yet, you wonder, "Wait, didn't they already know that?" When the plot treads water for as long as it has been doing, you start getting confused as to what has happened, what was implied, and what you thought was implied but must have just been your own suspicions putting you ahead of the curve. At least that's my experience with this episode.
Honestly, I think I probably have more patience with the drama than most — at least that's what it seems from reading comments. I don't know what it is, My Princess is just so inoffensive and at times cute that I'm not bothered by the slowness of the plot (much). Maybe I'm getting mellow. Or maybe it's because it's got just enough satisfying couple moments, interspersed with love-to-hate villains, that I'm okay going along with it. Yoon-ju's totally screwy at this point, but at least I don't feel the need to understand her or attempt to cut her slack. She's hateful and I gleefully hate. If the drama attempts a redemption for her, I'll be disappointed, and would actually enjoy if they took her further. C'mon, you're never going to win viewers over now, so you may as well go for broke.
Plus, the drama has already exceeded my expectations in regards to the acting. I wonder what would've happened to Kim Tae-hee's and Song Seung-heon's reputations (as bad actors) had they both done a rom-com like this earlier in their careers. They've both avoided the genre, and seemed to gravitate toward roles that highlight their weaknesses — I mean, Kim Tae-hee as a badass secret agent? Ha. But rom-com is a forgiving genre if only you have some personal charm, and they've got that — plus the gorgeous faces, of course.
RELATED POSTS
Tags: featured, Kim Tae-hee, My Princess, Park Ye-jin, Ryu Soo-young, Song Seung-heon