My Princess: Episode 14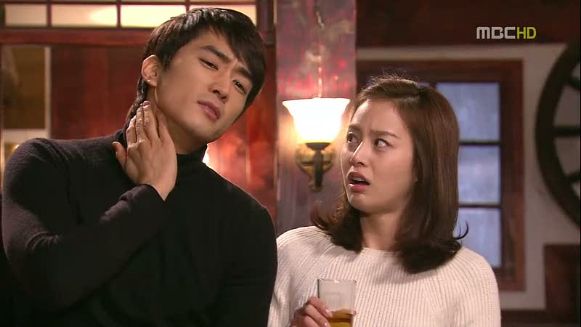 Hear Ye, Hear Ye! The Cute has returned! All hail the return of The Cute! Someone please, throw us a royal ball in The Cute's honor. It's the least you could do for dragging us through such nonsense and boredom. I mean, what's a princess gotta do for a royal party up in this house?

EPISODE 14 RECAP
Aaaand, we have contact! They kiss, and Hae-young tells her that they can't run away from each other now: "I couldn't possibly know how hard it is for you, how you're feeling right now. But that's how I can keep you by my side."
He asks if his room is empty, the Royal Grand Executive Presidential Suite, and tells her to go ahead and up-charge him for the hot water, since he'll be staying. She protests, but he says he's coming down with a cold since she made him wait outside all day in the freezing cold.
She calls him out on faking it just to stay, and he makes her feel his forehead and puts on his best poor puppy face. He insists he's really really cold, and tells her to turn up the heat…"Or if you're going to stay with me all night, a cold room's fine." Rawr.
That earns him a glare and a huffy exit from the princess. He laughs, quite pleased with himself.
Yoon-ju gets called to a meeting in the palace, and she finds herself entering quite the official board meeting…that she knew nothing about. Jung-woo tells her to sit down, and then speaks for the group, announcing their position on the fake royal doohickey incident: They believe Yoon-ju should take responsibility, as in resign.
Afterwards Yoon-ju speaks to Jung-woo alone, trembling in anger at how he "could do this to her" like he's the bad guy here. She asks if he's doing this for Seol, or the monarchy, or that goddamned history he loves so much.
He tells her that he can do more than just make her resign if he needs to, and responds that its "because of a woman that I once loved to death." Aw, sad. I don't think that girl exists anymore, buddy. He tells her that he's emptying everything she has, so that she can start over. Which would maybe be a better sentiment if she had a soul or something.
Back at the pension, Seol eats while Hae-young just stares at her. She reminds him that he was dying of hunger just a few minutes ago, but he refuses to eat, wanting desperately to get sick. Ha.
He muses that if he falls really ill, then she'll stay up all night with him, tending to his fever, and momentarily forgetting all of her pain. He tells her that he wants to get so sick that she can't help but stay by his side, despite all the reasons why they can't be together.
She tells him that Mom will be back soon, but he's got that covered—she's not returning for the night, and also, she'd be on his side anyway. "Your mom loves Park suh-bang."
Seol looks up at him and says, "I like him too. I like Park Hae-young a lot, and I missed him too." But she adds that she needs time before she can come to grips with their families' past, and come to laugh about it. Right now what she needs is someone to be mad at…and the only one around is Hae-young.
Well that's a silly argument if I've ever heard one. Either you're mad at him or you're not. Anger is not transferred from one party—his father—to the son, like inheritance or debt. This is inorganic conflict in action: Drama needs them to stay apart, so she's gonna be mad at him. He's like the anger patsy.
He tells her to be mad at him as much as she wants, so long as she doesn't push him away too far. He says to watch him be happy because of her, and be as mad as she wants, because he wants to do at least that much for her. Heh. He means it sincerely, but it reads like a challenge, 'cause how long could she possibly endure if he's going to be all lovey dovey?
They're interrupted by a man at the door—it's Hae-young's replacement at the palace, here to bring the princess back. His presence immediately spikes Hae-young's competitive streak, and after Seol refuses to return to the palace, he cuts the guy down to size. He sends a message to the President not to mess with the monarchy anymore.
Upstairs, Hae-young triumphantly tells her this is why she needs a man in the house, and reports the guy gone. Seol: "Well if that guy's gone, maybe this guy can go too." (They use the word nom which technically means "guy," but connotes something more like "ass.")
Hae-young: "What? Nom? You know, you sometimes call me nom every once in a while…" as he shuffles his feet. Hahaha. I love Wounded Pride Hae-young.
He refuses to leave, since there's more people bound to show up. Just then, the doorbell rings, and Seol's friends from school show up, invited by Hae-young. Next Gunnie and her court lady enter, followed by the bodyguard/minion who apparently switched sides from Gramps to Hae-young.
Seol lights up, jumping around like a little girl at the sight of her friends, and smiles at Hae-young when she realizes that he did all this for her. The doorbell rings again, and Hae-young wonders who it might be since this is everyone he invited…
And he walks back in with heavy steps, followed by a smiling Jung-woo. Yay! He joins the party, despite Hae-young's grumbling that he wasn't even invited.
They toast and have a good time, and Hae-young goes to the kitchen to replenish snacks, dragging Jung-woo along with him. Probably discontent to leave him alone with Seol for even a second.
In the kitchen, Hae-young watches Seol having a good time with affection, and makes a point of calling her "Our Seol," a Koreanism that really means "My Seol." Jung-woo notes it not without the trademark exasperation that accompanies all things Hae-young, but he's not here to fight over Seol, much to my sadness.
He says that they look good together and he's jealous—not so much of him, but of their situation. He then tells Hae-young about firing Yoon-ju, and asks him to help him out and go easy on her. Hae-young says he can't do that, and that he'd only cause her more pain anyway.
There's some fighting over Gunnie's attention, and Seol's friend cries out for Mr. P to bring more beer. He deflects the serving duties to Mr. N, and Jung-woo says that they should go with whoever has more money. Hae-young counters with age, and Jung-woo is finally reduced to rock-paper-scissors. Ha.
Gunnie rifles through Hae-young's cell phone and finds a video labeled "Ero-Seol," and both Hae-young and Seol jump at the mention of his nickname for her. Hae-young jumps up to pry it out of his hands, but everyone holds them back as Gunnie connects it to the tv for everyone to watch.
It's the practice video of Seol doing test runs before the press conference, and everyone squeals that he's carrying that around in his phone, while he and Seol just die of embarrassment. So cute.
Jung-woo scoffs that it's not racy at all, despite the moniker, and then muses that this might BE racy…to Hae-young. Cue a big Woooooooooo~~ from the crowd, and Hae-young pretty much admits defeat with a "but she's pretty in it, right?"
Seol wakes up the next morning to the comforting smell of Gunnie's cooking, but her face falls when Jung-woo tells her that Hae-young left early in the morning. So much for wanting to be mad at him, yeah?
But then everyone gets up and scurries to the tv in a hurry, and Seol joins them to find Hae-young giving a press conference. Oy, this show and the deus ex press conference.
Hae-young basically outs his family's backstory in relation to the monarchy—specifically how his grandfather's fortune was built on what was once the royal treasury, and how he's felt guilty about it all these years, hence Grandpa's grand gesture of giving all his wealth to the restoration.
He tells them all about how the three generations of his family have caused the monarchy strife, and adds a plea for the public to take care of the princess. It all amounts to a giant public apology, for the sins of his family.
Seol watches all of this as Jung-woo drives her back to the city, and she mutters with tears in her eyes that Hae-young must be crazy. Jung-woo says that it's probably the best that he could possibly do for her.
She finds him outside his grandfather's hospital room, bracing for impact. She looks up at him with tears brimming in her eyes, asking why he'd do such a thing. He tells her that it was the best he could think of, and he didn't tell her because she would've stopped him.
Seol: "How could you do that? I can't do anything for you. What am I supposed to do now?" How 'bout love him freely? No? Still need more dramatic tension? Okay then.
Hae-young goes in to see his grandfather, preparing for an onslaught of epic proportions. But he's startled to find Grandpa smiling back at him, countering his apology with a stamp of approval for telling the truth…which is something he couldn't ever bring himself to do.
He thanks Hae-young for letting him finally lay his burdens down, and adds an apology of his own, for being the one to cause Lee Ahn's death, and for causing such a rift with Hae-young's father. He tells him not to hate his father because of the things that Grandpa has done.
Outside, Seol waits anxiously, as Yoon-ju walks up, full of self-righteous indignation. She blames Seol for driving Hae-young to this point. She lays into her for being so selfish, adding that she's not the only one who's suffered—Hae-young may appear to have grown up with a silver spoon, but he had a lonely and difficult life.
Yoon-ju accuses her of planning all of this from the beginning, which just cracks me up. A) She's not you. B) Seol, she's sweet, but she's no mastermind. Basic reasoning is a strain on her.
Yoon-ju railroads her with a guilt trip about making Hae-young confess these things himself, and finishes off with how everything that's happened is Seol's fault. Oh, so you're the one who hatched an evil plan wherein your goal was to make Gramps fall into a coma, but it's all Seol's fault? Oh. Got it. I was confused, but I see now how it's not your fault at all.
Grandpa thanks Hae-young, and tells him that he trusts him completely. He asks him to take care of the princess, and with his burden finally lifted, he closes his eyes…and passes away.
Everyone rushes in as Hae-young cries for Grandpa to wake up, and even Yoon-ju Bot cries. Seol stands back, no doubt crippled by the guilt trip that Yoon-ju just laid on her, and cries.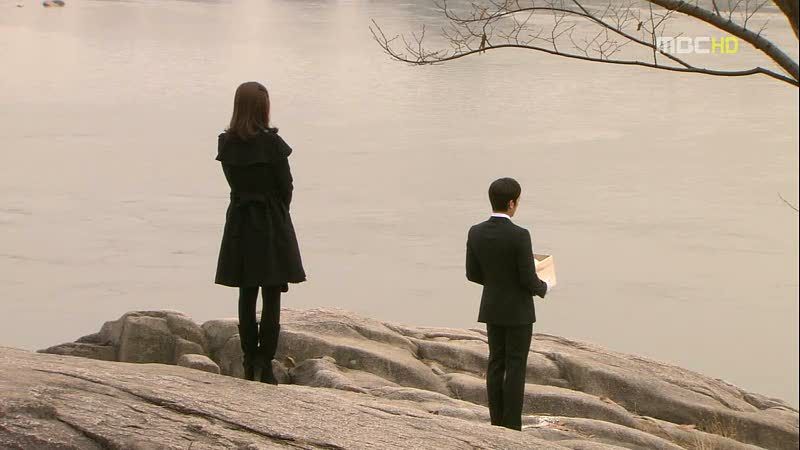 As Hae-young spreads his grandfather's ashes, he tearfully asks for forgiveness. Everyone but Seol leaves, and Yoon-ju looks back at them standing there. She makes a call to Hae-young's father, and tells him that she'll find a way to get him back in the country, and not to worry—Hae-young will be happy to see him. Are you literally scheming over Grandpa's ashes? My god, woman.
Yoon-ju goes to try and lift the ban on Hae-young's father, only to be caught red-handed by Hae-young. He tells her not to do anything, even if it's for him, and if it's for her…well then that's a delusion. Ha. Awesome.
Jung-woo comes to see Seol with an "I'm just here to see you," and laughs that her reaction isn't what it used to be. He hands over the real royal satchel, because nothing says royalty like embroidery. He tells her that he promised the chairman that he'd put it back in the real princess' hands, and asks her to return to the palace, because whether or not she's there, she's the princess.
She goes to meet Hae-young, who tells her vaguely that he's got something he has to take care of, so he'll be out of touch for a while. He presents her with a flowerpot, and says that it's supposed to grow into flowers. She asks what kind but he doesn't know. "Grow them, and I'll be back, and you can tell me what kind of flowers I gave you." She jokes that it sure is a weird present, but is touched at the sentiment.
He makes one request: that she return to the palace. No matter which way he looks at it, he thinks that's where she belongs. He starts looking into the whole inheritance matter, and his lawyer tells him that his father, the rightful heir, must relinquish his claim before Grandpa's money goes to the monarchy.
Seol ponders what to do as she puts the following comment online:
Seol: I'm growing a plant, without knowing what kind of flowers will bloom. He's given me frustration and excitement all at once. Does Mr. P know?
Gotta love a princess who spills her heart online. She goes to visit Grandpa's ashes, and apologizes for always blaming him, and never thanking him for helping her find her family. She promises not to run away anymore, and then re-enters the palace.
Her first order of business is to search out Yoon-ju. Showdown time? Aw, yeah. She finds her back at her old job in the museum, and calls her by her title for one last time…and then starts calling her by name, asserting her authority.
Seol reminds her of her words when she was leaving that palace: that when she returned, Yoon-ju would be dead. Ha. She follows through with her promise, the first of which is to fire her from this job too. Awesome.
Yoon-ju throws a hissy fit that this museum was put under her care directly by the chairman, but Seol gives her a wake up call. "That may have been the case yesterday, but today things have changed. The Hae-young Museum is now under the purview of the palace, and I choose the staff. So get out of my palace." Kick. Ass.
Yoon-ju complains to her father that the museum was her entire life and she deserves it, wah, wah, wah. Even her dad is sick of hearing her entitled rants, and tells her that she's been given a cut of the inheritance and a position at Daehan Construction. So, you're getting a new position handed to you, and you're still complaining? Gah.
Seol takes to her princess duties with zest, and starts strategizing for the best ways to spread Korean culture. Imma go with…dramas. She keeps getting no answer when she calls Hae-young, and when she asks her bodyguard, he tells her that Hae-young left the country. She flips her lid that they should've put him on the no-fly list (What is with this show and the no-fly list?) and pouts at his prolonged absence.
She begins her lessons with Hae-young's replacement, and when he presents her with her new study schedule, she decides she doesn't like it. She writes up one of her own, which includes: "History: Nam Jung-woo. Economics: Steve Jobs. English: John Park. Music: Beast, Rain. Fashion: Shinee. Horseback Riding: Bidam."
LOL. This girl cracks me up. Her teacher stares slack-jawed, and she tells him that she trusts in his capabilities, and asks him to round 'em up in a week. Hahaha.
As time passes and the flowers grow, Seol studies hard. In voiceover we hear the texts that she sends him, asking why he's taking so long. "What are you taking care of? Are you cleaning up after all the women in your life? Are there that many? Don't just take care of one a day. Go breakfast, lunch, and dinner." Heh.
Another one: "Today I'm wearing a really short skirt! If you don't hurry back, I'm gonna wear a low-cut dress!" And: "Did you find somebody else? Is it a foreign princess? Is she prettier than me? But isn't it possible that I'm prettier?!"
She finally sends a text insisting that she's going to be cool about it, but then follows up with a request that he just reply ONCE, with a period, just so that she knows he's there. She gets impatient, but then one day he replies, with just one period.
She leaps up for joy, jumping up and down with so much excitement that she slips off the fountain…
And who's there to catch her, but her knight in shining designer suit?

COMMENTS
A much better episode, back to a lot of the lightness that made this show so breezy and fun in the beginning. I certainly hope we stay in this tone for the final stretch, as the monarchy conflict is so overly simplistic, for the drama that they're trying to milk out of it. What's nice is that this episode's drama came from a much more grounded place—losing Grandpa, stepping in to fulfill his dreams, taking responsibility for one's position, be it Princess or Grandson and Heir.
Thankfully, his death serves to wash the slate clean, so that Seol can't hide her feelings behind her anger anymore, flimsy reasoning that it was. It's nice to see our couple being openly expressive and caring, even if they have to spend time apart.
When I think about all that plot spinning that went on over that goddamned royally embroidered pain in my ass, when it was just going to be returned to her like, "Oops, no biggie!" it makes me shake my fists of fury.
But this episode brought a much-needed touch of humor, warmth, and cuteness that brought a big smile to my face. That, and…I love me some Tough Princess, kickin' ass and takin' names.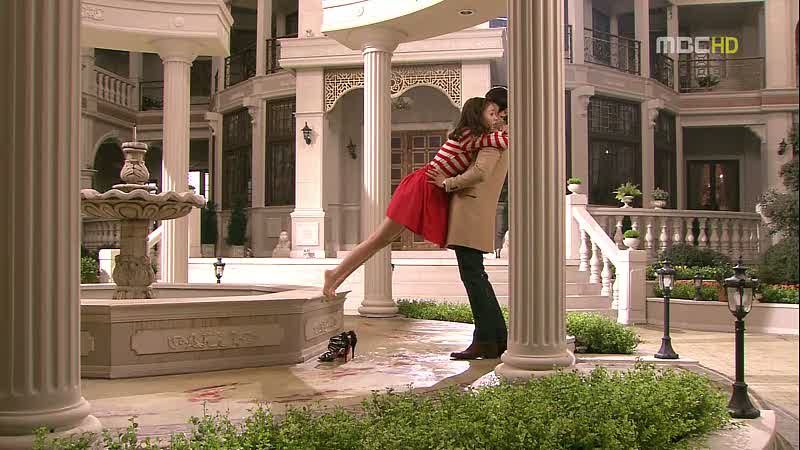 RELATED POSTS
Tags: featured, Kim Tae-hee, My Princess, Park Ye-jin, Ryu Soo-young, Song Seung-heon