My Princess: Episode 9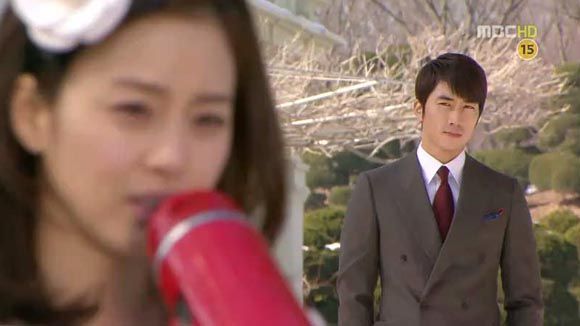 I'm still fully onboard My Princess, although people are starting to jump ship, as evidenced by this week's drop in the ratings (it conceded the lead to Sign and only recorded a 12.1%, down from its high of more than 20%).
I can sort of understand why, given that there's not as much comedy as there was in the first few episodes, as always happens in rom-coms around this point. If the romance were stagnant on top of that, I'd probably be growing bored, too, but I like the way the relationships keep shifting, never quite the same in one episode as they were in the one previous. For that alone, I'm happy.
SONG OF THE DAY
Every Single Day – "노을" (Sunset) from the My Princess OST. My favorite song from the soundtrack. [ Download ]
Audio clip: Adobe Flash Player (version 9 or above) is required to play this audio clip. Download the latest version here. You also need to have JavaScript enabled in your browser.

EPISODE 9 RECAP
While Hae-young agrees to marry Yoon-ju — insisting it's his will, not anyone else's — Yoon-ju surprises everyone by saying she won't. Grandpa sits down the errant couple to find out what the matter is, and Yoon-ju explains that she and her father have never disobeyed the chairman's wishes — but in marriage, she, like all women, wanted to be proposed to rather than ordered.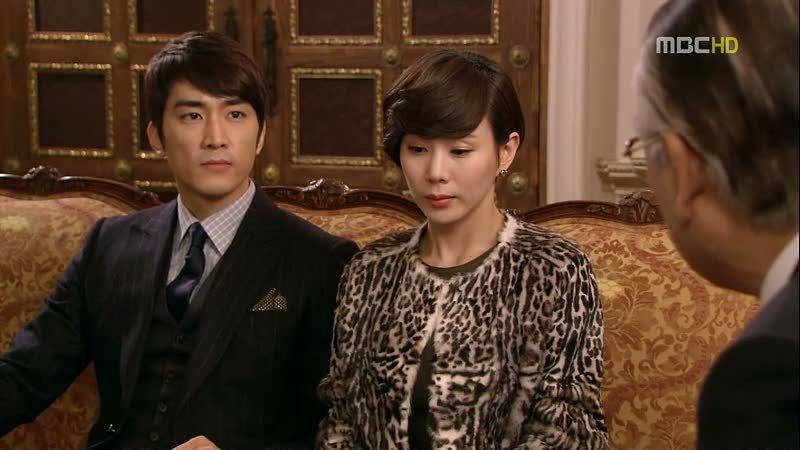 Grandpa backs down enough to see that she has a point. Or she would, if she weren't such a big fat LIAR. There's no way in hell that someone as ruthlessly ambitious would reject a marriage out of pique.
Once they're alone, Hae-young asks Yoon-ju about her response, and she asks the same of him — when did he change his mind? He answers that the situation dictated that he say yes, which she assumes has something to do with Seol. He corrects her: It was because he knew that the one she loved was sitting right there, and he didn't want to embarrass her by rejecting her in front of everyone.
Yoon-ju hadn't realized he'd known about her relationship with Jung-woo all this while, and Hae-young explains that he understood how she felt, bound to each other by duty. But after feeling something for Seol, he realized that he was wronging Yoon-ju.
He apologizes for that now, and Yoon-ju is incredulous. She's the one who was dating behind his back, but he apologizes to her? It must be a foreign concept to somebody who couldn't muster an apology or a sincere word without a gun to the head.
Hae-young adds that he doesn't resent her for it: "But you can't come back to me now, Yoon-ju. This isn't because you have another man, or that you don't love me, or even because you want Daehan Group. That means nothing to me now. The reason you can't return to me is purely because… I'm going to protect her now."
Eeeee!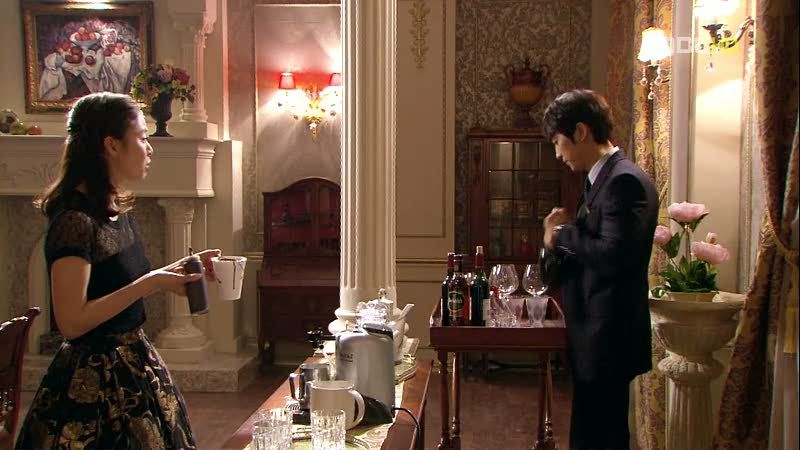 Seol makes her milk nightcap (topped with a chocolate-sauce sad face tonight) as she thinks back to the kiss. Angrily, she vows to forget that kiss, all right — not because HE said to, but because she wants to! Take that, stupid chocolate crying face! And her milk turns into a puddle of choco goo.
…which is, of course, when Hae-young joins her at the make-your-own-nightcap bar, which is, by the way, perhaps the best idea EVER. Startled, she asks if he heard her, and when he wearily asks what she means, she replies, "Me saying, You jerk— oops." Heh.
He's too tired to have it out with her, so Seol grumbles, "Are you that angry that she won't marry you? Jerk." He looks at her at that, and she asks, "Did you hear that too? Sorry, I'll say it internally from now on." Then she says to herself, deliberately loudly, that he must be sooo humiliated to be dumped like that publicly and driven to drink. She's too cute.
He wonders, "Why, in this large palace, are you everywhere I turn?" She replies that it's because they're feeling the same, since "I was dumped today too, non-publicly." He looks at her intently as he registers the meaning — that she was rejected by him — and says seriously, "You weren't dumped." (Awwww! If only she'd connect the dots…) She doesn't understand his almost-confession, but he leaves it at that.
The next order of business, Hae-young decrees, is for Seol to make public her personal assets, in the name of transparency and such. Also, people have to know who she is in order to vote for the restoration.
Seol asks for some time to take care of her affairs, heading to the bank to withdraw the whole of her personal account. It's not much — about $150 — but she turns it over to the state, since it'll look intriguing to the capitalistic public that she gave up her "entire wealth" to the nation. Heh. I love that Seol isn't a goody-two-shoes about things like this; she's not unethical, but has a certain media savvy.
On their way out, Seol crosses paths with an old friend, Hyun-woo oppa (Joo Sang-wook, in a cameo), and greets him brightly. She moves to give him a hug, but Hae-young drags her back and chides her for her familiarity with a stranger. I love that he again waits expectantly for her to introduce him as the Very Important Person that he is, only to be dismissed as a mere bodyguard.
So Hae-young corrects her and calls himself "the person responsible for her, in a lot of ways" — which, of course, sounds just a little bit odd and rather possessive.
Back at the palace, Hae-young sits her down with a piece of paper and tells her to tidy up her past as well, meaning old boyfriends. She explains that Hyun-woo oppa is just a "warm childhood memory" to her, but Hae-young persists — when did she have her first love? When was her last kiss? I love it — Hae-young is at his best when he's being insecure and motivated by jealousy, though he covers it up with the flimsy excuse about needing to know her history. Yeahhhh, right. For good of king and country?
She muses that it's been three years since her last kiss, but he tells her to think again, prodding for mention of that night. You know, that one. Seol takes issue with his third degree and turns the questions around on him, but he pronounces himself completely aboveboard and forthright… well, except for one particular night.
Seol finally catches his drift, but it's then that they're called away for a meeting about the upcoming (urg!) press conference. (It's a fanciful world indeed when you can be ruined, and then rebuilt, with the power of one maaaagical press conference.)
Yoon-ju smirks to read Seol's prepared statement (as do the other court ladies, who find her flowery metaphors amusing), but Hae-young calmly declares it suitable, with some editing.
Seol hears that Dan has come to visit and perks up immediately, dashing out to meet her sister. She's hopeful that this is a sign of peace and hugs her warmly, but Dan is really just here to scream at her for selling out her family to become princess.
Unable to contain with her anger, Dan shrieks at Seol while flinging clothes from the closet and raises a hand to hit Seol.
Hae-young steps forward to block her arm and comments caustically that this is what it must be like having siblings, and that Dan is welcome to come back anytime and ruin more clothes. Seol accuses Hae-young of wanting this result anyway — hence his press conference machinations — to which he agrees. "But I can't watch any more of it."
He follows Dan out to warn her not to come by again, and to stay away from Mom's inn as well, for that matter. Reason being that he's headed there next, to explain to Mom that Seol had nothing to do with the announcement of her adopted father's crime, and that it was all his doing.
Just as he's asking Mom to keep her distance from Seol from the moment (since that'll only weaken her), a banging on the door interrupts. It's Seol, here to try to talk to her mother again, determined to come by until she's ready to see her. She promises not to cry anymore, though, noting that someone (Evil Bitch Sister) takes offense to it.
Though she gets no response, Seol settles down for a conversational chat with Mom as the two inside look stricken, not knowing how to react. Seol confides that oddly enough, among the people at the palace "who enjoy watching me struggle," she has developed feelings for one of them. Omo omo! First an almost-confession from him, and now her? Episode, you're making me happy.
She goes on to say that he sure confuses her a lot, always bickering with her and even ditching her, "But then suddenly… he's as tender as Dad."
Seol adds that her heart races whenever she's around him… but he's marrying another woman. And yet, she can't stop liking him, either.
Inside the house, Hae-young looks grim to hear her repeat all the wrongs he'd committed against her, and Mom looks at him in shock, guessing he's the one. Mom rises, wanting to open the door, but Hae-young holds her back.
On the drive back to the palace, Seol's driver notices that Hae-young's car is following behind, and that it had been parked at Mom's place earlier. Seol's eyes widen at the idea that he might have heard her embarrassing confession, and she orders the car to drop her off at the side of the road so she can ride with Hae-young… who just zooms right by her.
Shocked that he'd just ditch her ("Don't you watch movies?!") she flags down a truck and begs the man to follow Hae-young's car, and he does so more out of amusement that she might be crazy than because he believes she really is the princess. Eager to latch onto any reason to get him to drive faster, Seol agrees that she is indeed a nutjob and holds up a finger gun, threatening to "shoot" him if he doesn't comply.
She then turns on the truck's loudspeaker and orders Hae-young to pull over — speaking in her Mishil voice, of course — and adding for good measure that "Whatever you heard at the pension was a mistake!"
When he stops to collect her, Seol hastens to assure him that whatever he heard was misunderstood, and that he's not the guy she was talking about, she really meant some dude, Mr. P! Hae-young (who, by the way, happens to be a Mr. P) smiles, knowing she's doing a horrible job of covering up for her slip.
Press conference day. While Seol prepares to make her statement, she gets a flower delivery from her mother. On the petals of three roses, Mom has written words of affirmation: "Princess before flowers," "Lee Seol before flowers," and "My daughter before flowers." It's a way of saying that Seol is more than, beyond, and better than the most beautiful flowers, using a common saying (which was around before Boys Before Flowers but may be a reference to that drama, given Mom's connection).
Seol makes her way to the press conference — but her nerves take a hit the moment she registers that in contrast to the last time, this event is practically empty. Only three reporters sit at the tables.
Yoon-ju feigns concern and tells the chairman that something must have gone wrong (was its name Yoon-ju?), though she looks rather pleased with herself.
Despite this disappointment, Seol gathers her courage and takes her place, greeting the room warmly as she begins her statement.
Hae-young receives word that there's a situation at the parking lot — reporters without a press badge have been barred from entry. He immediately guesses that this is Yoon-ju's doing, and dashes off a note to be delivered to Seol.
Seol reads the note while mid-speech, startled at the message: "How about having the press conference in the parking lot, Princess?" (A pretty shrewd move, seeing as how she was so effective at delivering her impromptu speech to the staff in the last episode.)
Seol thinks so too — smiling to herself, she finishes the sentence she is reading and adds, "I will continue the rest of this address in the parking lot." Without giving anyone time to register her words, Seol dashes outside — pulling off her heels for better speed — and runs in her stocking feet.
At the edge of the parking lot, she finds the crowd of reporters being held back from entry, who eagerly fire a barrage of questions at her. Thinking quickly, she grabs a chair and climbs on top of it, then grabs a bullhorn from a parking attendant when the reporters complain that they can't hear her.
Arriving in the background, Hae-young smiles at her moxie — as do the reporters, who appreciate that she is moving the press conference here — while Yoon-ju looks grim. Well, grimmer. (Seriously, what gives, Sourpuss lady?)
Seol admits that she left behind her speech in her haste, so she will merely speak her mind — which is, really, what she does best anyway. She apologizes for not being the princess that people deserve, and says that her speech contained a line about resuming the succession and being a pivotal moment in Korea's history. She'd like that as well, but she's not sure how to do that, and asks them all to tell her what she should do, and what they want to do. She may not be the smartest, but her aides in the palace are incredibly smart, and they'll think of answers together.
The reporters ask how, exactly, they are to let her know, so she directs them to a website and invites them to write in suggestions that she promises to read.
The reporters are so charmed that they cheer for her as she wraps up, making everyone — minus the soulless Yoon-ju, who therefore doesn't really qualify as a person — proud. Particularly Hae-young and Jung-woo.
Afterward, Seol asks her assistants who wrote the memo, guessing that it's Hae-young. His aide swears that it wasn't, so she prods, "Did he perhaps tell you not to tell me?" The aide blurts, "Not perhaps, he said to absolutely not tell—" Oops.
Sitting down at the fountain to rest her feet, Seol sees that her soles are dirty, not to mention scraped from the asphalt. At Hae-young's sudden appearance, she straightens hurriedly and tucks her feet away. Hae-young grabs for her feet anyway, wanting to assess her injury, which makes her panic. Instead, she jumps into the fountain — haha — and pretends that the coolness is just what her feet need.
Hae-young offers her a reward for her successful day, and picks her right up from out of the fountain, complaining teasingly about her weight. And do I feel sorry that Yoon-ju sees this from the shadows? Ha! I only doubt that it stirs any emotions in her, seeing as how I'm sure they all shriveled up and died years ago.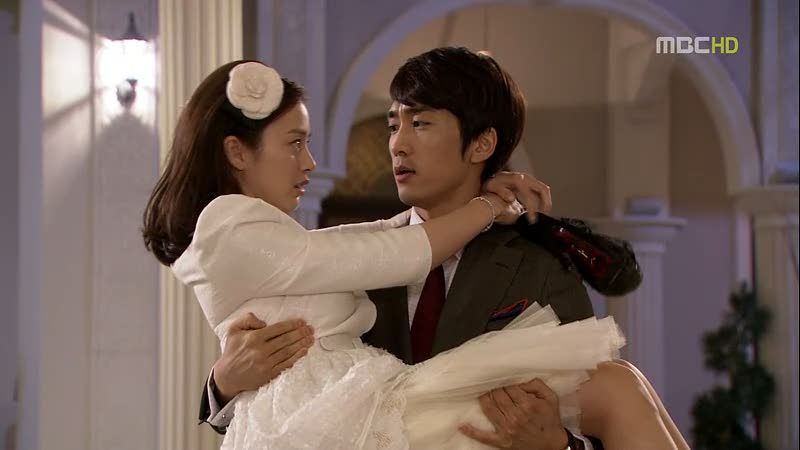 As a result of Seol's impromptu press conference, her public stock is rising, and fast — the terms red megaphone, barefoot princess, and parking lot press conference are all buzzwords (and search terms) of the day. In addition, both her online fan cafes and anti-fan cafes are growing by the minute. Not to worry, though — Seol's awesome lady in waiting is on the job and has sussed out the anti's. No way they're getting away with causing any trouble on her watch.
Alas, the news isn't so good for Gun, who fears that his bright light has turned into a faraway star. Sob.
Mr. President isn't loving the fact that the princess is growing increasingly popular on Hae-young's watch, as he was supposed to be working against the monarchy restoration. Hae-young apologizes, but the president just waves that aside, saying ominously that they'll have to turn a disadvantageous situation into an opportunity. Since the princess is so good with speaking to the public, he's thinking to make her the speaker for the Blue House. Hm, keep your friends close and your enemies closer…
The next day, Hae-young finds Seol in the antique car again, cackling to herself over her newfound popularity in another Mishil-inspired moment. He's here to inform her that he's heading out today, and she blusters about not caring one way or the other. It's sorta cute how confident he is in her feelings now that he's heard her confession, and he says he's just letting her know, so she won't wander around looking for him.
She tries to set specific times for them to use this car with the explanation that they should avoid each other when possible — a suggestion he flatly declines. When she insists she'll be using the car from 9 to 10, for instance, he wonders, "Are you telling me so I'll come find you?" Hee.
Hae-young's errand takes him to Seol's father's grave, where he stands with head bowed and says nothing other than "I'm sorry." Um, I'm not sure I like the sound of that, since he can only be sorry if he's going to be hurting Seol… Gah! How 'bout you just not do the thing that'll make you have to be sorry? What do you mean, it doesn't work like that? That's exactly how it should work!
Annnnyway, Seol has traced back her memories of the empress's pouch and thinks the orphanage is a good place to start. She and Jung-woo head over together, not realizing they're one step behind Yoon-ju, who has already gotten there to ask the nun about it.
The nun remembers Seol fondly, and recalls how the adoptive parents insisted on Seol despite the orphanage recommending another girl the same age — Go Eun-byul (the name Seol initially called herself when first meeting Yoon-ju). At the time, Seol had recalled nothing of her past, and when she was adopted together with Eun-byul, the latter's name was changed to Dan.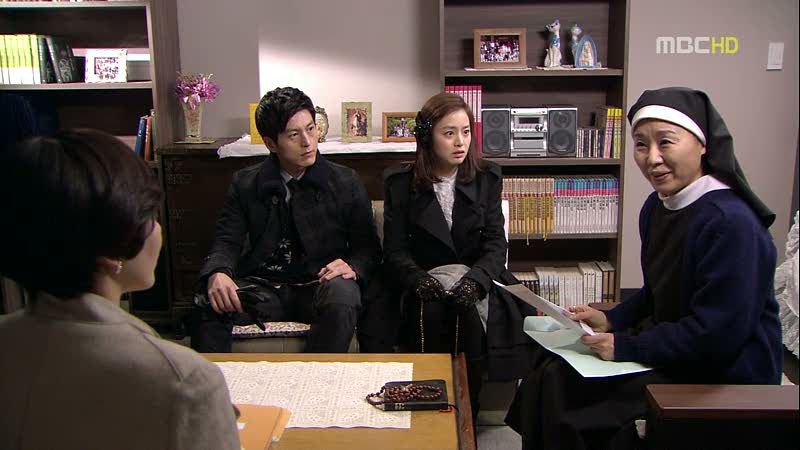 Seol and Jung-woo interrupt this meeting, surprised to see Yoon-ju here, and the latter sits tensely while Seol asks about the pouch. She wanted to scoop it from under their noses, so there's no way she's happy to have the others interfere.
But the nun's answer shocks everyone, because she recalls quite clearly that the pouch actually belonged to Dan, not Seol. At that, Yoon-ju's hard look turns into one of satisfaction — it suggests that Seol may not be the princess after all.
Seol distinctly remembers the pouch, but the nun confirms that the girls cried over it a lot, with Dan bragging that her mother had given it to her. The nun wonders if Seol's memory has altered the truth.
As they leave, Jung-woo says assuringly that there may be a simple explanation — that perhaps Dan remembered wrong, or lied. Well, I'm glad they're leaving that option on the table right from the start, since it drives me nutty when characters overlook that very distinct possibility and run around on narrative wild goose chases on the basis of a simple lie.
Yoon-ju proposes stopping for tea with Seol on the way home, who cheerily accepts and upgrades that to liquor.
There's a lengthy bit of soju-pouring and -drinking that could be a case study in Korean drinking habits: pouring for each other no matter how much you hate each other, and having a superstitious belief that drinking out of turn means that the other person will be unlucky in love for three years. (Yoon-ju takes two shots and smirks, "That's six years.")
Both ladies toss 'em back freely, though Yoon-ju's got a leveler head with the drinking, until finally, Seol gets to the point: Which man does Yoon-ju like better, Jung-woo or Mr. P — er, Hae-young?
Seol says that she knows Jung-woo was Yoon-ju's first love, only to be corrected — her first love was Hae-young. Yoon-ju answers, "I liked both. But the person I want to see more right now is Professor Nam." Asked why, she answers — in typical Yoon-ju fashion, by which I mean in the way most designed to get us to hate her (even more) — "Because I received more love from him."
Seol says frankly, "You're quite selfish." Yoon-ju says simply, "I know."
But Seol still wants to know the answer to her question and repeats it. Yoon-ju beckons her closer, and asks, "Why? So that if I answer, you can like Park Hae-young freely? That won't happen — because I won't let either man go."
Holding up her cell phone, Yoon-ju offers to prove it.
In the palace, Jung-woo worries about Seol's absence, since he expected her back hours ago. Hae-young asks where she went, to which Jung-woo replies pointedly, "She's with the woman you're marrying."
Just then, both men get the same text message from Yoon-ju, asking them to come pick her up because she can't drive. Hae-young suggests going together, "Because there'll be someone there worrying over whether I'll go."
He's right on that score: Both ladies wait outside for their designated driver, one expectantly and the other one worriedly. Seol says that the men aren't coming, while Yoon-ju asserts confidently that they will.
Yoon-ju asks if Seol would like Hae-young not to come, and Seol answers, "Yes. I hope he doesn't come." Alas, Yoon-ju's smile broadens just then, because off in the distance is Hae-young, with Jung-woo right behind him.
While Seol looks on, Yoon-ju runs and throws her arms around Hae-young.

COMMENTS
I'm pretty sure this scene isn't going to end the way it appears, so I'm looking forward to a Yoon-ju smackdown come tomorrow. (It had better come. After all, who claims one guy as her preference, and then claims the other one just to keep him away from her rival? Agh, whatever, Yoon-ju sucks.)
I guess I'll go against the grain by saying that I was perfectly satisfied with last week's Episode 8, which it seems is not an opinion shared by all. I do think the episodes are settling down, and perhaps they're not as cracktastically addictive as they were in the beginning, when the episodes were chock-full of cute, from end to end. And I'm not saying I don't miss that, 'cause this show is built on cute.
But given that we must have angst in some form — so saith K-Drama Law — at least we have new developments in the characters' relationships coming at a constant flow. Cute with no movement can be enjoyable (I dug the romance in Pasta, which was so crackling with chemistry despite a lack of actual plot), but with constant growth, it's ever so much better.
I've read enough comments finding fault with the chemistry and romance that I guess this may fall under the category of personal taste (the concept, not the drama), because I'm actually pretty invested in Seol and Hae-young. Her side is pretty straightforward — she likes him but thinks he's taken — but I really love the way he's conflicted about his feelings. For him, it's not a mere case of thinking he shouldn't like her, but a test of his personal beliefs, his ideology and political stance warring with his emotions and attraction. And the fact that he is obviously torn makes me feel sorry for him even when he's intending to do something that'll hurt her (as I suspect the trip to the grave foreshadows), even though internally he has decided to let his feelings for her stand.
Okay, and also: They're really (really, really) pretty.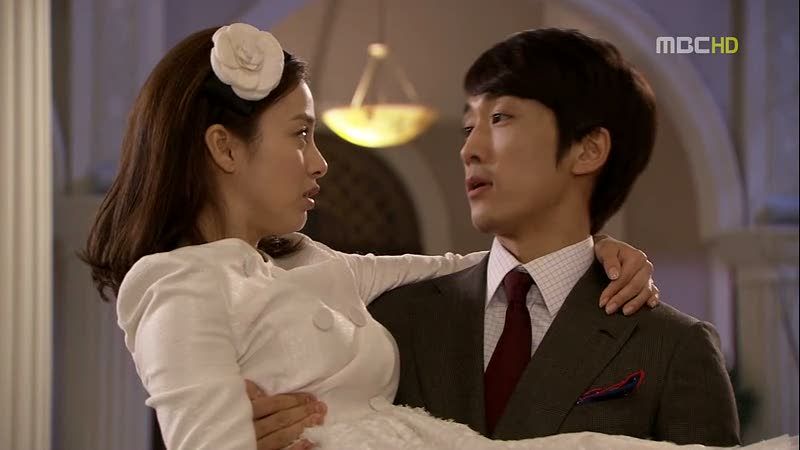 RELATED POSTS
Tags: featured, Kim Tae-hee, My Princess, Park Ye-jin, Ryu Soo-young, Song Seung-heon