Will Pil-sook's doll be the next Pig-Rabbit?
Well, I'm going to guess it won't quite reach Pig-Rabbit levels of fandom (or the Sam-soon doll), but there HAS been a bit of interest in the stuffed doll carried around by Pil-sook (IU) in the popular teen drama Dream High.
The doll hasn't been explicitly mentioned but it's been a prominent part of Pil-sook's wardrobe, as she carries it around with her everywhere like a mini security blanket. Apparently it's meant to resemble Jason (Woo-young) and has been called the "Jason doll," but I must be really dense because I've never picked up on that connection, although in retrospect it does make sense. (Particularly since I haven't seen her with it in the latest episode, after she loses weight and drops her crush on him.)
Turns out it's really called a Blabla doll, hand-knitted by Peruvian craftsmen, made of natural fibers, and eco-friendly. They're pretty pricey specimens (approximately $50 a pop), but I can respect their commitment to fair trade. The brand expanded their reach to the Asia Pacific in 2010 and plans to launch officially in Tokyo in February.
Pil-sook's is the Otto doll, which you can see on Blabla's Korean website, http://www.blablaap.co.kr. It may not spur the fervor of other drama paraphernalia (Boys Before Flowers' star-moon necklace, You're Beautiful's hairclip or Pig-Rabbit, or the spiffy cell phones featured in every drama ever), but I admit I wondered at the doll and had a vague inclination that it might spark interest. But who knows, maybe Pil-sook won't need it anymore now that she's empowered and self-confident, which is a story turn I love, just 'cause I could stand to see Jason suffer a little. He's a nice guy, but just so assured and privileged that he could benefit from a little character-building. Heh.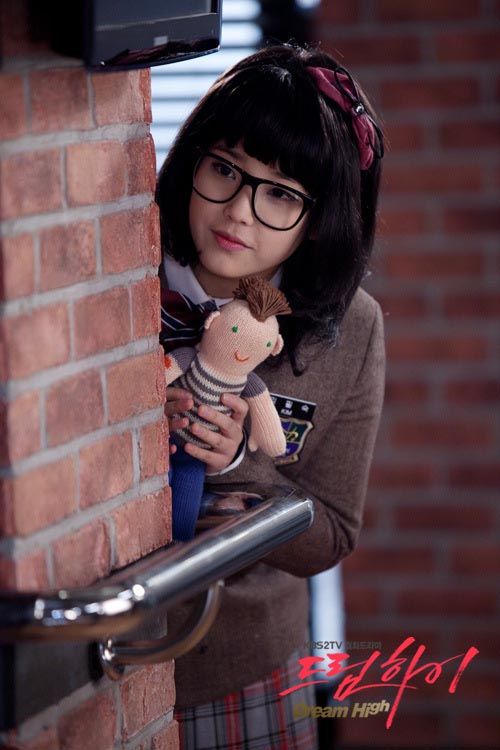 Via Khan.co.kr
RELATED POSTS
Tags: Dream High