Couple stills from Do You Hear My Heart?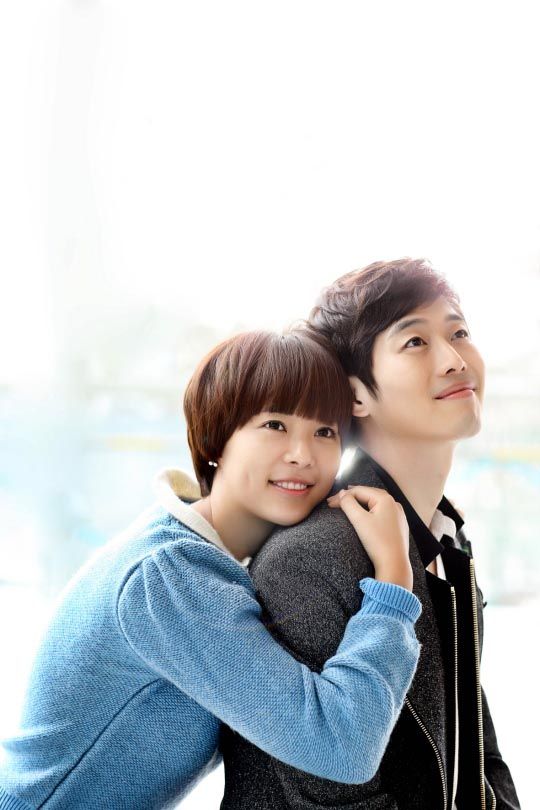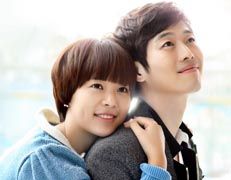 After giving us a peek at the poster shoot for Do You Hear My Heart?, the new MBC weekend drama, we have couple stills for the lead pair, played by Hwang Jung-eum and Kim Jae-won, the latter of whom is in his first role back from military service.
Let's start with the obvious: Yes, that is a horrible haircut on Hwang Jung-eum, who is generally a very attractive woman who must have been saddled with that mushroom cap to make her character somehow more approachable, like that mythical girl-next-door. (Though, really? My neighbors have fabulous hair.) The bowl cut was unfortunate on Lee Young-ah in Baker King, and it's just as unfortunate here. Except, it may even be worse for Hwang, because it also makes her look…oddly…like Kim Jae-won's twin. Not his lover-to-be. And no, we're not in one of THOSE dramas!
The two characters have interesting descriptions: He's deaf but pretends he's not, while she's bright but pretends she's dumb. (It's for the sake of her father, who's mentally handicapped and played by Jung Bo-seok.)
Namgoong Min (Birth of the Rich), on the other hand, plays a guy who ditches his poor, burdensome father and sister to pursue his own life. And that right there? Is why he will not get the girl.
Lee Kyu-han (Smile You, Que Sera Sera) is the immature, unemployed neighborhood friend to Hwang Jung-eum, but becomes her enemy when he's the reason for losing the hard-earned cash her father has painstakingly saved. He'd never thought of her in a romantic sense until she rails at him in tears, and he has the wayward thought, "I want to take care of this woman." Ha! And aw. It's both aggravating and endearing.
I can see this drama tugging the heartstrings, but also buffering the teary moments with plenty of humor, as it comes from the writer of both Smile, You and Last Scandal of My Life. I may even commit to a 30-episode run if it turns out good… just as long as no extensions are involved! (I think Smile, You would've been much better had it stayed at 30.) Do You Hear My Heart? premieres April 2.
Via BNT News
RELATED POSTS
Tags: Hwang Jung-eum, Kim Jae-won, Namgoong Min