Han Hyo-joo's first solo fanmeeting
On-the-rise actress Han Hyo-joo held her very first solo fanmeeting over the weekend, which took place in Seoul and was called "2 Hours 22 Minutes with Han Hyo-joo." As is the case with most of these dealios, the fanmeeting was meant to double as birthday party, though a late one: Han turned 24 (by Western reckoning) on February 22 — hence the event's 2:22 motif — while the meeting was held on March 26.
The Dong Yi star acted as her own MC and DJ, manning the radio booth to play music for her attendees, who made up a relatively small crowd of 250. Han's was sent congratulatory messages by some of her previous co-stars, which included Brilliant Legacy's Lee Seung-gi, Bae Soo-bin, and Moon Chae-won, as well as Dong Yi's Ji Jin-hee, Lee So-yeon, and Park Ha-sun. One co-star who made it out in person as a special guest was Lee Kwang-soo, who acted with her in Dong Yi (and will soon be seen in City Hunter).
Next up for Han: A romance-melo movie with So Ji-sub, Only You, in which she plays a woman slowly going blind.
(True to the industry's love of tackling topics in multiples, she'll likely be pitted against Kim Haneul as to who plays the better blind character, since Kim's got a movie coming up as well. Hers is titled Blind, so she gets obvious points for the name. Kim also gets to play noona to Yoo Seung-ho, so I'm giving her the edge. Not that So Ji-sub isn't a fine co-star… I'm just tired of him always playing the tragic, broody, angsty dude. Can't the guy just smile and be happy, ever?)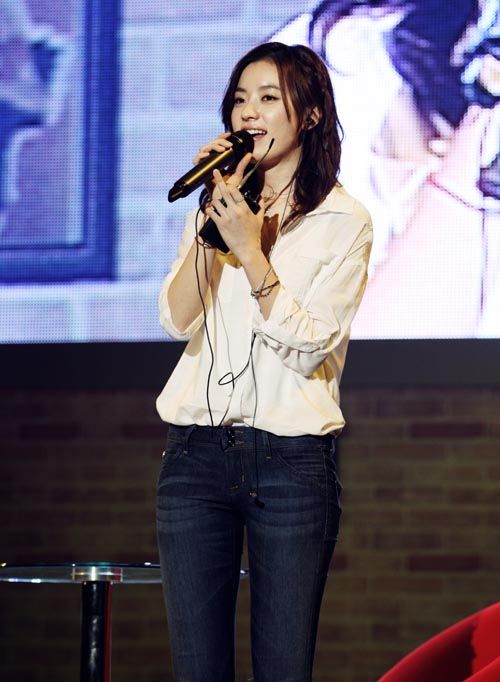 Via Chosun
RELATED POSTS
Tags: fanmeetings, Han Hyo-joo