Hyun Bin enters marines, splits with Song Hye-gyo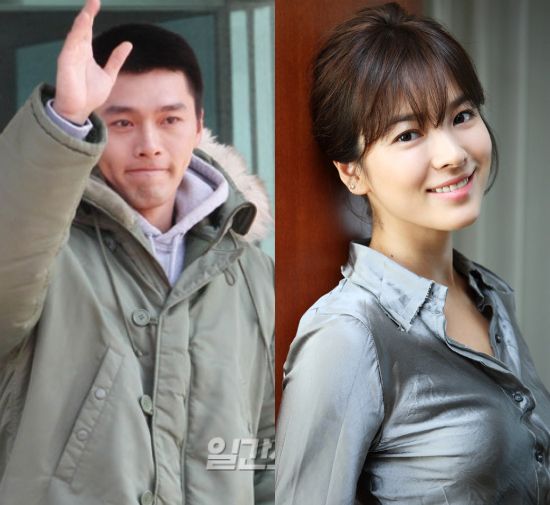 Well, I can't say I'm surprised. Hyun Bin (Secret Garden) entered the marines yesterday-today (That's what I call Korea's yesterday, which is our today. Don't get me started on the tomorrow-today, which is ass backwards and not unlike time travel), to begin his two-year mandatory military service. He was sent off with lots of fans and the accompanying media frenzy, and shed tears of gratitude as he said goodbye and entered the base. And then about eight hours later, news broke that he had split with girlfriend Song Hye-gyo (Full House, The World They Live In).
The two stars met on the 2008 drama The World They Live In, and have been dating for roughly two years. Speculation about their breakup has been circling the media for almost a year, since both of them have spent the better part of 2010 completely entrenched in a myriad of projects, many of which were filmed overseas (Hyun Bin's Late Autumn in Seattle, Song Hye-gyo's The Grandmasters in China). But they've stayed quiet about the relationship for some time, and it was announced that Song Hye-gyo would not be accompanying Hyun Bin to the marine base.
It turns out that they purposely waited until after he entered the army to make the announcement public, so as to keep the public's focus on their respective projects rather than their relationship. Personally, I think it's a smart move. They've been dodging breakup speculation for a while, and if this news had broken even one day earlier, Hyun Bin's entire army sendoff would've been about this, and not a tearful-but-happy goodbye.
Statements released indicate a mutual breakup due to busy conflicting schedules, and outside stress and pressure concerning their relationship status. Yeah, I'm gonna go ahead and say that it's not unwarranted. But hey, you're Hyun Bin and Song Hye-gyo. Whadduya gonna do?
This doesn't come as a shocker since everything about their diverging careers screamed we are broken up, and mostly what I'm taking away from all this is that Hyun Bin has got some seriously savvy management. He's basically done every single thing right, just before his army duty. Hit drama? Check. Massive CF lineup? Check. Big sendoff? Check. Amicable split with girlfriend announced the day after so that every woman turns into a puddle of goo imagining how lonely and heartbroken he is, entering the army? Check.
We'll miss ya, Binnie. See you in two.
Via Osen
RELATED POSTS
Tags: army duty, Hyun Bin, Song Hye-gyo