Jung Il-woo in bed and in the bath
Mmmmm.
One great byproduct of Jung Il-woo being in a new drama (49 Days) is that we're sure to get lots more photo shoots and other random acts of eye candy while he's in the public eye again. Even if he does look a little silly posing with an unlit cigarette… Isn't the implied cool factor of holding a cigarette negated by the fact that he's pretending it's lit?
So while the photo concept is kinda…er?…I guess I'm saying I don't care. He's by far my favorite character in 49 Days, as the grumpy Scheduler who likes to rock out, rides a motorcycle, and eyes the ditzy half-dead-girl with incredulity and aggravation. He's pretty, and uptight, and SO about to get his afterlife turned upside-down by his wayward charge. I CAN'T WAIT.
Jung's spread can be found in the April issue of Cosmopolitan.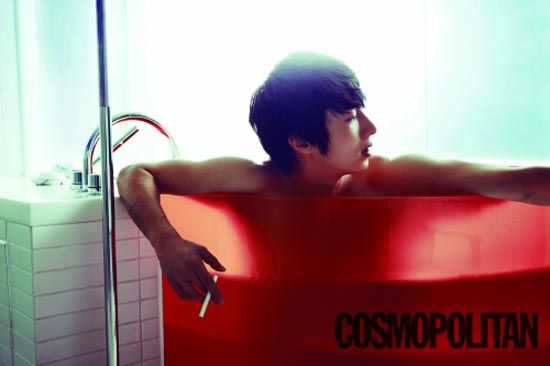 Via My Daily
RELATED POSTS
Tags: Jung Il-woo