Kim Soo-hyun joins Thieves
Niiice. What a surprising turn for upcoming heist movie Thieves to round out its cast with some young blood. I was already in, but now I'm chomping at the bit for this motley crew to get their thievin' on. Kim Soo-hyun, fresh off his star-making turn as country-bumpkin-turned-popstar Song Sam-dong on Dream High, has joined the cast of what's shaping up to be my new favorite movie, if all goes according to plan.
It's a huge step up for the young but oh-so-talented Kim Soo-hyun, as he joins the ranks with A-listers Lee Jung-jae and Jeon Ji-hyun, who are headlining the "Korean Ocean's Eleven." Though his relative role might not be as substantial, I have no doubt he'll be stealing scenes left and right.
A team of five thieves from Korea will join up with four thieves based in Macau, to steal "The Sun's Tear" diamond out of a Macau casino. Lee Jung-jae plays Popeye (love it!), the boss of the Korean team, and a specialist in wiring. I'm thinking that means explosives, yeah? Kim Soo-hyun will be playing Zampano, his protege, and the youngest on his team. Aw, I smell bromance, ahoy! Seriously, if it's anything close to the Clooney-Damon protege-bromance of Ocean's Eleven, I will DIE.
Jeon Ji-hyun plays Anycall, a tightrope specialist. Probably another way to describe the 'grease man,' meaning she can get into and out of…anywhere. She's apparently also got quite the sailor's tongue, along with a penchant for stealing sparkly things. Kim Hye-soo (Home Sweet Home, Tazza, below top right) plays Pepsi, a legendary safecracker, who's never once touched a safe she couldn't crack. How much do I love that there are some badass sexy women on this team?
Kim Yoon-seok (The Chaser, Jeon Woo-chi, below top left) plays Macau Park, who specializes in blueprints; he'll be bringing all the thieves together for the big heist. Oh Dal-soo (The Fixer, Bang-ja Chronicle, bottom right) and Kim Hae-sook (Life Is Beautiful, Thirst, bottom left) will round out the cast, though their call signs/criminal identities have yet to be announced. I love the idea of seeing Kim Hae-sook, who has played everybody's loving caring mom, become a cold calculating thief. Can she please live a double life, like she bakes muffins at home for her family, and then when she goes to work, she's got tattoos and a double-barrel shotgun?
Thieves will be helmed by director Choi Dong-hoon (Tazza, The Big Swindle, and Jeon Woo Chi), and begins filming in May.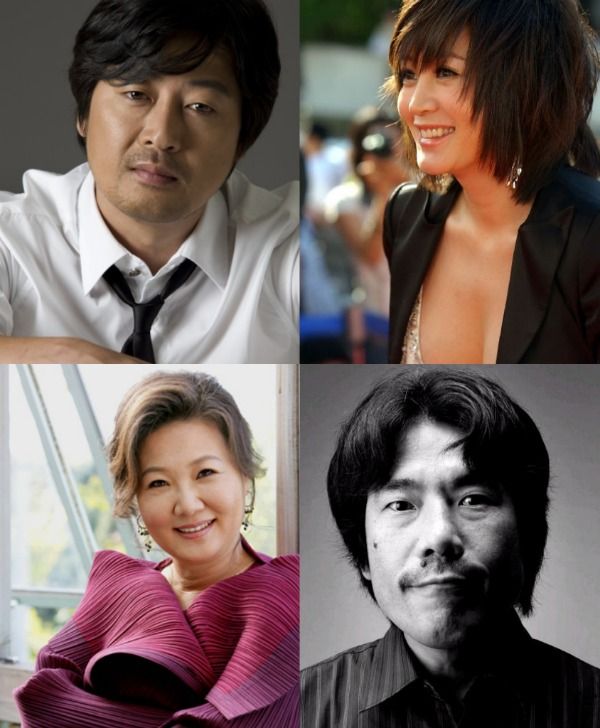 Via My Daily
RELATED POSTS
Tags: Jeon Ji-hyun, Kim Hye-soo, Kim Soo-hyun, Lee Jung-jae, Oh Dal-soo