Lee Jin-wook returns to civilian life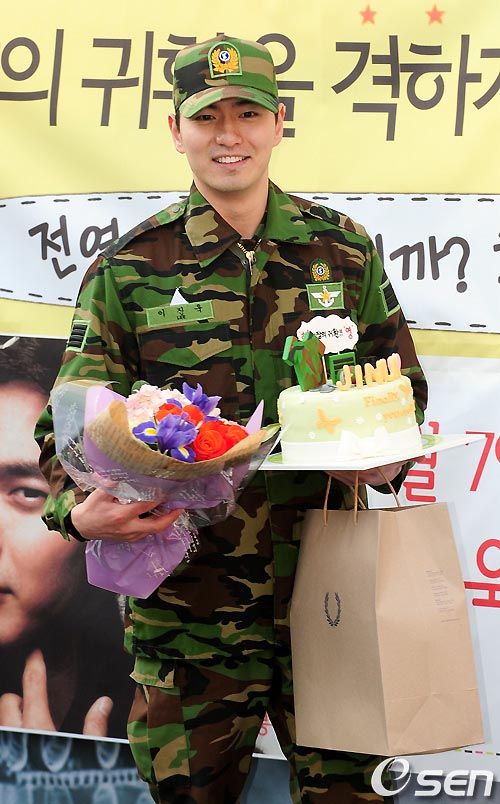 With all the hullabaloo concentrated on a certain big-name star heading off to army duty, it's nice to see one coming back: 29-year-old Lee Jin-wook was discharged on March 7. He completed his two years of active duty after heading off to basic training in May 2009.
Lee's one of those actors who was just starting to get bigger roles when he headed off for military service, but hadn't peaked yet. He had some nice supporting roles in dramas like Air City, Rivals, Someday, and Before & After: Plastic Surgery, and by "nice" I don't mean that the dramas were that great (particularly those first two), but he was able to make an impression on viewers.
He's perhaps better known, then, as "Choi Ji-woo's boyfriend," as the couple made their romance public back in February 2009. They'd met on the set of the 2007 action drama Air City, and while that drama was at times painfully boring, I did enjoy their chemistry. (I adore Lee Jung-jae as an actor, but I was much more into Lee Jin-wook's devoted character, who was like a cute little puppy dog, full of boyish energy. Their age difference does come through — she's got six years on him, and is 35 — but I can see him being an adoring boyfriend to his elegant noona.)
The couple had been dating for two years when they went public, and continued dating for the two years he's been away. Aw. For some reason I just find that super sweet.
But he played coy when he was asked who he most wanted to see post-discharge, laughingly answering that he wanted to see his parents and "all the citizens of Seoul."
Lee hasn't yet made plans for his comeback project, and intends to rest up while "taking time to think" about it.

Spot the celebs! Other enlisted stars were there to say goodbye to Lee Jin-wook, including actors Lee Dong-gun, Kim Ji-seok, and Lee Wan, and Shinhwa singer Andy:
Via E Daily
RELATED POSTS
Tags: army duty, Lee Jin-wook