Lee Seung-gi won't reteam with Hong sisters after all
Hm, so apparently Lee Seung-gi won't be the new lead of the Hong sisters writing team's new drama Discovery of Affection, which has also teased a possible Gong Hyo-jin casting.
The synopsis for the project has reportedly been entirely rewritten, and with that goes Lee Seung-gi's potential return as their leading man; he'd anchored last year's adorable fantasy comedy, My Girlfriend Is a Gumiho. All that's been given to describe the project is that it's about the romance between a top actor and a has-been actress.
I know this news may come as a disappointment to a certain co-blogger, but to be honest I'm perfectly happy with it. One of the things I appreciate about the Hongs is their willingness — preference, even — to go with new lead actors every time, many of them on the lesser side of famous. (They tend to do the opposite with their favorite secondary actors, bringing some back for drama after drama. Choi Ran has appeared in four of six, Ahn Seok-hwan in three.) The exception to this is Jang Geun-seok, but that's because he moved up from second lead in Hong Gil Dong to main man in You're Beautiful.
In any case, as much as I enjoy Lee Seung-gi, I'm even more curious about the new direction this drama is taking, because apparently the new contender for the lead is…Cha Seung-won??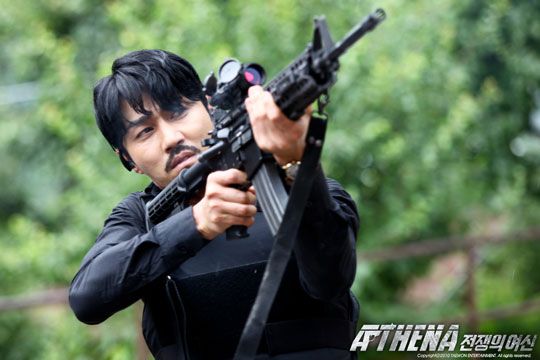 With the synopsis revision, the Hongs have aged up the hero a bit, taking him out of his twenties. According to one broadcast rep, Cha Seung-won has taken a solo meeting (without his manager) with producers to discuss the project, which was confirmed by his agency.
It takes quite a leap to go from a good-natured, grinning boy-next-door to a dark, tattooed badass. And I think I'm liking the possibility, if only because I'm dying to see the grizzled, tough Cha putting his funnybone to work as a Hong sisters hero. For one thing, they have a knack for stripping a man of his dignity, in the funniest possible ways. Jae Hee dressed up as Juliet's nurse. Oh Ji-ho as a plumber. Kang Ji-hwan miming his way out of recognition. Jang Geun-seok in every scene of You're Beautiful.
I mean, it's ridiculous and crazy, right? So crazy…it just might work?
Discovery of Affection will be directed by Queen Seon-deok's Park Hong-kyun, and is MBC's next Wednesday-Thursday drama, to replace the new series Royal Family.
Via No Cut News
RELATED POSTS
Tags: Cha Seung-won, Hong sisters, Lee Seung-gi