Ripley's cast holds its prayer ceremony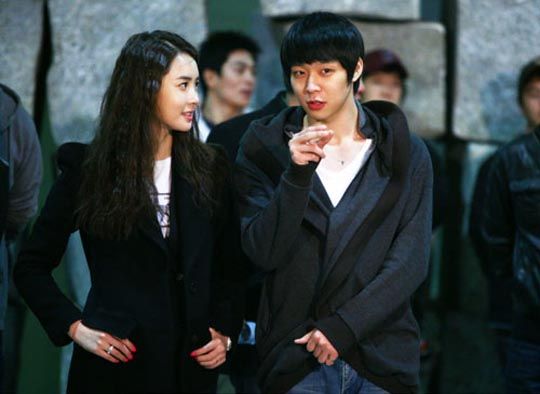 Pre-emptive strike: Yes, this is an Lee Da-hae post. Yes, there will probably be lots of random angry wank. Yes, I'd rather we stayed sane. Let's try and keep things civil, shall we? We can prove we're not slaves to this curious, near-Pavlovian response to go feral whenever the name Lee Da-hae is mentioned, right? Right??
Anyway…
The drama apparently now titled Ripley — formerly Goodbye, Miss Ripley — held its prayer ceremony last week, that customary event held by a drama's cast and production team to wish for good luck and success in the coming months. (It's not a religious thing, just common industry practice.)
The four leads were there at MBC's Yongin set — Lee Da-hae with Micky Yoochun, Kim Seung-woo, and Kang Hye-jung — giving us our first glimpse of them interacting with each other. No doubt there will be many a superfan scrutinizing the photos for signs to be gleaned in the LDH/Yoochun shots. (They're standing close together! Then they're standing far apart — to overcompensate for being close earlier? That must be it! They hate each other! No, they're in looove!)
As we've mentioned before, the plot is of the ripped-from-the-headlines variety, taking its inspiration from the well-publicized case of Shin Jeong-ah, a professor who'd forged her credentials (claiming to have a Yale degree). When she was caught, she became notorious overnight, and also triggered the outing of a number of other academics (and even celebs) touting falsified school records.
In a society that practically values your worth as a human being based on the quality of education you received, you can see why this was such a grievous offense not only to those in academic circles but to the Everyman and -Woman, particularly if you'd been passed over for someone with a more lustrous school name on their resumé. It was also an affront to the Everymom slaving to get her kid into the "right" academies and universities so as to allow her child to score the "right" job and marry the "right" spouse to become a "right" member of society. Only to be pushed aside by a lying faker with a lack of real creds and shame.
Shin Jeong-ah spoke to the media last week while promoting the publication of an essay book, where she was naturally asked how she felt about this new drama based on her life. She gave a vague, safe answer: "I saw the reports when my friends alerted me to them. The drama hasn't started yet, but I'll watch when it airs." She did admit, "The fact that I am the subject of a drama does make me feel some burden. But even so, I think I'll have to watch it."
Shin's autobiography, by the way, has been selling out and her name has once again become a hot topic, although there are critics who have harsh words for her book. One famous writer even expressed her suspicions that the autobiography was ghostwritten.
 
Shin's public image is, to put it mildly, mired in controversy; she's also seen as brash and shameless. The woman's frauds were flagrant, and even in her new book, she reportedly paints herself the victim rather than copping to her misdeeds. So one wonders how on earth she'll be portrayed as the heroine in a drama — because as much as Korea likes delicious, flawed heroes/heroines in fiction, it's another thing entirely to humanize (or romanticize) one so disdained in real life. And it's not at all a stretch to wonder how an actress who inspires such divisive, heated opinions will be able to reconcile her own public image with this character who is already quite a challenge to begin with.
Lest you think I'm all about slagging on Lee Da-hae, let me say that I think she's a pretty talented actress, and three years ago I'd have been exclaiming that she'd totally be up for a meaty dramatic role, no question. But now I add the caveat that she can be good…when she feels like bringing it. Because let's be honest, as much as she can be energetic and emotive when she's on, she hasn't been on in a long while. She's been phoning it in for the past few years, and if she never taps back into that deeper part of her — that inner actress who isn't so hyper-conscious of how she looks, how perfect her makeup is, or what people say about her — it'll be a great shame. 'Cause she coulda been.
Ripley is set to replace The Duo, taking over the Monday-Tuesday timeslot in late May.
Via OSEN
RELATED POSTS
Tags: Kang Hye-jung, Kim Seung-woo, Lee Da-hae, Micky Yoochun, Miss Ripley